Culture
Swami Vipulananda: The Monk Who Recreated Lost Ancient Tamil Musical Instruments
Today, 27 March 2022, marks the 130th birth anniversary of Swami Vipulananda.
Swami Vipulananda gave back to Tamil society its lost musical instruments.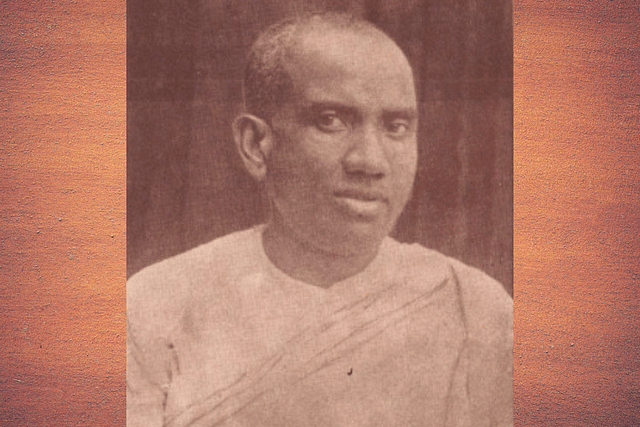 Swami Vipulananda
Swami Vipulananda (1892-1949)
But can these ancient musical instruments, used in Tamil Nadu more than a millennium ago, be reconstructed from data available in ancient literature? And not just theoretical reconstruction but a physical reconstruction?
Yes, it was done. By a monk of Sri Ramakrishna Mission.
He was Swami Vipulananda.
Swami Vipulananda was born on 27 March 1892 in the region of Mattakalappu, Sri Lanka. Born into a traditional Saivaite family, the name his parents gave him was Mayilvahanan.
In 1902, he joined the Methodist school when it was just started. Here, he became familiar with classical Western languages and Christian theology.
A prodigy, Swami Vipulananda passed the Cambridge examination for senior college even before he turned 16. The same year, he became a tutor and served in that capacity for two years. With varied interests, he mastered ancient Tamil classics and the works of Shakespeare (whom he fondly called 'Jagat Sirpi', the sculptor of worlds) and obtained a diploma in the natural sciences in 1916.
During this period, he got introduced to the Vivekananda movement. He also passed the Tamil Pandit exam conducted by Madurai Tamil Society. His chemistry lectures were popular. Soon, he obtained a Bachelor of Science degree from London University.
A young Swami Vipulananda
During this time, Swami Sarvananda of Sri Ramakrishna Mission in Madras visited Sri Lanka. Pandit Mayilvahana met the Swami. This meeting transformed the Tamil pandit. He decided to dedicate himself to service and spirituality.
At that time, because of his knowledge in the sciences and the classical Hindu languages Tamil and Sanskrit, he was requested by prominent citizens to become the principal of the Hindu College. Here, he would teach not only chemistry but, when need arose, also Latin and he loved Shakespeare. Between all this, he would make students understand the richness of their own Tamil language.
During this period, he began interacting with Mahapadhyaya Sri U Ve Swaminatha Iyer, the grand old man of Tamil renaissance who saved, through superhuman dedication, the ancient classical literature of Tamil.
In 1924, Swami Vipulananda was ordained as a monk on the full moon day of the Chaitra month. Swami Sivananda gave him the name "Swami Vipulananda."
Swami Vipulananda's inspiration Swami Vivekananda (L), his guru Swami Sivananda of Sri Ramakrishna Math (R)
In 1925, he returned to Sri Lanka and started delivering lectures. The same year, he started a school for girls' education in Jaffna, called Sarada Vidyalaya. In 1927, he conducted a student conference at Jaffna and also welcomed and interacted with Mahatma Gandhi, who was visiting Sri Lanka.
A school started by Swami Vipulananda in Sri Lanka
Swami Vipulananda also established a residential school that catered to the educational needs of all sections of society, particularly the marginalised.
In 1931, he was requested by Raja Sir Annamalai Chettiar, the founder of Annamalai University, to come to the newly founded university at Chidambaram. Swami went and there too he performed extraordinary educational and social service.
During the convocation ceremony of 1933, while on every house top the Union Jack was hoisted, in the residence of Swami the Swadesi tricolour was hoisted. This led to a police investigation. But Swami was not bothered.
Both Raja Annamalai Chettiar, a great patron of traditional Tamil music, and Sri U Ve Swaminatha Iyer, the grand old man of Tamizh, supported Swamiji.
During this time, Swami Vipulananda started researching ancient Tamil music traditions. His lecture at Madras University titled 'The ancient musical instruments of Tamils and their other fine arts' was an important milestone in the restoration of the lost ancient past.
But all this while, he was also working on the authentic reconstruction of ancient Tamil musical instruments.
Present-day issues of the three Vedantic magazines in India of which Swami once served as the editor.
The Iravatheesvara temple (12th century CE) shows Thiruneelakanda Yaazhpanar with his string instrument.
This was the traditional Hindu way of releasing a book and it was done at the Thirukollamputhur Vilawaranyeswara temple. The location could not have been more appropriate for the occasion. It was Nambiandar Nambi, a devotee of Ganesha at this temple, who was instrumental in rescuing and reorganizing the sacred Tamil literature of Vedic Saivism a thousand years ago during the reign of Raja Raja.
Swami's book on Yaazh, his reconstructions, and the Aadi Yaazh, the working model he constructed
After various scholars critically examined the book and the reconstruction, the book was accepted. The function ended with a ceremonial procession of the deity of the temple. The achievement of Swami Vipulananda involved his exhaustive knowledge of ancient Tamil literature, from Silappathikaram to Thevaram and Periya Puranam and also his knowledge of music.
Swami Vipulananda became ill after this achievement and, after two years, on 19 July 1949, at the age of 57, attained samadhi. Quite a few Tamil scholars believe that Ilango Adigal, the prince who became a Jain monk in order to avoid competition to the throne and who was the author of Silappathikaram, reincarnated as Swami Vipulananda to restore the lost knowledge.
Samadhi of Swami Vipulananda
To this day, his samadhi in Sri Lanka is a place of pilgrimage to the lovers of traditional music of India.
Writer's note: The photos of Swami Vipulananda, his school, and the reconstructed Yaazh are taken from the 1951 biography written by Sri Ganapathi Pillai, compiled by Sri Thirunavukkarasu, and published by Sri Gopalakrishna Kon.
Latest