Insta
Jamia Millia Alumni Association Got Funds From Gulf Nations To Hold Anti-CAA Protests, Delhi Police Tell Court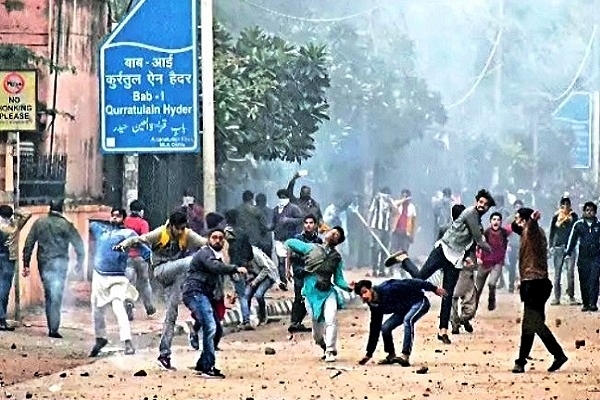 Anti-CAA protests (Representative image) (@rajshekhartoi/Twitter)
The Jamia Millia Islamia University Alumni Association received funds from Gulf countries to hold protests against the Citizenship Amendment Act (CAA), 2019 in various parts of Delhi.
Delhi Police told a local court on 27 April (Monday) that alumni president Shifa Ur Rehman, arrested on Monday under Unlawful Activities (Prevention) Act on charges of provoking communal riots in the Capital, had got funds from the association members based in Middle-East countries.
He was also co-coordinating at the protest sites while getting huge amounts as funds that were spent by Rehman and his accomplices to instigate riots in Delhi, the Police told the court.
The Week reported that Delhi police came up with the revelations in the court in order to seek Rahaman's custody. The Jamia Milia Islamia University Alumni leader has been remanded to 10 days police custody.
Delhi Police said that they had obtained leads on Rehman during the interrogation of persons such as Ishrat Jahan, Khalid Saifi, Meeran Haider, Safora Zargar, Gulfisa, Tahir Hussain, and three members of the Popular Front of India (PFI).
Rehman was actively involved in organising protests against CAA, National Population Register (NPR) and National Register of Citizenship (NRC) across Delhi.
The Hindu quoted a police officer as saying that Rehman was arrested after he was called in for questioning on charges of being involved in the riots.
During questioning, Rehman was countered WhatsApp chats and other technical evidence that proved that he incited the mob during the riots, the police officer said.
The Delhi Crime Branch Special Cell is looking into the heinous crimes such as murder and assault that took place during the riots, while the Delhi police is investigating the riots.
The Special Cell has arrested 10 people so far on charges of being involved in the communal riots. Zargar, Haider, and suspended Aam Aadmi Party (AAP) councillor Tahir Hussain have been charged under UAPA.
At least 53 people died in Delhi during the riots as those in favour and against CAA clashed, affecting many areas in the Capital.
Latest