News Brief
Parents Of Missing Minor Girl Find Her In Burqa, Converted To Islam After Four Years; Video Of Rescue Goes Viral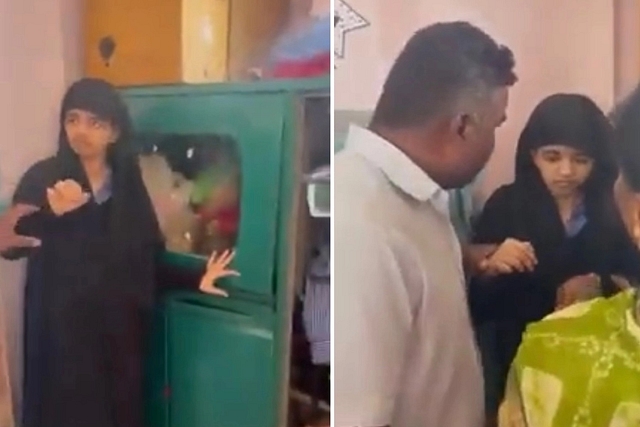 Stills from the video of the rescue
A disturbing video showing parents of a Hindu girl who went missing four years ago, finally meeting her during a raid and finding her clad in burqa, has been widely circulated on social media.
As per Pune police, the girl had gone missing from her home in Manchar town of Pune in March 2019. She had 'eloped' with a man named Javed Mukhtar Sheikh, who she was seemingly in a relationship with. The girl was 16 at that time and had just taken her Class 10 school examinations.
On the complaint of her parents, Manchar police had filed a case of abduction (IPC 363).
She remained missing until this week when her parents traced the girl with the help of some activists, as per Bharatiya Janata Party (BJP) Member of Legislative Council (MLC) Gopichand Padalkar who held a press conference six days ago to share details of the rescue.
Padalkar was accompanied by the girl, whose face was covered with a scarf, and her family and relatives.
As per Padalkar, the girl was found in the same town, Manchar, although she had lived in different cities over the past four years.
The family told the media that their daughter had been converted to Islam by the 'kidnapper' and physically tortured. They said she had burnt marks from cigarette on her body.
A relative said that over the past four years, the family repeatedly visited the police station, but "did not get a proper response".
As per news reports, the police have booked Sheikh, who is 22, for rape, kidnapping, sexual assault on child and causing hurt. The IPC sections invoked against him are 376, 376 (2), 324, 344 and 34, along with Sections 4, 6, 8, 10 and 11 of the Protection of Children from Sexual Offences Act (POCSO).
Sheikh was arrested on 17 May and is currently under judicial custody, Deputy Superintendent of Police, Pune Rural, told the media this week.
Latest