How Galwan Clashes May Have Saved Gilgit-Baltistan For Pakistan And China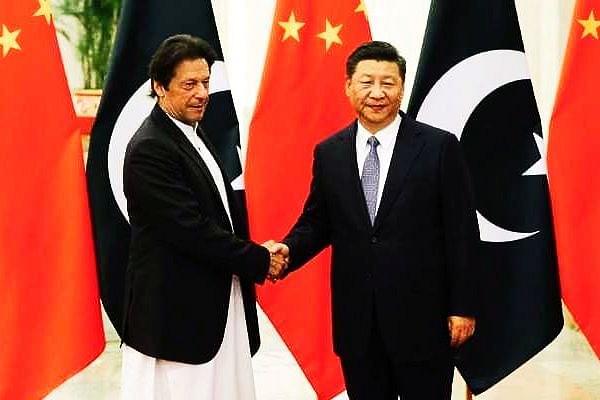 Pakistan Prime Minister Imran Khan and Chinese President Xi Jinping.
Snapshot
Like many other debt-trapped countries, China knows that Pakistan has to offer significant amount of its territories to repay and save itself from the Chinese debt-trap.
The agreement to disengage from the points of recent conflicts between India and China along the Line of Actual Control (LAC) in Ladakh, after the brutal fistfights of 15 June 2020, which resulted in first casualties on the line in over 45 years, is a welcome step.
Honouring this agreement is going to take time and commitment from both sides. After the deadly clashes of 15 June, whatever trust was there between the two countries has evaporated. While many commentators described it as trust-deficit, it is now a matter of complete non-existence of trust.
It appears that the Chinese wanted to seize the strategic window of opportunity offered by the coronavirus pandemic by springing a surprise on the Indians at places where they least expected Chinese incursions.
It appears that their strategy was to quickly grab some strategic points and present them to the Indians as fait accompli on the negotiating table.
Some analysts were of the opinion that the Chinese wanted to test their own battle-readiness as well as the resolve and responsiveness of the Indians. This was predicted, based on Chinese president Xi Jinping's call to his army to get ready for war in the recently concluded National People's Congress convention.
The motivations for Chinese to do what they did could have been many. Wanting to punish India for the moves on Article 370 and 35A, and for imposing restrictions on Chinese investments in India, warning India not to challenge their supremacy in Asia by seeking American help, wanting to stop India from developing its infrastructure which is likely to threaten the Chinese interests on the border, the urge to seize strategic initiative to grab territories in the Himalayas while India is distracted by the coronavirus pandemic – all or some of these could be the motivation for China for their incursions.
The Chinese are quite predictable in their unpredictability. They always chose to raise the heat at a place and time which is mostly a diversionary act to achieve strategic objectives elsewhere. The reasons why they came in the first place, and why they agreed to the current disengagement don't seem to add up.
Building roads and other infrastructure along the LAC has been going on for the past four years and there is no immediate provocation for the current Chinese incursions. Restrictions imposed on free-flow of Chinese capital could easily be bypassed through several untraceable routes in many tax havens across the globe. As far as Indian action on Article 370 and 35A are concerned, the Indian government had categorically assured the Chinese that India is not making any changes to the accepted ground position of the LAC.
India also didn't explicitly question China with regard to accountability issues on the coronavirus pandemic. Inspite of the ongoing standoff at the LAC, India didn't embarrass China on the question of the dilution of 'one nation-two systems' formula applicable to Hong Kong.
Given the above logic, the incursions should have been "routine" like the hundreds of them which happen every year. The decision or the urge to escalate these flash points to preplanned brutalities don't seem to justify for any of the reasons spoken above.
What else could be the ultimate strategic objective of China in escalating the border dispute to such a brutal brinkmanship?
Some thoughts that flew around spoke about how China and the People's Liberation Army (PLA) had outsourced their strategic border issues to the Pakistani army and the ISI. In fact China doesn't see India as its equal or even as a challenger. Its focus has been entirely on its relationship with the USA and the grand dream of upstaging it to be the world's number one superpower.
Pakistan is just a vassal state used by China to slow down India's economic growth and to keep it bogged down in localised power-struggles. It has invested too heavily into the failed state of Pakistan, upwards of $60 billion on the CPEC (China- Pakistan Economic Corridor).
While it is evident that the CPEC can never be a financially viable, it was planned to be a strategic insurance against potential Indian stranglehold in the South Andamans and Malacca Straits.
Like many other debt-trapped countries, China knows that Pakistan has to offer significant amount of its territories to repay and save itself from the Chinese debt-trap.
In 1963, they already got 5000 sq. kms of the Shaksgam valley ceded to them by Pakistan. They are now eyeing Gilgit-Baltistan either to annex or at the very least to be given on a 99-year lease; after all, didn't the colonial British Empire lease the Gilgit agency from the Kashmir Maharaja?
China has already taken Hambantota port on a 99-year lease after trapping Sri Lanka under the mountain of Chinese debt. The Pakistani army and the ISI didn't know how to handle the post- Article 370 scenario. They also seriously feared Indian action to take back PoJK and Gilgit-Baltistan. The statements of Home Minister Amit Shah on the floor of Parliament categorically stating that these territories would be taken back at any cost raised alarm bells in Rawalpindi GHQ. Subsequent statements by Indian Defence Minister Rajnath Singh that all future talks with Pakistan would only be limited to taking back PoJK and Gilgit-Baltistan, the statement of the Chief of Indian Army that the Indian armed forces are ready to take back territories under Pakistani control anytime if ordered by the Indian Parliament, added to the discomfort of the Pakistani deep state.
They couldn't do anything in the valley for full six months, which was causing serious damage to their credibility. With the help of Chinese, Pakistan grabbed the opportunity they got with the passage of Citizenship Amendment Act 2019 (CAA) to exploit the communal fault-lines in India and unleash violence and mayhem across the country.
Unfortunately for them, the Chinese coronavirus pandemic put a stop to their plans. All efforts at internationalising the Kashmir issue, including the attempt by China to bring it up at UNSC fell flat with well-coordinated and pro-active Indian diplomacy at play.
Looking back into history, even in 1962, the Chinese have tested waters with incursions at the Galwan valley to later retreat for a strategic pause, then they came back in full force within a few months, to inflict a painful and embarrassing defeat on the Indians.
People who can read the Chinese behaviour will vouch that the current disengagement is just a strategic pause and India should expect the Chinese to come back "soon" at a time and place of their choosing. It is just a matter of 'when' and not 'if'.
First Dokalam, and now Galwan—two major embarrassments are one too many for Xi Jinping to take them in his stride. His credibility and standing internally and externally has taken a battering. If he doesn't correct this situation by inflicting significant pain on Indian Prime Minister Narendra Modi, his position as a world leader becomes untenable. Non-response is not an option anymore for him. Not responding would embolden many more countries to stand-up against the Chinese power.
After the Indians gave a bloody nose to the Chinese at the Galwan valley, the ASEAN countries are emboldened to tell China to play by the rules in the South China Sea.
Philippines threatened China of similar action should they again intrude into their waters.
Myanmar asked China to desist from creating problems at the border as well as stop funding militant activities within their country.
Japan deployed anti-aircraft assets as well as other China-specific military hardware and was on the verge of cancelling a pre-agreed summit meeting between Xi Jinping and Shinzo Abe.
Even Bhutan has warned China not to do anything to change the status quo of their borders.
The actions of a few Indian army men led by the 16 Bihar regiment at the Galwan valley is threatening to topple the high-seat occupied by Xi Jinping, achieved through painstaking diplomacy, coercion, bullying and brazen muscle-flexing over the years.
Suddenly, the Chinese army and its carefully projected image of invincibility lay in tatters in the chilly waters of the Galwan river.
Buying the loyalty of vulnerable nations would always come with a heavy price-tag and a potential expiry date. This can be seen in the case of Philippines which had gone to seek the Chinese benevolence rejecting the American protection even after winning its case on territorial rights in the South China Sea at the International Court of Arbitration. The same Philippines is now standing upto Chinese incursions.
Several African countries are pushing back on Chinese debts and asking China to waive or cancel many of those debts.
It is in the interests of both China and Pakistan to stop India from taking back PoJK and Gilgit-Baltistan. Pakistan needs Gilgit-Baltistan to buy off their Chinese debts. China needs Gilgit-Baltistan to not only have access to Central Asia and Afghanistan but also to deny India the very same access to Central Asia and thereon to Europe.
The Chinese actions on the LAC in Ladakh seem to be aimed at bogging down Indian defence assets on the Chinese border which is unlikely to see a full-scale war among the two giant Asian neighbours. While India maybe able to manage a two-front war for a few weeks, its resources would be stretched thin and would not allow it to take back PoJK and Gilgit-Baltistan in such a scenario.
Such a two-front war is most likely to end in a near stalemate.
India is not going to trust China anymore and has no option but to keep a high degree of deployment all along the 2000-mile border against the Chinese army. This would effectively deny sufficient resources and opportunities for India to move across the Line of Control (LoC).
With the fisticuffs at the Galwan valley slopes, China and Pakistan seem to have saved Gilgit-Baltistan from India at least for the foreseeable future. To add weight to this argument, Pakistani Supreme Court has ordered elections in Gilgit-Baltistan contradicting its own previous judgments. PoJK and Gilgit-Baltistan are not even part of legal territories of Pakistan according to its own Constitution.
By stopping the Indians from moving across the LoC, China and Pakistan would quickly change the status quo in Gilgit-Baltistan by first making it the fifth Province of Pakistan, thus becoming the sovereign rulers of the territory. It would then quickly handover de-facto control of Gilgit-Baltistan to China, to write-off the CPEC debts.
Having achieved the primary objective of stopping India to take back territories under Pakistani control, the unexpected repercussions that have hurt Xi Jinping's standing cannot and will not be left unpunished.
Even with so many vulnerabilities, challenges and setbacks, it becomes an existential matter for Xi to inflict punishment on India and Narendra Modi of the kind that was heaped on Jawaharlal Nehru.
The current disengagement is by no means a resolution of the disputes but is at best a strategic pause to help him plan a much more robust and severe action soon at the places, intensity and timings of his choosing.
History beckons both the countries. India can choose to wait for Xi Jinping to make his next incursion and keep responding to his agenda or can choose to seize the narrative through economic, diplomatic, strategic and military moves to deny him the advantage of the first-mover.
Is India ready to shake itself from its defensive status quo mindset?
Get Swarajya in your inbox everyday. Subscribe here.
An Appeal...
Dear Reader,
As you are no doubt aware, Swarajya is a media product that is directly dependent on support from its readers in the form of subscriptions. We do not have the muscle and backing of a large media conglomerate nor are we playing for the large advertisement sweep-stake.
Our business model is you and your subscription. And in challenging times like these, we need your support now more than ever.
We deliver over 10 - 15 high quality articles with expert insights and views. From 7AM in the morning to 10PM late night we operate to ensure you, the reader, get to see what is just right.
Becoming a Patron or a subscriber for as little as Rs 1200/year is the best way you can support our efforts.
Become A Patron
Become A Subscriber