Combating Fake News Is Not Enforcing Censorship, but Ensuring Accountability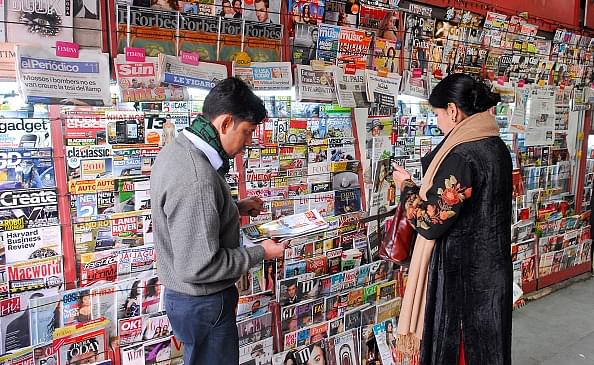 Photo by Rajkumar/Mint via Getty Images)
Snapshot
The news outlets must accept regulation as a means to regain the faith of their audience, or they risk becoming obsolete.
In the second sequel of Tobey Maguire's Spider-Man series, Peter Parker, a photographer with a local newspaper in New York, exposes his co-worker, Eddie Brock, after the latter uses an old picture of the web slinger, claiming it as his own. What irks Parker is the context in which the picture is used, framing Spider-Man as a criminal and attributing the recent robberies to his actions. Eddie Brock is fired, the newspaper issues a front page apology, and the faith of the New Yorkers in Spider-Man is restored.
When Minister of Information and Broadcasting Smriti Irani issued a directive to combat fake news, she stirred up a hornet's nest. Confusing the proposed guidelines as an attempt by the government to muzzle the freedom of speech, enforce censorship, and strangle what they believe is the voice of the free, the opposition parties, led by the Congress, attacked Irani via every channel possible. Eventually, the proposal was withdrawn less than 24-hours later by Prime Minister Narendra Modi, citing free speech as one of the foundations democracy. Irani may not have got the backing from her party, but she must be credited for initiating a much-needed discussion on fake news.
What qualifies as fake news? The news we consume today can be segmented into two major aspects. One, reporting. Two, opinion. The first drives the second. People across newspapers and channels present their opinions in the form of editorials and noisy debates based on the reports they have read or seen.
While an opinion can be misplaced, shallow, incomplete, or foolish, it reflects the thoughts of the writer; and thus cannot be termed as fake news. Assuming it does not call for people to take up arms or incite communal violence, any opinion is valid, with its correctness left to the readers' discernment. News reports, however, depict the events which then drive opinions, and hence, the credibility of these reports is integral to healthy deliberations and debates in a democracy. One can regulate fake news reports, and rightfully so, but a democracy should have no place to censor an opinion, even if it's against the interests of the nation itself.
One has to be living under a rock in recent years to believe in the idea of neutral media. Never before have the media houses and their representatives been this vocal about their political leanings. For the ones who consume their news daily, it takes a few minutes of browsing through a channel's website or paper to understand the leanings of the media group. From Donald Trump's debut in the Oval Office to Brexit, and to the daily evaluation of Modi government back home, the media, in an unexplained exuberance, has been vocal about its leanings. Unfortunately, it is the common news consumer who has suffered, for the trust in conventional media has swiftly eroded.
The emergence of social media has reduced the idea of censorship to a mere myth. Unlike before, reports cannot be suppressed. People have found a way to counter them with findings of their own. With social media harbouring media startups, the mechanisms for creation, curation, channelisation, and consumption of news have changed.
Transparency, diverse perspectives, and counter-reporting are a few aspects that define media in this age, aiding the growth of more outlets catering to specific regions, issues, and domains. Censorship, as we all have come to realise in the recent past, has no place in this age of media where news can be circulated within seconds through Facebook, Twitter, WhatsApp, and other digital channels.
Thus, the guidelines proposed (not to be confused with issued or implemented) by Irani would have come as close to enforcing censorship as to Lalu Prasad Yadav becoming the prime minister in 2019. The opposition backlash to the directive was not only misplaced, but also triggered by political motives, as every action is these days. Countering fake news was not about enforcing any kind of censorship, as it was portrayed, but ensuring accountability of the media groups that are no longer hiding behind the charade of neutrality.
In India, where the number of internet users are projected to touch half-a-billion by the end of June this year, there is a lack of adequate digital literacy. Given how easily data can be extorted from gullible users, circulating fake news is no big challenge. For instance, if farmers depending on certain outlets for weather reports, a fake or hurriedly drafted report on an impending storm can drive price fluctuations, selling off the produce at lower prices, or even enabling farmers to discard the crop altogether.
In their desperate pursuit of breaking news, garnering higher ratings, and retaining audience, media groups are prone to sensationalising a simple piece of news. Quite recently, the death of a famous Indian actress had some regional news channels conducting programmes in which their reporters fell in and out of a bathtub. Some went overboard and blamed the husband. Last year, when a fake godman was convicted in a rape case, the media was again seen exaggerating reports of violence from the North-Indian state, spreading panic among people in the nearby areas. A few days later, one of the most prominent journalists on Twitter, even managed to interview the godman's 'daughter', who was on the run from the authorities.
Turns out, the increased competitiveness amongst news channels and the dynamic nature of news cycles have resulted in falling standards of print and media journalism across the world, with the fake news being a venomous by-product in this entire fiasco.
When the news pertaining to Cambridge Analytica broke out, conventional media setups were quick to report against the manipulation of voters that may have aided the victory of Trump, ensured Brexit, and even added to the growing nationalism across the world. There is no doubt that social media and other digital spaces are now being used by advertisers, political parties, and business groups to target users based on their activities. For instance, a Republican Facebook page is going to reach out to users who either follow Trump or subscribe to the pages that endorse his policies.
Social media, however, is regulated. Pages, official or parody, cannot get away if they post content that incites violence in any form, calls for people to take up arms, or is otherwise stolen. Users have the option to report content that they might find objectionable. Even though the regulation in the digital space, especially social media, has minimum interference from the government, in the last few years, it has managed to cultivate an 'almost ideal ecosystem' for media startups to flourish in, while being regulated.
Across the world, the opposition may attribute the emergence of the right to manipulation of social media by some online news outlets. However, the conventional media establishments continue to harbour significant print, television, and digital space, thus garnering greater eyeballs, and thus making their regulation even more necessary.
Media outlets that have their origins on social media, are without any print circulation or TV channel, are far inferior in terms of traffic, subscriptions, and profits, even if they better content quality. Therefore, the argument made by print and media startups against digital news outlets is nothing but hogwash and an attempt to justify their own authority, and escape accountability through regulation. The print and television media groups are in a far more superior position to manipulate opinion, as we saw during the years of the Congress government, and they continue to hold that position.
Riding on their 'holier than thou' charade, certain media groups and personalities have been guilty of peddling fake news repeatedly. Recently, there have been numerous instances where prominent journalists have been called out on Twitter by cabinet ministers, official handles of the ministries, and even local authorities for peddling fake news. Only a few months back, a journalist from the Lutyens' posted tweets that threatened communal harmony. Even if stories are retracted by certain media groups, the apologies are not as visible as vicious the allegations were in the first place.
In an age where conventional media groups represent political parties and interests before catering to the interests of their audience, regulation of fake news is no longer a debatable option, but a necessity, but who should be the regulator?
In cannot be emphasised enough that the government should have no role in regulating fake news outlets and promoters. Irani, in her proposed guidelines, had left it to the Press Council of India and News Broadcasters Associations, both being independent bodies, to decide on what reports constituted as fake news before moving to the penalisation. Given how news channels have failed to counter their contemporaries when it comes to fake news, and how the two stated independent bodies have become a club with selective membership, it's time for the constitution of an independent body that brings together the best minds from versatile backgrounds.
The independent body must be chaired by a person with no political membership of any kind. Alongside, the body must meet every month to discuss the instances of fake news, call out the reports and editors involved, and make the minutes of the meeting public in the form of releases, briefings, and digital letters. The opacity that currently surrounds the functioning of the Press Council of India and National Broadcasters' Association makes it difficult for readers and consumers to rest their faith in these bodies.
The same body should curate a mechanism that penalises channels, groups, editors, and reporters for peddling fake news. Penalisation could amount to journalists losing their accreditation, as was proposed, along with limited access to governmental institutions. If a certain report results in communal disturbance of any kind, the body must propose judicial action against the relevant culprits. Also, for the sustained success of the body, it is important it has members from conventional media startups as well as the new-age digital outlets. The monopoly of conventional media groups must end when it comes to regulation, reviewing, and decision making.
For any vibrant democracy, a thriving ecosystem for journalists is indispensable. Sadly, some persons have wrecked havoc in the ecosystem in the name of free speech and their own political interests. Cleaning up this ecosystem is not the job of the government, and therefore, the news outlets must accept regulation as a means to regain the faith of their audience, or they risk becoming obsolete before 2020.
Get Swarajya in your inbox everyday. Subscribe here.
An Appeal...
Dear Reader,
As you are no doubt aware, Swarajya is a media product that is directly dependent on support from its readers in the form of subscriptions. We do not have the muscle and backing of a large media conglomerate nor are we playing for the large advertisement sweep-stake.
Our business model is you and your subscription. And in challenging times like these, we need your support now more than ever.
We deliver over 10 - 15 high quality articles with expert insights and views. From 7AM in the morning to 10PM late night we operate to ensure you, the reader, get to see what is just right.
Becoming a Patron or a subscriber for as little as Rs 1200/year is the best way you can support our efforts.
Become A Patron
Become A Subscriber