Decoding Bihar's Current Disenchantment With Its Sushasan Babu Nitish Kumar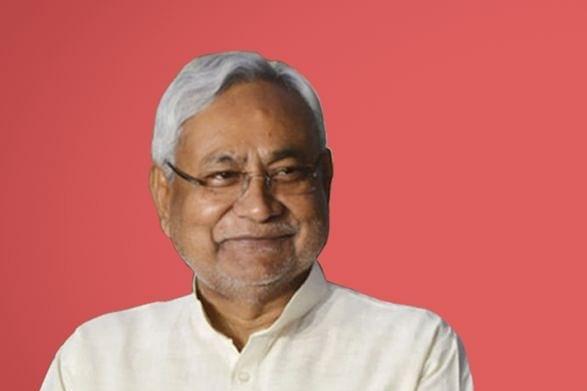 Bihar Chief Minister Nitish Kumar. (K Asif/India Today Group/Getty Images)
Snapshot
Nitish Kumar's promises of taking his development agenda to the next level sounds tired and jaded.

It, apparently, is not exciting enough to enthuse the masses.

Until not very long ago, Bihar Chief Minister Nitish Kumar was the poster boy of development and good governance. So much so that he earned the sobriquet sushasan babu (an embodiment of good governance).
The plaudits were, no doubt, well-deserved. Nitish Kumar took Bihar out of the 15 horrific and dark years of Rashtriya Janata Dal (RJD) rule that were characterised by killings, kidnappings, extortions, sharp economic downslide, halt to development and an all-pervasive fear that had enveloped the state.
Nitish Kumar got the police to crack down on RJD-patronised criminals, put them in jail, cleaned up the state administration and initiated a slew of infrastructure and development projects.
Apart from building roads, bridges and other public infrastructure, Kumar appointed 3 lakh teachers to government schools, improved healthcare facilities and power supply, and made the state administration fairly responsive.
On the political front, Nitish Kumar crafted a rainbow alliance of Mahadalits comprising Scheduled Castes and backward classes who were marginalised by the Yadavs, who formed the core constituency of Lalu Yadav's RJD.
Nitish Kumar also initiated a lot of welfare measures for women and for their empowerment. His enforcement of prohibition won him the support and goodwill of all women in Bihar.
Nitish Kumar's ascension to power in 2005 was like the advent of spring after a long, traumatic and gory winter. The primary reason for that was Nitish Kumar's complete reversal of the RJD's politics of caste empowerment that undermined governance.
Lalu Yadav's focus on caste empowerment translated into assertion, even militant assertion, by Other Backward Classes or OBCs (primarily Yadavs) against the symbols of upper caste dominance like the state bureaucracy, the police, judiciary, professions and business.
Lalu Yadav, as well as Rabri Devi after him, ignored governance. The breakdown in governance in Bihar under Lalu was by design.
Nitish Kumar came to power on the promise of governance — an end to the era of lawlessness and restoration of order — and redistributive development. His alliance with Bharatiya Janata Party (BJP), which has upper castes as its core support base, helped him achieve that quickly.
Nitish Kumar quickly recapacitated the state machinery, and this ensured development and flow of benefits under various welfare schemes that he initiated.
In order to stem corruption and leakages, he concentrated power in the Chief Minister's Office and the state administration came to be run by a set of top bureaucrats, who were also shielded from political pulls and pressures by Nitish Kumar.
But this governance model of Nitish Kumar had its inherent shortcomings that got accentuated in his third term in power. Nitish Kumar's model failed to mobilise a political constituency at the grassroots and failed to bring about deep structural grassroots administrative reforms.
As a result, corruption in the lower bureaucracy, official sloth and slackness and leakages from welfare measures and doles resurfaced and led to steady disenchantment and disaffection among the masses.
Nitish Kumar's top-down governance model and his bureaucracy-driven development approach did deliver results for the first few years. Construction of roads, bridges and other public infrastructure was swift and largely corruption-free.
Healthcare facilities and schools were constructed and a lot of good work was done in the early years of his rule. But Nitish Kumar failed to build on these gains.
For instance, writes chief executive of Centre For Policy Research, Yamini Aiyar, while the primary school network was expanded and landmark schemes like Mukhyamantri cycle yojana (providing bicycles to girl students) were implemented, the vital tasks of ensuring teacher accountability and improving learning outcomes were ignored.
Aiyar convincingly argues that Nitish Kumar's model of good governance was "not designed for structural change" and, thus, "his governance miracle stagnated". Nitish Kumar failed because he tried to rid governance of politics.
Apart from this, another major reason for popular anger against Nitish Kumar is his failure to keep up the tempo of development that Bihar had witnessed in his first two terms. And also to take development to the next stage.
In retrospect, the decline of 'Brand Nitish' started in mid-2013 after he quit the National Democratic Alliance (NDA) over the BJP's plans to anoint Narendra Modi as its prime ministerial candidate.
Nitish Kumar went on to join hands with his archrival Lalu Yadav and form the Mahagathbandhan, which came to power in Bihar in 2015.
The development and governance momentum faltered once Nitish Kumar left the NDA and suffered a lot when he stepped aside for Jitan Ram Manjhi in May 2014.
After winning the elections in 2015 and coming back to the Chief Minister's post for the third time, Nitish Kumar found himself hamstrung with the RJD as his partner.
The RJD was like an albatross around his neck because of its proclivity for corruption, using muscle-power, subverting the law and institutions, and favouritism. Nitish found it impossible to work with Tejashwi Yadav as his deputy.
Nitish Kumar's image suffered a terrible blow when he quit the Mahagathbandhan over allegations of corruption against Tejashwi Yadav and returned to the NDA.
That he now praises Modi, a man he once termed as "divisive and devoid of principles"', has lowered the standing of Nitish Kumar, who had the reputation of being a principled man, in the public eye.
Nitish Kumar's performance in his first term and the first four years of his second term (till he left the NDA) had raised public expectations. Those expectations were sorely belied in Nitish Kumar's third term.
Also, while Bihar witnessed tremendous development of public and social infrastructure, what was sorely ignored by Nitish Kumar was creation of jobs.
While unemployment has been a chronic problem in Bihar, the unemployed have become more vocal in recent years. And they (the unemployed) now feel that all the development that Bihar has witnessed has left them untouched. This feeling of neglect has fuelled the angst against Nitish Kumar.
Nitish Kumar also failed in quickly addressing the lockdown-induced migrant crisis. Quite like his Bengal counterpart, Nitish Kumar also showed a strange and suicidal reluctance in bringing Biharis stranded in other states back home.
And once the lakhs of Biharis working in other states returned home, Nitish Kumar failed to provide prompt succour to them. That's because his apolitical state administration reacted in a typically ham-handed bureaucratic fashion to the migrant crisis.
Simultaneously, Tejashwi Yadav has been quick to highlight these failings of Nitish Kumar and has made many promises to the youth. That's why his rallies have been attracting such huge crowds.
Nitish Kumar's negative reaction to the promises made by Tejashwi, especially the pledge of 10 lakh jobs, has only eroded his (Kumar's) popularity.
It was as if Kumar was rattled by the huge crowds at Tejashwi's rallies and, instead of offering hope and an alternative to the alienated youth of the state, the chief minister came across as a negative persona.
Nitish Kumar has been running a largely negative campaign by highlighting the dark days of RJD rule in Bihar. The reason that sounds hollow is because he had joined hands with the same RJD in 2015 and made the party his partner in the government for two whole years.
Nitish Kumar's promises of taking his development agenda to the next level also sound tired and jaded. It, apparently, is not exciting enough to enthuse the masses.
All this, however, does not mean that Nitish Kumar's days as Chief Minister are now numbered. He may, despite the angst against him, become the Chief Minister for the fourth term.
But that will happen because of other factors like Prime Minister Narendra Modi's undiminished popularity, the NDA's caste arithmetic and public wariness to bring back the RJD to power.
If Nitish Kumar is sworn in again as the Chief Minister, after November 10 (the day of the results), it will not be because of his popularity in Bihar, but despite it.
Get Swarajya in your inbox everyday. Subscribe here.
An Appeal...
Dear Reader,
As you are no doubt aware, Swarajya is a media product that is directly dependent on support from its readers in the form of subscriptions. We do not have the muscle and backing of a large media conglomerate nor are we playing for the large advertisement sweep-stake.
Our business model is you and your subscription. And in challenging times like these, we need your support now more than ever.
We deliver over 10 - 15 high quality articles with expert insights and views. From 7AM in the morning to 10PM late night we operate to ensure you, the reader, get to see what is just right.
Becoming a Patron or a subscriber for as little as Rs 1200/year is the best way you can support our efforts.
Become A Patron
Become A Subscriber