The fag end of December 2018 brought some good news for India's foreign policy establishment from Kathmandu and Dhaka. While the Sheikh Hasina-led Awami League's in the just-concluded polls in Bangladesh is very comforting for India, some developments in Kathmandu would also have brought some cheer to the foreign policy mandarins in New Delhi's South Block.
And combined with the fact that a friendly government is now in place in the Maldives, the Chinese gameplan to unscrupulously foist to power in Sri Lanka being defeated, the new government in Bhutan displaying its commitment to continue the country's 'India first' policy, and ties with Myanmar getting a leg-up, 2019 promises to be a good year for India in its neighbourhood.
In Nepal, the leadership of Prime Minister , who is vehemently anti-India and staunchly pro-China, is being strongly criticised and challenged from both within his (NCP) and also by the people. Oli's imperious and unilateral style of working, and the failure of his government to deliver on the many tall promises he made, has triggered challenges to his leadership. This has resulted in , the co-chairperson of the NCP, gaining in strength. Dahal, despite past strains in his ties with India, is seen as favourably disposed towards New Delhi and sceptical of China's growing footprint in his Himalayan country.
The NCP, formed by merger of Oli's and Dahal's in October 2017, the polls in December 2017. But since then, thanks to the many unkept promises and his unilateral style of functioning, Oli's popularity has declined.
At the NCP's Standing Committee meeting last week, Oli faced a lot of flak and Dahal emerged stronger than him (read ). Oli, perceived as headstrong and authoritarian, is also being blamed for the lack of progress in achieving complete unification of the two parties (read ). This lack of progress has bred a lot of resentment within the communist ranks against Oli.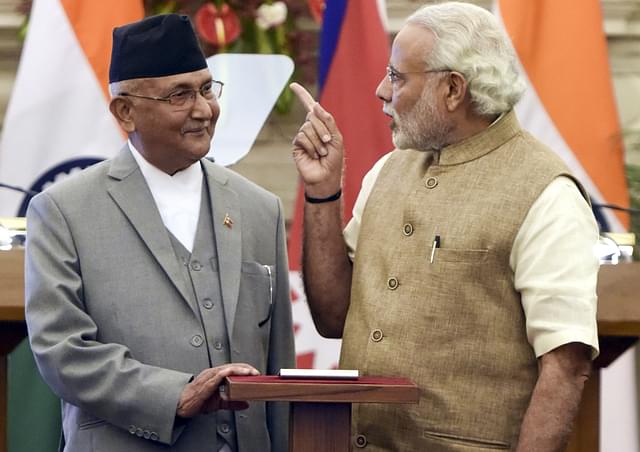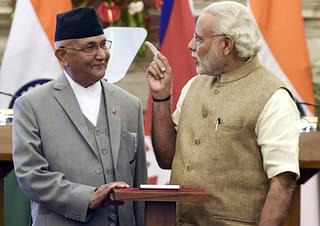 Prime Minister Narendra Modi with Nepal Prime Minister Khadga Prasad Sharma Oli. (Sonu Mehta/Hindustan Times via Getty Images)
Oli's position within the NCP has also weakened due to his advocacy of the hardline 'people's democracy' goal. Dahal, who advocates the moderate and more democratic 'socialism' goal, has emerged as the more popular leader both within and outside the party. 'People's democracy' is a euphemism for one-party communist dictatorship, as in China. Beijing is learnt to be pushing Oli and his NCP towards this since a pro-China communist party in power in Nepal for perpetuity would eminently suit Beijing's interests.

A multi-party democracy in Nepal, in which power may change hands following elections and go to a party not so friendly with China, is not quite to Beijing's liking. A number of top leaders within the NCP, as well as a majority of the party's rank and file — and, of course, an overwhelming majority of the people of the country — favour the 'socialism' goal of Dahal (read ).
Oli is also under pressure from within the senior ranks of the NCP to quit the post of either Prime Minister or party co-chairman in keeping with the communists' 'one-person one-position' principle. Led by former prime minister and senior NCP leader and NCP central committee member Jagannath Khatiwada (read ), the anti-Oli group is gaining strength. Political observers say that Oli may quit the PM's post and become the chairman of the NCP in return for Dahal quitting the co-chairman's post and taking over as PM.

Oli's gamble is that since the communists hold the party to be more powerful than the government and expect the government to be controlled by the party, he would then be more powerful than Dahal. If things reach a crisis point, Madhav Nepal (he is also considered to be friendly towards India) could also emerge as the PM.
Either way, it would be good for India to have Dahal or Nepal as PM, or even to have a weak Oli continue as the PM. Under pressure from within the party as he is now, and his popularity plummeting due to his failure to keep his poll promises, Oli would find it difficult to pursue his anti-India agenda with vigour and take his country close to China as he wants to.
Ties with Maldives are back on a firm footing with taking over as the new President of the island nation from the anti-India and pro-China . Solih has started over-turning many pro-China steps taken by his predecessor and India, too, has extended generous help to Maldives. The election of Solih to power has been a huge setback to China and a boost for India (read ). China's influence in the Indian Ocean will be curtailed in 2019 with the developments in Maldives.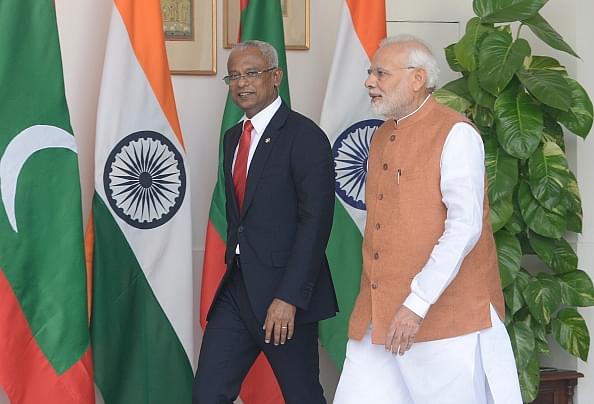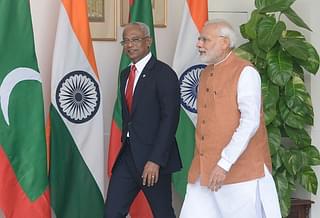 Prime Minister Narendra Modi with Maldivian President Ibrahim Mohamed Solih. (Pankaj Nangia/India Today Group/Getty Images)
India's ties with Myanmar are also growing and another $ 5 million (Rs 35 crore) was given to that country by India as aid to develop its border regions. India is planning to announce more development assistance to Myanmar in the coming months and military ties with that country are also set to be strengthened this year.
Work on the (connecting Kolkata to Sittwe port in Myanmar by sea, Sittwe to Paletwa river port in Myanmar through the Kaladan river, and ultimately Paletwa to Mizoram by road) that has been a bit tardy is being speeded up and the multi-billion dollar project is expected to be completed by early next year.
Also, thanks to Sheikh Hasina being re-elected to power in Bangladesh, New Delhi is preparing a blueprint to unveil a slew of projects that will benefit India, Bangladesh and Myanmar as part of India's 'Act East' policy (read ). Myanmar's ruling establishment is fully on board and convinced about the benefits that will accrue to the country from the projects and proposals under India's 'Act East' policy.
"This will help us in furthering this policy and reaching out to ASEAN through Myanmar since Myanmar is the only country in that grouping that shares borders with India. An increased Indian presence in Myanmar, thanks to the Kaladan and other projects, will translate into a decrease in Myanmar's dependence on China," said a former diplomat, who served in Myanmar and Thailand.
In the island nation of Sri Lanka, the reinstatement of as the Prime Minister of the country, is a huge positive development for India. President sacked him from the PM's post and appointed the pro-China and anti-India in his place, plunging the country into a . After the Supreme Court overturned Sirisena's order and the Parliament reposed faith in Wickremesinghe (considered to be close to India), Sirisena had no option other than retracting.

It is believed that China had sponsored the constitutional coup since Wickremesinghe was inclined towards India's interests in Sri Lanka. Beijing was also annoyed with Wickremesinghe over what it considered various delaying tactics by the Prime Minister against Chinese projects in Sri Lanka.
Hence, it pushed Sirisena to dismiss Wickremesinghe and appoint its (China's) friend Rajapaksa in his place. This conspiracy failed and an angry Wickremesinghe is expected to take his country away from China's influence now. The crackdown on Chinese interests in the island nation has begun in many small ways (read ), and will gain momentum. This can only be good news for India.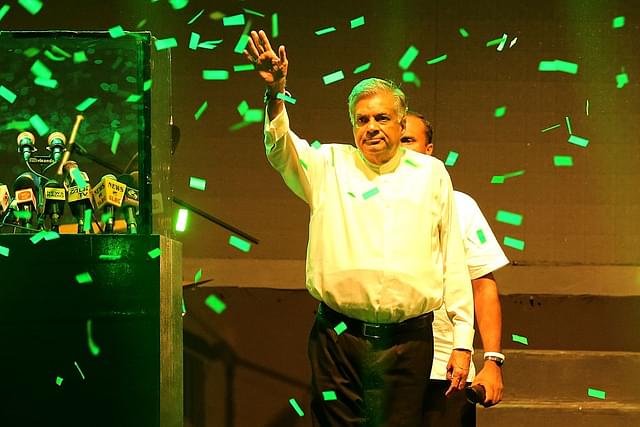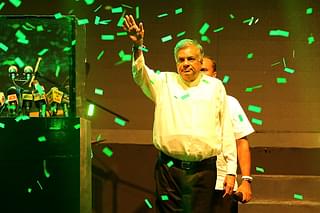 Sri Lankan Prime Minister Ranil Wickremesinghe. (Buddhika Weerasinghe/Getty Images)
As for Bhutan, ties with the tiny Himalayan nation are being given a further leg-up. India a Rs 4,500 crore contribution to Bhutan's 12th five-year economic plan during the visit of the country's new Prime Minister Lotay Tshering to New Delhi late last month. Tshering had the elections in October last year.
Of equal significance is the finalisation of the power tariff for the electricity to be generated from the new in Bhutan. The agreement to fix the tariff (at which India will buy power from Bhutan) was hanging fire for the past few months and its finalisation is a huge relief for Bhutan. That is because the sale of power from this 720-MW power project will finance most of Bhutan's 12th plan.
India has also committed itself to completing the Sunkosh hydropower project in Bhutan soon (read ), and amended some guidelines that were hampering the implementation of the project. Work on this project is now expected to start soon. Bhutan is thus very happy since the revenues from the sale of power from the Mangdechhu project will finance a lot of development across the country and with the completion of the Sunkosh project, the country's earnings will go up further.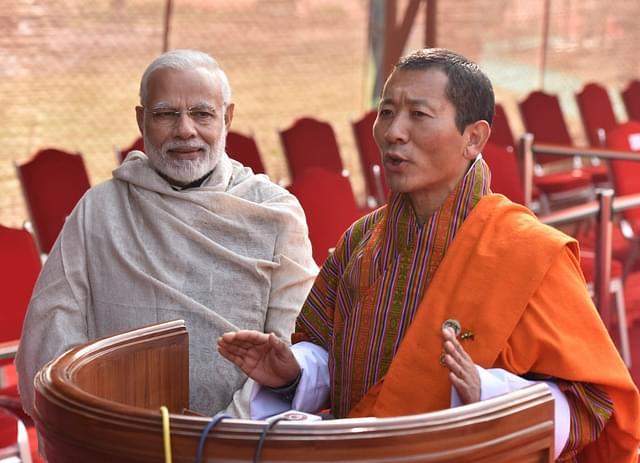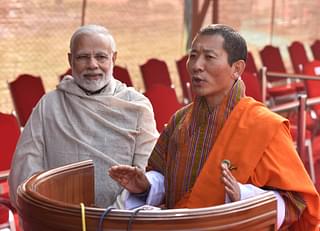 Prime Minister Narendra Modi with Bhutan Prime Minister Lotay Tshering. (Sanjeev Verma/Hindustan Times via Getty Images)
Thus, 2019 promises to be a good year for India in its neighbourhood. And the 'Act East' policy will also gain fruition this year. What's more, the earlier growth of China's pernicious influence in the neighbourhood (excepting in Pakistan, which has become a client state of China anyway) has been effectively contained. Now, in 2019, New Delhi is unfettered in boosting ties with the South Asian neighbours and in gaining its pre-eminence in the region.