EU Energy Crisis: How Europe Is Struggling To Wriggle Out Of Russia's Gas Stranglehold
by
Amit Mishra
-
Monday, September 19, 2022 06:04 PM IST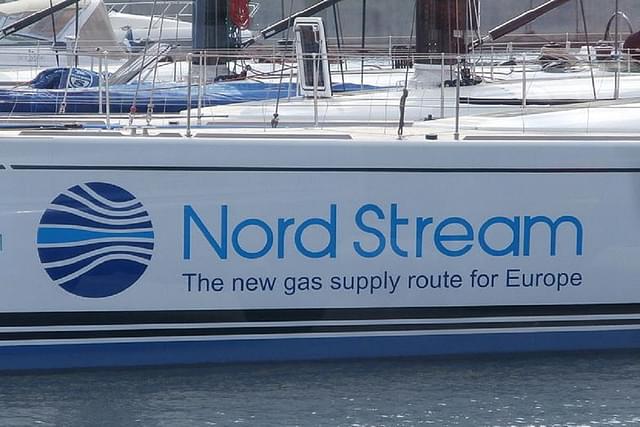 Nord Stream.
Snapshot
European countries like Germany grew accustomed to Gazprom's cheap and consistent supplies.

The Ukraine war has exposed this long-time dependency as a political liability.

The EU is now scrambling to find alternative gas suppliers but Gazprom's grip is still strong.
The story so far: An energy crisis is brewing in Europe. Russia has been choking Europe's energy needs by curtailing the supply of natural gas in retaliation against Western sanctions imposed on Kremlin in the aftermath of Ukraine war.
Swarajya explains the historical underpinnings of this crisis and the importance of Russian gas for Europe.
Why Natural Gas Is So Important For Europe?
The European Union (EU) energy mix in 2020 consisted of 34.5 per cent of oil, 23.7 per cent of natural gas, 17.4 per cent of renewables, 12.7 per cent of nuclear energy and 10.5 per cent of solid fossil fuels (coal).
Natural gas, thus, is the continent's second largest source of energy, according to Eurostat, the EU's statistical office.
Contrary to popular conception, the vast majority of electric power is generated through the burning of natural gas to heat water for steam to run turbines (see the image below).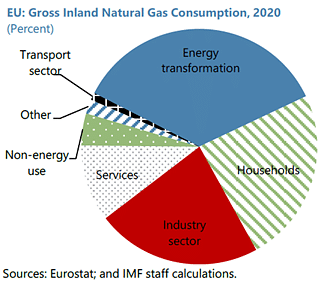 Despite this, natural gas is probably best known to the consumer for its domestic uses for heating homes, factories, and offices in the harsh, long European winters.
Additionally, gas is also a key input in production processes in some industries (eg, chemicals).
How Did Europe Become So Dependent On Russian Gas?
Europe's dependency on Russian gas was no accident. There are essentially two reasons for this persistent dependence on Russian gas:
• Rapid decline in natural gas production: In the 2000s, European gas production represented between 50 and 60 per cent of Europe's demand. The largest producers were the Netherlands, Norway, and the United Kingdom.
But over the past 10 to 15 years, production of natural gas in Europe decreased because the North Sea gas fields were depleted. And later, the Netherlands completely shut down their Groningen gasfields because of earthquakes.
• Shift from coal and nuclear — Europe, as a whole, wanted to move away from the dirtier, polluting fossil fuels, such as coal and oil. Gas was seen as kind of transition fuel which produces about half as much carbon dioxide when burned as coal does.
Since 2010, the EU has been reducing its dependence on coal to reach its climate goal of achieving carbon neutrality by 2050 and cutting emissions by at least 55 per cent by 2030.
In addition, several EU members are programmatically opposed to nuclear power, especially in the aftermath of Fukushima disaster in Japan. Germany decided to shut down all its nuclear power stations in 2011.
Only 13 per cent of Europe's energy now comes from nuclear power.
Why Russia Was The Preferred Choice For Supply Of Natural Gas?
That dependence on natural gas means a dependence on Russia. To start with, Russia, has the world's largest reserves of natural gas and is next door — it was highly convenient to build more pipelines, and become ever more dependent on Russian gas supplies.
Another factor driving Russian supply is the cheap cost. The cheap gas piped from Russia provided a solution to the energy problems of European nations and rather than diversifying suppliers, routes to import Russian gas were diversified.
The result is that over decades, Russia has been able to build infrastructure that's taken this gas into Europe. Europe has built industries that have come to depend on the cheap supply of Russian oil and gas.
How Much Does Europe Depend On Russia For Natural Gas?
For natural gas, import dependency from outside of the EU was 84 per cent in 2020. Russia has been the largest supplier of gas to the EU: in particular, in 2020, more than 40 per cent of total imports of natural gas came from Russia.
Russia is followed by Norway, which supplies about 22 per cent of Europe's gas needs; Algeria and Azerbaijan supply under 20 per cent and 10 per cent respectively.
The dependence on Russia for overall energy natural gas varies significantly across countries.
Of the EU superpowers, Germany and Italy are the most highly dependent on Russian supplies with import shares of 55 per cent and 43 per cent respectively, compared to France with a little over 16 per cent.
Other smaller countries however, such as Estonia, Czech Republic, Hungary and Slovakia are almost fully dependent on Russia for their requirements of natural gas, while Poland gets 50 per cent of its gas from the latter.
Russia accounts for less than 1 per cent of the gas imports of Spain and Ireland, respectively.
How Russia Delivers Gas To Europe?
Russia typically supplies about 40 per cent of Europe's natural gas, mostly by pipeline on the north side and the south side of Europe. The norther pipeline routes include Brotherhood, Yamal and Nord Stream, whereas Blue Stream and Turk stream pipeline are the major southern pipeline route.
The Soviet-era Brotherhood pipelines through Ukraine delivers 40 billion cubic meters (bcm) gas mainly to Austria, Italy, Slovakia and other east European states.
However, over the last two decades, Russia has been building supply routes to Europe that circumvent Ukraine. Meaning, European supply would not be adversely affected even if gas supply to Ukraine were to cut off in a crisis situation.
Alternative routes to Europe that do not go via Ukraine include the Yamal-Europe pipeline, which crosses Belarus and Poland to Germany. The Yamal-Europe pipeline has a 33 bcm capacity, around a sixth of Russian gas exports to Europe.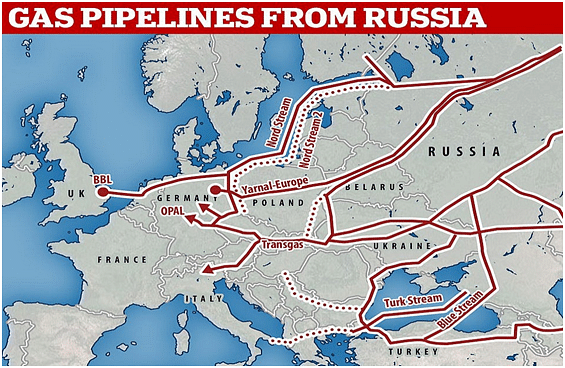 Turk stream pipeline consists of two parallel pipelines beginning on the Russian coast near the town of Anapa, travelling across the Black Sea to a gas receiving terminal in the Thrace region of Turkey.
One onshore pipeline caters to the Turkish market, while a second supplies countries in south and southeast Europe.
What Is Nord Stream And How Critical It Is To Gas Supply?
The 1,224-kilometre offshore Nord Stream pipelines are the most direct connection between the vast gas reserves in Russia and energy markets in the European Union.
Owned by the Russian energy giant, Gazprom, Nord Stream is a twin pipeline system which has two lines each and runs under the Baltic Sea carrying gas from Russia to Europe.
Nord Stream 1 (Line 1) was completed in 2011 and runs from Vyborg in Leningrad to Lubmin near Greifswald, Germany. Transportation of gas through Line 1 began in mid-November 2011.
Nord Stream 2 which runs from Ust-Luga in Leningrad to Lubmin was completed in September 2021.
The pipeline certification had been temporarily halted by the German energy regulator last November, and was frozen altogether in February 2022, rendering it inactive.
In Lubmin, Nord Stream connects to the OPAL (Baltic Sea Pipeline) and NEL (North European Pipeline) which further connects to the European grid.
The twin pipelines together can transport a combined total of 110 bcm of gas a year to Europe for at least 50 years.
As the project strengthens, the EU energy market reinforces security of supply. The project has been designated as being of "European interest" by the European Parliament and Council.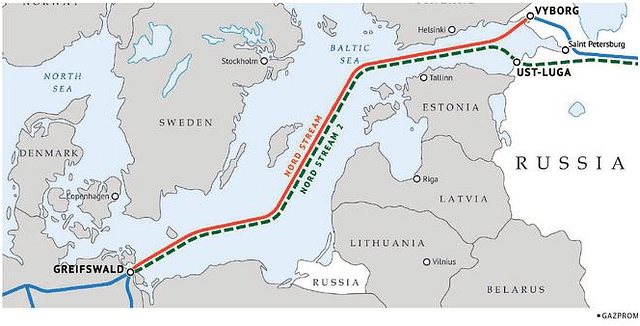 The pipeline transported 55 bcm of gas to Europe, just before the war — about a third of 156 bcm of Europe's annual import from Russia.
The pipeline's significance comes from the fact that it bypasses transit countries, making it highly reliable for European customers.
What Makes Gazprom So Powerful?
Russia is rich in fossil fuels and has the world's largest gas reserves. Gazprom was created in 1989 to manage the exploration and extraction of these vast reserves.
The Gazprom name is a contraction of the Russian words gazovaya promyshlennost (gas industry).
After the Soviet Union's dissolution, Gazprom was privatised in April 1994. But under Vladimir Putin, the Russian State became Gazprom's majority owner.
In 2006, Gazprom was granted exclusive rights to export gas. Today, Gazprom is Russia's biggest company by revenue and a Fortune 500 multinational. At the same time, Gazprom is a mighty geopolitical tool.
The company operates over 176,000 km of gas pipelines, many of which criss-cross Eastern and Central Europe, particularly Nord Stream, which meets one-third of Europe's Russian gas import.
The pipeline is owned and operated by Nord Stream AG, whose majority shareholder is the Russian state-owned company Gazprom.
Gazprom is responsible for supplying gas to Europe under its long-term contacts. On top of that, it makes spot sales to countries on its electronic sales platform based on their time-based requirements.
European countries like Germany grew accustomed to Gazprom's cheap and consistent supplies. The Ukraine war has exposed this long-time dependency as a political liability. The EU is now scrambling to find alternative gas suppliers but Gazprom's grip is still strong.
Get Swarajya in your inbox everyday. Subscribe here.
An Appeal...
Dear Reader,
As you are no doubt aware, Swarajya is a media product that is directly dependent on support from its readers in the form of subscriptions. We do not have the muscle and backing of a large media conglomerate nor are we playing for the large advertisement sweep-stake.
Our business model is you and your subscription. And in challenging times like these, we need your support now more than ever.
We deliver over 10 - 15 high quality articles with expert insights and views. From 7AM in the morning to 10PM late night we operate to ensure you, the reader, get to see what is just right.
Becoming a Patron or a subscriber for as little as Rs 1200/year is the best way you can support our efforts.
Become A Patron
Become A Subscriber