Rohingyas Must Go: No Obligation Can Be More Important Than National Security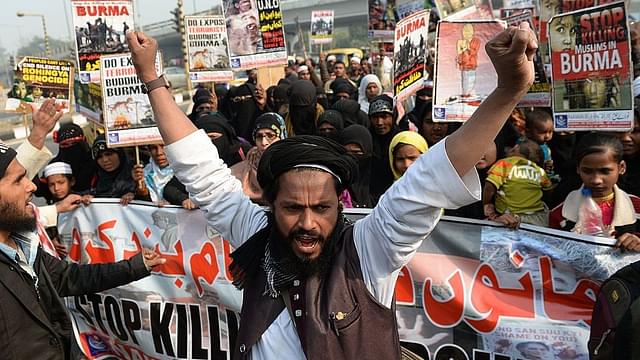 Rohingya Muslim refugees along with Indian supporters shout slogans against human rights violations in Myanmar, during a march to United Nations High Commissioner for Refugees (UNHCR) office in New Delhi on December 19, 2016. (PRAKASH SINGH/AFP/Getty Images)
Snapshot
Various arguments and explanations are offered to explain why India must continue to host illegal Rohingya immigrants. Here is why none of them stand the test of scrutiny.
The Rohingya issue is in the limelight. The usual suspects, the leftists, scotch liberals, human rights activists, are all up in arms at Government of India's decision to deport all illegal immigrants, including Rohingyas.
The arguments being advanced range from Vasudhaiva Kutumbakam by the liberals (don't be surprised, all is fair in love and Modi bashing), to Right to Equality and Right to Life under the Indian Constitution granted to all persons, as against the other rights granted only to citizens – canvassed by Prashant Bhushan and his leftist eco system, the same individuals who support Kashmiri separatism.
There is also the logic that India should treat all refugees the same way. Shekhar Gupta cites the example of Chakma refugees. Another group resents the distinction made between refugees of Indic faith (Hindus, Buddhists, Jains), as against the Muslim refugees from Bangladesh and Rohingyas of Myanmar. There is also the separatist voice articulated most ably by Zakir Musa of IS in India, who threatens dire consequences if Rohingyas are moved from Jammu. It is a different matter that he seeks to conquer the whole of India for Islam (Incidentally, I have not heard a single left or liberal member of the commentariat saying anything against the threat of Ghazwa-e-Hind articulated by Zakir Musa).
Let me deal with the major arguments one by one.
First, Vasudhaiva Kutumbakam argument. It is said that great civilisations like India should be magnanimous and compassionate. I only need to recount the Hitopadesha story of Vasudhaiva Kutumbakam:
Kshudrabuddhi, the jackal, coveted Chitrangada, the deer. Jackal wanted to devour the deer for his meat, but he knew that he would not be able to chase the deer down. So he decided to befriend the deer. He went to Chitrangada, made friendly noises and pretended as if he was homeless and needed shelter. Chitrangada was apprehensive and expressed his reservations. To win his confidence, Kshudrabuddhi told Chitrangada:
ayaM nijaH paroveti gaNanA laghu-chetasAM
udAra charitAnAM tu vasudhaiva kuTumbakaM
"This is my own and that a stranger" – is the calculation of the narrow-minded
For the magnanimous-hearts however, the entire earth is but a family
The deer was deceived, and he invited the jackal to his dwelling. The deer had a crow, Subuddhi, as his friend who lived in the tree above his dwelling. When he saw Chitrangada bring the jackal to live in his dwelling, he cautioned him against the move.
The deer, however, had been totally won over. He told Subuddhi that the jackal was a very wise animal, and he recited subhashitam. Subuddhi said, "'But, do you know him well enough? One should never extend friendship and shelter to anyone without knowing their real nature and intentions, learning the history of their ilk and giving them a test of time." Subuddhi even recounted a story of the old vulture and the cat. The deer lightly shrugged this aside, saying, 'But this Jackal is very friendly'.
After a while, the jackal became even more lustful of the deer's meat. So he led Chitrangada into a field where he got trapped in a net thrown by a farmer to trap wild animals. Finding himself trapped, the deer requested the jackal to use his sharp teeth to cut through the net and free him. The jackal instead made an excuse, "Today is Sunday, my day of fast, so I cannot touch leather. You wait until tomorrow. Then he lay in wait for the deer to die so that he could feast on his flesh.
When the deer did not return in the evening, Subuddhi the crow went looking for him, only to find him trapped. Subuddhi reminded him of the warning he had given him. However, he devised a plan to rescue Chitrangada and slay the jackal.
This is the reason I always have a hearty laugh when I hear our India First leaders talk about Vasudhaiva Kutumbakam. When the other side utters this mantra, I am reminded of Kshudrabuddhi the jackal. In the dharma sanskriti of ancient India, violence is not denominated by killing or genocide alone. Excess of anything, even peace, is violence. Excess of compassion to the extent of damaging the Rashtra, or Rajya, is violence, it is adharma.
I am also reminded of the Vaishali republic, which took democracy to such an extreme that the Magadh Army devoured them even as they kept arguing in their Mahasabha as to the best way of countering the invasion. Shekhar Gupta would remember that, as he had narrated that story once in the context of Arvind Kejriwal's glorification f Vaishali. Ugrasena's Sudharma Sabha was also partly responsible for Kansa dethroning him.
Republics are a great form of State structure under strong leaders, but the worst form of governance under weak leaders, often paving the way for autocracies. Does anyone care to remember how Hitler became the arbiter of Germany's destiny?
Second, the argument of treating Muslims differently is well rooted in the history of the sub-continent. The sub-continent was divided by the Islamic doctrine of Dar-ul-Islam into Muslim and Non-Muslim lands, and not into Muslim and Hindu lands. People who have not had that flavour of history would do well to check the passage of the Indian Independence Act, 1947 through the British Parliament, and its 'Statement pf Objects and Reasons'.
India suffered a paroxysm of mindless violence that was started by Jinnah through his Direct Action Day on Battle of Badr Day, seventeenth Ramzan, on 16 August 1946. Reactions and counter-reactions continued through Bihar and Noakhali till a horrendous wave of violence was let loose in West Punjab against Hindus and Sikhs. Reactions were natural but remained confined to East Punjab and Delhi. This was violence let loose because of a doctrine – the doctrine of Shariat that Muslims cannot live with any other community, and cannot live in subordination under a ruler belonging to any other community.
Rohingyas espoused the same doctrine in 1947 and demanded that Arakan (Now Rakhine) be merged in East Pakistan. They have fought for a separate Muslim land right since 1942. The recent refugee crisis is the direct result of ISI and Jamaat-e-Islami inspired terrorist attacks against Myanmar's security forces. Why should India accord refuge to this violent ideology? They should logically look for refuge in the lands given to Muslims during the partition, if at all.
Third, the argument of parity with Chakmas as a civilisational obligation, as by Raja Dahir in 712 CE. Raja Dahir would undoubtedly have been censured by Krishna if the event had occurred in his times. Krishna never allowed Rashtra Dharma to be subordinated by Svadharma of a Kshatriya. For those interested in the nuance, check the Bhishma-Krishna samvad on the side of Bhishma's Shar-shaiyya. Raja Dahir sheltered Muhammad-bin-Allafi, a descendent of the Prophet, and incurred the wrath of the Ummayad Caliph. The Caliph sent Muhammad-bin-Qasim to capture the Ahl-e-bait (descendants) and bring their heads. When the attack happened, Dahir rightly expected his protectees to help him with tactics, as the Arabs had very different battle strategies and tactics. Ahl-e-Bait, however, refused to help a kaafir against an Army of Islam. So much for Kshatriya Dharma of Dahir. He lost his Rajya and let down the 90-year successful war with Islamic marauders. I regard such acts as foolish. Personal glory should never be a factor to compromise the interest of the country. One may even test Prithviraj Chauhan's action on this touchstone.
Fourth, any moral argument has to be tested on the yardstick of national interest. Given the Rohingya Muslim insurgency, and involvement of ISI, JI and Saudi money, it would not just be foolhardy, but suicidal to consider this jihad-influenced community to enter or to continue to allow living in India.
Fifth, with the IS and Ghazwa-e-Hind formally making their debut in the Indian landscape through the Kashmir Valley, the least suspicion of Islamic separatism, and radical Islamic fundamentalism needs to be crushed with the heaviest hand. There is enough evidence that their troubles in Myanmar are largely due to their loyalty to the Ummah over their loyalty to their country, Myanmar. Kashmir is already a near emergency situation, do we want another emergency on our hands? Remember, all Fundamental Rights (except Article 21 – though ADM, Jabalpur case still holds the field in spite of Justice D Y Chandrachud's observations in the privacy matter) are liable to be suspended in an Emergency.
The conclusion, therefore, is inescapable. None of the logic being advanced holds any water especially because India has neither signed the 1951 UN Refugee Convention, nor its 1968 protocols. Thus India has no legal, moral, civilisational or romantic obligation to provide refuge to the Rohingyas.
Get Swarajya in your inbox everyday. Subscribe here.
An Appeal...
Dear Reader,
As you are no doubt aware, Swarajya is a media product that is directly dependent on support from its readers in the form of subscriptions. We do not have the muscle and backing of a large media conglomerate nor are we playing for the large advertisement sweep-stake.
Our business model is you and your subscription. And in challenging times like these, we need your support now more than ever.
We deliver over 10 - 15 high quality articles with expert insights and views. From 7AM in the morning to 10PM late night we operate to ensure you, the reader, get to see what is just right.
Becoming a Patron or a subscriber for as little as Rs 1200/year is the best way you can support our efforts.
Become A Patron
Become A Subscriber