Book Excerpt: The Nehru-Gandhi Family's Relationship With Amethi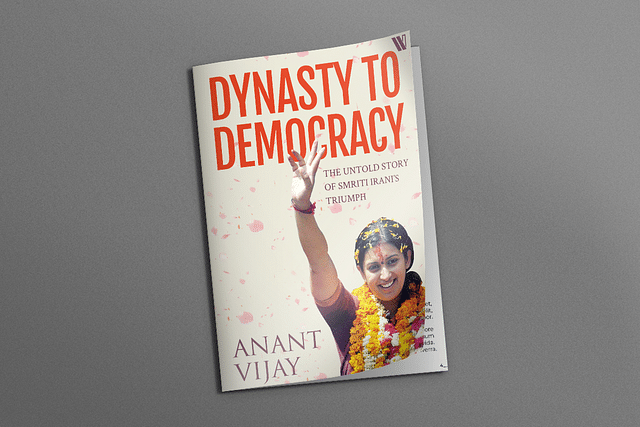 Dynasty to Democracy
Snapshot
"Why did the Nehru-Gandhi family deem Phulpur, Raebareli and Amethi to be closer to it in its electoral journey and for fulfilling its political ambitions?"
Dynasty To Democracy: The Untold Story Of Smriti Irani's Triumph. Anant Vijay. Westland. 248 Pages. Rs 399.
The Nehru-Gandhi family's relation with Amethi has never been as egalitarian as it appears or has been made out to be. In a way, it has always been a party of satraps, landlords, heads of maths (Hindu monasteries) and middlemen. Mahatma Gandhi had understood this in the initial days itself of his association with the Congress, and for that reason, had advocated the disbandment of the party after Independence. Amethi was not beyond this. This party, governed by a high command culture, maintained its relationship with the powerful sections, and the pains and sorrows of the masses were just tools for it to grab media headlines.
The Nehru-Gandhi family's relationship with Amethi started from the threshold of the Amethi royal house. Older people of Amethi say that the foundation of this relationship was laid a long time before Independence. This bond goes all the way back to the king of Amethi, Raja Madhav Bakhsh Singh, and the noted lawyer Motilal Nehru. Although Pandit Motilal Nehru was known for his advocacy and role in the freedom struggle, he was also known for his luxurious lifestyle.
According to historical records, owing to the looting and massacre in Delhi, Pandit Motilal Nehru's father Pandit Gangadhar Nehru migrated to Agra. But before he could properly settle down there, he passed away in 1861, aged thirty-four.
Pandit Gangadhar Nehru had three sons. The eldest among them was Bansidhar Nehru, who, after Victorian rule was established in India, went to serve in the justice department. Younger to him was Pandit Nandlal Nehru, who was the diwan of a small princely state called Khetri in Rajasthan for almost ten years. Later he returned to Agra. At Agra, he studied law and began legal practice. Pandit Gangadhar Nehru's third son was Pandit Motilal Nehru. Three months after the death of Pandit Gangadhar Nehru, on 6 May 1861, Pandit Motilal Nehru was born. Pandit Nandlal Nehru brought up his younger brother Motilal and arranged for his education.
Pandit Nandlal Nehru was counted among the successful lawyers of Agra. With a high court set up in Allahabad, he had to spend most of his time there in connection with cases. So he built a house in Allahabad and started permanently residing there along with his family. Pandit Motilal Nehru pursued his education there. He was educated at Allahabad's Muir Central College, but could not appear for the BA final year examination. However, he did Bar at Law later from Cambridge University, and become one of the most expensive and sought after advocates of the country. It is a fact that Pandit Motilal Nehru was one of the few first-generation Indians to receive a western education.
In that era, when the average income of an ordinary Indian was not even a hundred rupees, his monthly income was in thousands. He had travelled to Europe several times in relation to cases or on tours, and so, as compared to other Indians, he was an expert in understanding the people of the West. He had easy access to British officers and jurists. This was when he bought a sprawling house in Allahabad's Civil Lines. He reached the pinnacle of his career as a lawyer when in 1909, he secured an approval to be an advocate in Britain's Privy Council. In 1909, when under the Indian Councils Act, also known as the Morley-Minto Reforms, Indians got representation for the first time in the Governor General's executive council, and in 1910, when elections were held to the central and provincial legislative councils, Pandit Motilal Nehru contested the legislative assembly election from the United Provinces and won.
It is said that Raja Madhav Bakhsh Singh of Amethi openly supported Motilal Nehru owing to their old relationship. Noted journalist Vinod Mehta alludes to this in his book The Sanjay Story, while referring to a person from the Amethi royal house. Mehta writes, quoting that person, that the king's (Rananjaya Singh) father gave Motilal Nehru a break and offered him many important cases. One could say that the Anand Bhawan in Allahabad was built with money from Amethi. It was, in fact, Raja Madhav Bakhsh Singh, who once advised Pandit Motilal Nehru to build a mansion matching his status. After that, on 7 August 1899, Pandit Motilal Nehru purchased a bungalow spread over 19 bighas from Raja Jaikisan Das for Rs 20,000. A huge one-storey building was already in place. Before this bungalow was purchased, the Nehru family used to stay in a bungalow at 9, Elgin Road, and before that, they lived in an old neighbourhood of Allahabad called Mirganj. It was at this Mirganj house that Pandit Jawaharlal Nehru was born on 14 November 1899. The house in Mirganj no longer exists because under a clean-up drive in 1931, the civic body pulled it down.
Anand Bhawan was purchased when Jawaharlal Nehru was ten years old, and the whole family moved there. Jawaharlal Nehru writes in Meri Kahani, 'The result of practising law with hard work and dedication was that there was a flow of cases, and a lot of money was earned.' After purchasing Anand Bhawan, Motilal Nehru had further construction done on it. However, electoral politics connected him to the masses and the Congress. He started to use his massive house and enormous wealth for the cause of the country as well. It was at Anand Bhawan in 1928 that Jawaharlal Nehru first wrote his 'Poorna Swaraj' speech. The contours of the Quit India movement were shaped here. Furthermore, the outlines of all historical decisions were formulated here. For that reason perhaps, on 21 June 1954, Jawaharlal Nehru wrote in his will about Anand Bhawan, 'For us and many other people, this house has become the symbol of all those things that we value in life. It is much more valuable than a brick-and-concrete building and a private property. It is connected very intimately with our freedom struggle and great incidents have taken place within its walls. And very important decisions have been taken.'
The intention behind describing the lives of Pandit Motilal Nehru and Pandit Jawaharlal Nehru here in such great detail is to find out why this family did not choose Allahabad in their parliamentary journey despite being so closely connected to the city. Why did the Nehru-Gandhi family deem Phulpur, Raebareli and Amethi to be closer to it in its electoral journey and for fulfilling its political ambitions? Was it just so that it could derive its interests from these areas? It is worth noting also that this family has been successful in doing so.
Like Motilal Nehru, in 1926, when Jawaharlal Nehru contested from the Faizabad-Machhlishahr joint seat, he also made the Amethi princely state his political centre. It was from here that he conducted the election. In return, when after Independence there was a campaign for the merger of the princely states in the country, and the Amethi royal house was merged with the Republic of India, Pandit Nehru offered Rananjaya Singh, the then king of Amethi and the father of Sanjay Singh, the post of a minister. He, however, refused. Though Rananjaya Singh did not enter parliamentary politics directly at that time, he had a considerable hold over politics in the entire Amethi region and his ties with the Nehru family remained strong.
After Pandit Jawaharlal Nehru and Feroze Gandhi, when Indira Gandhi chose the neighbouring seat Raebareli for herself, Amethi was selected for her son Sanjay Gandhi. There is another interesting story behind elections in Amethi. Sanjay Gandhi had emerged on the political horizon before the Emergency. The Congress leaders felt that Sanjay Gandhi would be the one to take the Congress legacy forward. An army of sycophants started gathering around him. Giani Zail Singh wanted Sanjay Gandhi to contest from a Lok Sabha constituency in Punjab, Shyama Charan Shukla kept on sending messages to Sanjay Gandhi to make Madhya Pradesh his place of work, and Jagannath Mishra wanted the Congress crown prince to oblige Bihar. Vinod Mehta writes in his book that in April 1976, the Raja of Amethi arrived in Delhi with the local MP and five MLAs of the district. All of them met Sanjay Gandhi and suggested that he contest the election from Amethi. At this, Sanjay Gandhi said, 'Which election, which seat? I do not know when elections would take place, it is too early to say now. I have not made up my mind.' Apart from family ties, the additional reason for Sanjay Gandhi's election from this place was, by and large, the same as that for choosing Raebareli. The high political ambitions of the Amethi royal heir Sanjay Singh were no secret. The Amethi royals already had a relationship with the Nehru-Gandhi family. In this situation, a friendship between two young men with high political ambitions, Sanjay Gandhi and Sanjay Singh, was but natural. Both of them had stepped into politics at almost the same time. Remember in the 1980s, Sanjay Singh was twice elected as an MLA in Uttar Pradesh and had also served as a minister. On the other hand, Sanjay Gandhi played his cards tactically and made the backwardness of Amethi a pivot, and this strengthened the friendship between Sanjay Gandhi and Sanjay Singh.
Excerpted with permission from 'Dynasty to Democracy: The Untold Story of Smriti Irani's Triumph' by Anant Vijay, published by Westland.
Get Swarajya in your inbox everyday. Subscribe here.
An Appeal...
Dear Reader,
As you are no doubt aware, Swarajya is a media product that is directly dependent on support from its readers in the form of subscriptions. We do not have the muscle and backing of a large media conglomerate nor are we playing for the large advertisement sweep-stake.
Our business model is you and your subscription. And in challenging times like these, we need your support now more than ever.
We deliver over 10 - 15 high quality articles with expert insights and views. From 7AM in the morning to 10PM late night we operate to ensure you, the reader, get to see what is just right.
Becoming a Patron or a subscriber for as little as Rs 1200/year is the best way you can support our efforts.
Become A Patron
Become A Subscriber