City Matters: Seven Steps Modi Can Take To Unleash Indian Cities
In the third installment of the new series on Governance and Urbanisation, we look at seven measures that can radically transform the way our cities are governed. 
Union Urban Development Minister Venkaiah Naidu has a gift for a nice turn of phrase. 'MiSi DiCi' stands for Make in India, Skill India, Digital India, Clean India. All four of these are going to benefit Indian cities, by creating livelihood and jobs for our city dwellers and migrants, as well as improve public health and reduce morbidity. In particular, Clean India or 'Swachh Bharat' has tapped into the enormous latent demand from urban residents, as articulate girl students demonstrated in a Mount Carmel College, Bengaluru recently.
There seems to be a coordinated strategy towards achieving improvements in all the above areas. Apart from MiSi DiCi, there are three Missions from the Ministry of Urban Development (MoUD) launched in June 2015: Smart Cities, AMRUT and Housing for All. Other schemes include HRIDAY, and in the energy sector, 24×7 electricity, Solar energy and UDAY programme. To be sure, such schemes existed earlier as well, but as Mr. Nitin Gadkari says, 'where there's a will, there is a way. Where there is no will, there is survey.' There seems to be convergence of various Union government activities for the better in Indian cities.
But the struggle is going to be long drawn-out. Indeed, a lack of such local resolution for almost all civic issues is the primary challenge and obstacle in a coordinated strategy in making Indian cities better and more livable. Cities the world over are run by empowered local governments.
The Indian constitution puts local government as item 5 in List II or State list in the Seventh Schedule. The Union government can only encourage and motivate state and local governments. This is not understood by many; Prime Minister Modi can only create the demand for better cities and for a cleaner India, and the Union government can offer financial and other incentives. Supply would be provided squarely at state government and city government level.
Consider the case of Toronto. The city is located within the Canadian province of Ontario, and serves as the province capital. However, Toronto City Hall is far more impressive and modern than the Ontario province legislature building. Toronto City Councillor Michael Thompson was incredulous when I told him that Indian ward councillors and mayors were not significant, and citizens petitioned their local MLAs and MPs for urban amenities.
He derisively said that no Toronto resident would go to a federal MP or a MPP (MLA or State legislator) for city issues. Councillor Thompson was clear: "You have to get the political infrastructure right in order to get the city infrastructure right." His reasoning was simple. As a councillor, you have to know your ward/constituency voters very well, a luxury MLAs and MPs do not enjoy. This is true of Indian cities as well, where city councillors have much smaller voting populations than much larger MLA and MP constituencies.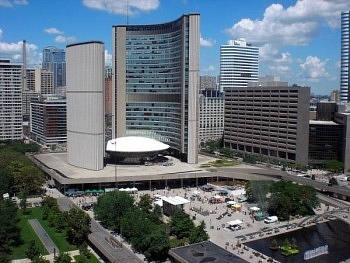 Meeting Seoul Mayor Park Won-soon was equally instructive. His office was like any Indian Chief Minister's in terms of staff and empowerment. City Hall in Seoul runs the city, and Mayor Park is the very clear numero uno in the Seoul Metropolitan government. There are guided tours of Seoul's state-of-the-art City Hall, 35% of which is reserved for the use of Seoul's citizens. The national government of Korea has  little to do in running the city. Indeed, a previous Mayor, Lee Myung-Bak, went on to become the President of Korea on the basis of his excellent work as Mayor in cleaning up Seoul's traffic and improving public transport. The day Indian Mayors do well and go on to become Chief Ministers or more, our cities would automatically become much better.
In this context, "All politics is local" bears repetition. In Indian cities, local politics has been shortchanged, and all power resides with MLAs and MPs, who rule cities through appointed officials such as municipal commissioners, district magistrates, and superintendents of police. Public Interest Litigation, which could often be well-meaning, has further eroded local politics to insignificance, since matters best resolved by local political processes are sought to be brought up in courts. PIL petitioners seldom go to local councillors and mayors to resolve matters.
Seven steps to unleash India's cities
Given the ground realities and concerns about who should be driving the change, it is important to identify the specific steps to overcome such obstacles. It is also crucial to create a horizontal empowered structure instead of the current vertical format of reporting to the state capital. Here are some suggestions for all 53 'million-plus' cities in India – those with population exceeding 10 lakh.
First, each city should have a directly elected mayor, by whatever name known. (S)he as mayor with a full five-year term would be the leader of the city. The Smart City Mission is a beginning towards this, by proposing special purpose vehicles under the control of state and city governments. Sensible chief ministers of state governments would encourage strong mayors as their biggest strengths. Tamil Nadu and Madhya Pradesh already have directly elected mayors. MLAs and MPs may be less enthusiastic about this, but citizens would be delighted.
Second, the number of councillors in executive functions needs to be limited. As in the union government and state governments, there should be a limit of 15 percent councilors who would be in executive governance structures of the city government. A Mayor should also have the flexibility to induct experts and professionals into her/his team. Citizen responsiveness would be high with directly elected mayors in any case.
Third, the provisions of the 74th amendment – Part IXA of the constitution, as also schedule 12, should be implemented in full. Devolution should be made to happen from state governments to city governments, or the inelegantly termed 'urban local bodies.' All funds, functions and functionaries should be transferred as per the constitution. This has been a demand repeated since 1994, but most state governments have been unwilling to let go.
Fourth, appointed officials in city governments should not be appointed by state capitals, but by the city mayor, from a pool of applicants who could be sourced from various government streams. Such appointed officials should be given a fixed term of at least three to four years. This will encourage elected and appointed officials to work together, not at cross-purposes as is often the case.
Fifth, each million-plus city should have a relationship with National Institute of Urban Affairs in Delhi. More importantly, each city government should have a direct tie-up and close symbiotic relationship with an academic institution or university within the city or nearby. Such designated academic institutions could work with the city government in capacity building, developing institutional memory and identifying best practices that can be upscaled. This is a surprising omission in the smart city guidelines. While the ministry of urban development has identified nine centres of excellence, these are clearly inadequate to produce close linkages with 53 cities, and the large number of urban practitioners required over the next two decades.
Sixth, all city government elected and appointed officials must be sensitized and undergo capacity building in reforms management and support. Though an ambitious plan has been outlined by the MoUD, this needs to be dramatically upscaled by each state government and each academic institution for its affiliated city government.
Lastly, similar to the ease of business rankings for Indian states, we need to start publishing similar rankings for the top 53 cities in India, to encourage virtuous competition among our cities. 2016 is a good year to start this. This could be started by Department of Industrial Policy & Promotion (DIPP) in the Union government; leading media conglomerates have already started city awards.
Minister Venkaiah Naidu consistently articulates the need for 'smart' urban leaders, who will take ownership and resolve to champion their cities. In the structure of cooperative and competitive federalism evolving among the union and state governments, competition incentivizes better governance.
Similarly, there is clear competition among major Indian cities to become a preferred destination to live, work and play for Indian citizens and employers. The day strong city leadership clearly recognizes and acts upon such competition, Indian urban residents will be the biggest gainers. Yet, there is almost no recent example of a two-term Mayor who improved her/his city and went on to succeed in state or national political office.
Urban India is going to double in population over the next two decades. While Union government's increased focus on Indian cities is welcome, these cities will succeed only if state governments enable and empower their cities to take ownership and start competing to become better. That is where all of Minister Naidu's eloquence would be required to undo the damage done by the provisions of Article 243T (in contrast with Article 330 and 332) of India's Constitution, that have stunted elected officials in city governments and led to dynastic politicians at state and Union government levels.
Get Swarajya in your inbox everyday. Subscribe here.
An Appeal...
Dear Reader,
As you are no doubt aware, Swarajya is a media product that is directly dependent on support from its readers in the form of subscriptions. We do not have the muscle and backing of a large media conglomerate nor are we playing for the large advertisement sweep-stake.
Our business model is you and your subscription. And in challenging times like these, we need your support now more than ever.
We deliver over 10 - 15 high quality articles with expert insights and views. From 7AM in the morning to 10PM late night we operate to ensure you, the reader, get to see what is just right.
Becoming a Patron or a subscriber for as little as Rs 1200/year is the best way you can support our efforts.
Become A Patron
Become A Subscriber