BJP Sets Out Agenda For Bengal; To Focus On Trinamool's Corruption, Mamata's Misgovernance And Muslim Outreach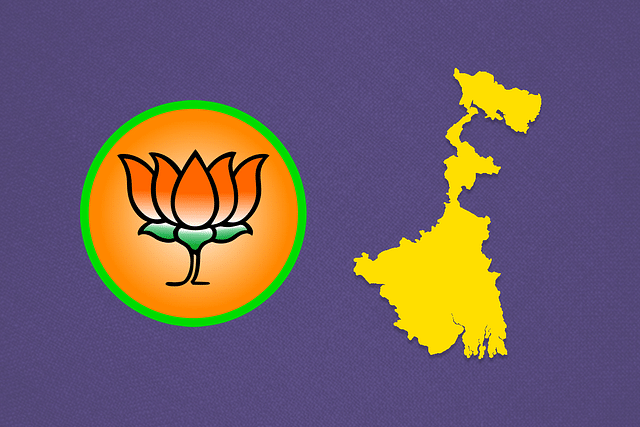 BJP in West Bengal.
Snapshot
Addressing a rally at Bethuadahari in Nadia district, the BJP national president promised to send all corrupt Trinamool leaders and functionaries to prison, if elected to power.

The BJP has drawn up a multi-pronged agenda to achieve its objectives in Bengal. The highlights of the elaborate plan are here.
The Bharatiya Janata Party (BJP) central leadership has decided to resume its focus on Bengal and sharpen its offensive against Chief Minister Mamata Banerjee and her party, especially on issues of corruption and misgovernance.
The party has also decided to reach out to the vast number of pasmanda Muslims in Bengal in a bid to wean them away from the Trinamool.
The BJP central leadership being serious about Bengal is evident from the fact that Jagat Praskash Nadda decided to make the state his first port of call, after his term as the party national president was extended at the BJP national executive committee meeting earlier this week.
In an indication of the party's resolve to take Mamata Banerjee head-on, Nadda launched a no-holds-barred offensive against the widespread corruption that has become endemic to Bengal under the Trinamool government.
Addressing a rally at Bethuadahari in Nadia district, the BJP national president promised to send all corrupt Trinamool leaders and functionaries to prison if elected to power in the state.
In a frontal attack on the Trinamool, Nadda alleged that leaders of Bengal's ruling party were siphoning off funds being provided by the federal government for various welfare projects, such as the Prime Minister Awas Yojana (PMAY) and the Mahatma Gandhi National Rural Employment Guarantee Scheme (MGNREGS).
"Naddaji's offensive against the Trinamool has set the tone for our campaign against the Mamata Banerjee government. It will be an all-out war against corruption and misgovernance in Bengal," leader of opposition Suvendu Adhikary told Swarajya.
The BJP's sight now, is on the panchayat polls in Bengal, likely to take place in a few months' time. A good performance in the rural polls, the party believes, will pave the way for improvement in the saffron party's Lok Sabha tally in Bengal from the 18 seats it won last time.
The party aims to win at least 25 of the 42 Lok Sabha seats in the state next year.
"The ultimate aim, of course, is to unseat Mamata Banerjee from power in 2026 and send every corrupt Trinamool functionary, including her favourite bhaipo (Trinamool general secretary Abhishek Banerjee) to prison," said Adhikary.
The BJP has drawn up a multi-pronged agenda to achieve its objectives in Bengal. The highlights of this elaborate plan are here:
Focus on Trinamool's corruption relentlessly
State BJP leaders have been asked to keep harping on and exposing corruption by Trinamool functionaries, especially at the grassroots level. They have been asked to collect reports about such corruption from grassroots-level workers continuously and highlight them.
The BJP feels that a dogged and unyielding focus on Trinamool's corruption, and making people of the state aware of this corruption, will fuel people's disgust with the Trinamool and build anti-incumbency against the government.
The BJP also plans to focus on alleged corruption and amassing of wealth by people, including close relatives of Mamata Banerjee, in order to defeat attempts by the Trinamool top leadership to disassociate itself from party functionaries caught with their hands in the till.
Get access to evidence of corruption
BJP state leaders had often complained in the past that they do not get access to documents that can provide evidence of the largescale corruption in Bengal.
Such evidence exists aplenty in official documents with ministries and departments of the Union Government, but the party is unable to get it on hand.
This has changed now with Union ministers being asked to collect such documents from their respective departments and share them with party leaders.
An example of this is the latest 'Aadhar seeding report' which reveals that over 80 lakh beneficiaries of the MGNREGS in Bengal have their Aadhar cards linked with their 'job cards'.
Suvendu Adhikary has launched a vigorous campaign over this, alleging that all the 80 lakh 'job cards' are fake and all money given to these ghost beneficiaries have been pocketed by Trinamool functionaries.
A concerted exercise is on at the federal government level to fish out all such documents that bear even a hint of corruption in Bengal and make them public through BJP leaders.
Exposing such evidence of corruption by the Trinamool, contend BJP leaders will drive the campaign against Mamata Banerjee and her party.
There will be no let-up in pressure by the Union Government in taking to task, Trinamool government in Bengal over corruption and myriad anomalies.
The Union Government had not disbursed funds amounting to hundreds of crores of Rupees for implementation of welfare schemes like PMAY, MGNREGS, Pradhan Mantri Gram Sadak Yojana (PMGSY) and Swachh Bharat projects.
The disbursal was held up because of corruption and various odds involving implementation of such schemes in Bengal.
Only a small tranche of funds were released last month, but the Union Government has been sending teams to Bengal to detect anomalies.
The non-disbursal of funds has put the Mamata Banerjee government at a severe disadvantage ahead of the rural polls, as welfare schemes in rural areas have come to a standstill.
This has charged anger in people while Banerjee's attempts to shift the blame to the Union Government has not found many takers.
The Union Government has made it clear to the Bengal government that it will not disburse funds till it is satisfied that centrally-funded projects are implemented in an honest and transparent manner and are free of corruption and anomalies.
The Union Government also added, in no uncertain terms, that it will continue to closely monitor the implementation of welfare projects in Bengal and not cut the Bengal government any slack on this count.
The Union Government is asking the Bengal government to recover the money that has been syphoned off by Trinamool functionaries. This may give Mamata Banerjee sleepless nights.
What's more, the Union Government is keeping state BJP leaders in the loop so that the latter can highlight all this in their public outreach, thus causing severe embarrassment to Mamata Banerjee.
Central probe agencies being asked to expedite and complete their investigations into scams in Bengal
Central probe agencies like the CBI and ED, as well as the Income Tax department, have been given firm instructions to expedite their probes into the Saradha-Narada chit fund scam, the illegal coal mining scam, cattle smuggling scam and the school recruitment scam in Bengal.
The objective is to frame chargesheets and fast-track prosecution of guilty Trinamool leaders so that they can be sent behind bars. That will net many top Trinamool leaders and thoroughly discredit the party and Mamata Banerjee.
The agencies, including the Income Tax department, have been asked to initiate roving enquiries into the assets of prominent Trinamool leaders who are suspected to have amassed huge properties. Intensive probes will be launched against them even if a shred of evidence is uncovered.
Outreach to Pasmanda Muslims
Pasmanda, or socially and economically backward Muslims, are in a majority in Bengal. Reaching out to them and convincing them that the BJP is not an anti-Muslim party is part of the party's national agenda.
This outreach holds a lot of importance in Bengal since Muslims form Mamata Banerjee's core support base.
"Muslims have been misled by Mamata Banerjee into believing that the BJP is against Muslims. We have started explaining to Muslims that while the BJP will not appease any section of society and community and treats everyone equally, our party's primary objective is development and socio-economic upliftment of all sections of society," said Suvendu Adhikary.
BJP leaders have also, in their Muslim outreach programmes, started explaining to prominent members of the community that the campaign against the Citizenship Amendment Act (CAA) is baseless and Indian Muslims will in no way be affected by the Act.
The provisions of the Act are being explained to Muslim civil society leaders.
The response, say BJP leaders, has been encouraging. "They (Muslims) are listening to us and dwelling on what we are telling them. We tell them that the many development initiatives of the Modi government are aimed at all the people of the country without any discrimination. Our efforts are triggering a rethink within the Muslim community about the BJP.
Strengthening connect with party workers
The BJP in Bengal had witnessed largescale desertions from its ranks following the debacle in the 2021 Assembly polls that led to brutal and vicious attacks by Trinamool goons on BJP workers and supporters.
The party leadership was perceived to have failed in standing for the workers and protecting them from the Trinamool's barbarism. This led to many ground-level functionaries of the BJP resigning from the party or disassociating themselves from it.
The renewed focus on Bengal by the party leadership and revival of mass contact programmes by BJP leaders has started turning the tide and many workers are returning to the party or renewing their ties with it.
The BJP central leadership has made it clear to state party leaders that they must stand by party workers through thick and thin. "Come what may, state party leaders have to stay with party workers who are our most important karyakartas. There will be no abandoning them in their time of need and distress," said a senior BJP leader.
The BJP has also launched a 360-degree campaign to enrol more members and increase the party's strength. "Our numbers will provide confidence and strength to our cadres to resist attacks by the Trinamool," he added.
Trinamool will be warned against misadventure and repeat of 2021
The BJP central leadership will draw boundaries for the Trinamool, making it clear that rigging elections through deployment of muscle power, or threatening, intimidating and attacking BJP workers or their properties will invite severe consequences.
"The Trinamool got off very lightly after attacking, maiming and killing hundreds of our karyakartas last time (before and after the 2021 Assembly polls). We will be completely unforgiving this time and the consequences of a repeat of 2021 will be very grave for even the top leadership of the Trinamool. The Trinamool will regret it if it tries to rig the panchayat polls like it did in 2018," said a national office-bearer of the party who did not want to be named.
The message has gone out clearly to the Trinamool leadership, which is why the party general secretary Abhishek Banerjee has been telling his party workers to allow free and fair conduct of the rural polls.
Highlight Mamata Banerjee's misgovernance
Yet another focus area for the BJP in Bengal is highlighting Mamata Banerjee's misgovernance that has pushed the state deeper into the dark.
"We have started explaining to the people that by giving out so many doles, Mamata Banerjee has drained the state exchequer and more than doubled the state's debt in the past eleven years," said Suvendu Adhikary.
"Our concerted campaign in Bengal highlights that doles are costly populism that ultimately harm the people and pauperise them. Our campaign also targets Mamata Banerjee's abject failure to attract big investments and the consequent failure to create jobs and provide employment opportunities," said the national office-bearer of the BJP.
The party is bringing out a comprehensive chargesheet of governance failures against the Bengal chief minister.
These are some of the highlights of the 360-degree offensive that the BJP has drawn up against the Trinamool. The party's central leadership will coordinate closely with the state unit and oversee the rigorous implementation of this campaign, party leaders told Swarajya.
The Union Government is also in sync and will play its part in taking the Bengal government to task for its many acts of commission and omission.
Get Swarajya in your inbox everyday. Subscribe here.
An Appeal...
Dear Reader,
As you are no doubt aware, Swarajya is a media product that is directly dependent on support from its readers in the form of subscriptions. We do not have the muscle and backing of a large media conglomerate nor are we playing for the large advertisement sweep-stake.
Our business model is you and your subscription. And in challenging times like these, we need your support now more than ever.
We deliver over 10 - 15 high quality articles with expert insights and views. From 7AM in the morning to 10PM late night we operate to ensure you, the reader, get to see what is just right.
Becoming a Patron or a subscriber for as little as Rs 1200/year is the best way you can support our efforts.
Become A Patron
Become A Subscriber