Beyond Ram Mandir: It Is Now About Ayodhya 2.0
by
Harsha Bhat
-
Sunday, September 26, 2021 12:38 PM IST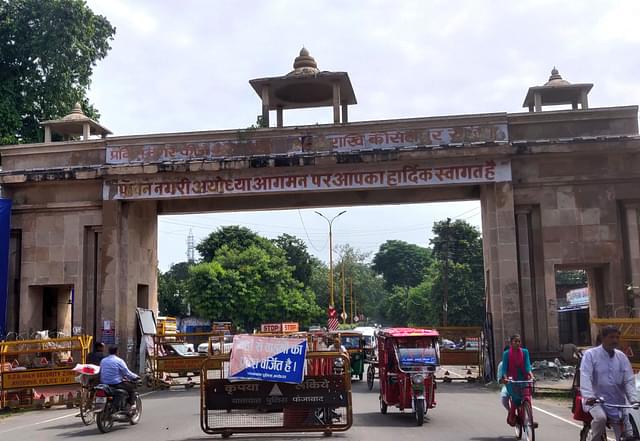 The 'Dwar' to Ayodhya
Snapshot
A lot is happening in Ayodhya, with Lord Ram firmly regaining ownership of his lost city, and a state government wholly devoted to ensuring He remains affixed and alive there.

Swarajya brings you the lowdown, from Ram Nagari...
Ayodhya is traditionally regarded as the most sacred among the seven saptapuris (Ayodhya, Kashi, Mathura, Haridwar, Kanchi, Avantika or Ujjain and Dwaraka) that are also identified with seven portions of the body of Shri Vishnu — with it being the 'mastak' or head.
But until three years ago, the whole of Ayodhya looked like a city that had stood still in the era of Ram himself. It is only in 2017 that this city got a municipal corporation, which is now working in association with the Ayodhya Development Authority to revamp this 'nagari'.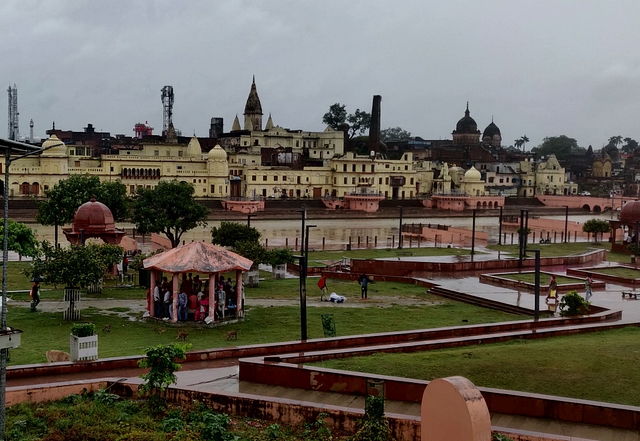 River Sarayu was flowing in all her grandeur as the sun set hidden behind the massive clouds and people were slowly beginning to trickle in for the evening aarti — a phenomenon that was started at this river bank less than a decade ago.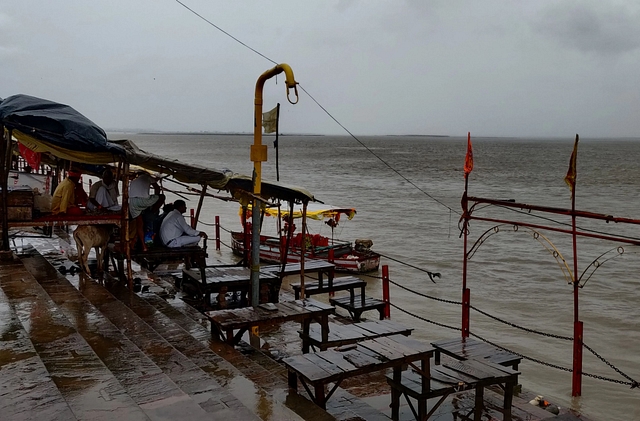 There were devotees, mendicants, a film crew wrapping up shooting, tourists clicking pictures and hundreds of members of the 'Vanar sena' keeping everyone literally on their toes, as they waited to flick the bag of prasad or fruit or any other object in hand.
The perennial disregard for its historic importance by governments of the past is visible in the fact that the task at hand is of a complete overhaul.
While the current government did manage to change a thing or two from shifting the maze of electric wires and connections underground, to installing lights and CCTVs all around, plus kickstarting work on the sewer management and cleanup, the city still remains dirty.
As I boarded an e-rickshaw with a local guide, the stench of the city began to get to me. A sudden downpour meant the streets were all now wet and that began to reveal the scale of the issues that the city faces and the task at hand for the current administration.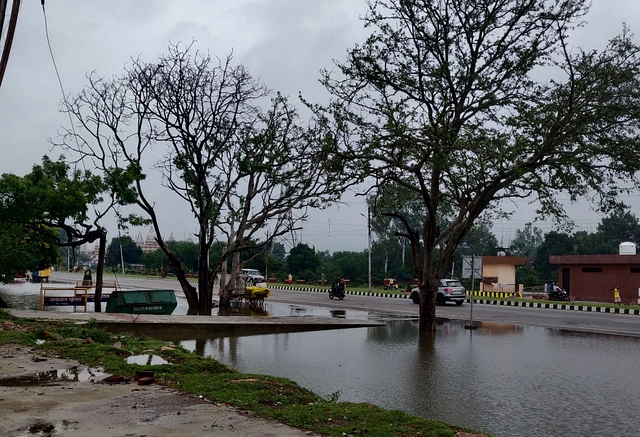 In the next three days, rains ensured almost all the streets and mezzanine lanes were filled with water, drains clogged, and activity dismantled every few hours.
Vehicles waded through almost half a foot of knee-deep water in many a bylane.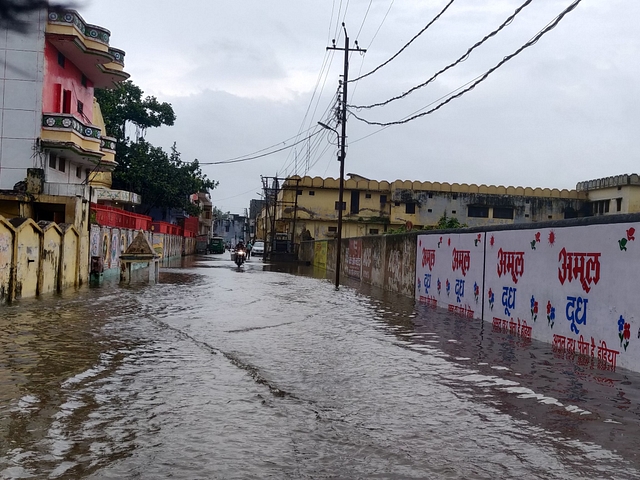 'Jai Siya Ram' went the 'certified priest'-turned tourist guide Vishnu as he started showing me around, glad that he no longer has to call his land the 'vivadit sthal'.
There are more than 7,500 temples, and in all of them, you will find our 'Siya Ram'.
He wittily adds, 'and we were Ram bharose all these years until Yogi ji came around and has shown us hope that we too shall have more to our town than just controversy'.
The Nagari of Ram through the eyes of Vishnu is one that speaks of hope — all though until recently, it largely reeked of utter apathy from the system and an acceptance of status quo by the people.
And this is precisely the largest challenge for the Ayodhya Development Authority (ADA), which now has upon itself the task of creating anew this city which has only lived in the past with its present cradled for decades in the courts of justice.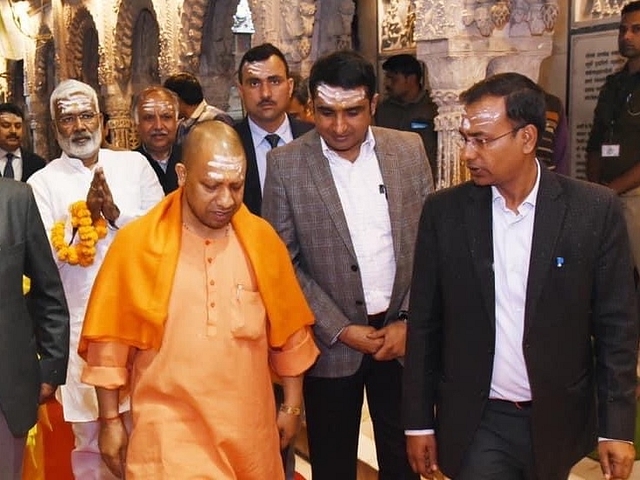 "When I joined, I remember people exclaimed 'yahaan pe kuch nai ho sakta, yahan Vikas nahin hoga, yahan Sita ji ka shraap hai'. This is the mental set up I encountered when I joined here around a year ago, although there is no mention of any such curse anywhere. This attitude had me worried, but as we have worked with people over the last one year, things have changed drastically. People now want change, and are willing to participate in the process of transforming Ayodhya," says ADA Vice-Chairman and Ayodhya Municipal Commissioner Vishal Singh who has been chosen for this task of enabling the creation of Ramarajya 2.0.
Singh and his team at both the bodies have on one hand engaged various consulting agencies as well as experts from various fields for specific tasks while engaging with the citizens directly and involving them in the process of revamp, and reconstruction of the city, on the other.
From calling Ayodhya "cursed" to now volunteering with active participation in the mohalla samitis that have been formed to take responsibility for their respective mohallas, people are gradually changing.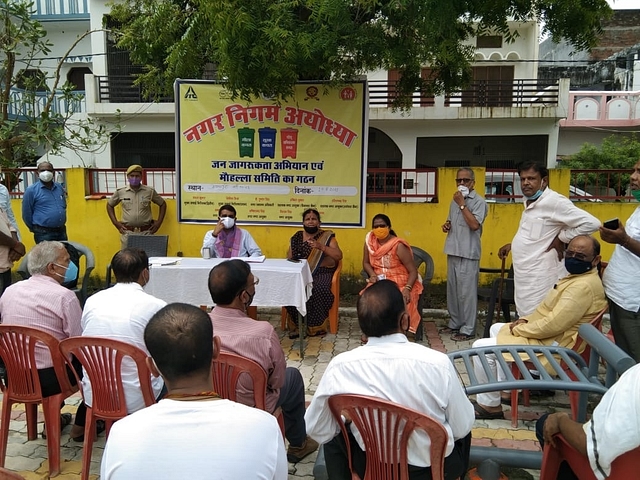 "They themselves go and warn dairy owners if their cattle are found wandering and littering the streets. So, ultimately, it is about a change in attitude and we are hoping that in another six months, we will be able to see a much better Ayodhya," says a hopeful Singh.
Like it has been for centuries, Ayodhya can no longer be just about the temple. "We are trying to convert this so-called sleepy suburban type of town into a global spiritual capital. Our ideal is neither the Vatican, nor Jerusalem, nor Tirupati. But we have studied all these places and we have interacted with all stakeholders from the known names of Ram Katha like Maithili Sharanji, to RSS ideologues like Bhaiyyaji joshi, Krishna Gopalji, Mohan Bhagwat ji, to spiritual gurus like Sri Sri Ravi Shankar and Sadhguru. We have consulted all and explained what we intend to do and have taken inputs based on that from a plethora of voices, so people get a very spiritual experience which is to their satisfaction," explains Singh.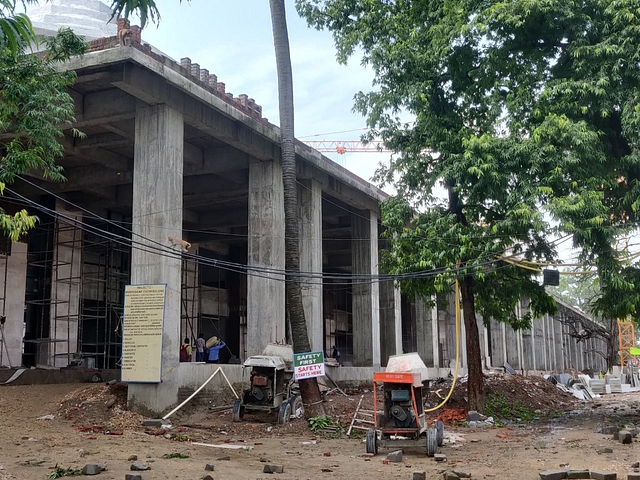 "But at the same time, if you want to change the face of a place, you cannot do it by only providing the religious infrastructure or tourism infrastructure — you need to have an economy backing it up side by side," he emphasises, adding that it is now more about a holistic development of the region.
"Once economic upliftment begins, when people start seeing an increase in income by being in Ayodhya, they will take pride in their city and will start valuing it more than they do right now," he adds, also mentioning that the city will soon see an all stakeholder and investor meet called RAM — Rising Ayodhya Meet.
So how is Ram Janmabhoomi 2.0 being created?
"When you call it RJB 2.0 it becomes a little constricted because, yes, it is at the centre — the core — but the periphery that we are planning around it is much bigger. We are talking about the chaurasi kosi parikrama area — which is five districts and three divisional commissionerates. In this area, many significant places from Prabhu Shri Ram's life are strewn around — many of which are dilapidated and hence no one knows about them. There's no way to reach them. So we are enhancing each of them. Our DPR for chaudhakosi and panch kosi parikramas are ready and are in the final stages of sanction. The chaurasi kosi is a 35-km diameter which has already been declared a national highway. So we are working on all the areas that falls within it to give it a new shape and form".
Development is happening on multiple fronts — from infrastructure creation, to sanitation, beautification and reclamation and rejuvenation of ancient natural water reservoirs to planting trees, and solid waste management.
Beautification and reclamation
Right now, though it looks like a Deepotsav, the annual grand Deepavali celebration started by Chief Minister Yogi Adityanath in recent years to put Ayodhya on the spiritual map of the world by having lakhs of lamps lit across the city, is the focus and a short-term deadline towards which work is being ramped up.
Beautification of Ayodhya has already begun with the Ayodhya art project, which is funded by the NMCG.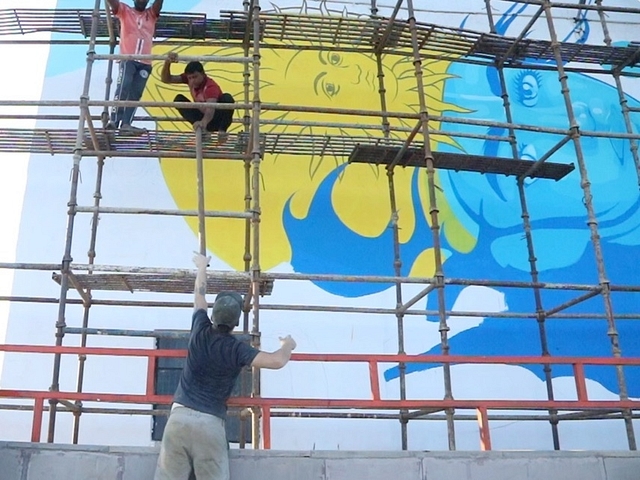 "We have international artists as well as youth from Ayodhya and around who are being given an opportunity to work with us. The Ayodhya art project is aimed at rejuvenating Awadhi art and will co-opt the people in this aspect of beautification of the city. They will own it — through community engagement for sustainability — so they take pride in their heritage and preserve those paintings which are now falling apart," explains Singh.
A global design competition has also been announced and has opened entries for the city's signage, logo and welcome gates. The last date for this competition is 30 September and it has invited around 150 national and international institutions and is aimed at reaching over 5 lakh students and professionals.
"We have the best of people for conservation and rejuvenation on our panel for consulting," Singh adds. The facade at Ram Ki Paidi is being revamped and the process is being carried out using traditional methods of mixing lime and mortar." Swarajya spoke to Meenaxi Payal of Mojarto, the agency that is handling the art works, and you can read more about it in a story that will follow.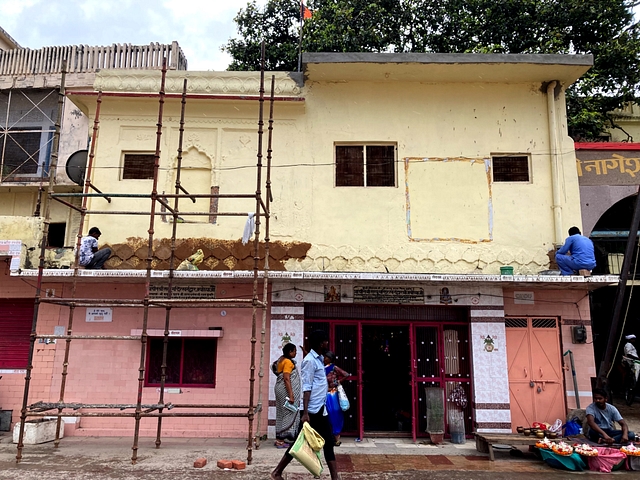 A unique effort is being made to resurrect 108 kunds in Ayodhya, of which work has been started on eight which should be cleaned and readied by end of November, inform officials.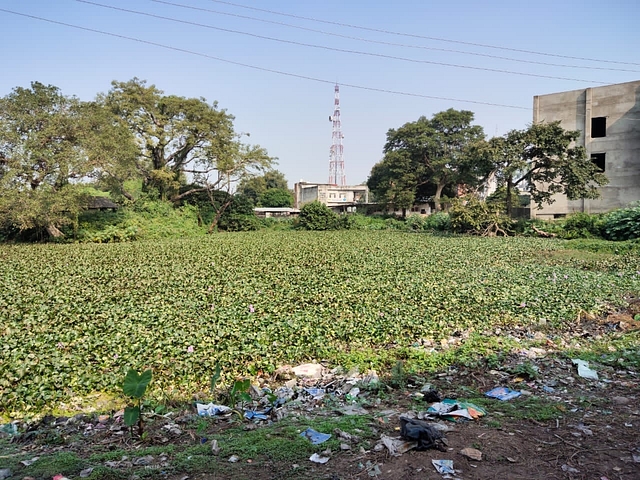 "Using Vedic methods, we are restoring the ecology of the water without disturbing the flora and fauna. No civil construction will be undertaken that disturbs the biota — but we will rejuvenate the kunds to bring them alive again," explains Singh.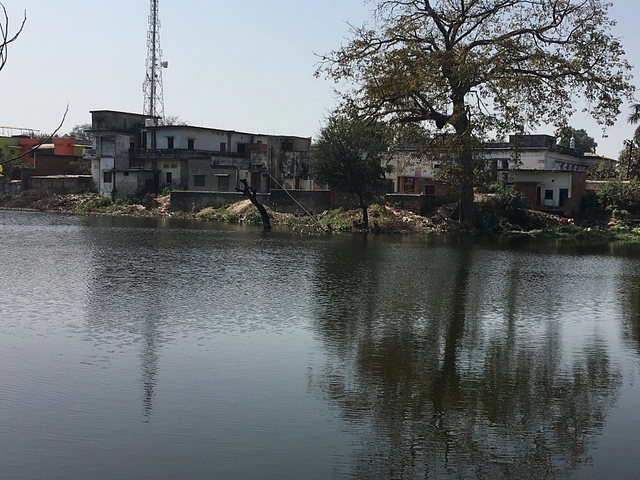 Vaidya R P Pandey, a water warrior of Ayodhya who has been working for the conservation of the 'kunds' for decades is glad the ADA is involved in the effort and is also advising them on the same.
Having spent decades fighting legally for various ponds and their conservation, only to find that the ones who held the land on which some of these ponds existed struck deals with developers who 'settled' and took over the water bodies, Pandey is glad and hopeful that won't happen anymore.
"All the kunds have a cultural relevance. But for now, the beautification work has begun on those ponds which have clear papers. We have submitted further details to the ADA," says Pandey, who has also penned a book on the different 'kunds' while appreciating the work being undertaken.
Plans are on for the revamp of these kunds — to redesign the ecosystem around it, making those living in the vicinity the stakeholders.
"There are plans for a priest also to be available at each kund so that he can have Pooja done at the water bodies for those who seek to know the history of the kund," elaborates Pandey.
While work is on to rejuvenate these multiple ponds through a community- driven sustainable model, the largest body of water that is being worked upon by the ADA is probably the Sita Jheel, which for any passerby looks nothing more than an endless stretch of garbage and lake weeds.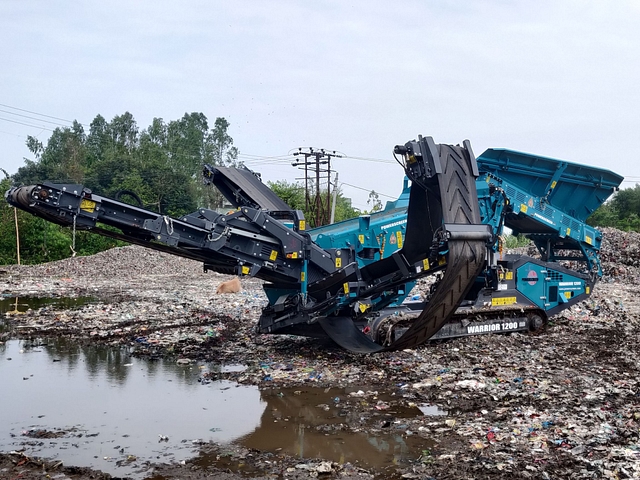 "Sita Jheel has 70,000 tonnes of garbage — legacy waste — which is being processed. This work has already been contracted and an organisation has been hired to dig up all that," explains Singh.
"They filled an entire lake with solid waste, which is now excavated, biodemedicated, segregated, processed and recycled. That work has already started and they have deployed a special machine called the Warrior 1200 to do this," he adds.
The city, although full of stench with open drains clogged with floodwaters and construction work adding to the woes, is being set right methodically, says Singh, adding that work is already under way for a sewer to be laid in portions of Faizabad area, and tendering being under way for a 33 MLD sewage treatment plant.
Singh, who recently presented the vision document to make Ayodhya a world class spiritual capital, shared that there are a total of 119 projects costing a total of Rs 21,700 crore as part of the redevelopment initiative.
Of these, 67 are estimated to be completed by 15 December 2021, given that the state is also going to elections early next year.
Many a project is lined up like the Mukti Dham project, which will involve renovation of traditional cremation chambers, creation of 10 new cremation chambers, two new electric chambers and green cremation chambers each among others.
The Ramayan Cruise between Ram ki Paidi and Guptahar ghat, a grander Queen Ho memorial, and beautification of the Ayodhya bypass (16 km) will be an added attraction this Deepotsav.
A lot is under way in Ayodhya as we speak, and it definitely is beyond the scope of one article to record all that I saw, felt, and encountered.
In this journey of a lifetime, we, however, look forward to bringing you more tales of the land that was, and hopefully will be known for its stellar culture and spirituality.
Get Swarajya in your inbox everyday. Subscribe here.
An Appeal...
Dear Reader,
As you are no doubt aware, Swarajya is a media product that is directly dependent on support from its readers in the form of subscriptions. We do not have the muscle and backing of a large media conglomerate nor are we playing for the large advertisement sweep-stake.
Our business model is you and your subscription. And in challenging times like these, we need your support now more than ever.
We deliver over 10 - 15 high quality articles with expert insights and views. From 7AM in the morning to 10PM late night we operate to ensure you, the reader, get to see what is just right.
Becoming a Patron or a subscriber for as little as Rs 1200/year is the best way you can support our efforts.
Become A Patron
Become A Subscriber