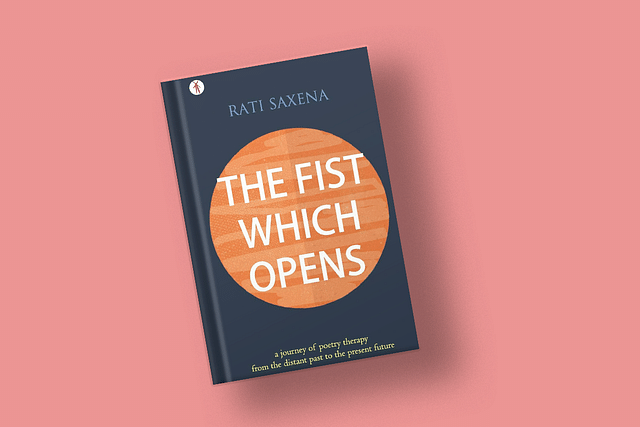 The Fist Which Opens.
Snapshot
In this book, the author introduces in detail and through lived experience what she calls poetry therapy.

Her vision of poetry therapy is rooted in Vedic wisdom and moves seamlessly into modern poetry.

For her, true poetry expands the sense of self.
The Fist Which Opens. Rati Saxena. Hawakal Publishers. Pages 277. Rs 500.
In 2020, a concocted controversy erupted in Tamil Nadu. A Youtuber group of self-styled rationalists attacked Sri Kantha Sashti Kavcham — a highly popular late-medieval devotional hymn to Skanda-Muruga.
The poem asks the sacred spear of the Deity, that symbolises the most profound spiritual wisdom, to protect each and every physical organ of the body including the genitals and excretory organs. The poem, sung by millions of devotees, is literally called the armour from Skanda and hence the name.
This very popular component of day-to-day devotional culture in Tamil Nadu is actually in tune with the most profound Upanishadic wisdom — that with avidya one removes the life-killing miseries and with vidya one attains immortality (The author of the book under review points out this aspect of vidya and avidya in the Upanishad)
However, the pseudo-rationalism of Tamil Nadu, which is an imitation of Protestant puritanism in its caricatured form, sees obscenity in invoking a God to protect one's organs.
When I received the book The Fist Which Opens by renowned bilingual poet Rati Saxena this January, I could not but think of the Sri Kantha Sashti Kavacham controversy.
Rati Saxena is not only a poet but also a translator of 15 books of Malayalam to Hindi. She is also the director of Kritya Poetry Festival. She received the Sahitya Academy award in 2000.
In this book, she introduces in detail and through lived experience what she calls poetry therapy. Her vision of poetry therapy is rooted in Vedic wisdom and moves seamlessly into modern poetry. For her, true poetry expands the sense of self.
She calls it Vishvabandhutva. To her, this spirit manifests in Vedic poetry and is the basis of all good poetry — transcending narrow cultural, spatial and temporal divisions.
Good poetry has its roots and heart in the interconnectedness of all and hence expands vastly into the universal. This expansive expression, because of the inner realisation of interconnectedness that permeates all levels of reality, when realised through the lines of poetry, brings in a great healing.
That is then poetry therapy.
Rishis use this; Shamans use this; Bhaktas use this and Saints use this. It is the capturing the sacredness of, perhaps, what Maslow calls the peak experience in apt words.
Irrespective of which culture one belongs to, the realisation and expression of the sacred interconnectedness at any level of reality becomes healing poetry.
And the music.
It is not mere poetry, but the musical quality of the poetry that is also important. So, for Sama Veda, the musical quality becomes important. But art is not created merely for the craft but importantly for healing. It is for healing the individual and like in the case of Subashitas and Thirukural, it is also for healing society.
It is quite interesting that the most classical of Hindu poetry from Valmiki to Thiruvalluvar to Kabir came not from great Pandits but from people of so-called non-scholarly occupations.
An ordinary Hindu farmer or a wood-cutter could relate to the poetic beauty of a Kamban or a Kalidasa without having to go to a great conventional educational institution — he or she imbibes the ability from the culture.
Unfortunately, we are fast losing that culture and we need to reconnect.
The book moves through the native American and the African spiritual traditions and explores how each of these traditions contain rich spiritual poetry that has healing ability.
The author points out that this quality exists in Christian and Sufi traditions as well, albeit in a marginalised manner.
The author's own grounding is in the Vedic universe. And thus anchored, she gets the ability to move across multiple world cultures, looking for the Vishwabandhutva in the poetry.
She also presents the rural and tribal healing traditions of India — which were thriving till the advent of colonial modernity and its perpetuation in post-independent India — but is now becoming more and more endangered.
Unfortunately, the efforts to 'save' these endangered village and tribal traditions have been also colonial in the sense that the academics and activists want to 'rescue' and 'save' them like they are wild species which should be preserved like exotic pieces — perhaps to be learnt in some anthropological or culture departments of universities or institutions.
In reality, the preservation should be honest to the original cause and the sacred context of these art forms. The author brings this out by her emphasis of the healing dimension of these spiritual art forms.
But what she goes on to do is amazing. She looks deeply for the same sacred dimension in the modern poetry. Can not modern poetry too contain the same sacred core, if poetry is the expression of the interconnectedness in the inner chambers of the poet?
If so, then, can it also not be used for healing?
Here, she transforms the secular into the sacred.
Equally importantly, in the 12 case studies she provides, she has chosen poets who overcame not only personal inner demons, but also the most challengingly cruel environments created by human depravity of those in power.
From the survivor of Argentinian concentration camp (Alicia Mabel Partnoy) to Tibetan freedom fighting poets (Tenzin Tsundue and others) what we see is how poetry infuses one with the ability to heal so that their fight for justice and Dharma is untainted by the pathos of hatred that could be effectively and easily rationalised.
Thus poetry therapy is not for the visibly afflicted. It is for us all. Poetry therapy is writing poetry, realising the poetic moments which come as an insight in the darkest of times, chanting a Mantra, and through a verse, moving into a meditative moment.
In part two, she points out her own inner journey. It was while studying Atharva Veda that the poet pondered over the question why the seers always associated medicine with poetry.
She writes:
Later on, I started experimenting by communicating with my diseases in my poetry. I always talked to those diseases in a positive manner as if they were part and soul of my body. This attitude, I might have acquired from Atharvaveda seers where they always communicated with the diseases. I also felt that.
The book is pregnant with therapeutic possibilities and insights. It is also a validation of and a reminding of the value of a healing phenomenon in our culture we have not only taken for granted but even denigrated in the name of fake-rationality.
Not all of us are born poets. But all of us can relate through Bhakti to poetic healing. I seriously wish quite a few thinking doctors read this book.
Once I heard a lecture by the famous Ayurveda physician of Kanyakumari district — Dr. Mahadevan. After listing the different medicines prescribed for a particular illness in Ayurveda, he finally added — 'the medical treatise recommends reciting the Vishnu Sahasranama'.
Dr Mahadevan although added that it was up to the doctor whether to follow this last suggestion or not. Now, after reading this book, one understands that, perhaps, reciting the Sahasranama is indeed an important contributor to healing.
And a non-intrusive playing of Sri Kantha Sashti Kavacham in the waiting halls of doctors may also be a good tool.
PS: I thank Dr. Lakshmi Chitoor Subramaniam, herself a prolific fiction writer and literary phenomenon, for connecting me with Rati Saxena.
Get Swarajya in your inbox everyday. Subscribe here.
An Appeal...
Dear Reader,
As you are no doubt aware, Swarajya is a media product that is directly dependent on support from its readers in the form of subscriptions. We do not have the muscle and backing of a large media conglomerate nor are we playing for the large advertisement sweep-stake.
Our business model is you and your subscription. And in challenging times like these, we need your support now more than ever.
We deliver over 10 - 15 high quality articles with expert insights and views. From 7AM in the morning to 10PM late night we operate to ensure you, the reader, get to see what is just right.
Becoming a Patron or a subscriber for as little as Rs 1200/year is the best way you can support our efforts.
Become A Patron
Become A Subscriber