The India Pride Project – an online volunteer group is determined to bring back priceless artifacts smuggled out of India. A look at how they brought back a beautiful bronze work from a museum in the US.
Subhash Kapoor, an art smuggler, is accused of running a major smuggling racket from South India. He has helped many international collectors and museums illegally acquire millennia old Chola bronzes and exquisite sculptures. Ongoing investigations have led to the discovery of 2622 items worth Rs 800 crore smuggled out of India. Despite all this collectors and museums across the world are refusing to divulge information about their illegal acquisitions of valuable Indian art.
The India Pride Project, a volunteer group set up after the Indian governments' shoddy investigations and lame attempts to bring back smuggled art treasures frustrated, has taken to social media and online activism. Over the last four years, this group has painstakingly built a volunteer sourced image archive of Indian art works now being housed in overseas museums and art auction houses.
The results of these exercises have been startling – notable since the CAG performance audit report of 2013 paints a sad picture of how the custodians and legal authorities have been unable to bring back to India even a single smuggled artifact since 2001.
The group's activism has ensured the return of art works like Sripuranthan Nataraja, Vriddchachlam Ardhanari (brought back from Australia), the Sripuranthan Uma and more. These have been returned with much fanfare during the visits of heads of state/government of Australia/Germany. You can see pictures of Modi with the returned Nataraja, Angela Merkel handing over the Kashmir Valley Durga (housed in Stuttgart) below.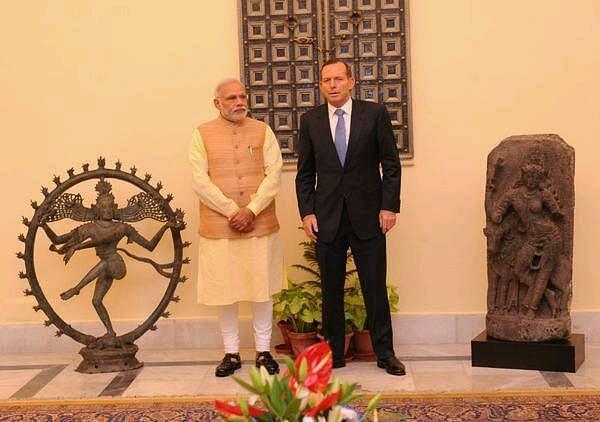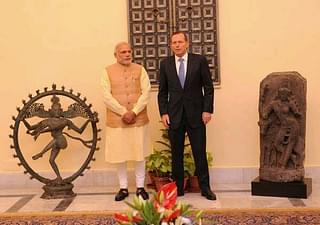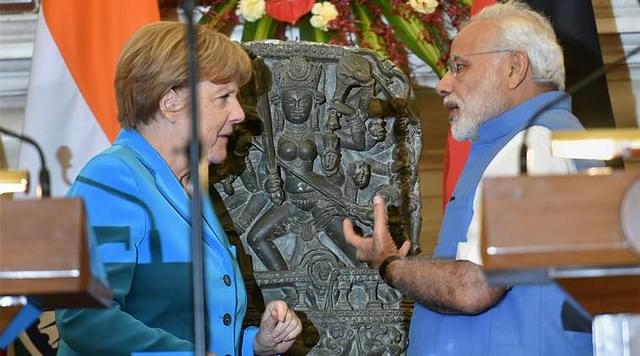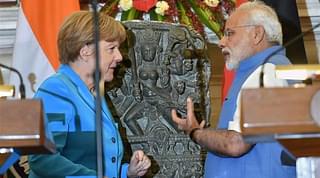 One of the toughest cases to crack for the group was that of the Alingana Murthy from the Ball State Museum. In July 2015, the group broke the story of the Ball State University Museum of Art's acquisition of the Chola Bronze Alingana Murthy – Shiva embracing his consort Parvathy. This exquisite piece of art, at least a millennium old, was 'acquired' through Subhash Kapoor's smuggling network.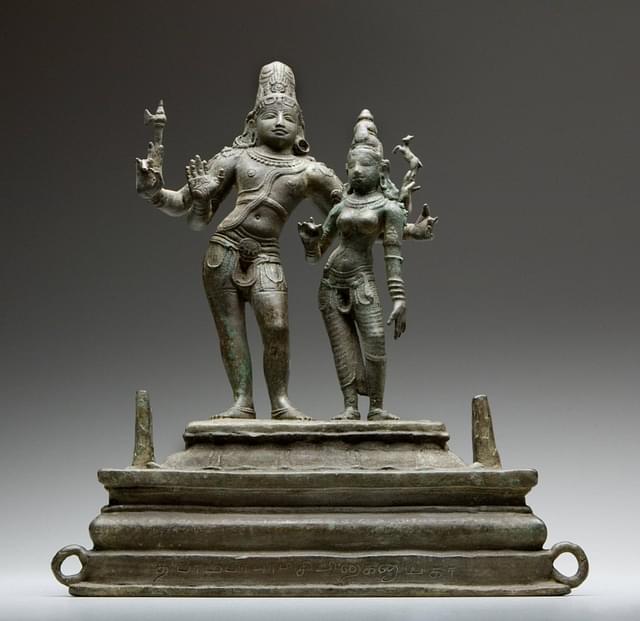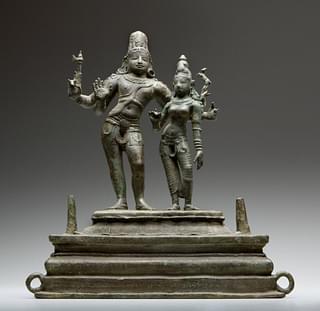 The Alingana Murthy bronze
The India Pride Project knew from its experience of dealing with dubious artwork related projects that all related paperwork provided in such cases are dubious.
What set the group up with this artifact was its date of acquisition and the fact that it had a beautiful Tamil inscription on its base which read "Tipambapuram sivgai nayagar" ( loosely translates to Shiva, the lord of Tipambapuram)
Inscribed Chola bronzes are rare and to find one in this condition should have been a hotly discussed topic by scholars. However, the said bronze never came up in any discussion, paper, publication or exhibition till it was bought by the Museum. This must have raised a red flag immediately.
It was on this basis that the group raised serious doubts about the credibility of any provenance paperwork (indicating where the artwork came from and how it was acquired) work provided by the now defunct gallery. The response from the art gallery was that all due diligence had been carried out during the time of acquisition.
We understand that the University has now handed over the bronze to Homeland security America as part of a larger restitution process to India.
We can now reveal more information as to why the museum has changed its stand, with information obtained from persons who are in the know of the Kapoor operations. The bronze has an apparent provenance paper authored by the previous owner Dr. Leo S. Figiel dated April 13, 2005, where he claims to have purchased "the small Chola figure of Shiva and Parvati – from a European collector in 1969". (Dr. Leo Figiel, was a well known collector of Indian vernacular art ( is now deceased – died Feb 2013) and is now suspected of having a working arrangement with Subhash Kapoor's activities.)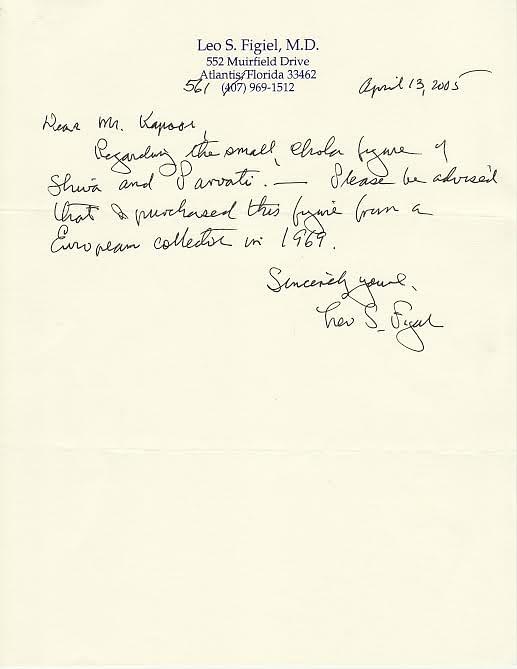 Citing year of acquisition as 1969 is a very convenient and off repeated ruse seen in many fake provenance cases. 1969 is the cut-off year for the UN statue on Protection of Cultural Property which regulates arts and cultural property acquisitions. Most unscrupulous dealers try and pass off fake documentation with a pre-1970 date.
But at-least for Indian antiquities, the 1969/70 cut-off is no holy grail. There are other legal provisions for ensuring the return of smuggled artifacts. These include the Antiquities and Art Treasures Act, 1972 which can be read in addition to Ancient Monuments Preservation Act, 1904, the Ancient Monuments and Archaeological Sites and Remains Act, 1958 or even the Indian Treasure Trove Act of 1878.
That the bronze was never exhibited or published till the Museum purchased it, and the fact that the provenance letter itself is pretty vague should have raised serious concerns – if not earlier atleast after Subhash Kapoor's arrest in 2011.
We now have images of the Shiva-Parvathy bronze in what appears to be a pre-repair condition. The color photograph is not from 1969. Further, the soil encrustations and damage are akin to those usually seen with freshly excavated bronze hoards. An expert collector especially of the stature of Dr Figiel with published works on Indian Metullurgy and Arms – especially given his seminal work "On Damascus Steel" in 1991, would have known that a bronze fresh from such an excavation in this condition must be immediately cleaned to stop advent of any bronze disease. He would have cleaned up the bronze as soon as he had acquired it.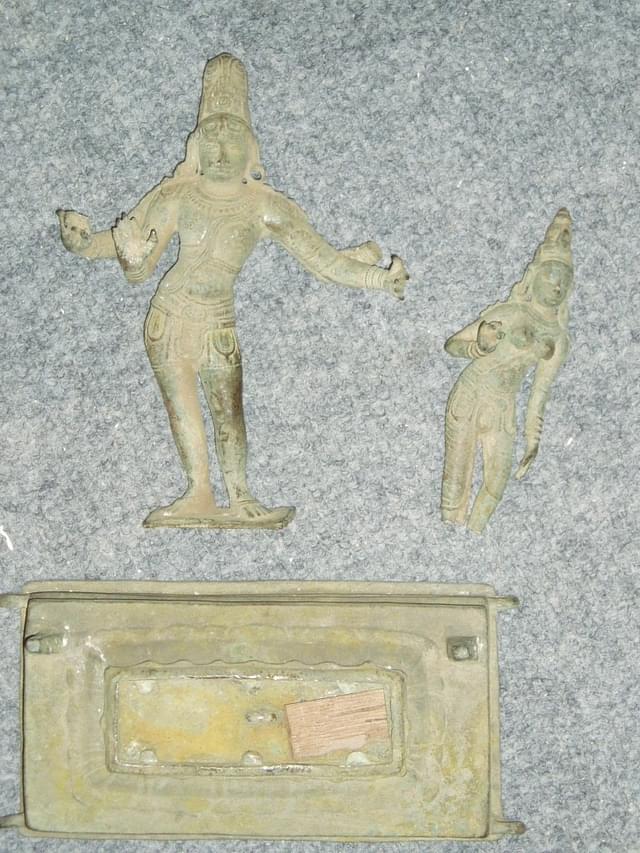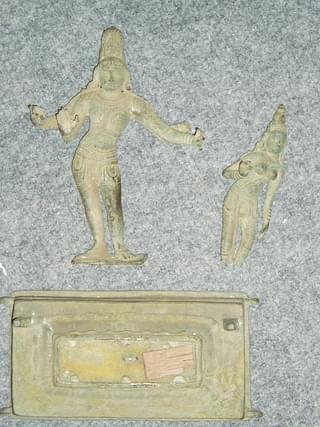 We keep finding such buried treasures routinely to this day in South India. Such discoveries yield multiple centuries old bronzes. Some constitute entire bronze sets from temples – buried to prevent them from the onslaught of iconoclasts in the mid 14th century. We might never know where this particular bronze work of Alingana Murthy was found. We might never know if any other bronze works were found along with it and smuggled out of India.
Hundreds of bronze works like the Alingana Murthy were buried for centuries and were almost lost to the world because those who buried them probably died during the invasions. The Alingana Murthy and Parvathi are coming back home to take their place – thanks to the India Pride Project. Hundreds of other priceless Indian art treasures await their turn.