Kanwariyas As Bogeymen? Most Yatris Are Just Pious People On A Spiritual Journey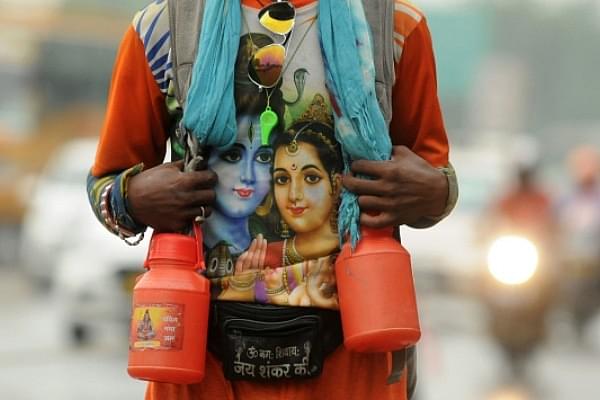 Picture for representation (Getty Images)
Snapshot
If you simply go by media reports and prime-time debates, you might get the impression that kanwariyas are just hooligans out to sow chaos on the streets.

That is far from the truth. Besides the three incidents of violence, the yatra, which sees crores of pilgrims take to the streets, is overwhelmingly peaceful.
"Annual pilgrimage concludes today amid violence and vandalism," said a portal last week even, as another ran the headline, "Kanwar Yatra has come to an end but Kanwariya hooliganism is here to stay."
All of the past week, television channels held heated debates such as "Is Kanwar Yatra being overrun by violent thugs?" and "Why is it difficult to maintain law and order during Kanwar Yatra?"
Anyone not following this year's Kanwar Yatra would assume the pilgrims must have left behind a trail of destruction for media houses to come up with these alarmist headlines and hold prime-time debates.
Far from it; it was really these three incidents that sparked their fury: In Uttar Pradesh's Badaun, a group of pilgrims torched a truck after it crushed a fellow pilgrim to death; in New Delhi, pilgrims damaged and overturned a car after it brushed past a fellow pilgrim and the car driver slapped him; in Uttar Pradesh's Bulandshahr, pilgrims vandalised a police vehicle after a scuffle with the locals.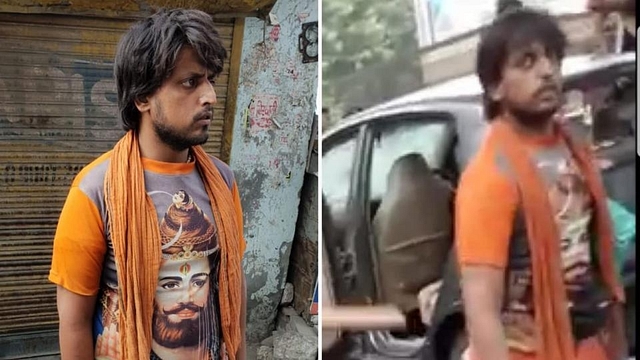 Outrageous acts of hooliganism, all. One wonders if these goons deserve to be called religious pilgrims at all. Pilgrims, as we understand, must be peaceful and pious and endure every hardship in their way with a smile on their face and piety in their hearts. They should also not complain about being slapped in public, run over, pelted with stones when passing in 'Muslim areas', or having pieces of meat thrown in their way, because who asked them to undertake the pilgrimage anyway?
Nothing justifies the acts of pilgrims who didn't follow basic rules, took law into their hands, and indulged in goondaism.
But here's some perspective. Crores of pilgrims do just that – they endure all the hardships and quietly carry on. An estimated four crore pilgrims (called kanwariyas) arrived in Haridwar alone this time. The total number of kanwariyas in north India itself would be much more, as Haridwar is not the only place from which to pick up the holy Ganga water. Gaumukh and Gangotri in Uttarakhand are popular, and even smaller ghats like Garh Mukteshwar in Uttar Pradesh's Hapur district attract large crowds.
The pilgrim's path is paved with perils. Incidents where kanwariyas got electrocuted, thanks to the electricity department's negligence, were crushed by running trucks, fell to death in open drains, or got injured in communal attacks were reported from several places.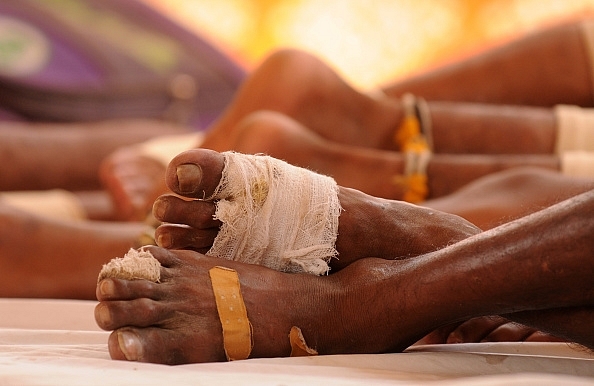 But it took all of three incidents for the media to decry the entire pilgrimage and paint crores of kanwariyas as hooligans.
Yet another manifestation of media's inherent bias against yet another centuries-old tradition?
Here's some more perspective. The annual Milad-un-Nabi procession to celebrate Prophet Mohammad's birthday witnesses several incidents of violence almost every year. This December, too, participants rioted and looted and even fired bullets and attacked people with swords.
Saw any prime-time debates on that?
Kanwar Yatra, as described by yatris
I meet Sunita Kumari, who is walking briskly on a road in Amroha district of Uttar Pradesh. She is already trailing behind in her group of four men and six other women, all residents of Bareilly, and requests me to walk with her so she won't get left far behind – she is not carrying her mobile phone along.
"My son was quite sick some months ago. I had prayed to Shivji that if he recovers, I will undertake this yatra," she says. It's her first Kanwar Yatra, and she has already decided to return the next year.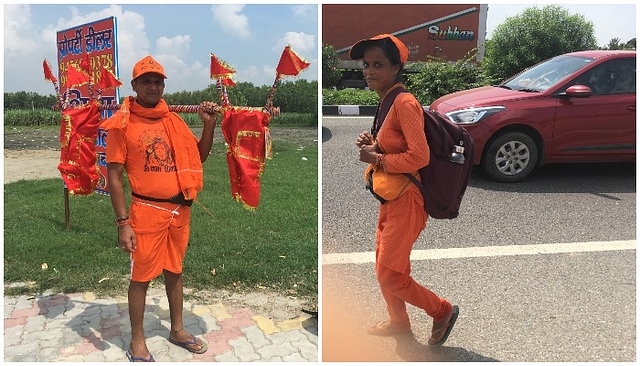 The group left their homes on Thursday evening (9 August) and travelled all night to reach the ghat of Garh Mukteshwar, some 170 km away, on Friday morning (10 August). They took some rest and had breakfast at one of the many shivirs (makeshift tents offering free food and places to rest to kanwariyas, set up by private charities). They bought kanwars (decorated wooden structures fitted with canisters), filled the vessels with holy Ganga water, placed them on their shoulder, and set off for return. They had arrived in a bus, but would walk for the journey back home. The group hoped they would reach Bareilly on Sunday (12 August), where they would pour the Gangajal on a Shiva lingam in a local temple.
Kumari, a housewife, admits that it is a rare outing for her without family and she likes the experience.
Several kilometres ahead, we find a group of 13 men from Moradabad who have undertaken a tougher journey. After taking kanwar from Garh Mukteshwar, they walked 75 km to the famous Pura Mahadev temple near Baghpat district. As is the tradition, their return home would be on foot as well.
They do not know about the violent kanwariya incident in Delhi. When I show them the video, Pushpendra Singh, a 26-year-old farmer, says, "It's bad. But they must have been provoked."
Others in the group that comprises farmers, truck drivers, shopkeepers, and shop assistants, say the kanwariyas don't lose their tempers easily, but can get provoked if someone spills their Gangajal. "If the water is spilled, the entire journey goes to waste. It's also considered very inauspicious and portends grave misfortune. You can imagine how we would feel," says Kapil Thakur.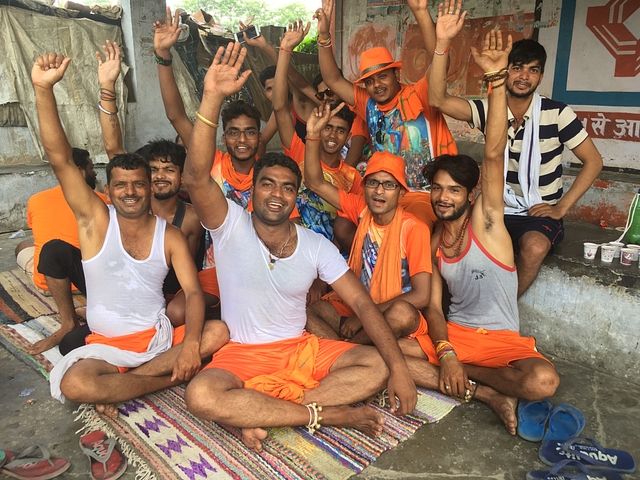 But who has given them the right to damage the vehicle? I ask.
"Not all men are the same. So how can all kanwariyas be the same?" says Thakur's cousin Pradip Thakur. "But these incidents are very few. I have been taking kanwar for many years and have never seen such an incident."
The group has heard that flower petals were showered on kanwariyas in some places in Meerut. Everyone approves. "Bahut khushi hui jaankar (we felt very happy)," says Singh. "No kanwariya will ever forget this beautiful experience."
Further, I meet a group of men from Rampur, who are returning from Brijghat. Unlike those I have met so far, this group is travelling in a truck decorated with Indian flags and complete with the infamous loud DJ and hockey sticks. It's a 'dak kanwar', where the vehicle is carrying supplies while kanwariyas are running relays on foot carrying the holy water.
"Why do you need the DJ?" I ask.
"Ye to baba ki baraat hai (It's Lord Shiva's procession). It has to be full of fun and music," says Sonu Rathor.
"Why the sticks?"
"To help us walk long distances," says Rathor.
Asked about the violence at several places, Mukesh Kumar, another pilgrim, retorts, "Does the media ever write about what we face? Yesterday, we were not allowed to enter a street because it was a Muslim area. The policeman was some Khan. Do roads have religion?"
Asked about the state facilities they enjoy, Kunwar Pratap, another person in the group, dismisses the allegation. "What do they provide us? Nothing. Not that we ask for anything, but all the shivirs are set up by private donors."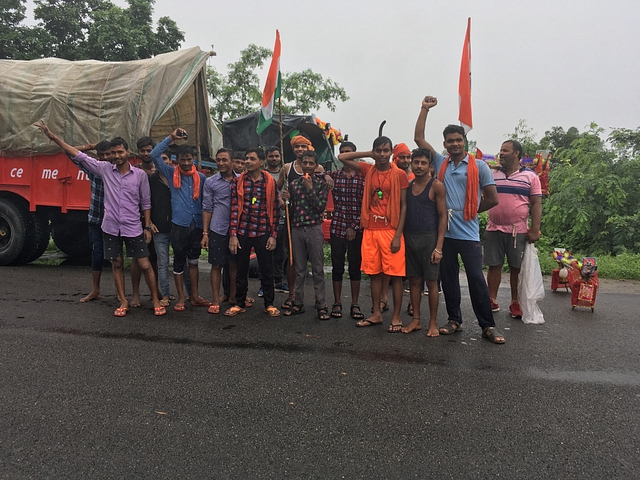 He adds, "Madam, it's a very tough journey. We observe strict rules. We don't drink, eat only once a day, don't abuse, and control our anger. Even back home, our family observes similar rules while we are on the yatra."
"Why do you undertake the yatra?" I ask.
"Humne mannat maangi hai (We have asked for a wish)," says Kumar.
Pratap adds, "There is a great value attached to this pilgrimage. It's a very old tradition. It's even mentioned in the Mahabharata."
A challenge for non-yatris and the administration
Kamlesh Goel has been living near the famous Shri Dudheshwar Nath Mandir in Ghaziabad for the last 50 years. Every year, traffic on a 10 km stretch from Lal Kuan to Mohan Nagar on the Grand Trunk Road is diverted, as lakhs of kanwariyas congregate at the temple during the four days leading up to Shivratri.
Goel says he is forced to take a longer route for at least 10 days in the month of Shravan (fifth month of the Hindu calendar, typically stretching from late July to the third week of August). "I have grown used to it. But there are thousands of commuters who are not from Ghaziabad and face grave inconvenience. One of my staff members who joined us three months ago found himself stranded for five hours on the first day of kanwar. From Mohan Nagar, he just could not find a way to reach Hapur Road, and the traffic police didn't help," Goel, who works for a private firm, said.
The traffic arrangement also means that business is affected. Ahmed Rahim, a 54-year-old rickshaw puller who plies the route, says he is out of work for a week every year. "My life becomes miserable," he says. Kishore Kumar, who runs a grocery store on the route, says his regular supply of dairy and bakery products like milk and breads stops completely for 10 days. "I hardly see any sales for one-third of the month. It's like that every year."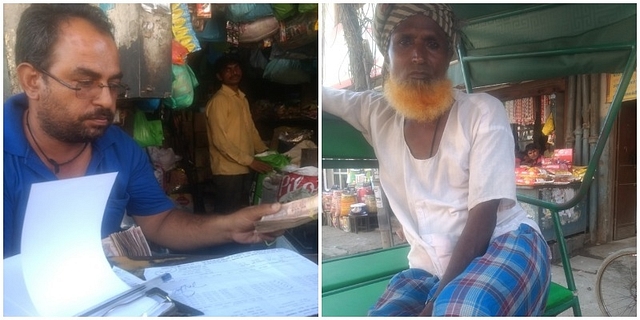 But the police say they can only do so much. "We try that the public is inconvenienced in the least. We focus on traffic management and maintaining law and order," says Akash Tomar, superintendent of police (SP), Ghaziabad city. "But let's be realistic. We are talking about huge numbers. Four crore kanwars were picked up from Haridwar alone. Some disruption cannot be ruled out," he says.
Tomar listed a number of steps taken by the administration to ensure minimum disturbance: kanwariyas were provided with a new route from Gang Nahar in Moradabad to Tila Morh, which eased traffic for commuters from Delhi to Wazirabad. A 2,000-strong citizen volunteer force was set into action to check communal flare-ups; policemen dressed as kanwariyas were posted at several spots, drones were deployed, and 30 watch towers and 75 CCTVs were installed.
"We had an incident-free Kanwar Yatra this year," he said.
Commenting on the Moti Nagar vandalism incident, Tomar said it was a case of road rage and whenever the police comes across any kanwariya indulging in crime, they treat him "like any normal criminal".
"This year we arrested three kanwariyas who were found indulging in chain-snatching. Miscreants are everywhere. Anyone can dress up as a kanwariya and make use of the crowds."
The biggest challenge, Tomar said, was to maintain communal harmony. "A lot of youth participates, and tempers are high. Small issues escalate quickly. But we are proud to say nothing of this sort has happened," he said.
A shop owner near Dudheshwar temple, who spoke on the condition of anonymity, told Swarajya that there was a situation last week when some kanwariyas started playing an audio on the loudspeaker that insulted and berated Pakistan. As the temple is located in an area inhabited by Muslims, called Islam Nagar, Muslims saw it as provocation and it became tense. But a cop promptly ordered the volume to be lowered, and nothing untoward happened.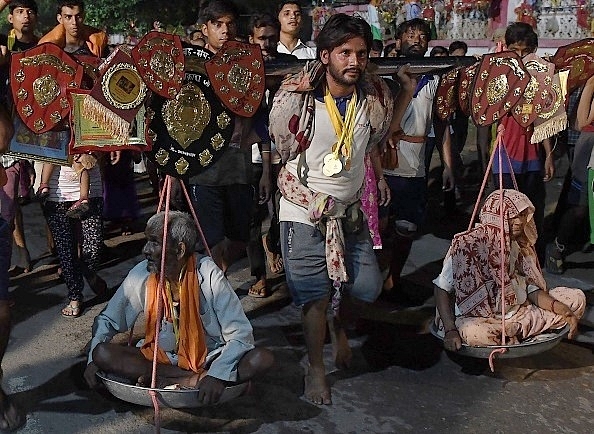 Sankalp Sharma, superintendent of Hapur district that is home to Garh Mukteshwar, also claims that there were "zero incidents" in his area.
Sharma, in fact, has a word of praise for the kanwariyas who, he says, move in an orderly and disciplined manner. "We provided them a separate lane and they followed it strictly. Traffic on NH 58 was much smoother this time," he says.
"Everyone has religious freedom in the country. Kanwariyas, too, have a right to the roads. It's our duty to manage it all," he says.
Both Tomar and Sharma said that while the police keep no records of pilgrims, they do so for the temporary shivirs. "We allow only those shivirs that have been in place for several decades. We maintain their records," says Tomar. On the Ghaziabad route alone, some 100 shivirs were set up.
A police officer in Meerut, who did not wish to be named, says he was earlier posted in Bareilly, where "400 processions are taken out in a year". "That's an average of one procession a day. All religions contribute to it. This is how India functions. Kanwar Yatra is just another challenge," he said.
Swelling crowds add to the challenge
In a recent interview to a portal, here's how Vikash Singh, assistant professor of Sociology at Montclair State University, who has authored a book on kanwariyas, described the new-age Kanwar Yatra: "I see the kanwar as an alternate field of performance and social recognition in the middle of exclusionary, often humiliating social conditions."
The description gives us an insight into what, perhaps, is leading to a swelling of crowds each passing year. From a low-key event in the 1980s that involved only a few thousands, kanwar is now a mega affair with participation in crores.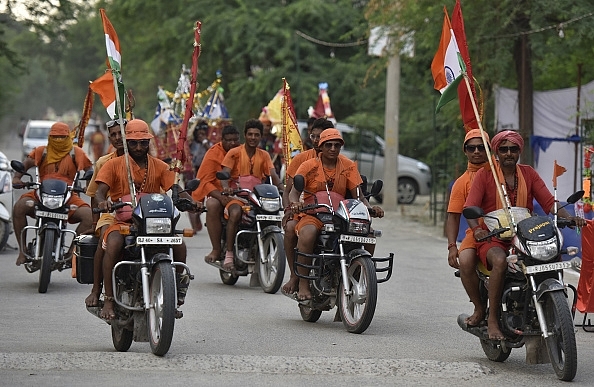 Bhagwan Das Agarwal, a resident of Uttar Pradesh's Baghpat district, who used to undertake this yatra every Shravan in the 1990s, echoes Singh's views as he says that the profile of the participants has changed drastically over the years. "Now you see a lot of working class," he says, and goes on to explain his view in terms of caste: "From Baniya and Brahmins, the majority profile has changed to Valmikis and Jaatavs".
Agarwal, an affluent businessman, said there is both an advantage and a disadvantage associated with the change. "The good part is that there is Hindu consolidation as all castes come together at the shivirs. The bad part is that the yatra is losing its essence and many people don't do it out of devotion for Shiva anymore," he says.
"They [the working class] are mostly poor and get an excuse to go on a week-long holiday. Employers like me can't dare say no. In fact, they take money from us before leaving. There is free food and stay available."
"Asli kanwariya motorcyclon aur gaadiyon mein nahi jayega (no real kanwariya will go on bikes or cars. But they do and still call themselves kanwariya," he said.
The kanwar craze has exploded in the past decade and the challenges for the administration have increased manifold. As per Akash Tomar, the solution lies in creating more infrastructure. However, Agarwal notes that statistically, the incidents of crimes remain negligible. Vikash Singh makes a similar observation as he says that he is surprised that conflicts involving kanwariyas are not more common, attributing it to the spiritual nature of the event.
Get Swarajya in your inbox everyday. Subscribe here.
An Appeal...
Dear Reader,
As you are no doubt aware, Swarajya is a media product that is directly dependent on support from its readers in the form of subscriptions. We do not have the muscle and backing of a large media conglomerate nor are we playing for the large advertisement sweep-stake.
Our business model is you and your subscription. And in challenging times like these, we need your support now more than ever.
We deliver over 10 - 15 high quality articles with expert insights and views. From 7AM in the morning to 10PM late night we operate to ensure you, the reader, get to see what is just right.
Becoming a Patron or a subscriber for as little as Rs 1200/year is the best way you can support our efforts.
Become A Patron
Become A Subscriber