Avani Avittam is a sacred day for many communities in Tamil Nadu. It is on this day they change their sacred threads. However, this year, those preparing to change their sacred threads woke up in Chennai to an obnoxious hate campaign. Prominent Dravidian outfit, Periyar Dravida Kazhakam (PDK), has announced that on the day of Avani Avittam, its cadre will put sacred threads on pigs. The advertisements, complete with phone numbers and contact details, could be seen at prominent places in Chennai. They alleged that the sacred thread made Brahmins superior and Sudras outcastes in the Tamil society.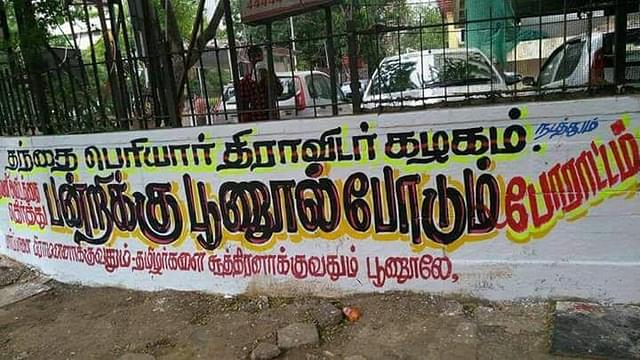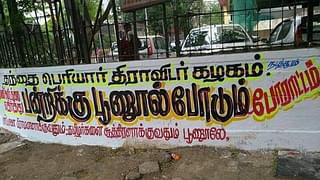 Advertisements about sacred thread ceremony for pigs.
This move not only shows the way in which hate propaganda against Hindu communities can be initiated in Tamil Nadu, but also exposes cultural illiteracy. Wearing the sacred thread is not exclusive to one set of people. Many communities like potters, carpenters and goldsmiths don the sacred thread. Valluvars, the Purohits and astronomers of Parayar community also wear the sacred thread. Ma Venkatesan, the head of Bharatiya Janata Party's (BJP) state Scheduled Caste Unit, pointed out that this move is a direct attack on the traditional culture of Parayar community. Brandishing cultural illiteracy as social reform has been one of the hallmarks of the Dravidian movement.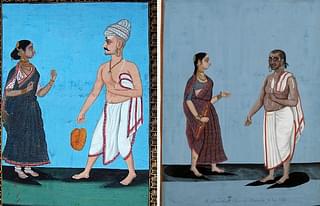 Apart from cultural illiteracy and hate campaign in public space, such announcements also have some dynamics in the hyper-connected digital worlds of memes and social networks. Hence, the current wave of anti-Brahmin actions has to be understood in that context.
Linguistic Ethnic Nationalism + Marxism = Secessionist Nazi Cults
Dravidian polity has consistently used the term Aryan as a racist slur against Tamil Brahmin communities. The official magazine of Dravidian movement proclaimed on 28-09-1955: "If we are to lynch the Aryans in the middle of the roads in broad day light all day long, today none shall care to question that". However, in reality that was not the case. The Tamil Nadu government, then led by K Kamaraj as chief minister, did not hesitate to take action against Dravidian propaganda demeaning the sacred thread.
Subsequently, the cultural reality and strains of real politics made even Dravida Munnetra Kazhagam (DMK) refrain from rabid anti-Brahmin rhetoric. In 1955, C N Annadurai, who later became chief minister, explained that if they could destroy caste system by destroying Brahmins – the same way Hitler did with the Jews – it would be "sensible to an extent". But, he explained that the caste system, which he described as 'Aryanism' had become a part of Tamil society at large, and hence they had to resort to campaigning without violent means.
Deep down they had strong hatred for Hinduism, which despite all social stigmas, still provided a democratic religious system, and hence it was an obstacle to their totalitarian ideologies and theologies. So, anti-Brahminism is aimed not just at Brahmins, but its ultimate aim is to destroy Hinduism and Hindu communities. Naturally, institutional and anti-Brahmin political movements get support from Christian and Islamic expansionist forces.
In 1950s, a bishop from Madurai, in his book on church and Dravidian movement, called the movement a time bomb that they have developed to destroy Hinduism. In 2017, Mathimaran, a rabid anti-Hindu Dravidianist, who calls Subramania Bharati a 'Brahmin-Hindu supremacist' is a guest in Christian institutions. The remarkable consistency in supporting the worst forms of anti-Hindu racial hate ideologies by Christian institutions is telling.
Soon after Tony Joseph wrote a distorted report in The Hindu on the Aryan invasion and migration question as being settled through genetics in favour of the invasion/migration hypothesis, WhatsApp messages started spreading in many groups. In one of the groups of my old collegemates, a friend shared a message she had received. It went like this: "The report of Tony Joseph had struck terror in the hearts of Brahmins in Tamil Nadu as it conclusively exposing them as aliens to this land. The report proves Tamils to be the original inhabitants of the land." And it ended with the usual call to share: "If you are born a true Tamil share this message with other Tamils and spread the awareness."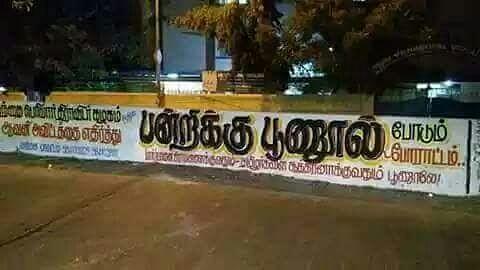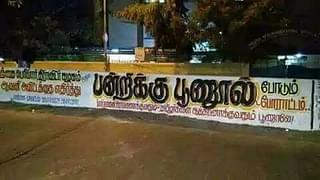 This graffiti is part of the PDK's hate campaign.
Simultaneously, pro-DMK magazine Nakeeran posted a video on YouTube, which claimed, based on 'genetic' evidence, that there are foreign elements in Tamil population. The sloppy and slanted article by Joseph seems to have accomplished, perhaps, what it aimed to: giving a semblance of genetic credence to the dying idea that Brahmins are alien Aryans in Tamil Nadu – incidentally axiomatic to Dravidian politics, though it has got diluted beyond recognition.
It is also disturbing that today the racial narrative is being reinvented by the Marxist ideologues and leftist media barons. Although disturbing, it is not surprising. Indian Marxists had submitted to the British a blueprint to virtually Balkanise India. They parroted the Stalinist creed by increasingly asserting linguistic identities as nationalities and demanded the right for secession for each linguistic community in India. As India became a strong nation-state they lowered their decibel for some decades. The complete electoral marginalisation, the fall of Soviet Union and the 1990 globalisation have pushed the Marxists to reinvent themselves as Sakunian players, stoking once again pseudo-scientific racial narratives through the media houses they have captured and academic institutions they control. Marxists marching with Tamil neo-Luddites in Tamil Nadu or Marxists shouting for Balkanising India at Jawaharlal Nehru University are all thus interconnected.
Even if these forces have a partial success, the cost in terms of human tragedy that India will have to endure will be enormous.
ULFA: A Classic Example
While the pro-Maoist establishment, through misleading articles, arm indirectly the linguistic secessionists, Maoist radicals are even more forthright. Maoist-Marxist ideologue Koteshwar Rao said it clearly in 2009 that Maoist-Marxists support "ULFA, NSCN and PLA", because of 'common enemy'. The same year, in another interview, he said the Maoist-Marxists support the "Islamic upsurge" because "it is basically anti-US and anti-imperialist in nature" and so the Maoists "want it to grow". This gets aided from the beginning by a set of media persons.
Braja Bihari Kumara, one of the finest scholars of the North East, says in his Problems of Ethnicity in the North-East India (Conception, 2007):
Media coverage in India does not provide in-depth objective information about insurgent outfits and their activities. In many cases, we find coverage sympathetic to the insurgents. A large section of our intellectuals and mediamen share the ideology with the ultra-left communist terrorists. Many share the confusions of the ethnic insurgents. Unfortunately, our mediamen have scant understanding of the North-East. Many of them create havoc when they attempt at doctrinairing on behalf of the terrorists.
Kumara gives the example of journalist Parag Kumar Das, who eventually was assassinated by surrendered ULFA cadre. Regarded as "one of the finest theoreticians of ULFA" he, in his book, Swadhinatar Prastab considers Assamese as "closer to their Mongolian brothers than to Indo-Aryan ones". So, the Assamese socio-cultural ethics are different from those of Indians. Das goes on to cite the food habits of one of the greatest Vaishnavite saints of North East, Sankaradeva, and says that him being a fish-eater shows that he was not part of the "Indian socio-cultural ethos". These were not exercises in ethnic-theorising. They become the ideological engines to instigate massacres of every 'other' imagined-constructed linguistic-ethnic minority in every state. The massacre of 62 Bihar workers in Assam, by ULFA in 2007, is one example of what kind of a killing field India can become, if these hate ideologies promoted covertly and overtly by the dominant Marxist establishment are led to their final conclusion.
Take the writing of ULFA ideologue Das. Substitute Tamil culture for Assamese culture and Vallalar for Sankaradeva with a few minor modifications. Add to it liberal dose of anti-Brahmin and anti-Hindu rhetoric and include Luddite conspiracy theories like the danger of Neutrino observatory in Tamil Nadu and concealing of Keeladi archaeology. Then you have a typical Tamil secessionist rant. It is not an accident that in Tamil Nadu the Marxist intellectuals and ideologues have converged to promote a fabricated picture of anti-Tamil imperialism from Delhi.
Importance Of Tamil Nadu
Interestingly, it is in Tamil Nadu, where the colonial forces started experimenting with the pseudo-scientific race theories to create a socio-political movement, which they thought would favour them both as a check to Congress and also as an enhancer of evangelism. With DMK coming to power and first secessionist voices after Indian Independence coming from Tamil Nadu, it seemed the colonial initialisation would work after all.
However, Tamil people held to pan-Indic culture by strong historical and spiritual ties rejected the anti-Hindu DMK for more Indic and pro-Hindu All India Anna Dravida Munnetra Kazhagam (AIADMK). Moreover, the centrifugal forces in Tamil Nadu were never inactive. They had been working to capture institutions as they could not capture popular support, a typical Marxist strategy.
Now with a political vacuum in Tamil Nadu and AIADMK imploding, these forces see a chance of making a come back. Marxists as always have aligned themselves with the 'breaking India' forces because of their own ideological perversions. There is a strong secessionist propaganda, which banks on Tamil ethnic pride and constructs the Brahmin as the other. Anti-Brahminism is not an end in itself. The expansionist monocultures like Marxism, Christian evangelism and Islamism ultimately aim to see a thousand Rwandas in India.
BJP in Tamil Nadu is either oblivious to these threats or inactive or worse has elements like Dr Subramanian Swamy, who serve to fill the image of caricatured supremacist. Hence it is in enlightened self-interest of Tamils, who do not want their children to end up in refugee camps, to fight these destructive 'breaking India' forces in all democratic ways possible. That is what the writing on the wall says.