For those who grew up in the sixties, seventies and eighties with Ambulimama and its English version Chandamama, the story illustrations signed 'Sankar' have been a gateway into Indian heritage.
Hailing from Erode, Sankar or K C Sivasankar illustrated for five decades on varied subjects — but all grounded in Indian culture. For instance, the stories of 'Vethal'.
It was a novel story-telling technique, typically Hindu.
Apart from the Vethal stories, Ambulimama added every month a new story for decades. At the end of the story, there would be a question that would encourage the child to think for itself, developing Dharmic-critical thinking and spiritual values.
Sankar was the illustrator for the series. What could have been a stereotypical and boring repetition turned into a lively and innovative educational technique, thanks to Sankar's immense contribution.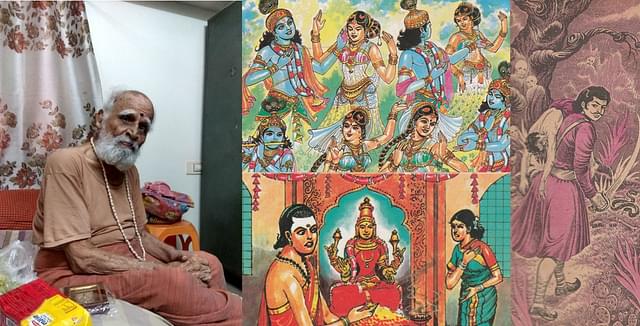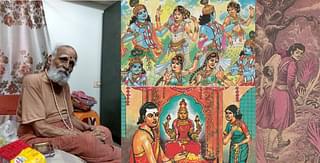 Sankar: his illustrations were divine and traditional.
At the end of Ambulimama, they also serialised itihasas and puranans. Mahabharata, Veera Hanuman, Devi Bhagavatam, Ganesa Puranam were some of them. Sankar's illustrations for these series too were traditional and appealed to the eyes and hearts of children.
These illustrations were always in colour. Apart from the panels, there was also a one full-page illustration, which was quite marvellous. Often children turned the pages to that last section (or penultimate section) to see the full-page illustration.
Here are two such full-page illustrations: In one, Hanuman shows the form in which he leapt over the ocean to meet his brother Bheem. In another, all the gods and goddesses are dancing in joy, and their vahanas also join in the blissful dance.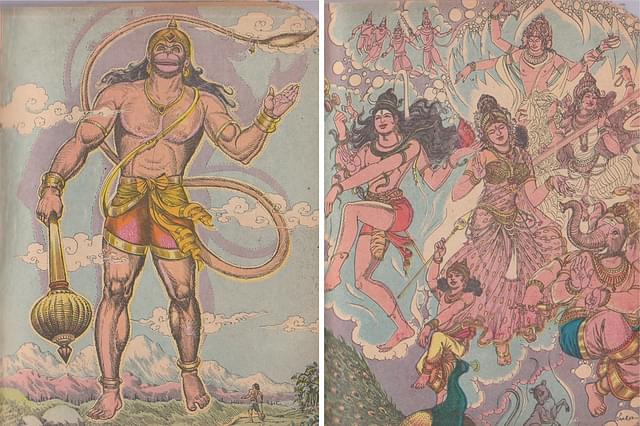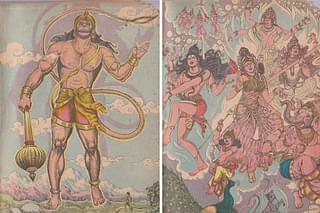 Sankar's full-page illustration depicted the greatness of the Indian culture to the child.
Equally important were the panel illustrations. Consider the illustrations below.
These are illustrations he did for Veera Hanuman — a serial that became a big hit with the children of the seventies in Tamil Nadu. It had woven into the storyline not just Valmiki Ramayana but also many other versions as well as oral traditions.
For example, back at Ayodhya, Sita invites the vanara sena for a feast. Hanuman politely refuses, but Sita insists. Ayodhya could feed them all, she thinks. But to her shock, she finds that in the test-run all the food prepared could not even feed Hanuman. So Sita secretly prays and appeals to Hanuman to reveal his true identity. Then she discovers that Hanuman has the amsa of Shiva himself. Sankar's illustrations bring this aspect to life in an imaginative way for the children (to be honest, to the adult alike).
In another instance, Sri Krishna and Hanuman confront each other, wrestling. That is when Hanuman realises something. Hanuman was angry with Rama when he spoke harshly to Sita at Lanka after slaying Ravana. He was so angry that he asked Sri Rama to fight with him. Sri Rama gently refused and promised that his wish would be fulfilled in the next avatar — that of Sri Krishna. Hanuman remembers this as he was about to enter into a fight with Sri Krishna.
In both the illustrations, Sankar makes the story alive and colourful.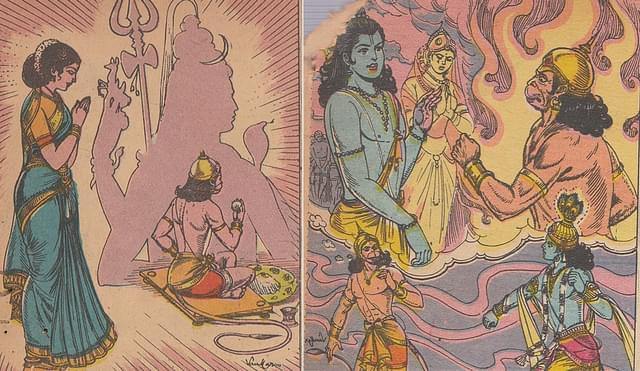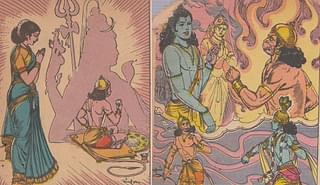 [Left] Ambulimama January 1978 [Right] Ambulimama August 1978
Today, when one looks at the more Greek-like computer aided illustrations for puranas which fill the children's books and animations, one realises what great work artists like Sankar had presented to us as childhood legacy.
Ambulimama ceased to be, and that immense cultural tragedy that befell the nation for generations of children, went almost unnoticed not to mention, not mourned. The colossal nonchalance which the present generation exhibited at the loss of Ambulimama shall always remain a dark spot when history of Hindu culture is written. Even now it is not too late to revive it.
Perhaps, the Culture Ministry could look at Ambulimama-Chandamama as a national heritage — a great tool to build national integration — and revive it. Allowing Ambulimama to remain as just a memory that slowly fades away is a crime — as cruel as the demolition of our temples by alien invaders or worse — as perverted as helping the invaders loot our own temples.
Anyway, when Ambulimama ceased to be, Mother India created a new channel for Sankar to help the children learn to swim in the ocean of Indian culture and spirituality. Sri Ramakrishna Vijayam — the monthly magazine of Sri Ramakrishna Matt in Chennai — had Sankar illustrate their pictorial series for children. Again Sankar — though old — did a remarkable job of portraying culture and tradition in a way a child's imagination could relate and understand.
Below is the illustration of Sankar for Sri Ramakrishna Vijayam. Here, he illustrates the incident of 'Nampaaduvan' — a supposed untouchable. A Brahmin, because of his sins had become 'Brahmarakshasa', but obtains the punya of singing in praise of Maha Vishnu, and that removes the sins of the Brahmin.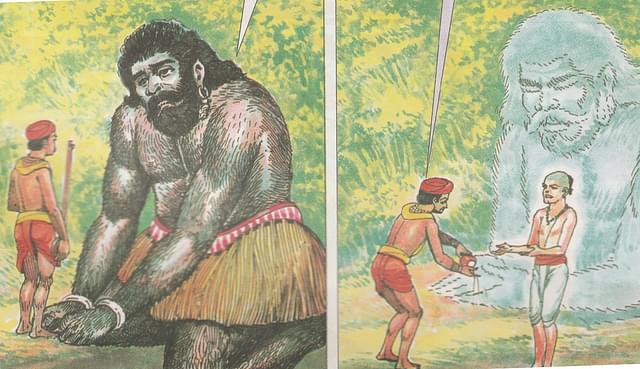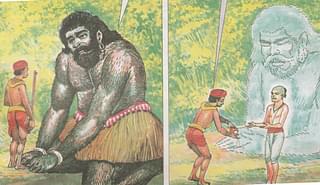 From 'Sri Ramakrishna Vijayam': series republished in book form: from Vol 20
Though the target audience for his illustrations were children, he nurtured Indian culture in such a way that those who grew up reading the series he illustrated for, until today respect, understand and defend the culture and spirituality of Mother India. But for his illustrations, which existed for more than half a century, children would have been poorer in their inner resources, and India would have suffered even more cultural illiteracy.
Aged 97, Sankar attained the feet of Mother India — whom he worshiped through his illustrations for children, on Tuesday (29 September 2020). For those who grew up in the seventies and eighties a part of their being is lost forever with the passing away of Sankar.
May his memory and work inspire generations in spreading cultural literacy to the future generations of children in India.