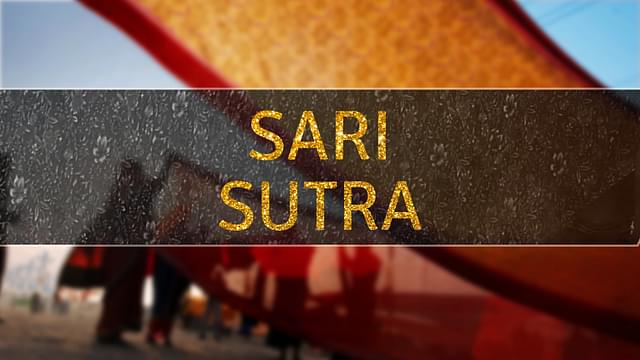 Saris and India
Snapshot
Warps of pride and wefts of tradition - four Indian women on what the sari means for them
"Here on, sari will be a conscious assertion of my civilisational identity." - Smita Barooah
Recently, The New York Times chose to publish a badly written, ill-informed article that linked the sari to Hindu nationalism and suggested that wearing it was some sort of bigotry. The article has sparked unprecedented outrage in India, which has cut across ideological lines.
Well before The New York Times exposed their abysmal ignorance and racism, and well before they decided it was acceptable to talk down to the "natives", my aitas (grandmothers) wove their own mekhela sadors – the two piece sari from Assam – on their looms. Having a loom at home was a norm in my state that changed, sometime in the 1970s, partly due to time and space constraints. But the traditional attire continues to thrive.
My father bought me my first sari for my high school graduation. It was a Baluchuri, specially ordered from Bengal, and had the mythological theme exquisitely woven on the pallu. That was a rite, a passage, and the beginning of a life long collection of gorgeous weaves.
My wedding trousseau had saris, which had been curated lovingly over many years, from across India, by my mother and mother-in-law. There were golden muga silks, which are now increasingly rare, paat silks, and tribal cotton weaves from Assam. There were pochampallis from Andhra Pradesh, kantha and jamdani from Bengal, and bomkai saris from Odisha. For wearing on festive occasions, there were heavy kanjivarams from Tamil Nadu and Benarasis from the looms of Varanasi. For cocktails, there were chiffons and Mysore silks. For office-wear in summer, there were tissue, organza, chikan and Bengal cottons. For winter, there were printed silks.
For all of my adult life, I have worn my saris casually. It was never about trying to make a point, or assert some identity, or even a crusade to save the weavers. It was just a way of life. The realisation that my traditional way of dressing could cause discomfort to another culture is something that is frankly astonishing. It has exposed a deeply ingrained colonial mindset that clearly believes that our way of life is somehow a defiance of some global standard.
We the "natives" are expected to adhere to norms dictated by others. The article also exposed an overt attempt to push Western attire in the large Indian market. The resilience and resurgence of traditional wear seems to have thwarted some commercial agenda.
As The New York Times and other agenda pushers will soon realise, any attempt to diminish a culture and dictate to a people, is unwise. I used to wear the sari because it was natural to me. However, from this moment on, my sari will also be a conscious assertion of my civilisational identity.
Sari I recently added to wardrobe : Cotton paithini
Sari I want : patan patola
"A sari has nothing to do with a political party or its ideology" - Shefali Vaidya
The article in the New York Times by Asgar Qadri deeming the sari communal was a deliberate display of blatant Hinduphobia and racism. By equating Indian attire with Hindu nationalism, the writer has insulted both India as well as Hinduism.
India is known for her textiles for thousands of years. Scraps of finely woven dyed cotton have been found in Harappa. The shawl on the priest king statuette found in Mohenjo Daro is the earliest known example of block print. Romans have been importing Indian textiles for centuries. They even called cotton carbasino, a name derived from the Sanskrit word for cotton, karpas.
Today, when I opened my closet to choose a sari to wear, it was not just a stack of textile that I found. I found a vibrant, colourful, cultural map of India adorning my closet. From the moirangphi and munga of the east to the bandhani and patola of the west, from the delicate sozni and luminous Benarasi brocade of the north to the resplendent Kanchipuram silks and minimalistic ivory and gold kasavus of the south, the diverse colours and textures of India had come to adorn my closet.

Long before the first white colonisers arrived in India, our ancestors were draping themselves in fine Indian textiles. My great grandmother wore a sari with pride, my mother wore a sari, I wear a sari with pride, and I have no doubt that my daughter will rock the sari in her time!

A sari has nothing to do with a political party or its ideology, but it has everything to do with India. An ignorant writer like Asgar Qadri can try his best to spin his web of deceit and The NewYork Times can continue with its racist, reductionist propaganda, the fact is, India will never give up the Indian attire.

The textile sector in India employs 43 lakh people, out of which a whopping 77 per cent are women. Indian attire like saris and dhotis not only influence global fashion, they provide an employment opportunity to women, many of whom are based in rural areas. Racist drivel like this will only inspire more and more Indians to take to Indian wear.
Once upon a time the world prized the fine muslins woven in India. Romans called them 'nebula venti' - woven wind. Indian fabrics and textiles will continue to dominate global fashion in the years to come.
Sari I recently added to wardrobe : Dhakai jamdani
Sari I want : Madurai sungudi
Qadri knows that the sari is anything but a 'Hindu woman only' garment.' - Amrita Bhinder
The New York Times' 'sari-shaming' piece – where author Asgar Qadri suggests that any effort to revive the saree or for that matter any effort initiated by the Prime Minister such as the "Make In India" project that somewhere aims to highlight a sense of 'Indian-ness' is an effort to project a multi-faith India as a Hindu nation – is yet another fine example of media trying to set an agenda when it fails to find one in the first place. The fact that the NYT piece has drawn flak from all quarters is not surprising considering the high bandwidth of ignorance and stupidity it displays. But the troubling aspect about the whole thing is the manner in which one of the most recognisable newspapers in the world, takes a positive development in India, such as the revival of traditional weaves and twists it, with the now familiar '2014 and after' narrative.
One wonders, then, if President Donald Trump was wrong in calling the New York Times a 'laughingstock rag ' that was willing to say anything. The article is so lopsided and ill informed, that it takes a piece of garment worn with pride for centuries, not only across India by all its communities, but also Pakistan, Bangladesh, and Sri Lanka, as a piece of clothing for Hindu women only. The manner in which Qadri, and the NYT editorial go about trying to concoct the connection between 'rising Hindu nationalism' and one of India's leading designers, David Abraham, calling the government's backing – such as its push of Khadi and other traditional weaves and artisans, as a bonus, to the already present "subtle current of Indianising the fashion" within the Indian fashion arena – as an agenda, is an affront to anyone with basic sensibility and knowledge of India. But Qadri, who has supposedly described himself as 'born in Indian Controlled Kashmir ', knows that the sari is anything but a 'Hindu woman only' garment.'
I am a north-Indian Sikh woman married to an Andhraite. Even though one wouldn't readily connect me with a sari, my 'collection' includes a traditional kanjivaram silk, a few Gadwal silk from the town that gave the sari its name in Telangana, a Mysore georgette, a crepe silk with Swarovski and yes, a Banarasi silk, too.
The effort to paint the beloved garment as a tool of 'Hindu nationalism' with one uneducated broad brushstroke might seemingly fit into the NYT's mindset. After all, the paper mocked India's successful Mangalyaan robotic probe into the orbit around Mars as a 'budget mission to Mars.' Remember the cartoon that showed a farmer with a cow knocking at the door of a room marked Elite Space Club where two men sit reading a newspaper on India's feat? Following the misfire, both Qadri and The New York Times seem to be clutching at the pallu of the same sari they mocked.
Sari I recently added to wardrobe : Thanks to my mother, who passed on some of her Chanderi and mother-in-law, who keeps gifting from her 46-years old collection.
Sari I want: More and any.
"Sari becomes us, the women, major, mazdoor, artist, Sania, Sindhu, ISRO scientist..." - Sumati Mehrishi
The women know the weaves and get along well. They chatter and chuckle over cake, tea and selfies. A new pallu revealed. Seven in a row. More thrill and volume. A table away from them, at a restaurant in South India, I try pushing my voice across to the person I am meeting over breakfast. It's tough. Just then, a compliment flashes towards me. "What a striking green! Beautiful sari!". The gamchha sari I am draped in, does it, once again. It gets attention, like a field of paddy from neelgai. I turn around and thank. "Are you meeting over a sari pact inspired by Ally Matthan's 100 Sari Pact?" I ask. "We would love to, some day. As of now, we bond over saris and tea," they say. Their handloom saris – beautiful – each, a triumph of craft and aesthetics and of an unknown Indian weaver.

Who are these women? Nationalists? Why would I ask? Who does?
Like millions in this country, like the beautiful women seen drying saris on the ghats of Varanasi – in the picture used in the NYT article – and these women's grannies, the urban women I met, too, love buying, wearing, gifting, eyeing saris and saving money for buying saris. Earlier this year, Jaya Jaitly, the woman of many drapes and one of the most beautiful ambassadors of handloom sari, said in an interview, "I want everybody to be able to wear handloom saris." Like Jaya Jaitly, everybody wants everybody to wear handloom saris. Well, almost. We, lovers of the sari, have nothing against western attire. Western attire has nothing against the sari. I have worn a sari on a pair of denims and gone to work and on a pair of shorts to the beach.
Ignorance, in the matters of tradition-nourished fashion, is what a knot is to the art of draping a sari. It pops out, holds perceptions sloppily – long enough, for a script-drill to last, and provides a gentle opportunity for tripping over yards, hem and fall. The NYT article dangles a knot, fashionably, over India's electoral silhouette. And trips.

Sari is the soul of India's beautiful form and her narrative. Indian designers and artisans contributing to their ideas have presented this narrative, many times over, on the global fashion map, successfully. Currently, the narrative is receiving melodic support. The minister overlooking the efforts and taking initiatives, wears saris, and the prime minister, turbans. Nothing, really, "has become" nationalist. It continues to be Bharatiye.

To some, amidst growing delusions surrounding cultural aspects and issues, the sari could appear as a costume of convenience, or a yarn of conspiracy held by a thread, over India's political proscenium, to be dropped, during Act IV scene V of a poll skit. Delusions surrounding culture, interestingly, aren't new and the source of delusions, uncannily similar. "Do you wear sari because you cover art and culture?". And. "You are wearing a saffron sari... Did you vote for the BJP?" And. "Who do you think you are? Sushma Swaraj?" Knots – thrown at me – all at newspaper offices. And every time I have unknotted these, by wearing saris and more saris. I wore a sari, for the first time, at the age of 10.

Sari is a tradition that drapes our cultural journey. It moves around in circles, around our cradles, walks with us through our education and the learning of the arts, pauses with us in countless ceremonies, and travels with us, some of us, to the funeral pyre. For me, it will be a kanjivaram, because "you glow in a kanjivaram," I am told. Celebrate life and sari. Share laughter with a weaver at a haat, at his workshop.

Sari is the weft and warp of a civilisation that we wear in our collective walk ahead as a nation. It becomes us, the women, naari, beti, bahu, doctor, minister, major, mazdoor, kalaakaar, scholar, master, soldier, ma, behen, employee, employer, marathoner, multi-tasker, leader, Sindhu, Sania, Saina, Mary, ISRO scientist, dentist, driver, conductor, weaver. Weaver -- the unseen hero and destination of the ongoing revival, which is catching momentum, efforts, more music from the looms, more efforts to back those efforts and some noise.

Unwind. Unwind from the Indian reel, the sari, and you'll know (if you haven't), that the sari is a celebration. Sari, the storyteller in Bimal Roy's treasure, the measure for journeys in Satyajit Ray's, the fabric of womanhood in Shyam Benegal's, the golden warmth in Mani Ratnam's. Sari, the audience, in a game of yards, in Chak De India, twenty five of hockey and five of sari. Sari, this time, wears a thin border in India colours. The two sparring forwards stand tall and graceful, their ego wrapped in folded arms, as coach Kabir Khan delivers a chapter on unity in their long sprint, from the national kit, to the sari. Unfold, from Kahaani, sari, the face for Mrs Bagchi's walk through the dark lane, for justice. She stands, arms folded, before pulling out the artificial bump from behind the pleats, her weapon and the final blow on the demon. Her pallu remains safely pinned through the action.

Sari, the inspirer, the inspiration, the connecting-thread in our arts. Bharatanatyam guru Malavika Sarukkai's remarkable production, Thari: The Loom – a milestone in performing arts – unravels the sari, its weaving, the meaning and motifs to the last strand. This work is a rebirth of the loom as a concept, as a source of kriya, music and creation in a spread of rhythm, beats, beat fractions and Bharatanatyam. I was fortunate to watch Thari,: The Loom last month. The first time I saw Sarukkai perform was in Benaras. In 2003. Benaras is great for beginnings. Some beginnings linger on its ghats, others on its looms. It depends on how the viewer sees and connects with these beginnings. For others, there are knots. Knots of ignorance.
Sari I recently added to wardrobe: kasuti
Sari I want : muga
Get Swarajya in your inbox everyday. Subscribe here.
An Appeal...
Dear Reader,
As you are no doubt aware, Swarajya is a media product that is directly dependent on support from its readers in the form of subscriptions. We do not have the muscle and backing of a large media conglomerate nor are we playing for the large advertisement sweep-stake.
Our business model is you and your subscription. And in challenging times like these, we need your support now more than ever.
We deliver over 10 - 15 high quality articles with expert insights and views. From 7AM in the morning to 10PM late night we operate to ensure you, the reader, get to see what is just right.
Becoming a Patron or a subscriber for as little as Rs 1200/year is the best way you can support our efforts.
Become A Patron
Become A Subscriber