Why The Controversy Surrounding Baburao Savarkar's Book On Christ Is A Hoax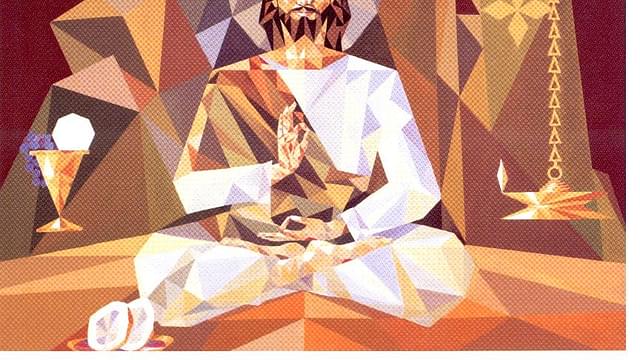 Christ, 'the guru'.
Snapshot
While the Christ Parichay is being republished by an independent organization, media reports have painted the book as 'RSS propaganda'.

The book was written when theosophical stories of Jesus having learnt esoteric mysticism from India were very popular.

Meanwhile, the media ignores books which claim that Hinduism is a derivative of Christianity.
The controversy surrounding the book Christ Parichay is a textbook case of 'suggestio falsi suppressio veri' and the creation of a controversy where there is none. Written by Ganesh Savarkar (also called Baburao), brother of Veer Savarkar, Christ Parichay was published posthumously in 1946. The book is being republished today (26 February) by the Savarkar National Memorial – an organization which has no connection with the Rashtriya Swayamsevak Sangh (RSS).
The republication of Christ Parichay is part of a drive to republish all of Baburao's works. Nonetheless, media reports have sought to associate the book with the RSS itself. In a report ostensibly aimed at inflaming Christian sentiments, Midday said, "Jesus Christ was a Tamil Hindu, claims RSS founder's controversial book". Despite clarification from the publisher that the book's publication was only a part of the republication of Baburao's works, the report portrays the views in the book as the official claims of the RSS.
One should remember that at the time of the book's writing, theosophical stories of Jesus having learnt esoteric mysticism from India were very popular. Among its proponents were Russian painter Roerich and Paramahansa Yogananda, who believed in the legend that Jesus traveled to the East. Even as recent as in the 1980s, popular English magazines such as Illustrated Weekly of India and Mirror ran stories titled "Did Jesus die in Kashmir?" and "Did Jesus really live?"

Even today, these notions are popular, not only among a section of Hindus but also among assorted sections of theosophists and new-age groups. Many Ahmadiya Muslims believe in the idea that Jesus came to Kashmir. BBC's documentary director Richard Denton holds that, having survived the crucifixion, Jesus traveled east to Kashmir.
Further, one should also remember that the book was written at a time when dominant forces in colonial Indology were making outlandish claims that Krishna was a distorted myth of Jesus and that the Gita was influenced by the Gospels. But for the compelling inscription-based evidence that the Krishna tradition predated the Common Era, such a narrative would have even entered our textbooks.

To put things in perspective, let us consider this. John Bentley, a nineteenth century Indologist in his book, A Historical View of the Hindu Astronomy, written in 1825, stated that "the fabrication of the incarnation and birth of Krishna" was done by Brahmins because they "were sorely vexed at the progress Christianity was making, and fearing, if not stopped in time, they would lose all their influence and emoluments".
Today, we know that this is completely wrong and that Krishna worship predated the Common Era by centuries. But in 2013, Cambridge University Press reprinted the book as part of its practice of reissuing of out-of-print titles. None portrayed the views in the book as the official stand of Cambridge University, nor did tabloids report that Cambridge published a book which claims that Krishna was a fabrication by Brahmins to counter Christianity.

The reports surrounding Christ Parichay have also revealed the lack of knowledge regarding Indian society. In an effort to paint the book as 'Brahminical', the reports repeatedly stated that the author made Jesus a 'Tam-Brahm'. In reality, the book claimed that Jesus was a 'Viswakarma Brahmin'.
This claim is interesting for historical reasons. For many decades, Viswakarmas and Orthodox Brahmins had a dispute. Viswakarmas include artisans, sculptors and goldsmiths and Orthodox Brahmins vehemently opposed their rights to sacred thread. Litigation wars raged in colonial courts over the issue. In this context, Baburao's claim that Jesus was a 'Viswakarma Brahmin' who had a sacred thread ceremony has significant connotations. Baburao was totally wrong about Jesus. But he was essentially siding with the artisan community against the orthodoxy.
Interestingly, as late as in 2010, a Biblical scholar Dr Adam Bradford made a claim which sounds close to, but is different from, the one made by Baburao in 1946. Bradford claims that Jesus was a socially privileged architect or a tekton – a claim also made by Baburao.
Of course, there is no credible evidence backing any of these claims regarding Jesus. The claims only reveal a craving from fringe Christians in the West and a section of Hindus in India to place Jesus within Eastern traditions. Any right thinking person would have understood that the republishing of this book can serve no propaganda and at best only serves academic interest over how a section of Hindus perceived Jesus.

Neither the RSS nor any Hindu organization had ever propagated these views even when they were written. MS Golwalkar, the second chief of the RSS, for example, called Jesus "a great seer" who had "sublime thoughts", and attributed the spread of Christianity to apostles being "fired with the spirit of Christ".
Again, historical documents prove that Golwalkar was wrong. Author Jonathan Kirsch meticulously showed in his work, God against the Gods, that the spread of Christianity was brought about by a dangerous cocktail of fanatical evangelism and the political opportunities that monotheism provided to Roman rulers.
The point to be noted is that the RSS never officially promulgated Baburao's views on Christ. In fact, one of the very first English books eulogizing the RSS was written by a Catholic priest in Kerala, Anthony Elenjimittam. Elenjimittam was a Gandhian who incidentally also coined one of the more popular terms in Indian politics, 'pseudo-secularism'.
The RSS, on its part, continues to have dialogue with various Christian groups and never gets into theological debates over Christianity. In 2002, the then RSS chief KS Sudarshan participated in the RSS-Christian Perspective Meet, held by the Indian Institute of Christian Studies.
There are sections among Hindu nationalists who do not agree with this approach of the RSS. Most notable among them are those belonging to the Sita Ram Goel school. Goel's harsh criticism of Jesus Christ as an "artifice for aggression" still sets the ideological framework for this school of Hindutvaites who negate Jesus completely. The Hindu nationalist approaches to Jesus and Christianity, therefore, are varied and not monolithic. They are only united in their opposition to forced and organized conversions.
Hence, the controversy surrounding the book written by Babarao Savarkar in 1946 is nothing but a psychological and communal hoax played on the nation. There are other really serious communal forces at work which use similar unfounded theories. Baburao could be forgiven perhaps, taking into account his era and the fact that he did not aim to make his views a basis for converting Christians to Hinduism. But what about forces that work today with a communal agenda, having a sophisticated institutional mechanism and claiming that "India is a Christian Nation"?
The book India is a Christian Nation repeats the outdated pseudo-scientific Aryan invasion theory and then claims that Dravidians are the natives of India. Then, it quotes Father Heras who claimed that they were "Hamitic". It also claims that Abraham was a Dravidian, thus effectively making Jesus a Dravidian descendant.
The book was written in 2003 and since then has been republished several times. Far from being discredited, the book has been endorsed by some of the highest authorities of Indian churches, including Catholic Bishop Rev Dr Lawrence Pius of Chennai, Bishop Ezra Sargunam of Evangelical Church of India and Dr John Samuel of Institute of Asian Studies. What makes the book even more dangerous to communal harmony is the fact that it also carries an appendix on the so-called 'Secret Circular of RSS', a hate-hoax modeled after the Protocols of Zion. Yet, the book is endorsed by Christian authorities cutting across denominations.
This book is not an isolated phenomenon. There is an entire industry flourishing through the publication of books which claim that Hinduism is a derivative of Christianity. Even the famous Thirukkural has been claimed as a Christian work, though such claims have been decisively proved false by Tamil scholars. Yet, such evangelical materials thrive and are disseminated through countless evangelical outlets throughout Tamil Nadu.
It is time that we stopped peddling half-truths and started looking at the overall picture in an unbiased manner. That is the least that they can do to really boost secularism in India.
Image Credit: The CMS India.
Get Swarajya in your inbox everyday. Subscribe here.
An Appeal...
Dear Reader,
As you are no doubt aware, Swarajya is a media product that is directly dependent on support from its readers in the form of subscriptions. We do not have the muscle and backing of a large media conglomerate nor are we playing for the large advertisement sweep-stake.
Our business model is you and your subscription. And in challenging times like these, we need your support now more than ever.
We deliver over 10 - 15 high quality articles with expert insights and views. From 7AM in the morning to 10PM late night we operate to ensure you, the reader, get to see what is just right.
Becoming a Patron or a subscriber for as little as Rs 1200/year is the best way you can support our efforts.
Become A Patron
Become A Subscriber