Rapur in Nellore district of Andhra Pradesh is among the 24 agricultural markets that have enrolled for the National Agriculture Market (eNAM) that would be linked across the country through an electronic network.
The small town, some 175 kilometres from Chennai, surprises you when you start looking for the market. Some people direct you to the Civil Supplies Corporation office and some to the farmers cooperative opposite the Andhra Pradesh State Road Transport Corporation depot in the town.
Finally, at the farmers cooperative, an employee says that the market at the Podalakur Lemon Market Yard, some 35 km from there, was the one listed as part of eNAM. The Podalakur market, however, falls under Rapar mandal, says an Agriculture Marketing Board (AMB) official.
The Podalakur Lemon Market gets busy early in the morning so much that by 11 am, it wears an empty look except for traders, teri workers, commission agents and a handful of marketing committee staff.
But the important issue here is that apart from meeting a couple of requirements necessary to be called or rated as an eNAM mandi, the market fails in meeting the needs to a large extent.
A stark reality that strikes a visitor, who thinks it is eNAM and all is modernised, is the lack of any online trading. In fact, the trading on the floor is fed into the computer manually by the marketing committee staff to show it as trading.
"Farmers bring their produce (lemons) to us. We then auction it. Prices depend on the quality of the lemons they bring. Usually, they bring a mix of their produce and we sort it later," says a trader-cum-commission agent at the market.
Usually, the farmers head towards the handful of commission agents-cum-traders at the market. Their produce is kept in their sheds and then the bidding takes place with some buyers coming from as far as Chennai.
"We buy lemons based on the quality and send them to all parts of the country. It also includes sending them to New Delhi and other markets from where they are exported," says A Prabhakar Reddy, a trader at the market.
Asked if there is any online trading, he nods his head in the negative. "There is nothing done on computer here," he says, adding that payments are made in cash to farmers.
This is in sharp contrast to what Swarajya saw at the Vellore market and Ammoor eNAM market in Tamil Nadu. In Vellore, payments below Rs 10,000 are made in cash on requests, while at Ammoor, all payments are made in cash.
In Karnataka, cash payments are minimal at the Yeshwanthpur market on the outskirts of Bangalore.
Swarajya's visit to the agriculture market in Kuppam, which has been electing Andhra Pradesh Chief Minister N Chandrababu Naidu since 1989, in December also showed that cash was the king with no place for digital transactions.
The Podalakur Lemon Market has 56 licensed traders with a little over 200 farmers visiting it in the season (February May). During off-season (June-January), a little less than 100 farmers turn up to sell their produce.
"The problem here is that this market trades in a perishable commodity. This became a part of eNAM in 2017. It takes time to get things done. We need to convince all," says an official of the Agriculture Marketing Board.
But Podalakur has got its personnel ready for the functioning of eNAM. It has three data entry operators – to take care of entries made by farmers and traders – and a market analyst.
According to the officials at the market, it has got ready five personal computers with printers, a laptop and has even three uninterrupted power supply systems to take care of any power failure.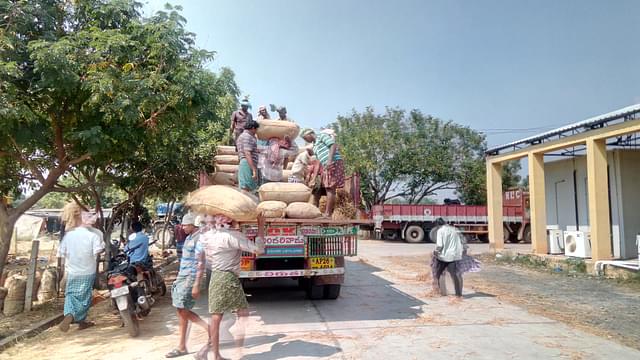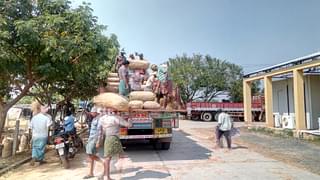 A truck being loaded with lemons at the Podalakur market to be sent to north India. 
"During off-season, produce totalling four trucks are brought by farmers. When the season begins, the arrivals exceed 15 truck loads," says Reddy.
According to a brief note given to Swarajya by the market officials, lemons totalling 9,294 tonnes were sold during 2017-18 fiscal at a trade value of Rs 11.75 crore. The authorities collected Rs 17.51 lakh as market fee. "We collect one per cent of the total trade value as market fee," said the AMB official.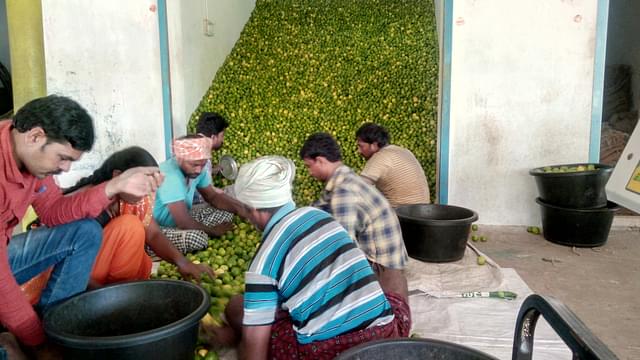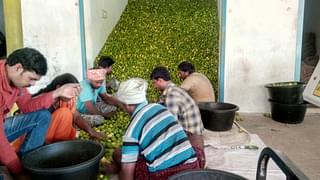 Workers sort lemon before being transported to various destinations across the country at a trader's premise in Podalakur market.
The market analysts at Podalakur assays lemons with a balance and callipers. "We bring a few lemons from among the lots brought by farmers, weigh them and then measure their thickness with callipers," said the analyst, adding that the lemons are physically checked for colours and any disease symptoms.
Any lemon more than 38 mm in width is categorised as A grade, while one between 20 mm and 38 mm is B grade and anything less than 20 mm is C grade. "But we don't have grading facilities that will be based on the pulp content of the lemon," says the official.
The analyst, along with food safety specialists, examines at least 25 lots a day.
Traders, however, say that they determine the grade and quality of lemon based on their experience.
"My father has been in this business for over 25 years and I am helping him for over five years now. Just a view of the lot can help us make out its quality and grade," says Raj Kishore, another trader in the market.
"See, what happens is that the farmer brings lemons in 80-kg bags. From one bag, the farmer has to empty a part to fill a 20-kg basket. That is an indicator enough of the quality of lemons," says Ramaiah, who collects lemons in bags from farmers in and around Nellore and takes it for auctions at Gudur Lemon Market, some 40 km from Podalakur. For his work of transporting and delivering the lemon, he gets Rs 100 per bag as payment from the farmers.
"The big green ones are the best since they can last for a longer time. Once they turn yellow, their life span becomes short," says a sorter at the Podalakur market.
The green ones are sent to far away places like Mumbai, Kolkata, Ahmedabad and Delhi. The yellow ones are sent to markets in Chennai, Madurai, Coimbatore, Hyderabad and Bengaluru.
Traders at Podalakur confess that auction of lemons are done through an open-outcry system. In this, the trader shouts out the rate and allows the highest bidder to have the lot. The bidding is done per 80-kg bag.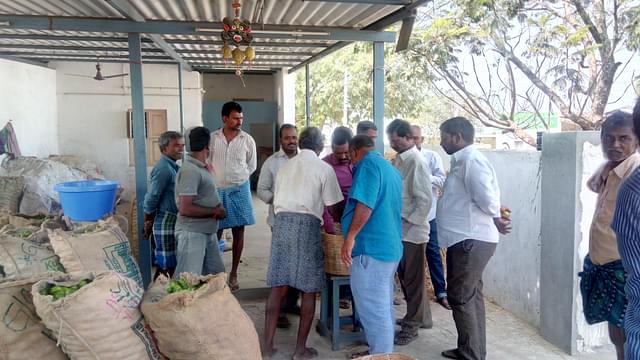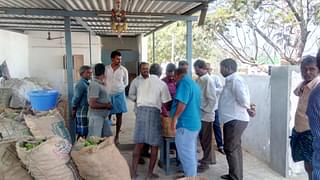 An open outcry auction of lemon at the Gudur Lemon Market. 
Swarajya happened to visit the Gudur Lemon Market too and witnessed a few auctions. Sometimes, the outcome of the open-outcry system was amusing with prices being brought down after an initial offer price is made.
Like for instance, most of the auctions on 22 January 2019 during the visit started at a base price of Rs 700 per 80-kg bag. When no trader bids for the lot, the auctioneer lowers the bid to Rs 650, then Rs 600 and even to Rs 550 to find buyers. There were a couple of lots that fetched higher prices too with one particular lot being quoted at Rs 2,000.
S Easwariah, a farmer from a village near Gudur, said he had brought two bags of lemons from his farm and sold each for Rs 2,000. "I cultivate lemon in two acres," he says as he joins his neighbour to get back home.
The problem with the open-outcry system is that there is every chance of cartels coming together to keep prices under check. This year, the chances of keeping prices on leash are bright since production is low.
"This year, prices are higher than last year. Arrivals are low and expected to continue throughout the season next year. Lemon production is lower this year due to poor rainfall," said Reddy.
Coastal Andhra Pradesh and districts like Nellore and Guntur depend on the northeast monsoon from October to December. In 2018, rainfall during the northeast monsoon was 42 per cent deficient, affecting quite a few crops in Andhra Pradesh and Tamil Nadu which are totally dependent on this.
In such circumstances of lower production, a cartel can keep the prices on leash to gain the maximum as it can quote higher prices to its buyers outside the state.
"Online trading is only available at the Duggirala mandi in Guntur district. There, too, there is stiff resistance from the trading community," said an official source, not wishing to be identified.
Asked how then could Andhra Pradesh hope to connect with traders across the country, the sources said that so far only one trader has registered for all-India trading in the state. "Only one trader at Kurnool has registered for inter-state trading," the source said.
AMB officials take cover behind the tardy progress by saying that markets had enrolled to be part of eNAM only in 2017. "It cannot happen overnight. It will take time," an official in Nellore district said.
In Podalakur itself, a platform for trading has just got ready, while the marketing committee has constructed another 10 shops ready to be let out to traders.
A trader at Podalakur said that the market lacked facilities for sellers or buyers to take rest. "There is no shelter or cover for sellers and buyers. This is a big disincentive," the trader, not wishing to identify himself, said.
Another official, involved with AMB, told Swarajya that it could take another two years before eNAM becomes fully functional in Andhra Pradesh. Till then, online trading and digital governance will have to wait.