On Day Nine, most of our time was spent travelling.
Thank to our trip partner, Savaari Car Rentals: You can now hire an affordable taxi almost anywhere in the country.
Already we travelled the whole of last night through miles and miles of absolutely deserted roads, from Khajuraho.
Throughout a good 50 kilometres, or perhaps more, there was not a single house, single soul, electric light or for that matter, even a car or bike passing by.
Occasionally, we saw a few houses. Clearly, they have got electrical connections only now. We could see an entire family sitting on a coir cot and chit chatting or around a fire sitting and talking.
That is a scene we have forgotten in our generation, though we remember these scenes in our own families before TV became a ritual during dinners, and later cell phones.
I am no Luddite. Cell phones have definitely democratised our knowledge and decentralised the control of news production and dissemination which then a few houses had.
Yet, an addiction to cell phones does tend to alienate us from feeling our immediate reality. Humanity has nurtured itself through story telling. From bushmen to campers, people sitting in a circle under the night sky and listening to stories is an integral part of human civilisation cutting across cultures.
Today, we have mostly lost it.
Through the roads that were bumpy and shallow, when we at last reached the lodge at Chitrakoot, it was already quite late. Next day, we had to reach Varanasi.
Tired, our bodies screamed for a good rest. We got up the next day a bit late and decided to hit the road. As we moved, we saw the board 'Bharat Ghat'. Less said, but we all have been feeling criminal for not properly visiting Chitrakoot.
This is the place where Sri Rama was staying along with Sita and Lakshmana. According to all versions of the Ramayana, starting from Valmiki's, the beauty of this place impressed Sri Rama so much. The beauty of nature here was more endearing to Rama than His own kingdom.
It was here at Chitrakoot that Bharata came to persuade Sri Rama to return to Ayodhya, and it was here that Bharat told Rama about the death of Dasaratha. And it was here that Rama performed the last rites of His father. There are many beautiful temples commemorating all these events in Chitrakoot.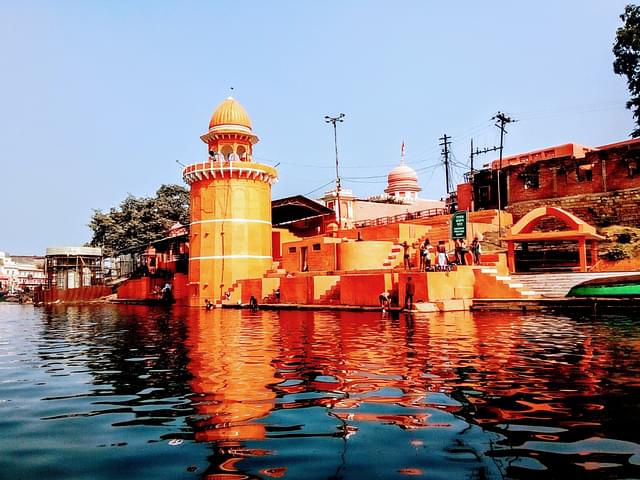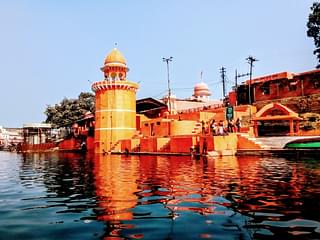 However, with a restricting time-frame and a closing schedule, we decided to visit only the Ghats. The Ghat that attracted us was, of course, the Bharat Ghat. But along the shore of a narrow twist in the Mandakini, there are a quite a few famous Ghats.
There are rows of decorated boats and there are quite a few Pandits who conduct rituals for pilgrims. None comes and pesters you, as in some other places. There are shops where they sell the small 'Padukas' — trinklets, which are quite beautiful and very appropriate for the place.
Even as elsewhere in India, people are ready to renounce 'Hinduness' for the sake of power, by backstabbing an alliance partner who also believes in the same sense of identity, here, the renunciation of power is celebrated and venerated through the coronation of the footwear of He who chose the thorn-filled forest as opposed to the throne.
Real Hindu culture lives in such veneration.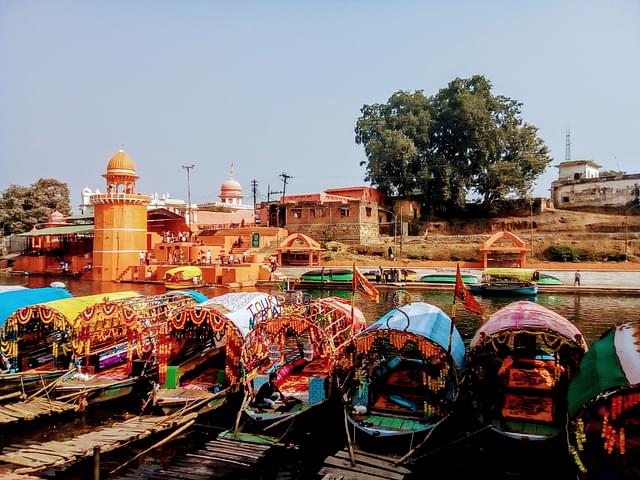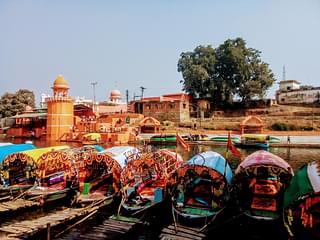 There are rows of boats in the river bank. They are decorated. We plan to take a sail. A young boy looks at us and talks about the Ramayana here. Though I don't know Hindi, I can understand that he is talking about Bharata meeting Sri Rama and touching His feet.
He says that Tulsidasji had his Darshan of Sri Rama at Chitrakoot and that this place is sacred. So, we ask him if we can get a boat to take us in the river. He looks at another man sitting there, listening to our conversation. That man smiles and says my son can take you.
We are hesitant, but the man insists. We are still hesitant. But now the boy insists. We agree. Sonu Nishad starts to row the boat showing us each and every Ghat named after Rama, Janaki and others. He asks us to go to the temple.
The mind takes you to the early twentieth century Madras Christian College where one Prof. Miller was teaching Alfred Tennyson to students. He reads the lines from 'Morte d'Arthur':
So said he, and the barge with oar and sail
Moved from the brink, like some full-breasted swan
Such an imagery he then explains to his students is not even in Indian classics. "Even your Kamban has not visualised such a beautiful imagery," he tauntingly says.
A student gets up and says clearly, 'You are wrong sir. Centuries before your Tennyson, our Kamban has indeed used the same imagery". "Can you cite the lines?", the professor asks, in a unbelieving tone. Pat comes the exact lines of Kamban from the student — Surya Narayana Sastri (Parithimal Kalignar). Guha is rowing the boat taking Rama, Lakshmana and Sita through the river. With oars on two sides the boat moves like a swan through the river.
Nishad has professionally finished the small sacred circuit. Evidently, he is not going to school, a pity. Evidently, he has learned something very useful that most schoolchildren would not have learnt at his age.
Of course, child labour and forcing children into defiled trades, or occupations considered defiled, is inhuman and criminal. But this is not a defiled trade. This is a skill many Indian children would love to possess.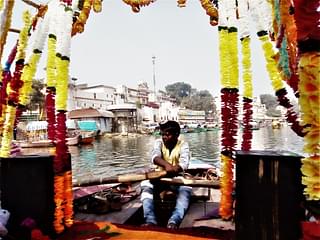 Imagine Nishad learning commerce and economics and also his family profession of rowing the boat. You can soon imagine him becoming the head of a company that shall sell beautiful value-added boat rides, making money and Punya, Shubh and Labh – not just for him but for the complete village.
Or, imagine him as a graduate in environmental science and using his science to change the degraded quality of water in the river he knows so well. How vibrant the whole place would look!
Our education system has alienated us from our roots and there has been a great loss — in terms of not just economics but also cultural capital and ecological awareness et cetera.
Today, the ones who know the soil and river are alienated from the elite who study the subjects within their campus ivory towers.
Even the same Nishad, if he is to study in a college, would move away from the village to a city — he may teach environmental science in BHU and may even relate his science to his childhood memories but he would not live in his village to apply what he has learnt to uplift his village, its sacred ecology and economy.
Reservations are important as affirmative programmes for our children who, for generations, have been rowing the boat; and more importantly, reservations should become rightful representations for them at all levels of education and power to transform society. We see girls selling flowers for the river worship. The flowers float into the river. On the other side, little girls quickly collect them and recycle the flowers.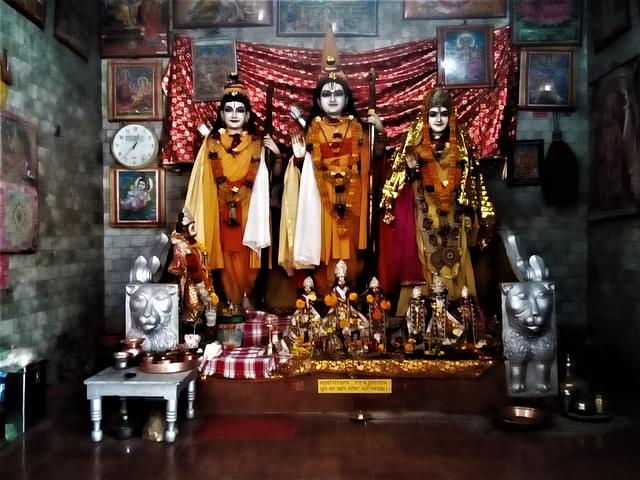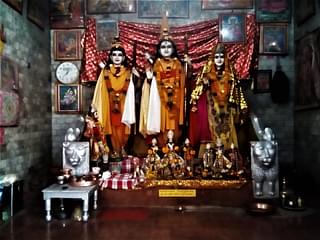 With proper planning, innovation and rootedness in Dharma, in the broadest and deepest sense of the term, we can transform all these, already soul-stirring experiences into something even more self-transforming. We need vision.
And we also need a missionary zeal — the heart that bleeds for the children of Hindustan and nerves of steel to fight for their cause — as Swami Vivekananda says.
So, let us feel for our children hooked to the cellphone and pray that they should become like Sonu Nishad, who knows his Ramayana and earns Punya and livelihood with his own hands. How impoverished our children have become!
We get into our car and move into the dusty roads — towards Varanasi — our final destination.
You can read the other Kashipath articles here.
This article is part of Swarajya's Heritage Program. If you liked this article and would like us to do more such ones, consider being a sponsor – you can contribute as little as Rs 2,999. Read more here.