AI Is 'Moronising' And 'Colonising' Us All Over Again, Says Rajiv Malhotra's Book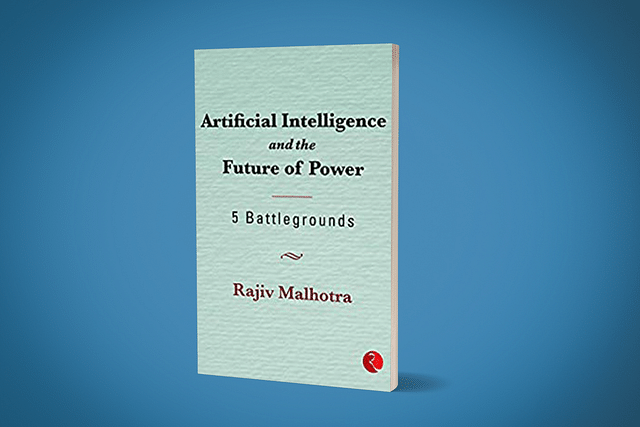 The cover of Rajiv Malhotra's book, Artificial Intelligence and the Future of Power: 5 Battlegrounds.
Snapshot
Every policy-maker in India should read Rajiv Malhotra's book to understand what we are up against and what we need to do to overcome our tech deficits.


We don't have much time to lose.
Artificial Intelligence and the Future of Power: 5 Battlegrounds. Rajiv Malhotra. Rupa Publications India. 2021. Page 520. Rs 450.
One the greatest challenges facing modern democracies is the speed of technological change, which makes it difficult for society — any society — to even begin to understand technology's impact on itself.
From artificial intelligence (AI) to machine learning to cloud computing to data storage and analytics, never before has Big Tech been able to aggregate so much power in so few hands, but we still are not sure if what they are offering us in return is a boon or a bane. Or both.
Today, a micro-blogging site can silence a sitting US President on a whim; Big Tech knows more about us than us and can manipulate our decisions by anticipating our likely responses; publicly placed cameras can record our facial features without our knowledge; yet others can grab our personal data in the name of providing us with "free" services like mail or maps or social connections. Which is why Soshana Zuboff, author of The Age of Surveillance Capitalism, says that what companies like Google, Facebook, Amazon and Apple are indulging in is "theft".
When you add artificial intelligence to the mix of technologies now used to make us slaves to Big Tech, an algorithm analysing all our stored personal data and our actual decisions can hack into the most intimate parts of our brains, thus making it impossible to pretend that what we decide is the result of our own exercise of free choice. If Facebook knows what I like reading and gives me more of that without my knowledge, unconsciously it is controlling my behaviour. Is that free will, free choice?
Rajiv Malhotra, in his path-breaking new book, Artificial Intelligence and the Future of Power: 5 Battlegrounds, forces us to ask these questions about ourselves, and hopefully policy-makers will begin to understand the real nature of the underlying technology that wields so much power over us. We have to find ways to ensure that the new technologies actually help humankind rather than convert them into mindless zombies.
An "intellectual kshatriya" battling on behalf of India and dharmic ideals, Malhotra has authored pioneering books, including Breaking India (which identifies the forces that want India to disintegrate), Being Different (a model to analyse western and eastern approaches to human differences), The Battle For Sanskrit (which takes on western Sanskrit scholars like Sheldon Pollock, and their reductionist ideas about this language), and, more recently, Sanskrit Untranslatables (which makes a case for using non-translatable Sanskrit words in their original form in English), to name just a few.
In Artificial Intelligence (AI), Malhotra gives the world, and specially India, a wake-up call for launching a wider public debate on where this new technology, used in combination with other technologies, is taking us, including our own ultimate enslavement and dehumanisation.
Malhotra identifies five AI battlegrounds, which include economic development and jobs, the balance of geopolitical power, the psychological control of desires and individual agency, metaphysics and ethics, and India's own future.
In the first battleground, it is clear that AI and new technologies will destroy jobs, even though some economists keep assuring us that it will ultimately also create new jobs that we did not think of earlier.
Malhotra is not so sanguine, and says, AI and recombinant technologies will ensure that "a significant portion of blue and white-collar jobs in most industries will become obsolete, or at least transformed, to such an extent that workers will need re-education to remain viable."
While AI will destroy old jobs and create new ones, "the most lucrative new ones will be concentrated in communities with high levels of education and availability of capital. More broadly, AI will worsen the divide between the rich and the poor, the haves and the have-nots."
This has already happened, but policy-makers are at a loss on what to do about it. They are coming up instead with make-work schemes or cash doles. In India, it is the idea of MGNREGA; elsewhere, countries are talking about universal basic incomes since actual jobs are vanishing under the onslaught of tech.
The second battleground relates to global power. The primary battle in AI is between the US and China, the former with the help of tech giants like Google and Facebook, and the latter with state-controlled companies and surveillance technologies. The battle for supremacy will transcend actual political systems, for both democracy and autocracy now have powerful algorithms and tools to manipulate human minds.
This battle will peak over the next decade as AI grows better and smarter. Malhotra speculates that "some private companies controlling this technology could become more powerful than many countries, just as the East India Company" did in India. India could become a tech colony of the Googles and Facebooks of the world.
The third battleground is psychological control, and loss of the individual's power of agency. Most people think that a machine's ability to control or influence human behaviour is science fiction, not reality.
But, says, Malhotra, "the truth is, in some ways, machines know individuals even better than they know themselves because people know only their conscious selves, and cannot access their unconscious selves..".
This is because machines can access and store long-term knowledge about ourselves and machine memory far exceeds human memory. Machines can tease out what we are subconsciously thinking about without our knowing it, since it is embedded in the choices we make and which machines store for reference.
Once machines know our choices, our data can be stored and used against us to tell us what we want, what we should buy, or what we should do. As machines get smarter and more powerful, humans need to use less of their own judgments — a process that Malhotra calls "moronisation".
In future, AI and other technologies will make it difficult to differentiate between machine-dictated choices and our own choices, making nonsense of the idea of "free will".
The fourth battle ground is "metaphysics", the blurring of the distinction between "intelligence" and consciousness. As Malhotra puts it, AI's success in training machines to generate intelligent responses has led to a worldview where "life, mind and consciousness are merely biological processes running on human beings as machines."
This is biological materialism, where the human mind is nothing more than a mix of chemicals and others elements being recombined to produce everything from thought to action.
Biological materialism amounts to "digital dehumanisation", which seems beneficial for we can now, with the help of algorithms and intakes of specific products, stimulate the pleasures we all crave.
We can now get all that we desire through artificial means of stimulation, including brain-altering chemicals, augmented and virtual reality. At some point, one will not be able to distinguish between a real human experience of pleasure or pain from something an algorithm can generate artificially.
The last battle ground is, of course, India, where global tech is seeking to control our future by offering freebies and ensuring that we don't develop our own tech capabilities. We give away our data to Google and Facebook and Amazon, and our personal data rests in servers that only Big Tech or foreign governments can access.
One can also pity Pakistan, which has been technologically and physically been reduced to a vassal state by China, with the Pakistani people's data now easily accessible to the Chinese government. The Pakistani hatred for anything and everything Hindu or India had directly led Pakistan to vassal status. Pakistani intellectuals should ask themselves whether this hatred is leading them to their own destruction and/or subservience to China.
Malhotra believes that if India does not act fast to upgrade its AI and tech knowledge, it is going to be reduced to a tech colony. We don't have much time to lose. Every policy-maker in India should read Rajiv Malhotra's book to understand what we are up against and what we need to do to overcome our tech deficits. Or else we will become the west's cyber coolies. Using our cheap software manpower to make the west even more powerful.
Get Swarajya in your inbox everyday. Subscribe here.
An Appeal...
Dear Reader,
As you are no doubt aware, Swarajya is a media product that is directly dependent on support from its readers in the form of subscriptions. We do not have the muscle and backing of a large media conglomerate nor are we playing for the large advertisement sweep-stake.
Our business model is you and your subscription. And in challenging times like these, we need your support now more than ever.
We deliver over 10 - 15 high quality articles with expert insights and views. From 7AM in the morning to 10PM late night we operate to ensure you, the reader, get to see what is just right.
Becoming a Patron or a subscriber for as little as Rs 1200/year is the best way you can support our efforts.
Become A Patron
Become A Subscriber