Three young women, all college-dropouts, are briskly filling plastic containers from a handpump while their mothers and aunts sit nearby with a pile of laundry and large utensils waiting to be washed.
The handpump is located along the road connecting Kabrai block with Charkhari block in Mahoba district of Uttar Pradesh.
On this scorching day when the temperatures are exceeding 40 degrees Celsius, the women had to wait until afternoon for the handpump to become available.
None of the girls have taken a bath. The older women, bound by the custom of entering the kitchen only after a bath, managed with two mugs of water each, early in the morning.
They walked one-and-a-half kilometres from their village, Bamhaori Qazi, to reach the handpump. Unfortunately, the handpump itself is nearly dry, emitting a feeble stream of water that adds to the frustration of the girls.
When asked if they are pursuing studies, Shiva, visibly annoyed, replies, "No, we don't study. We are all college dropouts. All we do is fill water."
Shiva's mother candidly confesses that the lack of water was the primary reason for her daughter abandoning her college education. "I can't handle all this work alone," she says matter-of-factly.
Both Shiva and her mother rely on the handpump, even visiting it in the evening.
This encounter serves as an introduction to the well-known water scarcity issue plaguing the Bundelkhand region in central India, which has suffered more than a dozen droughts over the past two decades.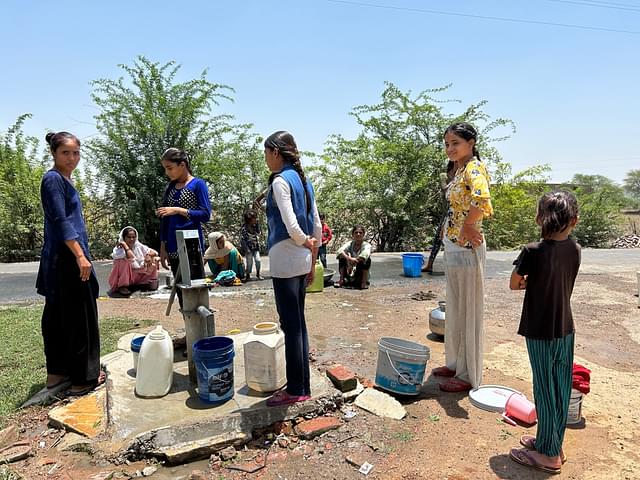 Girls filling water. The one on the extreme left in the picture is Shiva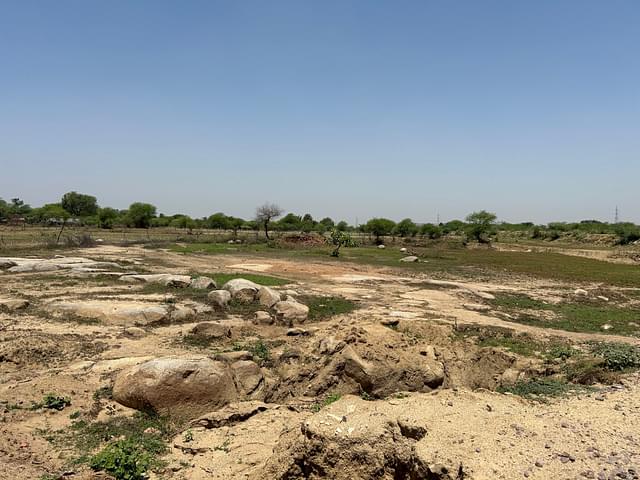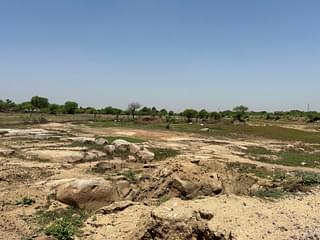 A view of the arid land in Mahoba
In this semi-arid region where rainfall is scarce, and wells and handpumps quickly run dry, fetching water becomes the primary occupation for rural women, who must walk miles multiple times a day.
Meanwhile, men, predominantly engaged in farming wheat, millet, and pulses on small plots of land, are forced to migrate to Haryana, Punjab, and New Delhi to toil as low-wage labourers when rains fail them.
Water-related conflicts, including riots and lynching over water-sharing from wells and handpumps, are not uncommon. Social activists have raised concerns that drought-hit farmers, burdened with debt, resort to mortgaging their wives to moneylenders.
However, there is hope on the horizon for Shiva and her friends.
Under an ambitious Central government scheme to take tap water to every household in the country, pipes have been laid and taps installed at all 285 houses in Bamhaori. A common water tank for a cluster of villages is being constructed in Utiyan village.
Shiva eagerly awaits the completion of this last leg of the work when the tap in her house will finally flow with water. So far, adulthood has meant sharing her mother's burden of managing water, and she yearns to use her time for other pursuits.
According to a district official, the deadline for functional water tap connections in Mahoba is set for 31 July.
Government data accessed by Swarajya indicates that over 90 per cent of the nearly 1.4 lakh households in Mahoba have already received tap water connections.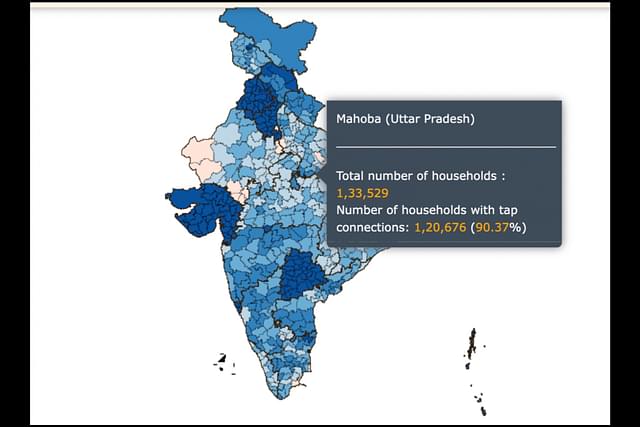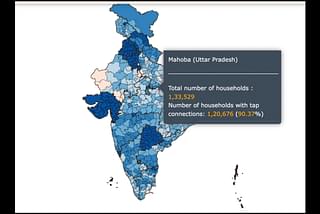 A screenshot of Jal Jeevan Mission website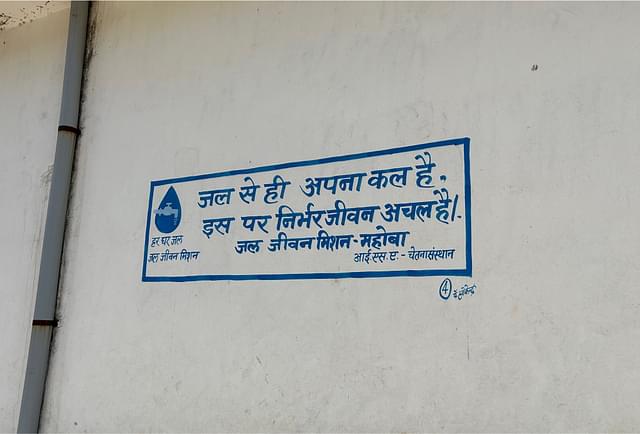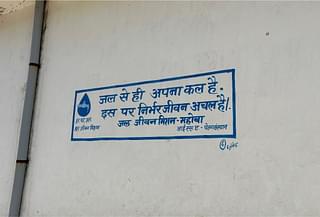 Slogans painted on the walls in villages of Charkhari block to save water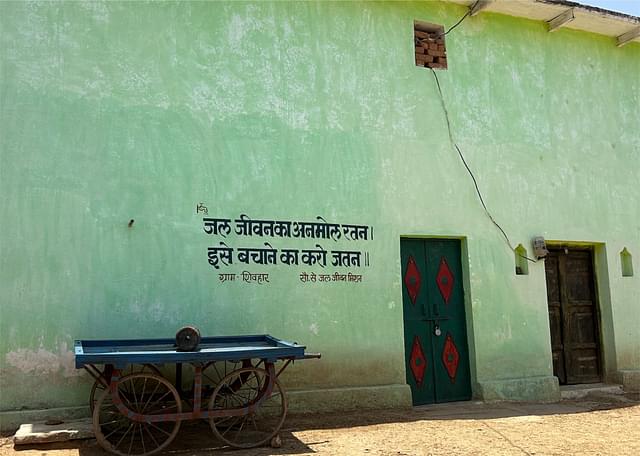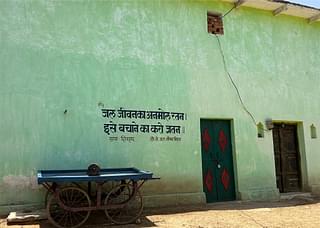 Slogans painted on the walls in Shivhar village to save water
In the neighbouring Shivhar village in Charkhari block, taps are already operational.
Kranti Goswami, a resident of Shivhar, joyfully shares her experience, expressing relief that she no longer needs to stand in line at the handpump.
"It would take more than an hour-and-a-half each, in the morning as well as evening. There would also be unnecessary disputes over the size of water containers," she says, but cheerfully adds, "it's a thing of the past now."
All 181 houses in this village have been equipped with taps through the government scheme.
The taps provide uninterrupted water supply from noon to 5 pm, giving Kranti enough time to complete her household chores and then store water for the next morning.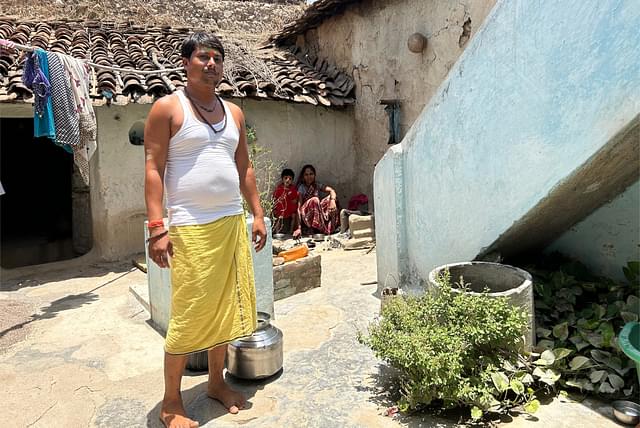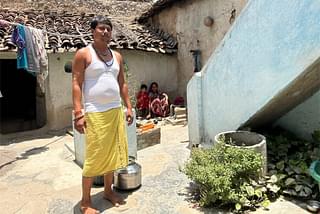 Keshav Goswami of Shivhar village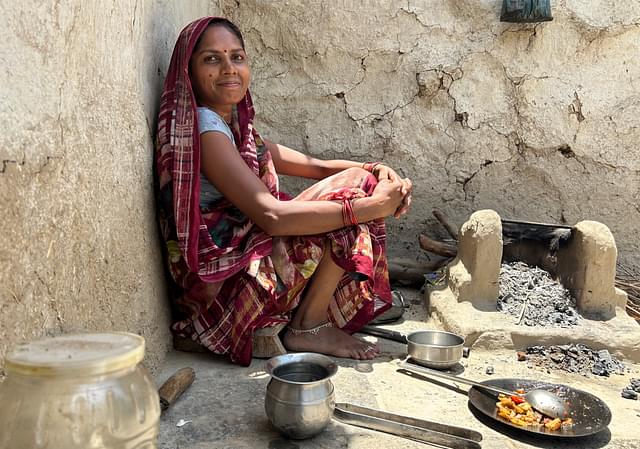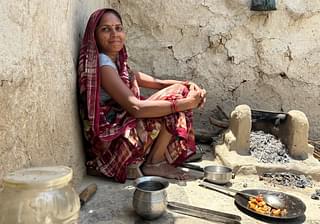 Kranti Devi of Shivhar village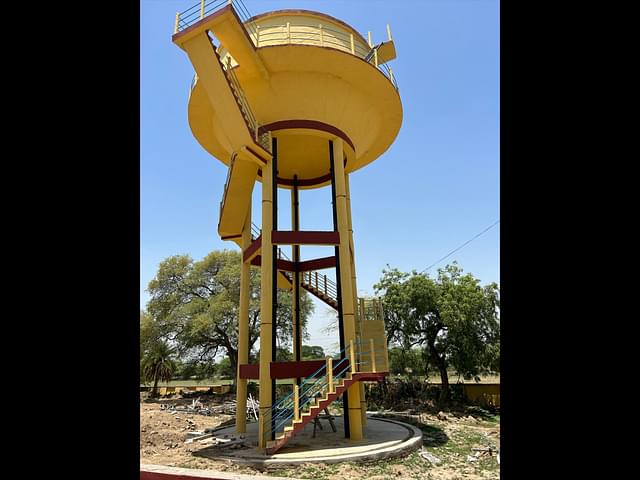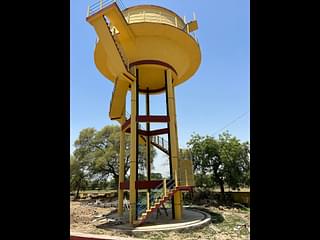 Water tank built outside Shivhar as part of the tap water scheme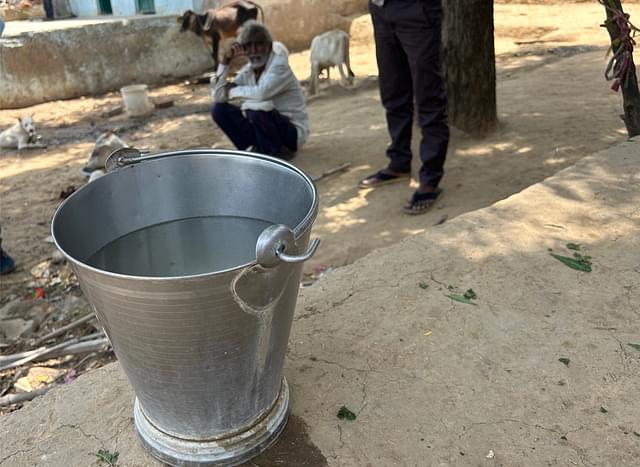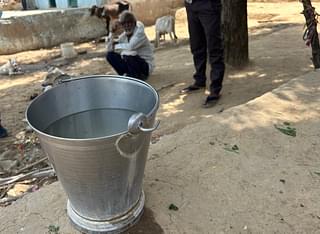 A bucket of water filled with tap water in Shivhar village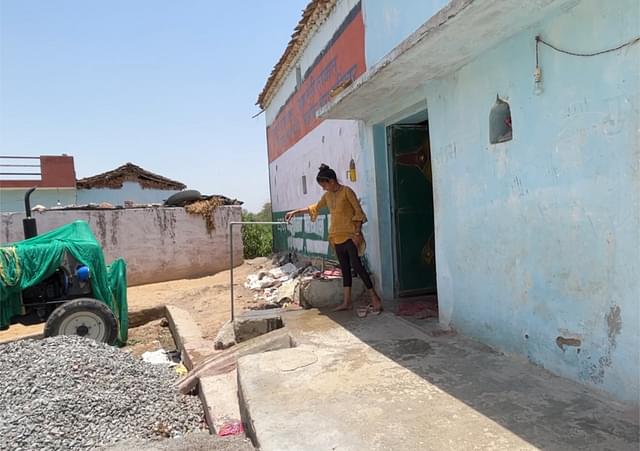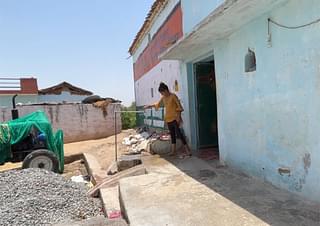 A resident of Shivhar closes the running tap at 12 pm when water supply begins daily
A decade ago, during the rule of the Samajwadi Party, the village saw the installation of seven handpumps. However, these pumps proved to be temporary solutions, gradually drying up over time.
"They worked for a while, but began drying up, till a time came when only three handpumps worked in the summers," says Raju Singh, a resident who is also associated with the Bharatiya Janata Party (BJP).
Raju emphasises that the provision of water taps in homes has been a blessing for the Bundelkhand region, stating, "I am not saying it merely because I am from the BJP."
The political landscape in Mahoba has witnessed different parties in power over the years, with the Janata Party, Samajwadi Party and Bahujan Samaj Party all holding positions before the BJP's victory in 2017. Chhote Lal Mishra became the first BJP candidate to win from Mahoba in 1991.
Jeetu Rathore from Patha village of Charkhari block reveals that more than half of the handpumps installed in his village under the Samajwadi government had run dry when water taps were finally made available to residents six months ago.
Now, men no longer need to travel to ponds for bathing, he adds.
Interestingly, the Bundelkhand region is abundant with ponds, known locally as "sagar", with seven in the Charkhari block alone. These ponds were constructed between the ninth and sixteenth centuries by the Chandela and Bundela dynasties, renowned for their expertise in water management and harvesting.
Unfortunately, many of these ponds have fallen into disrepair, either drying up and cultivators using the land for crops or stagnating due to a lack of desilting.
However, heartwarming stories have emerged in recent years about villagers in Bundelkhand reviving some of these ponds through desilting efforts, but that's a tale for another time.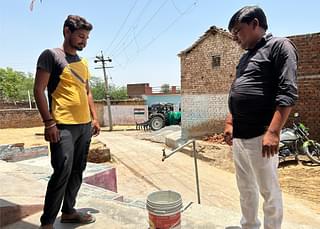 Raju Singh (right in the picture) shows the functional tap in the verandah of his house (right in the picture)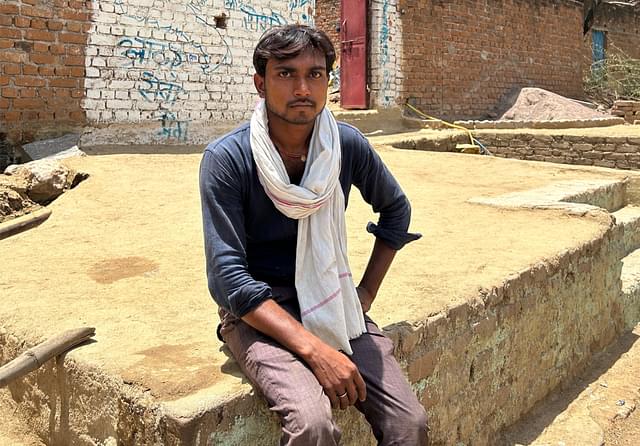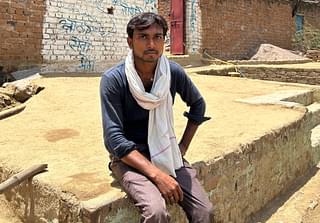 Jeetu Rathore from Patha village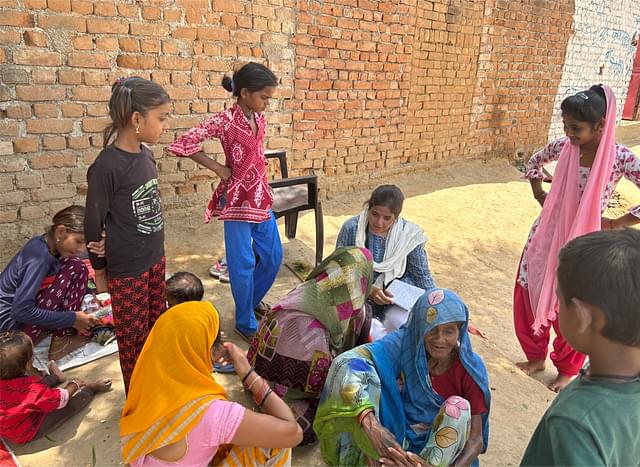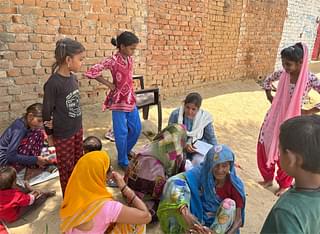 Swarajya correspondent talking to women in Shivhar village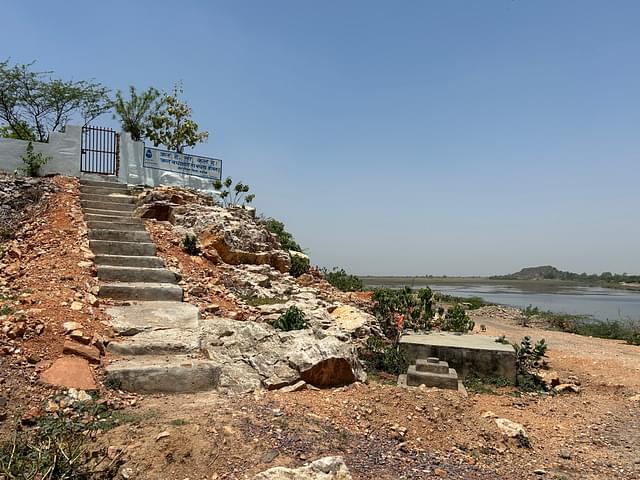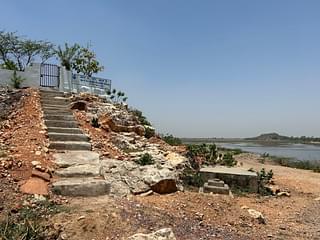 The pond near Shivhar village where men go to bathe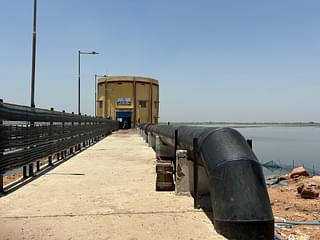 Construction related to tap water scheme outside Shivhar village
How Jal Jeevan Mission reached Bundelkhand
Bundelkhand, literally meaning the domain of Bundel (sixteenth century Bundela Rajput rulers), is a cultural-geographical region spanning the northern states of Uttar Pradesh and Madhya Pradesh. Seven of the 13 districts of the region fall in UP, including Mahoba that this correspondent visited.
On 15 August 2019, when the National Democratic Alliance (NDA) returned to power, Prime Minister Narendra Modi announced the ambitious Jal Jeevan Mission to provide potable water to all Indian houses, allocating a staggering Rs 3.5 trillion.
A new ministry, called Jalshakti, was subsequently formed by integrating the Ministry of Water Resources and Ministry of Drinking Water and Sanitation. This ministry was tasked with collaborating with state governments to implement the mission and ensure water reaches all rural households by 2024.
Before the launch of the mission, only one-sixth of India's nearly 19 crore households, spread across 600,000 villages, had access to clean water taps, according to the government.
Real-time data on the mission's progress can be monitored through a digital dashboard created by the ministry. At the time of this report, the percentage of households with water tap connections has risen from 16 per cent to 63 per cent.
One year after PM Modi's announcement, UP Chief Minister Yogi Adityanath launched the 'Har Ghar Jal' scheme from Bundelkhand. Linked to Jal Jeevan Mission, the scheme received an allocation of Rs 10,000 crore.
The first phase targeted the Bundelkhand and Vindhya regions, aiming to benefit an estimated 14 lakh people in the districts of Mahoba, Lalitpur, and Jhansi alone.
The scheme has meant that while 46.8 per cent of the nearly 2.8 crore households in UP currently have piped water, the corresponding figure for the areas covered in the first phase stands at 75 per cent.
Mahoba tops the list in UP.
Challenges Unique To Bundelkhand — Migration And Superstition
Not all villages or households listed as having water tap connections on the official website actually have access to running water yet.
In Bilwai village, located in Kabrai block, the website indicates that 924 out of 972 households have connections.
However, Kranti Devi, distinct from the other Kranti mentioned earlier in the report, points to the pipeline outside her house and reveals that the situation is the same for every household in the village.
While eagerly awaiting tap water, Kranti currently fetches water from a handpump situated a kilometre away, as the local handpumps provide briny water.
The groundwater in their village is unsuitable for drinking or washing clothes due to its high salinity, so they only use it for bathing. Kranti highlights the inconvenience of having her daughter walk to the handpump in the scorching heat if unexpected guests arrive during the summers.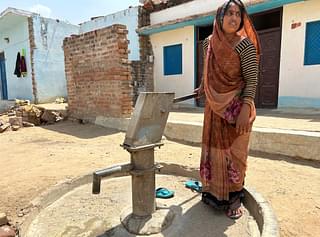 Kranti Devi of Bilwai village shows handpump that gives brine water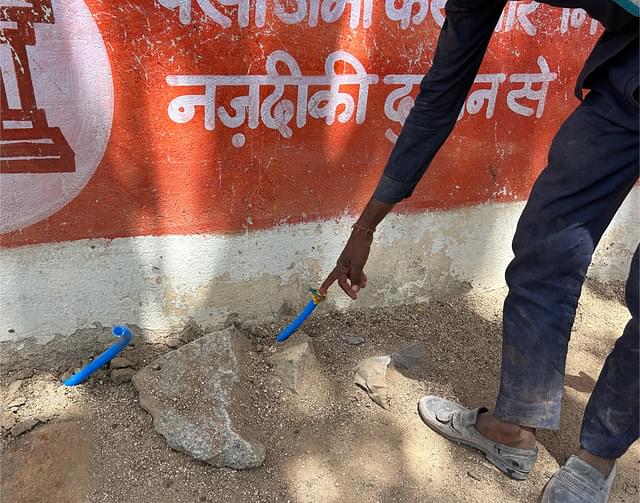 Kranti's husband Dhanesh shows pipeline for water tap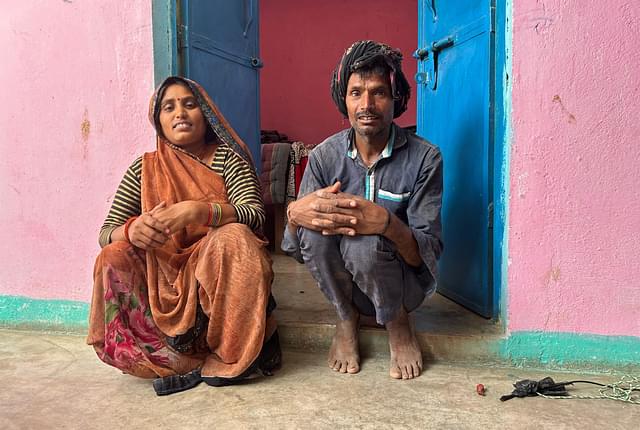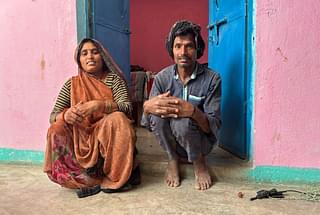 Zuber Beg, additional district magistrate (Namami Gange and Rural Water Supply), Mahoba, tells Swarajya that the deadline for completion of the work and availability of water in the taps has been set as 31 July. He said work is going on at a "lightening pace".
"We are focussing on tap connections," he said, explaining, "The biggest challenge we faced in this region is that there is large-scale migration of families to other states for work. When the project commenced, we found locks hanging on many doors."
That required the authorities to wait until the families returned, typically in May and June.
The tasks at hand involve establishing water treatment plants, purifying the water using chemicals, constructing overhead tanks for water storage, laying pipelines, and installing connections in homes, he said.
Beg discloses that around 350 villages were identified under the scheme in Mahoba, of which around 50 had some level of water tap coverage through previous initiatives.
"Tap water connections have now reached 200 villages," he said, adding that "every day, five or six villages are being added to the list".
Ankit Gupta, posted as Junior Engineer for Kabrai and Charkhari blocks of Mahoba as part of Namami Gange Programme, tells Swarajya that work of laying pipes and installing water taps began in the area in July.
The challenges, he says, extend beyond seasonal migration; the authorities also face the task of convincing villagers to install the taps inside their houses.
"Initially, many villagers opposed the idea due to superstitions. They wanted us to install the taps outside in the streets, but we had clear instructions that water taps must be installed at the house to ensure responsible water usage and prevent wastage on the streets."
One ongoing challenge involves assuring villagers that piped water is safe to drink.
Praveen Singh, founder of a social organisation named Bundelkhand Youth Foundation, explains that members frequently visit villages where the scheme has been implemented to demonstrate to residents that tap water is indeed safe for consumption.
He acknowledges that some villagers are suspicious of the taste of reverse osmosis (RO) water, finding it different from groundwater, which raises concerns.
Girija Rani, a resident of Shivhar, shares her own experience, stating that although tap water became available in March, she initially limited its use to bathing and washing, considering it unfit for drinking.
However, her perception changed when a higher-ranking official visited the village two months ago, filled his glass with tap water and drank it.