Say Goodbye to IITs, IIMs Et Al? NEP 2020 Will Convert India's Top Institutions Into JNU Copies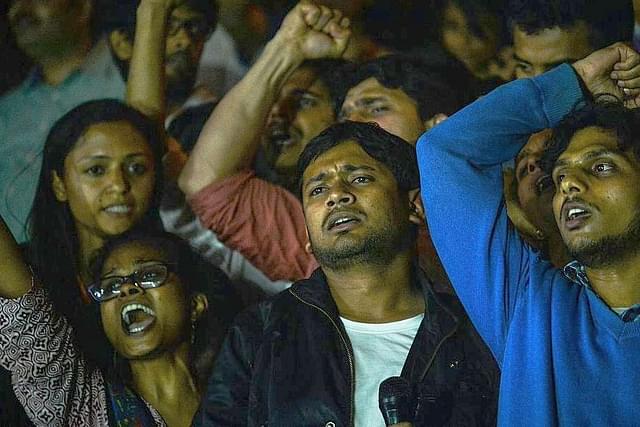 Kanhaiya Kumar in JNU with other students. (CHANDAN KHANNA/AFP/Getty Images)
Snapshot
The NEP's top recommendation is to convert every higher education institution into a multidisciplinary one.

Humanities and arts will be introduced in institutes like IITs, IIMs, etc. This is a recipe for disaster.
If the vision outlined in the National Education Policy (NEP) 2020 for higher education institutions is realised, it will not only spell disaster for the country but will be Prime Minister Narendra Modi's worst legacy. (I am not using these words lightly but with full responsibility.)
This is sad because in the last five years, Modi government has taken numerous steps to improve higher education such as providing unprecedented levels of academic and financial autonomy to Indian Institutes of Management, graded autonomy to institutions of higher learning based on their performance, freeing top 20 institutions — 10 public and 10 private — the so-called 'Institutions of Eminence' from excess regulatory load, launching Massive Open Online Courses (MOCCs) under SWAYAM initiative where teachers of top institutions provide free courses, opening seven new IIMs, six new IITs, establishing a agency to give financial support to institutions, setting up a new regulatory council, the National Testing Agency and so on.
The government is also trying to achieve some level of internationalisation of its university spaces - by attracting foreign teachers and foreign students. The Study in India programme launched in 2018, for instance, envisions to increase foreign student strength in India to over two lakh by 2023 from present 40,000.
But if NEP 2020 is implemented, all this good work won't matter.
Most dangerous idea
The NEP states that, "By 2040, all higher education institutions (HEIs) shall aim to become multidisciplinaryinstitutions and shall aim to have larger student enrolments preferably in thousands, for optimal use of infrastructure and resources, and for the creation of vibrant multidisciplinary communities." This - transforming all higher education institutions into large multidisciplinary universities - is the 'highest recommendation' of the NEP.
"Even engineering institutions, such as IITs, will move towards more holistic and multidisciplinary education with more arts and humanities," the NEP states.
NEP justifies this approach in two ways:
First, it eludes to ancient Indian universities such as Takshashila, Nalanda et al which were multidisciplinary institutions in nature. "This notion of a 'knowledge of manyarts' or what in modern times is often called the 'liberal arts" (i.e., a liberal notion of the arts) must be brought back to Indian education, as it is exactly the kind of education that will be required for the 21st century," the NEP reasons.
Second, NEP says that as per "assessments of educational approaches in undergraduate education", mixing arts and humanities with Science, Technology, Engineering, Management (STEP) courses leads to positive "learning outcomes, including increased creativity and innovation, critical thinking and higher-order thinking capacities, problem-solving abilities, teamwork, communication skills, more in-depth learning and mastery of curricula across fields, increases in social and moral awareness, etc., besides general engagement and enjoyment of learning, research."
Nalanda and Takshashila were not successful because they were multidisciplinary in nature. Moreover, touting liberal arts part education as something that is "required in the 21st century" is a 'liberal' opinion, not a fact.
And it is bizarre to think that learning (say) sociology along with (say) coding will improve learning outcomes, critical thinking and accrue to the students other assorted great benefits the NEP has listed out. This reasoning is so poor that it doesn't merit discussion but contempt.
In fact, injection of liberal arts into anything and everay thing, which seems to be the overarching focus of NEP 2020, will not lead to establishment of even a single Nalanda but will certainly help create thousands of JNUs throughout the country.
After independence, the Indian State took a different approach of setting up higher education institutions than the western world. It established institutions focussing on different areas: IITs are for engineering, IIMs for management, IISc for Sciences, NLUs for Law, Jawaharlal Nehru University focussing on liberal arts and so on.
These were supposed to be institutes for specific purposes rather than universities which mean everything for everyone. In hindsight, this has proved to be a boon for the country, especially in 2020 when we are witnessing some of the finest education institutions in the West fall victim to alt-left politics, activism and values thanks to the "liberal arts education" chicken finally coming home to roost.
We are seeing the same in India - in places like JNU, Jadavpur university, Jamia Milia Islamia, Aligarh Muslim University, etc. But the reason why we are facing only scores of alt-left mutinies and not thousands is precisely because of our unique higher education setup which has kept STEM institutions (the places of excellence) segregated from 'liberal arts' ones thereby providing the much-needed inoculation against bad ideas.
Now, NEP wants India to ape the West and inject arts and humanities in IITs, IIMs, IIScs, etc. We will end up with little JNUs in these top-quality institutes known for their academic excellence.
Of course, it is no one's case that IITs, IIMs et al shouldn't come up with courses which blend their specialism with some social sciences. For example, IIIT-Delhi started a B.Tech course in 2017 which would be a blend of Computer Science and Social Sciences. The idea is to produce'social scientists who can understand and use computational technologies.'
This is a unique, rational and better approach for Indian institutes like IITs, IIMs to take based on the institution's needs rather than the 'one size fits all' approach advocated by the NEP.
Second worst idea
On top of making every HEI a multidisciplinary one, the NEP envisions that "all HEIs will gradually move towards full autonomy - academic and administrative." Additionally, "the autonomy of public institutions will be backed by adequate public financial support and stability." Now, imagine a thousand JNUs, scores of them funded by public monies, enjoying unprecedented autonomy in selecting faculties, students, management, courses and curriculum, etc.
Giving autonomy to IITs, IIMs, IISc, etc is great because more freedom leads to more excellence as there are no political agendas to push through funding certain areas and the research is chiefly driven by market needs and aspirations of brilliant minds studying there. But autonomy in liberal arts hijacked by one ideology (which is inevitable) is a recipe for disaster.
The narratives and politics will drive the research and not the other way round. For those who question the inevitability of left controlling all higher education institutions should only look at the United States where conservatives don't lack resources or the numbers but have never been able to enjoy any kind of influence in the universities. The situation of the so-called 'right' in India (or whatever other name Dharmic side wants to use) is many times worse.
Another bad idea
Just as the NEP talks about opening schools in areas with high populations of SCs/STs/minorities, it has similar plans for higher education as well. Such ghettoisation will lead to creation of caste/religion based institutions and will be detrimental to national unity and integrity. But unlike the schools, the NEP doesn't mention that there should be focus on hiring faculties from certain communities. This is a relief.
However, it directs that all governments and HEIs will have to
a) Provide more financial assistance and scholarships to socio-economically disadvantaged students
b) Make admissions processes more inclusive
c) Make curriculum more inclusive
It is yet to be seen how the term "inclusive" is defined but prima facie this opens a can of worms. The NEP is handing over a big 'Social Justice' tool in the hands of the government which can be wielded in a very harmful manner. It is one thing for the government to directs public funded institutions to do something but entirely different to direct private ones to implement its agenda. It also doesn't gel well with its vision of autonomy for these institutions.
Is there anything positive for higher education in NEP?
Of course, there is.
NEP bats for giving institutions and faculty autonomy to innovate on matters of curriculum, pedagogy, and assessment within a broad framework of higher education qualifications. This is great idea in principle.
Mainstreaming of vocational training and education into credible higher education institutions is a much needed move. Providing vocational courses through HEIs is a smart move that will not only greatly improve the quality of skilling courses but also encourage more people to take them up. Also, HEIs are in much better position to forge partnerships with industry and design relevant courses based on skills which are in demand in the market.
Breaking up of 3/4 year duration degrees into 1/2 year certificate/diploma courses is also a great improvement. Students will be able to exit from 3-4 year duration bachelor's degree courses after one or two years, with a diploma or certificate in a domain, with an option to continue and finish their degree later. Students couldn't have asked for a better arrangement in this age of lifelong learning. Since academic credits will be digitally scores under Academic Bank of Credits, students will be able to collect these from different HEIs as well. This combined with vocational courses in HEIs are the top two best recommendations in the NEP.
Setting up of National Research Foundation is a welcome move though its effectiveness is in questions given that the implementation will be in hands of just another government department.
Regulatory environment may see an improvement as the NEP promises to give importance to self disclosure over inspector raj and also intends to make it easier for HEIs to set shop.
However, the damage potential of the bad idea of converting every HEI into a multidisciplinary institution can't be underestimated. Good ideas such as vocational training, institutional autonomy or flexibility of curriculum won't matter much if liberal arts education get a foothold in every institution.
There is not much to be gained from vocational course if you are brainwashed enough to believe that internship is 'child labour' (as the JNU Student Union President recently called it).
If someone has put a time bomb in the basement of the house, it doesn't matter if you are hanging nice paintings on the first floor.
Prime Minister Narendra Modi should take a really hard look and reverse his government's stance before it is too late. Otherwise, three decades down the line, people will remember the destruction of India's premier education institutions via this NEP as his worst legacy.
Get Swarajya in your inbox everyday. Subscribe here.
An Appeal...
Dear Reader,
As you are no doubt aware, Swarajya is a media product that is directly dependent on support from its readers in the form of subscriptions. We do not have the muscle and backing of a large media conglomerate nor are we playing for the large advertisement sweep-stake.
Our business model is you and your subscription. And in challenging times like these, we need your support now more than ever.
We deliver over 10 - 15 high quality articles with expert insights and views. From 7AM in the morning to 10PM late night we operate to ensure you, the reader, get to see what is just right.
Becoming a Patron or a subscriber for as little as Rs 1200/year is the best way you can support our efforts.
Become A Patron
Become A Subscriber