The Many Mysteries Of The Konark Sun Temple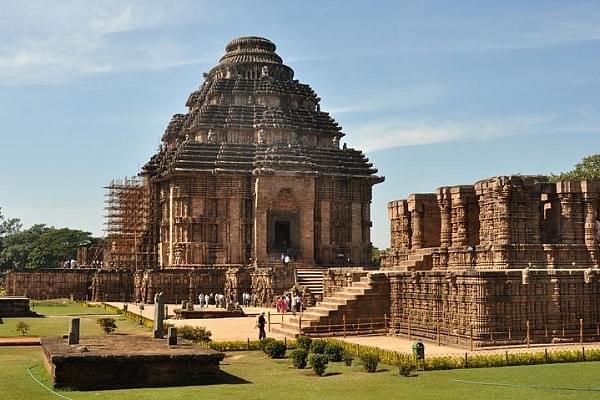 The Sun Temple at Konark
Snapshot
The Sun Temple is an enigma surrounded by solved and unsolved mysteries, myths and folklore. Its grandeur peaked, vanished and was re-discovered, and its early history was reconstructed in recent times.

Here's an account.
Among the towering temples of Odisha, the Sun Temple at Konark (the only UNESCO heritage site of the state), stands out. Its deula, the now crumbling main vimana with only the basement intact, was taller at 228 feet than the 210-foot tall vimana of the Brihadeeswara Temple in Thanjavur. It was designed to be built one-and-a-half times bigger than the Lingaraja temple in Bhubaneswar. Even today, the remains of the main temple tower, the jagmohana (porch), filled with sand to prevent its collapse, and the sculptures are inspiring by their sheer size and details. If the ruins can be so awe-inspiring, the grandeur of a completely intact temple can only be left to imagination. The Sun Temple is an enigma surrounded by solved and unsolved mysteries, myths and folklore. Its grandeur was at its peak in 12th to 15th centuries, but vanished and existed only in legends by early 17th century CE. How it was re-discovered, and its early history was reconstructed in recent times, makes interesting reading.
Mysteries Abound
What drove the King to initiate this ambitious project that outshone all other temples in Odisha?
Why was it built in a remote place like Konark instead of Bidnasi (Cuttack), the capital?
How many years did it take to start the planning and complete the temple?
Where did he find the brilliant artists to craft this, and was it achieved by slave labour or forced enlistment or guild of temple builders?
Was there a sea port to transport materials as there was no river near Konark?
How were the enormous stone blocks sourced and transported to this sandy desert far away from any mountain?
How were the heavy stone blocks and iron beams lifted to such heights and set up?
How were the iron beams cast? Why were they added to the stone structure?
Was the temple ever really finished and was in worship or did it prove too colossal and abandoned before consecration?
How did it collapse? Is it due to its enormous size, faulty construction, sinking of foundation, natural disaster, dereliction or warfare and human vandalism?
Mystery Peeked After 200 Years Of Neglect
The last documented eye-witness account of the entire Sun Temple, complete with its deula in worship was in 1580 by AbulFazal in Ain-i-Akbari. After around 200 years, an expedition by Baba Brahmacari found the temple among mounds of sand and creepers (Matala Panji – Nathi 34 (AD 1737-1793). Seeing heavy damage to the northern and eastern sides of the vimana, he decided to salvage them, and brought in the Aruna stambha (pillar) now at Puri Simahadwara, image of Raja Narasimha Deva I now at Mukhasala of Lakshmi Temple and Navagraha stone from southern portal (now in Gundica Temple). The next expedition by 1795 failed after three months of excavation.
Rediscovery By British And Archaeological Survey of India

By the 18th Century, the British started showing interest in the 'ghost' temple, which they called Black Pagoda, and early paintings by Fergusson (1838) showed the projecting southwest wall of the deula still standing, and which collapsed later in 1848. During early 1900s the sand and stones were cleared around the tower and the platform, chariot wheels and the horses were found along with the sculptures on walls. In 1901, it took three years to fill the jagmohana with sand after sealing the four entrance gates, to avoid collapse. The excavations continued till 1939, where other temples and structures were found. ASI took over later, and by 1984, Konark was accorded the UNESCO World Heritage Site status.
The King Who Built This
Narasimha Deva I (1238-1264) was from Eastern Ganga dynasty of temple builders. His great grandfather renovated Shree Jagannath Temple in Puri and his father built the Bhaskaresvara Temple. In many ways, his life and his achievements were similar to Rajendra Chola (1012-1044). Both the kings outdid their fathers and wanted to co-memorate their victories of establishing a long-lasting dynasty with a grand temple (However, these temples sadly went into disuse while their father's temples continue to be in worship). Narasimha Deva I was the only Ganga prince who defeated the Bengal Muslims in multiple engagements and ensured peace for another 300 years until when Kalapa invaded Orissa in 1568.
The plans for building the temple was underway even when he was crown prince, and the quarrying went on for six years prior to his ascension to the throne. He had mobilised 500 artisans for the construction, and at age of 18 went along with them to Vijayakonda (Warangal) on a campaign (Baya Cakada Leaf III, 9) to fund the temple activity. His primary passion was building temples and was called 'Silpajna'. He also built temples in Srikurmam, Simhachalam, and Kapilash temple at Dhenkenal.
How The Temple Was Built
It was a mystery as to how the Sun Temple was built, who were the artisans and how it was funded? Many legends did the rounds. During the 1960s, after extensive research, a palm leaf manuscript called 'Baya Cakada' written in Karani script in Old Oriya was collated in full set of 73 leaves. This is a detailed chronicle of building operations and books of accounts written during the 12 years of construction (1246-1258). Later a detailed book New Light on Sun Temple of Konarka was published in 1972 by Alice Boner, S R Sarma and R P Das. This is one of the first in Indian history, where the entire temple building was documented in great detail. (Thanjavur's Brihadeeswara has inscriptions on who built it, how it was funded, but not how it was built) .
This is like a modern day ITES (information technology enabled services) project manual comprising details such as types of artisans, milestones, frequent review inspections by royal family, bottlenecks, hunger strikes etc. It was one of the first temples to be completed on target date – on the 11th day of Maha Shukla Paksa (February) of 1258. First puja began on sun god Surya's birthday as 'Padmakesara Deula'.
The palm leaf manuscripts address a lot of mysteries and myths of earlier period, with the help of details, drawings and facts.
The place of the earlier Surya temple (the current Maya Devi temple) instead of his capital city is located nearer Puri, which houses a similar towering temple (like the ones in Thanjavur and Gangai Konda Cholapuram)
Narasimha Deva had formed a team of 500 plus artisans from his yuvaraja days, as we saw earlier in the article, and his father-in-law, a Pandya king, also sent a team of fine sculptors. There is no mention of slave labour, and the construction was funded by frequent wars with other states.
Chlorite from Nilagiri hills ( about 80 km) and soft sandstone from Siddhadurga were transported by big barges to the mythical Candrabhaga river mouth near Konark. In 2016, using ground penetrating radar, IIT Kharagpur researchers identified the Chandrabaga river just up north of the temple as a paleochannel (remnant of an inactive river closed by younger sediments).
Unlike Brihadeeswara temple, which was arguably built using only circular or triangular earthen slope, Konark was built using scaffolding, cranes and pulleys , along with rollers for hoisting the heavy stones. (Baya Cakada has detailed descriptions and drawings with methods)

There was an advanced smelting foundry for casting iron beams, which interspersed stone beams and boulders to bear load. Some of the remaining beams are in exhibition and has not rusted much.
Was It Really Completed And In Worship?
There is a palm script manual "Padmakesara Deula Karmangi" written in Karani Script in Old Oriya, which details the rituals established in Konark Sun temple for regular puja and temple festivals. It proves beyond doubt about continuous worship.
We are not fortunate enough to see the great towering temple in full glory, at the present times. However, Raja Purushotama Deva of Khurda Dynasty (1607-1621) commissioned a survey report in CE 1610 with detailed description and drawings covering Lingaraja, Shree Jagannath and Padmakesara temples. Researchers have painstakingly collated this palm script manual with 23 leaves written in Karani script in Old Oriya. This details the temple plan, full view diagrams and cross sections. These are the only visual clues to the original state of the temple as it stood in the 16th century.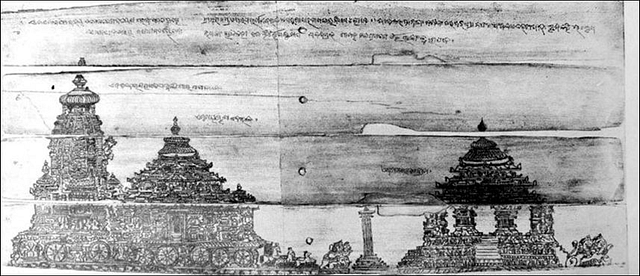 Madala Panji – the chronicle of Puri Jagannath Temple started by Anandavarma Chodagangadev (1078-1150), and also talks about some of the events of the Sun Temple.
Decline And Decay Of The Temple
It was a mystery how such a grand temple with fine architecture crumbled into a heap and got covered in sand mounds and creepers in a span of 300 years. Later, documentation and scientific evidence now throw some light on the possible causes.
Within a few years, before Kalapahad invasion of Puri and Konark, the lotus emblem with ruby atop the temple, was removed to Purushotama temple (Madala Panji). Kalapahad in fury hacked off hands of his general and vandalised the idols.
Colophon of Paramakesara Deula Karmangi mentions that "for 12 years the sevaks did not do their duty (bhoga karmangi) properly. Thus, the Sun God gradually left this temple…" The dereliction led to a gradual decline in maintenance and in CE 1629 – Gajasimha on eastern side fell towards east along with the wall damaging hands of the puja image. Orders were given to shift two urchava murtis to the Puri temple. (At a small temple complex even now and Konark Ratha Jatra happens on Magha sukla Saptami).
Improper maintenance of the temple, with upper half of vimana exposed to severe storms and rains, could have loosened the wall work which pressed down on the tenon of the huge Gajasimha protruding on the eastern side. This led to the Gajasimha falling on the deula and causing an imbalance of the temple structure, leading to the gradual collapse.
In 1929, there was a biological analysis of moss layers deposited in the boulders, which estimates the abandonment and start of moss formation (when there is no cleaning and lime wash coating) around 1573 which tallies with the Madala Panji accounts.)
Stories Which Remain As Legends With No Answers
The temple had iron beams between the stones and a central magnet which held the beams in place. Later the loadstone was removed during the Portuguese period since it was disturbing the compasses and ships running aground. The other stones/beams held in alignment by magnetic force till now, crashed regularly to bring the destruction.
The main pratima (idol) was believed to be floating in the air because of the unique arrangements of the main magnets and other series of magnets. When the balance was disturbed, it was shattered in the absence of binding forces.
The placement of the temple had been aligned in a way that the first rays of the sun falling on the coast would pass through the Nata Mandir and would reflect from the diamond placed at the centre of this idol in the main sanctum. This phenomenon would last for a couple of minutes in the early morning.
Local legends say that the huge 12 chariot wheels have been designed as sun dials to find time accurate to 1.5 minutes. To calculate this, one must place a long stick at an axis parallel to ground and note where the shadow falls. The distance between two wider spokes is of three hours (180 minutes). This is subdivided by the thinner spoke into 90 minutes. This is subdivided by 30 beads in the rim into three minutes. Depending on where the shadow falls in the bead, it can be refined to 1.5 minutes. Also, for each month, a particular wheel needs to be selected. Even the modern day sun dials have sidereal corrections to cover lateral movement of sun over seasons and its efficacy still remains a myth.
Get Swarajya in your inbox everyday. Subscribe here.
An Appeal...
Dear Reader,
As you are no doubt aware, Swarajya is a media product that is directly dependent on support from its readers in the form of subscriptions. We do not have the muscle and backing of a large media conglomerate nor are we playing for the large advertisement sweep-stake.
Our business model is you and your subscription. And in challenging times like these, we need your support now more than ever.
We deliver over 10 - 15 high quality articles with expert insights and views. From 7AM in the morning to 10PM late night we operate to ensure you, the reader, get to see what is just right.
Becoming a Patron or a subscriber for as little as Rs 1200/year is the best way you can support our efforts.
Become A Patron
Become A Subscriber