India's road and highway sector has experienced one of the most important and significant improvements and the country is moving towards closing the infrastructure gaps, a CII Report has said.
The report titled "The Indian Roads and Highways Sector" of the Confederation of Indian Industry (CII), which was launched on 26 August, has emphasized the crucial role of road infrastructure in stimulating economic growth, fostering investor confidence, generating employment, and enabling inclusive development, according to a statement.
At 63.31 lakh km, India — the seventh largest country — has the second-largest road network in the world, the report stated.


Top 5 countries by largest road networks, Global
The country's road length of 63.31 lakh kilometre includes 1.44 lakh km of national highways (NHs), 1.67 lakh km of state highways (SHs), and other district roads.
According to the report, India's road connectivity has improved consistently over the years and road transportation has become a focus of rapid development.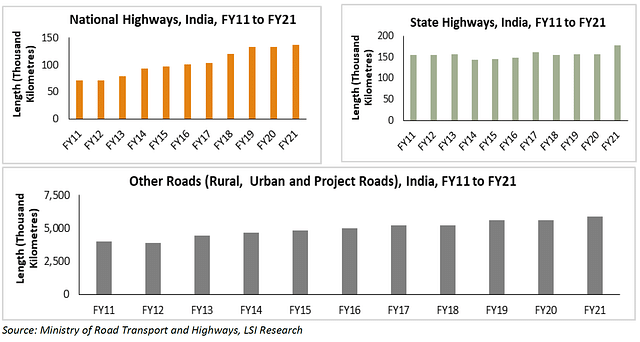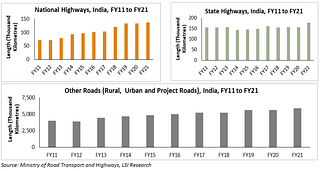 Expansion of different types of roads in India
Terming the National highways as the "backbone of the road infrastructure"' the report noted that over the last seven years, length of NHs has gone up by 50 per cent from 91,287 km (as of April 2014) to 1,37,625 km (as on 20 March 2021).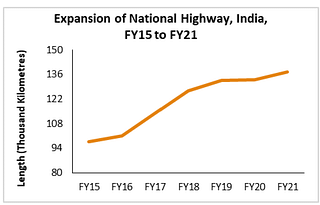 The report also highlights major achievements in the expansion of National Highways, which includes large increase in average annual award length, average annual construction length during FY2015 to FY2021.
"Project awards and construction in the roads and highways sector in India have increased significantly in recent years, highlighting the current government's thrust on the sector. This is also evident in the steadily increasing road sector budget, which stood at Rs 1.18 lakh crore for fiscal 2022", said the report.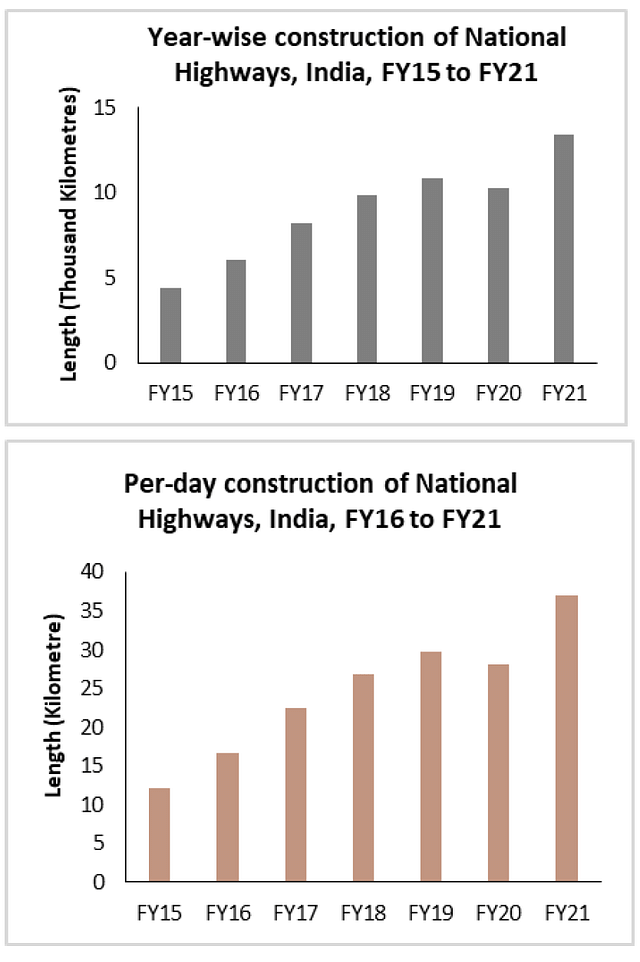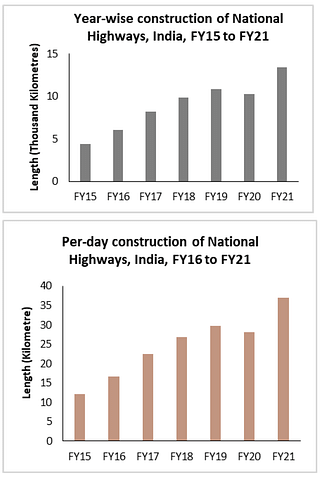 The report noted states like Uttar Pradesh, Maharashtra, Karnataka, and Rajasthan have played pivotal roles in driving highway projects and investments.
There are currently 599 national highways in India and the government aims to construct 23 new national highways by 2025, the report added.
Expressway Web
The report identifies expressways and access-controlled corridors as one of the key policy initiative, aimed to to upgrade and strengthen the road network in the country.
Expressways are highways that are completely access controlled to ensure unhindered flow of traffic, i.e. vehicles can enter or exit the roads from only a limited number of points. They are meant to be the highest class of roads in India, and are expected to transform user experience significantly. They are designed with superior technical and safety standards to allow speeds of up to 120 kmph.
The Ministry of Road Transport & Highways (MoRTH) is developing 27 Greenfield corridors including five expressway of 9,860 km length at a total capital cost of Rs. 4,08,437 crore.




A new national masterplan for new Expressways for next 25 years during "Amrit Kaal" to improve efficiency of passenger and freight movement in the country is under progress, the report added.
Rural Roads
The report makes a specific mention about significant growth of rural roads in India.
According to the report, aided by the Pradhan Mantri Gram Sadak Yojana (PMGSY), rural road development has also gained traction, with rural roads accounting for 71 per cent of the overall road network in India.


"Over the years, rural road development task in India has picked up at a fast pace and government is increasingly focusing on rural roads. This is because there are various economic benefits offered by the rural roads that make them equally important as national highways", noted the CII report.
Drivers and Roadblocks
The Road report identifies increasing freight traffic, rising investment, tax sops, growing urbanization, greater government initiatives and growing budgetary outlays as the growth drivers in India's road sector.
Further, it mentions that Indian road infrastructure and road construction industry, including the equipment and materials, are one of the biggest ingredients in propelling economic growth in the recent past.
However, the expansion of the infrastructure development has also been hindered due to land acquisition issues, road quality concerns, regulatory complexities, and financial issues.
"With a projected global infrastructure funding requirement of USD 3.7 trillion annually to keep pace with GDP growth, the significance of continued expansion and strengthening of India's road network remains paramount," the report concluded.