Segregation of arrivals and departures, multiplex, shopping malls, and eateries from leading global chains along with multi-level parking lots are to come up at New Delhi station as Indian Railways has firmed up plans to redevelop it as a world-class mega station in the country.
Stepping up efforts to redevelop the station at an estimated cost of Rs 6,500 crore with the Hong Kong-based consultancy firm revisiting the project, the state-run transporter is leaving nothing to chance to make it possible, defying odds.
A challenging task for Indian Railways, the station with 16 platforms witness more than 450 trains and 4 lakh people on a daily basis and the work has to be carried out without causing much inconvenience.
According to the latest development, the ambitious project undertaken by Rail Land Development Authority (RLDA) is exploring ways for the redevelopment of one of the largest and busiest stations in the country.
To be developed in phases, the first phase of the project would involve development on approximately 110 acres of land involving the construction of an elevated concourse with segregation of arriving and departing passengers, refurbished platforms with easy access from the concourse level, mezzanine level exclusively for passenger facilities such as lounges, food courts and restrooms, an elevated road network with multiple entry points and exit points and a multi-level car parking facility.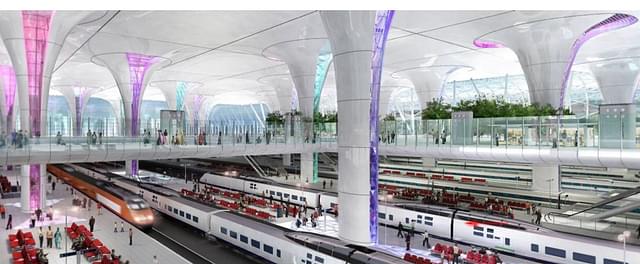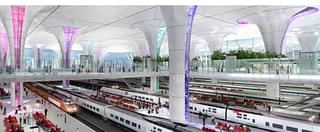 Blueprint for the New Delhi Railway Station with 3-proposed levels.
Mooted almost 10 years ago, the proposal did not get traction for various reasons and put into cold storage.
However, with the change in government and change in methodology, the plan was revived again and currently, the new blueprint entailing shopping malls, office complex, multiplex, hotel and parking lots is being actively pursued by PPP appraisal committee.
The Hong Kong-based firm is finalising the concept and design of the proposed redevelopment plan taking into account all possible factors.
The earlier plan to close down the station and relocate the operation to other nearby stations for at least two years did not find favour with the state-run transporter, and it has been decided that it would be done part by part without causing disruption to train operation.
In order to make the project financially viable for a private player, the plan envisages significant commercial component entailing a mix of retail, office and hospitality development.
While 72,500 square metre is earmarked for retail activities, 35,000 sqm for hotel and 1,03,000 sqm for an office complex.
The project would be given out on a design, build, finance, operate and transfer basis for a concession period of 60 years to a private developer or consortium which would be selected through a competitive bid process.
The selected players would be able to earn revenues from several components of the project. They include passenger handling fees collected from passengers through ticket sales, revenues from passenger facilities within the station such as retail areas, lounges, parking, advertisement spaces, food and beverages and income from the development and lease of the commercial components.
The project is expected to be completed over three to four years after the tender is awarded and once completed the New Delhi station would be a world-class facility, said RLDA Vice-Chairman Ved Prakash Dudeja.
Apart from New Delhi, RLDA is planning to invite request for quotation (RFQ) for the redevelopment of four stations – Dehradun, Tirupati, Nellore and Puducherry.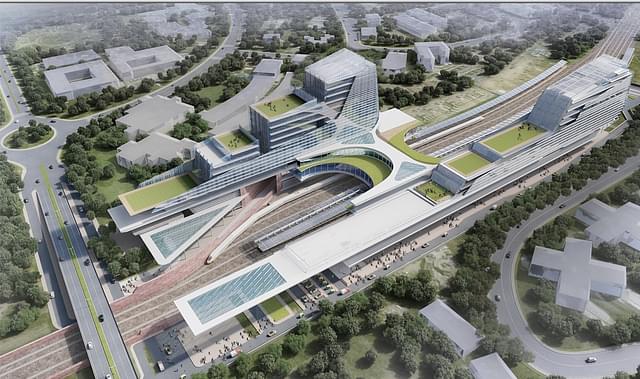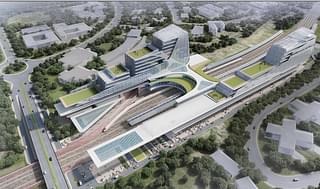 Proposed blueprint for the Safdarjung Station.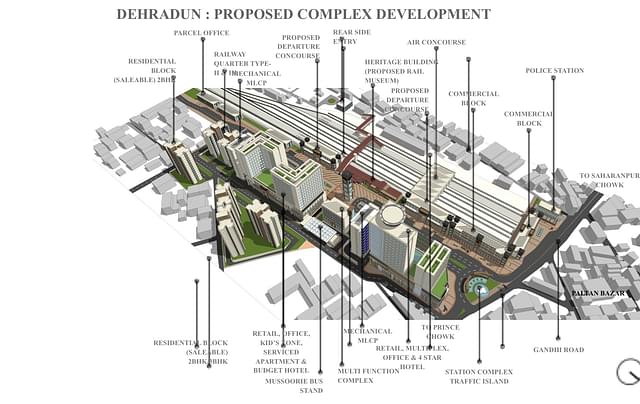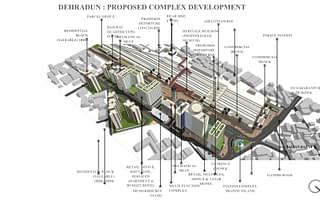 Proposed Complex Development for the Dehradun Railway Station
The Standing Finance Committee appraised these projects where RLDA made a presentation on 13 February. The mandatory cost of station redevelopment of Tirupati station is Rs 220 crore, Rs 115 crore for Dehradun, Rs 55 crore for Nellore and Rs 45 crore for Puducherry, involving construction of hotels, malls, food plaza, office complex and parking lots.
While Nellore station has a possibility of construction of a hospital, Dehradun station will have a housing complex.
Meanwhile, there will be a total of 110 stations, which are financially viable to be redeveloped across the country involving a total Rs 25,000 crore expenditure.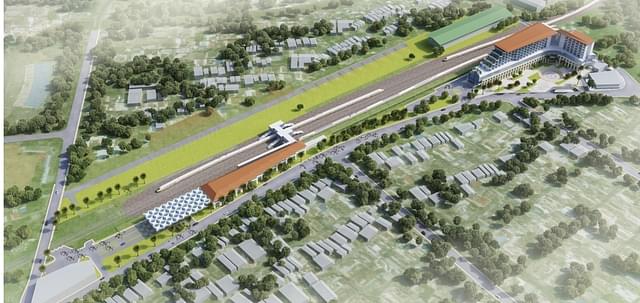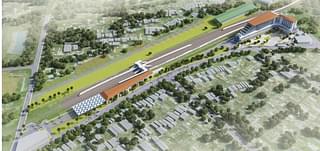 An aerial view of the Puducherry Railway Station.
While RLDA is being given responsibility for 50 stations, Indian Railway Station Development Corporation (IRSDC) is expected to develop about 60 stations which include Chhatrapati Shivaji Terminal in Mumbai, Gandhinagar, Habibganj, Sabarmati, Anand Vihar and Brijwasan in the Capital, Amritsar, Nagpur, Chandigarh and Bangalore among others.
RLDA has been tasked to undertake redevelopment work at Gomtinagar, Safdarjung, Howrah, Gaya, Jammu, Mumbai Central, Hatia, Ahmedabad, Jabalpur, Lucknow, Kota, Puri, Kanyakumari, Madurai, Vishakhapatnam and New Jalpaiguri among others.
Station redevelopment is a big opportunity for developers where they can leverage the prime land for development of stations, Dudeja said.
RLDA VC further said "Railways envisages station development without incurring any expenditure, from its own budget. Its win-win situation bor both as developers will get guaranteed footfalls while railways get assets without incurring expenditures and world-class amenities for passengers."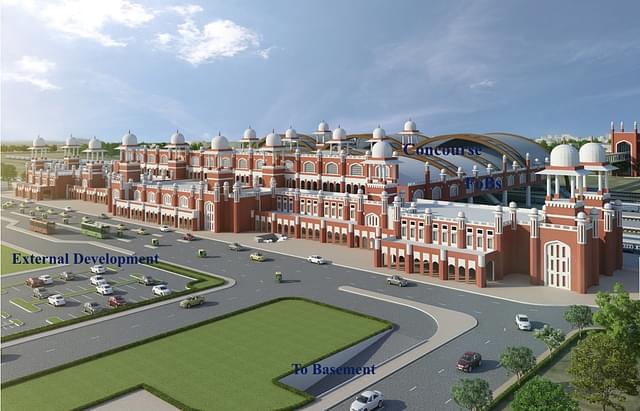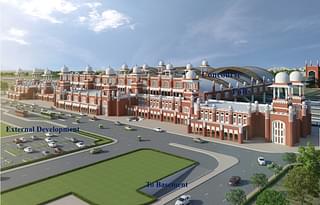 Plausible Front View of The Charbagh Railway Station, Lucknow. 
In some stations, the contracts are being reworked for allowing private players for developing residential premises by extending the lease term from 45 years to 99 years.
Aimed at soothing the frayed nerves of passengers, who often complain of poor facilities at stations, the development work involves coming out with improved basic amenities at stations.
The Union Cabinet in July 2015 had approved the revamping of 403 stations envisaging redevelopment of the land area of 2,700 acres, a cost of Rs 68,000 crore for commercial development and Rs 28,000 crore for revamp of the stations.
The redevelopment of station envisages construction of malls, hotels, eateries, office complex, parking lots and other commercial development on station premises besides creation of modern passenger amenities. All major stations in cities and metropolitans are on the offer for redevelopment with the dual aim of earning revenue and at the same time providing passengers improved amenities at station premises.
Later on, some changes were made essentially to attract the major real estate players into such transit-oriented development (TOD) programmes in the urban sector.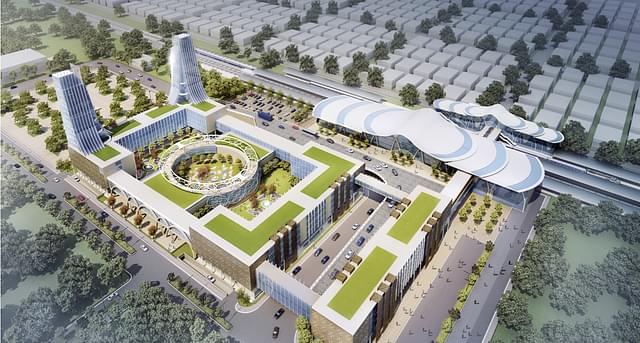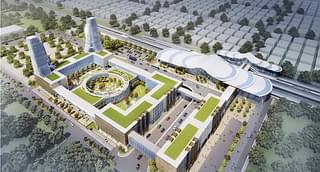 Redeveloped View of the Gomti Nagar Railway Station
TOD is a type of urban development programme, which maximises the amount of residential, business and leisure space within walking distance of public transport. It also aims to increase public transport ridership, reduce automobile travel, and promote sustainable urban growth.
However, out of 403 stations, railways has taken up 110 stations which were found financially viable in the first phase.
This piece was first published on India InfraHub, and has been republished here with permission.