How Hard And Soft Power Come Together In Yogi Adityanath's Revival Of Culture In Uttar Pradesh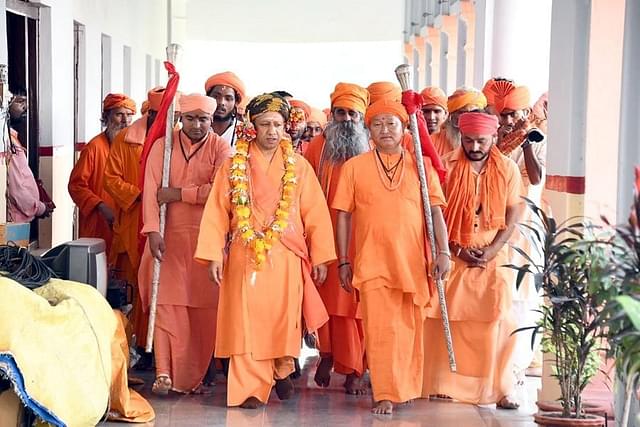 Yogi Adityanath
Snapshot
Yogi Adityanath has shown that culture is perhaps the softer side of what is understood as hard power, and that the two may not be as distinctly separate when there is a will to back them as one.

In March 2018, two days after the UP Investors Summit, an event meant to showcase Uttar Pradesh's potential as a state, Chief Minister Yogi Adityanath unveiled Rangotsav — a festival of colours in Mathura district's Barsana. Conceptualised by his government, Rangotsav was held on a day when Lathmar Holi — a thrilling episode in the long celebration of Holi, takes place in Krishna and Radha's birth and leela sthali.
In Lathmar Holi, women use sticks to beat men. It is a symbolic show of affection between two genders and two villages. While the first edition of Rangotsav was on, villagers, mostly farmers, said jokingly that "Yogi ji", as the Chief Minister is fondly addressed by people, has his priorities in place between 'lath aur lathmar'.
Their reference to 'lath' was to the bamboo sticks used by policemen in the state.
Adityanath's avid response to law and order in the state, and the intense crackdown on cheating in examinations had, by then, become a hot topic among the locals in Braj.
Their use of 'lath aur lathmar' denoted that Adityanath had a grip on law and order, and a vision for culture. They haven't been proven wrong even two years down the line.
Adityanath's understanding, assessment and use of soft power, along with tough and hard measures for putting the state back on track, has arisen as his own political potential and personal style in governance.
Having completed three years in power, his command on contrasting arenas — of the hard and soft power — continues. The 'lath' against the anti Citizenship Amendment Act (CAA) protests, cheating in examinations, the firm set of steps to fight against the threat and spread of coronavirus or Covid-19 — is one arena. The hard one.
The sustaining of Rangotsav around Lathmar Holi in 2020, the sthhapana of Ram Lalla's abode in Ayodhya, and his eye on the progress of Kashi Vishvanath Corridor — the soft arena of his well channelised power.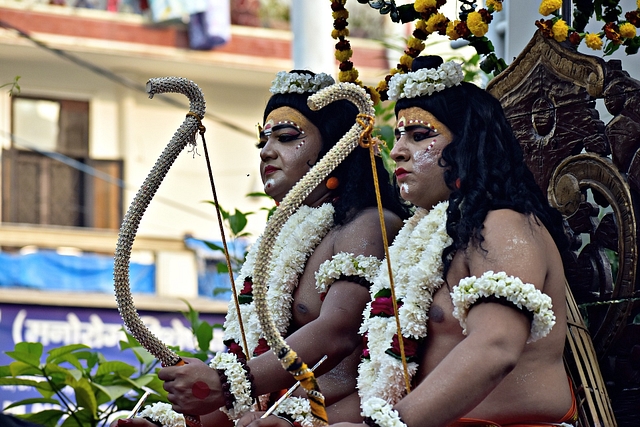 By being focussed on the state's hard and soft power, he is building the tangible and intangible for the nation. Adityanath has tweaked the definitions of soft and hard power in the process. He has shown that culture is perhaps the softer side of what is understood as hard power, and that the two may not be as distinctly separate when there is a will to back them as one.
Adityanath has been able to pull culture from the backstage of politics in UP.
He has put a state face to culture — an aspect and an exercise that had to wait for a man in saffron robes.
Adityanath completed one year in office as Chief Minister in March 2018. He marked the month by upholding the Lathmar Holi and Braj's celebration of colours as a priority for Uttar Pradesh and India's tourist map.
People of Braj, had heard about Deepotsav, Adityanath's grand celebration of oil lamps, music and light in Ayodhya held in 2017. For them, Adityanath's message, that Ayodhya gave Deepavali to the world, and Braj gave Holi, was loud, clear and assuring.
The year is 2020. Ram Lalla has finally come out of the ragged tent in Ramjanmabhoomi in Ayodhya and found a place in a temporary fibre temple on 25 March — the first Navratra.
In 2019, a Press Trust of India report quoted Adityanath, who was addressing a group of visiting American delegation as saying: "In Western culture a priest is limited to religious activities only, but in India the concept of dharma has immense potential and is not limited to religious activities".
Dharma is a way of life, he said, elaborating on how "a man of religion like him entered politics". He added that there was a difference in how the Western culture and Indian culture differently defined the roles of priests.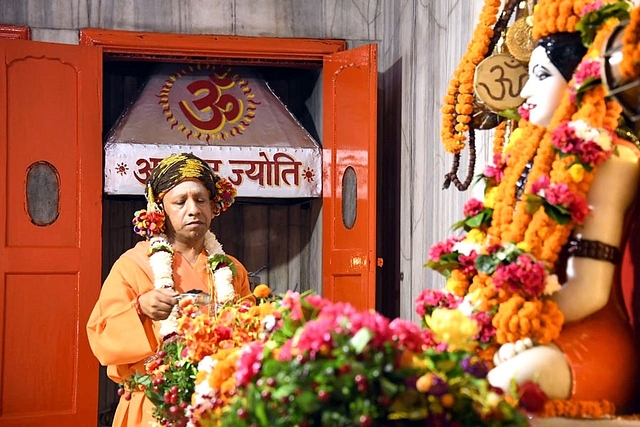 That 'difference' is what has seemed to define his own approach to culture not only as 'man of religion' but as the Chief Minister of Uttar Pradesh.
The jugalbandi between Prime Minister Narendra Modi and Adityanath in innovative thinking through the bilateral and people-to-people ties between Delhi — the centre of power and Uttar Pradesh, has been evident.
The infrastructural push for Ayodhya and Varanasi was a vital highlight of the state budget for financial year 2020-21.
Adityanath wilfully has chosen to walk the Hindu civilisational talk while making Ayodhya, Varanasi, Mathura-Braj and Ganga the different centres of cultural celebration. He worked with political agility towards helping Ayodhya, Varanasi, Mathura-Braj and Ganga reclaim their character in people's hearts. In three years, he has shovelled his cultural priorities towards Krishna, Ram, Shiva and the rivers.
Krishna
Adityanath's thrust on improvement in the running of dharmasthalas dedicated to Krishna is creating a dent slowly in old habits that went against the bhakts and yajmans visiting the Krishnasthali.
Mathura, Vrindavan, Gokul, Barsana, Nandgaon and Govardhan fall in the hub of Krishna janm and leela sthals and are among the 12 destinations identified for development under Krishna circuit by the Ministry of Tourism at the Centre.
Adityanath announced them as teerth sthalas in 2018 in Barsana.
At Rangotsav, villagers from Nandgaon and Barsana were in awe of Adityanath's new initiative and the pan-India representation in cultural performances from Assam, Maharashtra, Manipur, Haryana and other states.
After some hiccups and anger from locals, and help from Mathura MLA, Shrikant Sharma, he landed on a politically conducive space on the issue of government temple control in Mathura and Govardhan.
Further development of his portion of the Krishna circuit, including the upkeep of temples, lanes, kunds and heritage elements within, can be realised if he chooses the right emotional stakeholders. Hindu cultural and spiritual revival from and in Krishnasthali is a project that Adityanath can manoeuvre with the help of locals more than outsiders.
Ram
Adityanath's fortuitous presence as Uttar Pradesh's Chief Minister is a heartwarming and stark reminder of this line reflecting the power of Ram's own will.
The presence of South Korea's First Lady, Kim Jung-sook in the elaborate Deepavali celebrations in Ayodhya on the banks of Sarayu for the Deepotsav gave Adityanath an auspicious beginning as a culture oriented administrator.
Adityanath government is moving forward its work on the study of Ram's international footprint — Ram ki vaishvik yatra — for which inscriptions, which are said to be of Ram and Hanuman, found on the rocks of Italy and Iraq, and an idol believed to be of Lord Hanuman are the centrepoint.
The state government has allotted budget and responsibility to the Ayodhya Shodh Sansthan for this project. The research organisation will study the findings on Ram and Ramayan based on their celebration in other countries to understand the cultural footprint in Southeast Asia, Central Asia, parts of Europe and the Caribbean.
Initial expeditions to Iraq had taken place last year to study representations in stone dating back to 2000 BCE and found on the Darband-i-Belula cliff.
A Ramlila Sansthan is in the pipeline, and once it finds its place, Uttar Pradesh could be at the pinnacle of performances and performance-related studies dedicated to Ram and Ramlila.
The seeds of thought of establishing a Maharishi Ramayana University in Ayodhya have found the soil. The landmark tributes to Kevat and Shabri, too, have been made vital elements of the ambitious developmental facelift of Ayodhya.
All of this has the building of the Ram Mandir as its centre and soul, and a thriving temple ecosystem backed by solid developmental progress. These beginnings have been made in what could be, if all goes right, a UNESCO World Heritage City.
Adityanath is padding the development with the resources required. A budget of Rs 10 crore has been earmarked for the renovation of the Tulsi Smarak Bhawan in Ayodhya and a budget of Rs 500 crore has been allocated for constructing an airport.
Shiva
Adityanath's task at the nagri of Baba Vishvanath temple, one of the 12 jyotirlingas, is slightly beyond his own communication with Shiva. The sea of Shiva bhakts, tens of lakhs of pilgrims, from Purvanchal, West Bengal, Jharkhand, Madhya Pradesh and Chhattisgarh, other parts of India, and Nepal, visiting Kashi has become the emotional responsibility of the man in saffron in Prime Minister Modi's Lok Sabha constituency.
Having read the importance of Varanasi as the Prime Minister's Lok Sabha constituency, Varanasi, the cultural Benaras and the ancient Kashi, Adityanath has kept a watch on the evolution taking place in Baba Vishwanath's nagri as a tough administrator and a hands on representative of Modi.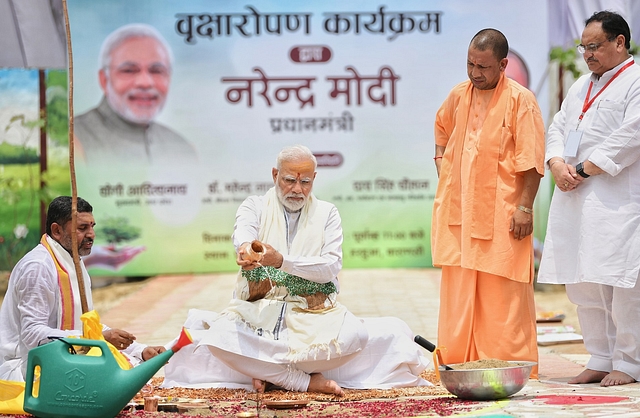 The Kashi Vishwanath Corridor project is getting his attention. In February 2019, Adityanath made a surprise visit to Varanasi to inspect the Kashi corridor and to take stock of the developmental works that Modi has dedicated to the people of Varanasi.
In May last year, after Modi-led National Democratic Alliance (NDA) returned to power, Adityanath inspected ongoing projects and left a word for the timely completion. A separate unit of Public Works Department (PWD) would be looking after the construction and progress of Kashi Vishvanath Dham, which will see the aesthetic merging of the temple complex with the Ganga.
Shiva is now audience to Adityanath's tenacity towards weaving all aspects of work to strengthen the people-to-people connect. Even the smallest.
In February, he said that 50 women from a Naxal-affected village in a district (Chandauli in eastern Uttar Pradesh) have been trained in the work of recycling flowers and leaves of dhatura and the bel tree offered to Shiva.
He spoke about this at the India-Nepal Bilateral Dialogue held in Lucknow. This initiative emerged from Adityanath's observation on the floral offerings at the temple in Kashi. He saw that there was immense possibility in reuse of these for devotional use.
He encouraged the disposal of flowers and leaves offered to Baba Vishwanath and launched a project for recycling the botanical offerings. This happened last year.
Adityanath government's state budget has allocated Rs 180 crore for setting up a cultural centre in Varanasi. Rs 200 crore has been earmarked for "the expansion and beautification of Kashi Vishwanath temple".
For the construction of a 'vedic vigyan kendra' (vedic science centre) under Kashi Hindu Vishwavidyalaya, his government has earmarked Rs 18 crore for the ambitious project.
Between Baba Gorakhnath and Baba Vishvanath, the man roving to bind Shiva bhakts is Adityanath.
Ganga, Yamuna, Sarayu
The banks of Ganga — beginning Varanasi, and now several ghats across the state, the Yamuna in Krishna Janmasthali, the Sarayu in Ayodhya, and at Sangam in Prayagraj, have so far witnessed the fine print of Adityanath's culturally-oriented thought.
Last month, he put Bijnor, a lesser-known district on the tourism map under the five-day Ganga Yatra under the Namami Gange Mission. Ballia and Kanpur along with Garhmukteshwar found a new meaning as ghats to the river.
This has happened a year after the roaring success and safe completion of the Kumbh in Prayagraj last year. It shows that he allows the elements to spread beyond the obvious on paper and in action.
Adityanath's work towards reviving the celebration of Uttar Pradesh's cultural legacy has a mark of his own religiosity, his life as a monk, his own response to power and related expressions.
The saffron worn by him perhaps works as a catalyst when it comes to his task of layering Modi's own efforts towards Indic culture arising from Uttar Pradesh. His eyes should now fall on what needs to be done for reviving the folk narratives, folk music, nautanki, and dialects in the state.
Adityanath happens to be the first Chief Minister of Uttar Pradesh who is 'a man of religion', and the first Uttar Pradesh Chief Minister from the Bharatiya Janata Party to complete three years in power.
His understanding of culture and soft power, the will to use it for binding people, and the ability to use both lath and lathmar like no other after a three-time Chief Minister from Gujarat, are his unseen weapons.
Get Swarajya in your inbox everyday. Subscribe here.
Tags: 
Uttar Pradesh

, 

Ram janmabhoomi

, 

ayodhya

, 

Varanasi

, 

ramayan

, 

Krishna

, 

Ganga

, 

Shiva

, 

Governance

, 

Holi

, 

CAA

, 

Yogi Adityanath

, 

Mathura

, 

Law and Order

, 

Kumbh

, 

Policemen

, 

Rangotsav

, 

UP Investors Summit

, 

Govardhan

, 

Prayagraj

, 

Ram Lalla

, 

Braj

, 

Radha

, 

Ayodhya Shodh Sansthan

, 

April 2020 Issue

, 

Lath

, 

Kashi Vishvanath Corridor

, 

Sarayu

, 
An Appeal...
Dear Reader,
As you are no doubt aware, Swarajya is a media product that is directly dependent on support from its readers in the form of subscriptions. We do not have the muscle and backing of a large media conglomerate nor are we playing for the large advertisement sweep-stake.
Our business model is you and your subscription. And in challenging times like these, we need your support now more than ever.
We deliver over 10 - 15 high quality articles with expert insights and views. From 7AM in the morning to 10PM late night we operate to ensure you, the reader, get to see what is just right.
Becoming a Patron or a subscriber for as little as Rs 1200/year is the best way you can support our efforts.
Become A Patron
Become A Subscriber