War On Screen: It's About Finding The Stories To Tell And Then Telling Them Right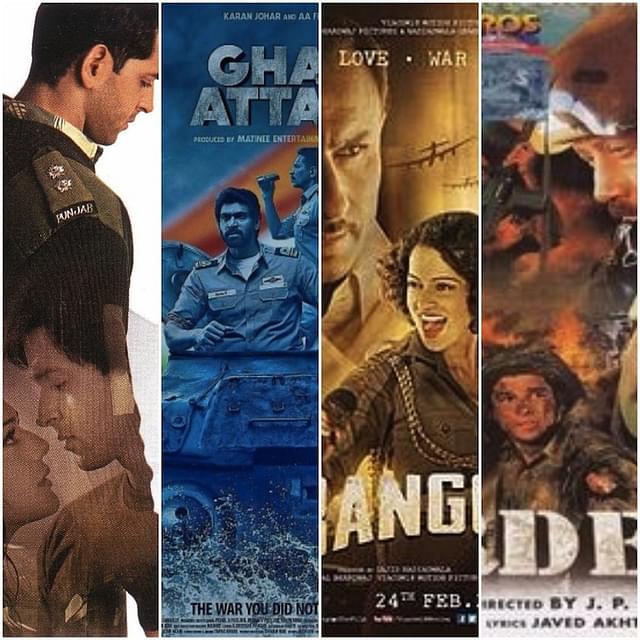 Movie
Snapshot
One of Hindi cinema's biggest failures in depicting war on the silver screen has been the inability of the narrative to capture the ethos of the soldier
With The Ghazi Attack (Sankalp Reddy, 2017) and Rangoon (Vishal Bhardwaj, 2017) releasing in quick succession, war as the setting is poised to get a makeover in Bollywood. The last time more than a handful of popular films had war as one of the central themes was a decade ago when LOC Kargil (J.P. Dutta, 2003), Ab Tumhare Hawale Watan Saathiyon (Anil Sharma, 2004), Deewar: Let's Bring Our Heroes Home (Milan Luthria, 2004), Lakshya (Farhan Akhtar, 2004), Tango Charlie (Mani Shankar, 2005), Yahaan (Shoojit Sircar, 2005) and Kabul Express (Kabir Khan, 2006) hit the screens...and flopped.

While The Ghazi Attack is based on the mysterious sinking of PNS Ghazi during the 1971 war, Rangoon, as the title suggests, is a romance triangle in the tradition of the grand Hollywood productions of the 1940s such as Casablanca (Michael Curtiz, 1942) set during World War II. It might not be a war film per the standard definition of Hindi films but Rangoon's canvas and setting are sure to take the genre to a new level. For popular Hindi cinema, war largely meant an enemy like Pakistan or, at best, China and although there have been a few exceptional renditions of combat and conflict, the genre has not been able to deliver on the potential.
Amongst the two kinds of war films—Haqeeqat (Chetan Anand, 1964), Hindustan Ki Kasam (Chetan Anand, 1973), Border (J.P. Dutta, 1997), LOC Kargil—and the other where war is paired with genres such as romance—Hum Dono (Vijay Anand, Amarjeet, 1961), Lalkaar (Ramanand Sagar, 1972), Aakraman (J.Om Prakash, 1975), Yahaan, social drama, Upkar, (Manoj Kumar, 1967), coming of age (Lakshya), etc.—it is the latter that has been more popular.
One of the reasons why Hindi films chose to merge other genres with war could be to ensure the safety of a return on investment, for war films are expensive to make. Placing a love story like in the case of Hum Dono would allow the inclusion of romantic songs and also a traditional female lead, which otherwise would not have been easy. It was very rare for Hindi films till the mid-1990s when Border revived the genre to think of war films without the whole song-and-dance routine. The success of Border gave Hindi cinema a perfect war film template where reality could be combined with the presence of big stars and the transformation of Hindi film industry into the globally recognised brand called Bollywood flushed in enough money to get big budgets.
This saw the early 2000s become the best phase for the genre but the commercial failure of LOC Kargil and Lakshya, the two films that were supposed to redefine the genre, dented the prospects of war films. Between them, the two films featured almost every single male actor in Hindi films besides the three Khans and Akshay Kumar and even with all resources at their disposal, including the involvement of the Indian Army in an official capacity, they fell short. Lakshya and LOC Kargil attempted to recreate both the physical and emotional experience of the Kargil war but the manner in which the films were executed was a letdown. Lakshya tried to tell the classic coming-of-age story of a college drifter as an unlikely hero but for the viewer, the film got over at the interval where Captain Karan Shergill (Hrithik Roshan) says his "lakshya" or target was to raise the tricolor on the highest peak. LOC Kargil was a new kind of story where multiple plots followed real-life soldiers as they took on the enemy in Kargil and all converged in the classic war film template made popular by The Longest Day (1962) or A Bridge Too Far (1977) but the grittiness of the real event got lost when the multiple plots played out in the same way.
One of Hindi cinema's biggest failures in depicting war on the silver screen has been the inability of the narrative to capture the ethos of the soldier. The biggest challenge that a Lakshya or an LOC faced was that they both were essentially telling a story that millions of people had seen unfold on television. Perhaps the audiences wanted to know more about the real persons behind the heroes such as Lt Manoj Pandey, Param Vir Chakra, Captain Vikram Batra, PVC, Captain Anuj Nayyar, Maha Vir Chakra, and Grenadier Yogendra Singh Yadav, PVC, but what they got were the familiar faces of Ajay Devgn, Abhishek Bachchan, Saif Ali Khan and Manoj Bajpayee, the actors who portrayed them respectively.

When it comes to war, Hindi cinema unfailingly romanticises the hero to such an extent that the true story of valour of ordinary men and women doing extraordinary things gets lost. In the bargain, the narrative often forgets to focus on the real person with a beating heart behind the façade.
Take the example of four-hour 15-minute long LOC where by the end you hardly get to register the sheer audacity of someone like Grenadier Yogendra Singh Yadav, who, in the face of gunfire, volunteered to scale a 16,500-foot high cliff that housed an enemy bunker and climbed the last 60 feet even after being hit by three bullets. What's more, once he reached the top he threw the rope for the rest of the men, crawled to the bunker and hurled a grenade. That is not all; Grenadier Yadav charged to the second bunker and in hand-to-hand com-bat, killed four Pakistani soldiers and made it possible for Tiger Hill to be captured by India. What's more, believed to be dead, for no one could possibly sustain such injuries, Grenadier Yadav was conferred the Param Vir Chakra posthumously, but was later, in fact, found to be alive as it was the death of his namesake that caused the confusion.
One of the few Hindi films that got the grittiness of war right even though it was not a war film in the true sense of the word was Prahaar—The Final Attack (Nana Patekar, 1991). In the film, a commando, Peter D'Souza (Gautam Joglekar), returns home after losing his legs and dies while fighting some local goons who extort money. Following Peter's death, Major Chauhan (Patekar), Peter's instructor, visits his home and is shocked that no one, including Peter's father Joe D'Souza (Habib Tanvir) is willing to testify out of fear. Chauhan pursues the matter but nothing comes of it and when the goons harass Kiran (Dimple Kapadia), Peter's neighbour, he takes them on and kills one of them. Prahaar broke the continual portrayal of the soldier as someone extraordinary and it also showed the men and women in the armed forces as ordinary people with a beating heart.
In a way, Prahaar was to Hindi films what Robert Altman's M*A*S*H* (1970) was to Hollywood. Altman's film was one of the first mainstream Hollywood films to show war in an authentic light, be it the situations or the production design. When a studio executive asked Altman why his soldiers looked dirty compared to the soldiers in Tora! Tora! Tora! (1970) and Patton (1970), two other films that the studio was making at the same time, Altman simply said that soldiers in war are dirty. Like Patekar's approach in Prahaar, where he ensured that stars like Madhuri Dixit and Dimple Kapadia went without make-up, Altman included many things in M*A*S*H* that captured the madness of war. His characters like Hawkeye (Donald Sutherland) and Trapper John (Elliott Gould) are real people who might be good people but considering the bad situation were downright bad. In fact, Trapper lightly raps a nurse who's slow to respond when he asks for instruments by saying, "It's a good thing you have a nice body, otherwise we'd get rid of you quick."
Rumoured to be based on the life and times of Fearless Nadia, Bollywood's original stunt-woman best remembered for her film Hunterwali (1935), Rangoon is not the first Hindi film to use World War II as a setting. Ramanand Sagar's Lalkaar perhaps holds that distinction where two brothers (Rajendra Kumar and Dharmendra) as part of the Royal Indian Air Force and the Royal Indian Army respectively take on the Japanese invaders in Burma during World War II. But it is Rangoon's timing that makes the setting more prominent, and to a degree, even important, for it might bring to the forefront the participation of Indian soldiers in a war that their imperial overlords dragged them into.
For a cinema that even after four wars with Pakistan, one with China and an endless battle with insurgents and terrorists, refuses to get the nuance correct, this is indeed a great step forward. Director Bhardwaj might consider Rangoon to be his most musical film to date and producer Sajid Nadiadwala believes it to be a Casablancaesque classic love triangle, but the fact remains that Rangoon to a younger generation might be the first step in learning about a war which was not India's, even though two and a half million Indians participated in it.
In the recent past, a bevy of books such as Raghu Karnad's Farthest Field: An Indian Story of the Second World War, Yasmin Khan's The Raj at War: A People's History of India's Second World War and Srinath Raghavan's India's War: The Making of Modern South Asia, 1939-45 have shed much-needed light on the Indian involvement in the Second World War (See "Faraway Battlefields", Swarajya, February 2017). Bhardwaj has suggested that his story of a film star, Julia (Kangana Ranaut), falling in love with Jamadar Nawab Malik (Shahid Kapoor) during the height of the Japanese invasion, much to the chagrin of Rustom "Rusi" Billimoria (Saif Ali Khan), the man who supposedly pulls the strings of her existence, would be an eye-opener on a chapter of history that many people are completely unaware of.
Films are sometimes made to tell important stories and there is a glaring void when it comes to telling the stories of Indians in the two world wars. If nothing else, the fact that Rangoon could give a visual reference for Indians to an unknown story of a war where much Indian blood was shed in chasing a European ambition is reason enough to celebrate the film.
Get Swarajya in your inbox everyday. Subscribe here.
An Appeal...
Dear Reader,
As you are no doubt aware, Swarajya is a media product that is directly dependent on support from its readers in the form of subscriptions. We do not have the muscle and backing of a large media conglomerate nor are we playing for the large advertisement sweep-stake.
Our business model is you and your subscription. And in challenging times like these, we need your support now more than ever.
We deliver over 10 - 15 high quality articles with expert insights and views. From 7AM in the morning to 10PM late night we operate to ensure you, the reader, get to see what is just right.
Becoming a Patron or a subscriber for as little as Rs 1200/year is the best way you can support our efforts.
Become A Patron
Become A Subscriber