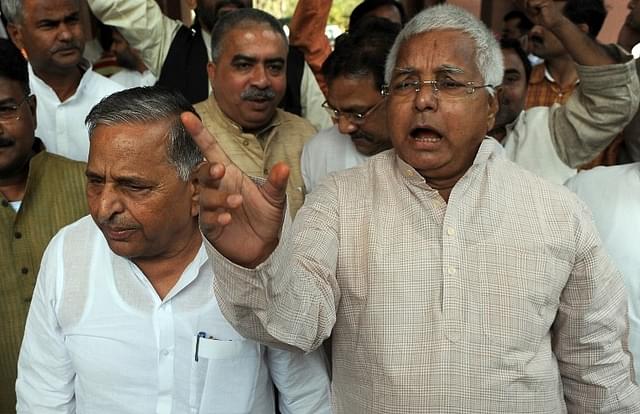 Readers of this column would remember the piece I did on the 24th of April about the iffy chances of a merger between the erstwhile constituents of the Janata Parivar. I hope they would allow me a small measure of gloating as I have been proved right. As this columnist had pointed out earlier, Nitish and Lalu do not trust each other enough, given the rather acrimonious history between them over the past 20 years. Also, in case of a merger, neither was insured against the possibility of a potential palace coup. On the other hand, Mulayam had no wish to cede even partial control of his cadres. Even when both the Yadav stongmen were part of the Janata Parivar, they used to guard their respective turfs rather jealously. Predictably, the merger is a closed chapter today.
Today, the big question on everybody's mind is whether a tripartite (Or perhaps more accurately, if my readers excuse a bit of violence to the English language, two-and-a-halfpartite) alliance between the Congress, JDU and the RJD shall be thrashed out. As reiterated earlier, the combined vote share of the three was slightly larger than the NDA's vote share in the Lok Sabha polls. When they contested the Assembly by-polls together in August 2014, they also just about managed to huff and puff ahead of the NDA. However, there are a few important issues and developments that need to be examined before an accurate prognosis can be made. Before we delve into them at length, we also need to remember that a win in Bihar shall enable the BJP to finally bury the ghosts of its morale-shattering defeat in Delhi at the hands of the AAP in 2015.
Furthermore, if the desired results materialise for the saffron party, it would be firmly on course for a fresh mandate in 2019, assuming that it also manages to capture power in Uttar Pradesh in 2017. Hopefully, given the fact that the political firmament of Uttar Pradesh is not as badly scourged by the pernicious effects of feudalism and caste rivalries, it should be much easier for the BJP in the largest state of the country. More on this later!
The biggest question which needs to be answered by the JD(U) and the RJD is whether or not Nitish Kumar shall be projected as the chief ministerial face of the alliance. One needs to remember that in the Lok Sabha polls, the JD(U) had managed 16 per cent of the vote and 18 Assembly segments while the corresponding figures for the RJD were 21 per cent and 32. Hence, one need not be an eminent psephologist to figure out that a Nitish Kumar who is not fighting the election in an alliance with the BJP, is clearly not even a close second to Lalu who has shown himself to be capable of holding his own even in the face of a Modi wave.
This is perhaps the reason why Nitish has been offered less than a hundred seats and no commitment has been made to him till now with respect to his projection as the chief ministerial candidate of the alliance-if it works out. One also needs to keep in mind that even though the Modi wave is inevitably losing a little bit of its sheen, Nitish needs to reckon with the joker in the pack—Jeetan Ram Manjhi who shall surely cut into Mr. Kumar's assiduously cultivated 'Mahadalit' vote bank. Consummate politician that he is, Lalu has wasted no time in making overtures to the latter, much to the chagrin of a furious Nitish Kumar, who is beginning to look more and more helpless by the hour.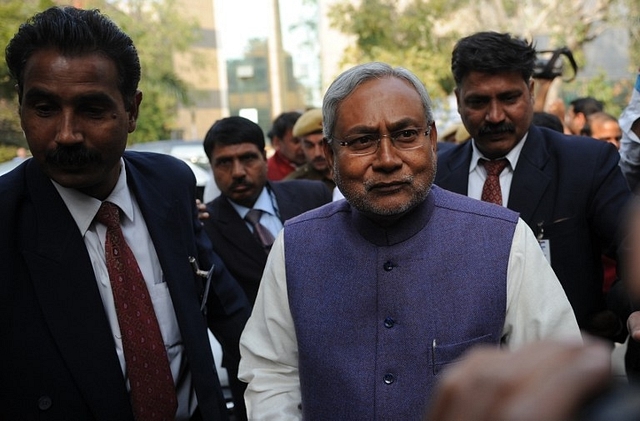 In this view of the matter, it would not be an overstatement to suggest that the 'alliance' threatens to unravel even before it materialises on the aforementioned question. Nitish does not trust Lalu to allow him to remain chief minister for any reasonable length of time. On the other hand, Lalu knows perfectly well that if Nitish does become chief minister, he would lose absolutely no time in trying to undercut him and appropriate his core vote, like he unsuccessfully attempted to do with the BJP.
As of date, whether Nitish or Lalu shall be able to resolve this issue to their mutual satisfaction is anybody's guess. Both of them know perfectly well that the stakes are extremely high for them. They are just a tad higher for Nitish as even in case the alliance in question does not work out, Lalu shall be assured of the position of principal Opposition in the State Assembly. The former, on the other hand, is staring at a prolonged spell of political irrelevance.
The second issue, which is closely tied to the first, is seat sharing. Lalu is clear that he wants to contest almost 60 per cent of the seats in a 243-member Assembly. If one were to take into account the respective electoral strengths of the two parties, Lalu's offer seems to be fair. However, Nitish stares at almost sure-shot political oblivion as there is no way in hell that Lalu shall allow him to become chief minister if his party gets less number of seats than the RJD. Is Nitish okay with being the butler Pennyworth to Tejaswi Yadav's or Misa Bharti's Bruce Wayne? I doubt that very much!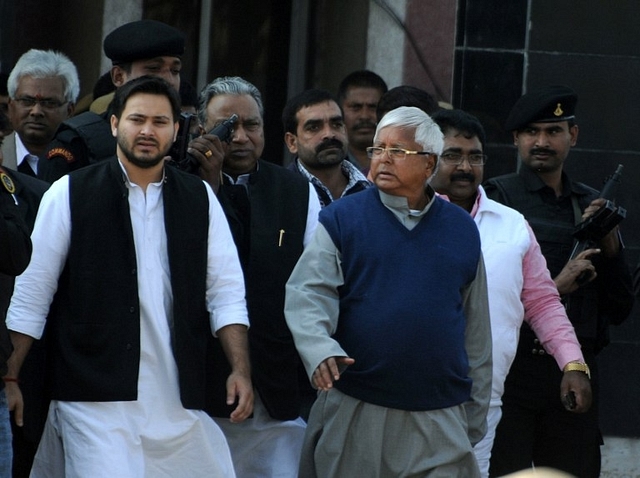 For its part, the BJP is undoubtedly looking at the developments in Bihar very closely. Its best chance lies in ensuring that the alliance does not in fact materialise. It knows full well that if the two Janata stalwarts contest separately, the NDA, combined possibly with Jeetan Ram Manjhi, shall sweep the election. Undoubtedly, a lot of backroom dealings are on.
Sources have informed this columnist that there is a growing body of opinion that it might not be a bad idea for the BJP to court Lalu Prasad Yadav behind closed doors. However, it is not clear as to what can be offered to the two-time chief minister of one of India's largest states. An open alliance is obviously out of the question. A possible offer could be a partial and temporary reprieve qua his legal troubles during the pendency of proceedings in the higher courts, which would enable him to contest elections (Remember Jayalalithaa?).
I would cite two reasons as to why there is a good possibility that Lalu might just end up playing ball. Firstly, it is an open secret in Patna that Lalu fears that his political legacy might be frittered away because of the intense sibling rivalry between Tejaswi and Misa. Secondly, Lalu also knows perfectly well that it is Nitish who poses the greatest danger to his core vote, including the Muslim community, in the medium run, and a third position for the latter in this election shall knock him out of the reckoning for quite some time. One needs to keep in mind that despite the fact that both the JDU and the RJD are caste-based outfits, the incumbent Bihar Chief Minister does not have any heirs to his political legacy as his only son has expressed absolutely no interest in joining politics.
Hence, unlike Lalu whose children are ready to don the mantle after he retires from politics, Nitish, who turns 70 in a couple of years, does not have the luxury of time. Whether or not Lalu will be okay with settling for the position of principal opposition party (Humphrey Appleby would say that he and his party would be the Government-in-waiting), in addition to the aforementioned reprieve, is again anybody's guess. In my reckoning, it might make sense for him to settle for it as of today just so he can finish the JD(U) off for all time to come.
Sources have also informed this columnist that the JD(U) is also pushing rather hard to initiate backroom parleys with the BJP. However, even though there are certain BJP leaders in Delhi who are not averse to a tentative exploration of this idea, the BJP's state unit is not at all interested as they campaigned almost exclusively against Nitish during the Lok Sabha polls. Furthermore, it is clear that Mr Kumar undoubtedly wishes to become the Chief Minister even as the resurgent BJP, justifiably, wants one of its own to occupy the post.
Now that the Lok Sabha elections have conclusively demonstrated that Nitish's core vote is not at all as large as the BJP's, even seat sharing would be a problem. As of today, the JD(U) cannot hope to undercut the BJP state unit by currying favour with the party headquarters in Delhi, like it did in the 1990s.
Alternatively, the BJP could cut some sort of a deal with Nitish Kumar by offering him something at the Centre in return for an alliance where the lion's share of the seats goes to the BJP. Even in this case, Mr Kumar's future in active state and national politics would be permanently jeopardised. At any rate, as reiterated earlier, if the BJP can get Lalu to play ball, it need not touch its erstwhile ally with a barge pole. I am sticking my neck out here but if the aforementioned scenario materialises, it is Nitish who shall be chasing the BJP and not vice-versa.
All in all, the stage seems to be set for a really high stakes poker game of sorts, which shall be played out over the course of the next couple of months. The BJP is in a fairly enviable, but by no means safe, position. What it needs to do over the next few months is to ensure that the other players viz. Lalu, Nitish and even Jeetan Ram- are bluffed, threatened, cajoled and persuaded into folding.
The future of the country over the next nine years is at stake. A defeat would surely stymie Narendra Modi's agenda for development, married to the noble ideal of justice to all and appeasement for none. A victory would set the tone for major reforms and possibly an age of Pax Modica which shall continue, God willing, at least till 2024.
Get Swarajya in your inbox everyday. Subscribe here.
An Appeal...
Dear Reader,
As you are no doubt aware, Swarajya is a media product that is directly dependent on support from its readers in the form of subscriptions. We do not have the muscle and backing of a large media conglomerate nor are we playing for the large advertisement sweep-stake.
Our business model is you and your subscription. And in challenging times like these, we need your support now more than ever.
We deliver over 10 - 15 high quality articles with expert insights and views. From 7AM in the morning to 10PM late night we operate to ensure you, the reader, get to see what is just right.
Becoming a Patron or a subscriber for as little as Rs 1200/year is the best way you can support our efforts.
Become A Patron
Become A Subscriber