A Gesture For Peace: Why Muslim Leadership Should Hand Over 'Kashi' And 'Mathura'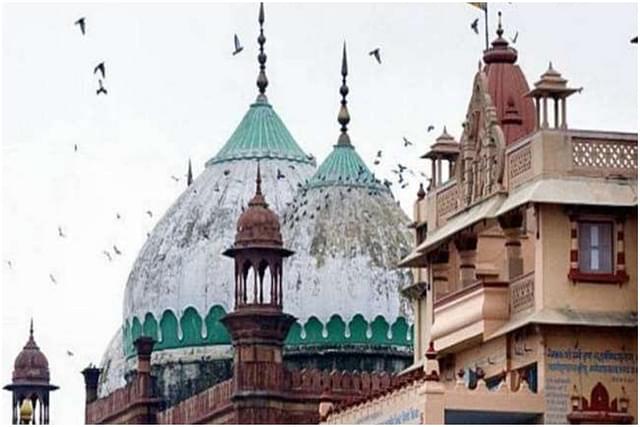 The Shahi Idgah mosque and Krishna Janmasthan temple in Mathura
Snapshot
If it happens, a confederation of Hindu Dharmacharyas and Hindu organisations should assure Muslims that there would be no more claims on religious sites.
On 21 January, 1986, a petition (no. 422/C) was moved before Munsiff Sadar Faizabad for opening the locks of Sri Rama Janmabhoomi. In his order dated 1 February 1986, District Judge K.M.Pandey gave a judgement for opening the locks of the Sri Ram Janmabhoomi temple, under the mosque-like-domes.
On 12 November 1990, the Rath Yatra of Lal Krishna Advani began from Somnath in Gujarat. On 23 October, he was arrested as he entered Bihar, by the administration of Lalu Prasad Yadav, then the state Chief Minister.
On 30 October, karsevaks non-violently defied the police brigade, braved bullets and hoisted saffron flags. Mulayam Singh was then the Chief Minister of Uttar Pradesh. To this day, the total number of karsevaks killed in the Ayodhya massacre that ensued is unknown. Quite a number of bodies with sand bags hooked to them were recovered from Sarayu.
The whole series of events changed the history of India and catapulted the BJP to power. But even when the demolition was almost 18 months in the future, an interesting alternate-scenario was discussed and it was presented by two Muslim thinkers and both were not thinkers sympathetic to the BJP.
One was Yasin Dalal. A renowned researcher, writer and a social reformist he wrote:
Babri Committee could have taken the wind out of the VHP-BJP balloon by declaring, dramatically, the decision to shift the mosque at an appropriate moment. This would have left the Ram Janmabhoomi protagonists flabbergasted and confused. On the contrary both the government and the Muslim leadership hardened their stands, thereby helping the BJP unwittingly, to gain more ground for the next election. ... Only the good will of the majority community can guarantee their protection. Muslim leadership should learn this bitter truth. And a very big majority of Hindu community is still tolerant, secular-minded and magnanimous. However, the number is decreasing with the hardening of stands on both sides. The ultimate loser will be Indian Muslims, and the secular fabric of the country.
'Muslims should join Mainstream', Business and Political Observer, January, 1991
The other was veteran journalist L.H. Naqvi. He called upon the Muslims to shock the perverse discourse of polity by supporting the BJP:
Imagine a revered Muslim leader giving a call to the Muslims of India to support the Bharatiya Janata Party. Hearing it, Mr.L.K. Advani will most certainly choke over his morning cup of tea. Mr. Atal Bihari Vajpayee will be amused. But why should Mr. Advani be shocked or Mr. Vajpayee amused? India is a free country and everyone has a right to work and vote for the candidate of the party of his or her choice. ... Thus the Imam of Jama Masjid, can issue an appeal to the Muslim community to vote for the Janata Dal and its Left allies and get away with it. ... But for a Muslim priest to even think of supporting the BJP would be an act worse than blasphemy. Why? Because the BJP talks of establishing Ram Rajya in the country. It wants to construct a temple at Aypdhya as an expression of belated reverence to the values propounded by the Maryada Purushottam. ... The fact is the Congress (I) has developed what the BJP calls 'minorityism' into a very subtle art of keeping non-Hindu minorities in general and Muslims in particular, in a perpetual state of insecurity. ... Where do the Muslims go from here? To the BJP fold. Why not?
'Muslims must Thwart Pseudo-Secularists', Manthan, June , 1991
As stated earlier both the articles were written by Muslim thinkers and activists who were highly critical of the BJP world-view. They wrote them almost a year and a half before demolition of the domes over the Sri Ram Lalla temple at Ayodhya on December 6, 1992. But both were voices of reason and peace. Had the Muslim leadership heeded to such voices a lot of human suffering and misery could have been avoided. We also know now from the testimony of K. K. Muhammad, the renowned archeologist, that had there been no foul-play by Marxist historians, the Muslim community would have gladly handed over the land at the Sri Rama Janmabhoomi.
Now with the Kashi Vishwanath temple-Gyanvapi issue flaring up, we need to ask certain questions.
-The current demand for the return of Kashi Gyanvapi temple complex has presented the present Muslim leadership with a wonderful opportunity that can make Islam truly a religion of peace. Will they stand and grasp that opportunity?
-Second is that the Gyanvapi issue has made a lot of similar demands arise in various parts of the country. Where do we draw the line and how?
The answers to both the questions are inter-related.
The destruction of the temples of non-Islamic faith and constructing Islamic places of worship is an act of aggression and enslavement imposed on people of other faiths. The basic premise driving this is that Islam replaces the previous 'erroneous faiths of the age of ignorance'.
A powerful section of Islamist politics is still predicated upon this premise.
The politics based on this premise is intolerant of theo-diversity. It wants to destroy theo-diversity and democracy. But at the same time it wants to use the space that theo-diversity and democracy give to this Islamist politics.
Kashi, Mathura and Ayodhya are the three holiest of the holy places of the Hindu sacred geography. Every Hindu anywhere in the world wants to see these three places at least once in his or her life time. And when they come here what they see? They see mosques in their holiest of the places.
This hurts them and humiliates them. They carry this hurt and humiliation back home. They may not express it but it creates a deep wound. Such unhealed wounds of the hearts are ticking time-bombs against harmony and well being of the nation.
The solution that Nehruvian establishment came up with was simple. Do not bother. Those temples are not worth bothering about. Visiting the sacred places are just a dying tradition. Within a few generations Hindus would immerse themselves in secular development and stop bothering about these temples altogether.
But the wounds are alive. After a heavy battle and loss of lives on both sides, Ayodhya has been healed. What about Kashi and Mathura?
Whatever the course of action, it is only a matter of time before the waiting Nandi is going to get his Master back and Krishna is going to get His sacred mansion back.
If Hindus are forced to fight legal and political battles to win them both then it shows that the mindset of humiliating Hindus is very well alive. It is not medieval past but a living component of Islamist core. If this happens then the Hindus will be justified in reclaiming each and every temple that has been destroyed and forcefully occupied by Islamist invasions.
As against that if the Muslim leadership and community willingly and in a grand gesture of good will, repentance and healing, return Kashi and Mathura, then the Hindus should accept that act of good will and repentance. That act should be considered as repentance for all vandalism of Hindu temples. It also means that Islam is ready to accept theo-diversity. That means a giant civilisational and spiritual leap for Islam as a whole. Then Hindus should show magnanimity and a confederation of Hindu Dharmacharyas and Hindu organisations should assure Muslims that there would be no more claims on religious places.
Now it is in the hands of Indian Muslims to show that they have the spiritual strength to rise up to this occasion and make a grand gesture of peace for India and Islam.
Get Swarajya in your inbox everyday. Subscribe here.
An Appeal...
Dear Reader,
As you are no doubt aware, Swarajya is a media product that is directly dependent on support from its readers in the form of subscriptions. We do not have the muscle and backing of a large media conglomerate nor are we playing for the large advertisement sweep-stake.
Our business model is you and your subscription. And in challenging times like these, we need your support now more than ever.
We deliver over 10 - 15 high quality articles with expert insights and views. From 7AM in the morning to 10PM late night we operate to ensure you, the reader, get to see what is just right.
Becoming a Patron or a subscriber for as little as Rs 1200/year is the best way you can support our efforts.
Become A Patron
Become A Subscriber