As one drives past Uppala on National Highway 66, election hoardings on either side of the road give a glimpse into the election equations in Manjeshwaram, Kerala's northernmost constituency.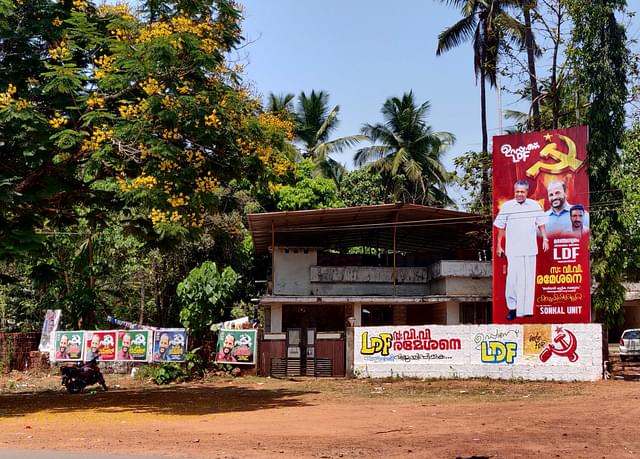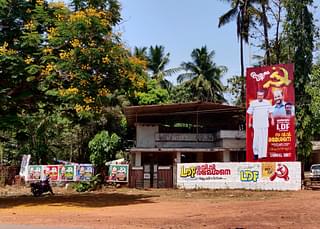 Posters of an LDF candidate in Manjeshwaram.
The Sonkal unit of Left Democratic Front (LDF) has the compound wall of a house painted with the communist party's symbol of hammer and sickle.
On top is a poster seeking votes for the party with a larger than life image of Chief Minister Pinarayi Vijayan in the foreground.
In the background is a bust image of the candidate V V Rameshan. To the other end of the wall, next to five small posters of the LDF candidate, are two small posters of United Democratic Front-led Indian Union Muslim League (IUML) candidate M K Ashraf.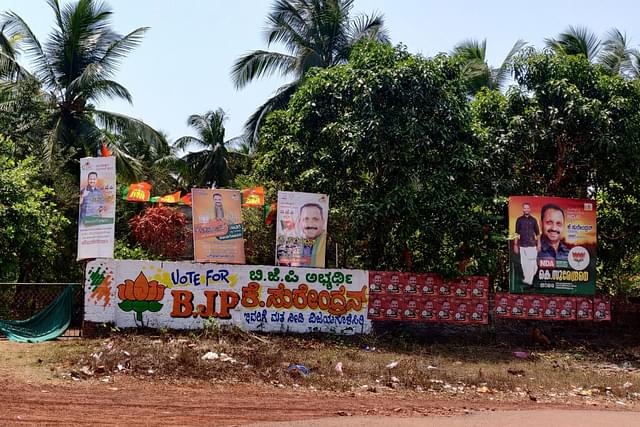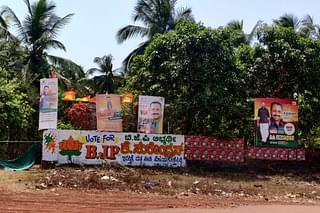 Posters of BJP candidate for Manjeshwaram K Surendran in Uppala.
But on the opposite side are posters of the "face of dharma" in Kerala, Bharatiya Janata Party (BJP) state president and Manjeshwaram candidate K Surendran. While the lotus too can be found next to him visually reimposing the party symbol, it is his face that forms a large part of the campaign material with Prime Minister Narendra Modi and the party's chief ministerial face E Sreedharan relegated to a tiny top corner.
Apart from these stray posters on private properties, the visual landscape tells how the election fever is soaring higher than the temperature in the god's own country as rules bar display of campaign material like hoardings and flexes on public land.
But in Kerala's northernmost district which has been a traditional UDF stronghold, for the first time in few decades, people are looking forward to a change of government as much as that of the season.
For this, nobody's child Manjeshwaram is a unique case as is its larger Kasaragod district to which it belongs. Domicile accords them Keralite status, demography hints at a surging Muslim population while linguistic profile makes it predominantly Kannadiga.
Also, Kerala has forever ignored this northern tip for its closeness in virtue and value to Karnataka.
Also unlike the rest of Kerala which has the Muslim League and communists battle it out in most seats, here in Manjeshwaram the BJP has been a strong contender, with Surendran losing the battle for a mere 89 votes last time around.
Surendran who has been at the forefront of the Sabarimala agitation is BJP's candidate from Manjeshwaram as well as Konni. As their campaign broadcast vehicle announces, it's a battle for "dharma and development" in a region that has almost stayed frozen In time for the past four decades.
While on one hand you have the sitting IUML MLA M C Kamaruddin embroiled in a number of cases around the investment scam, the LDF is accused of ignoring the region like it has done even while being in power for ages. It is also accused of playing to the galleries indirectly facilitating consolidation of Muslim votes for the IUML by not fielding a Muslim candidate.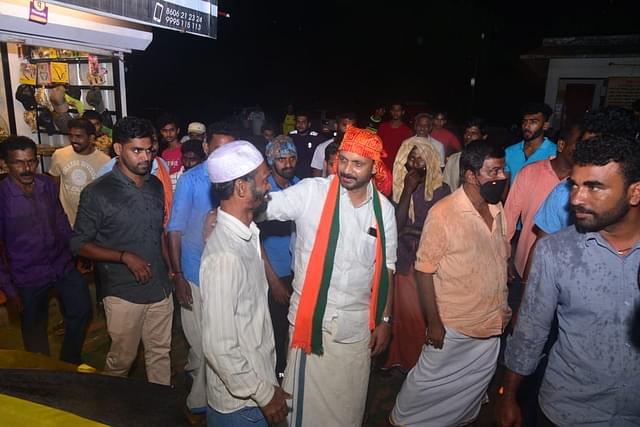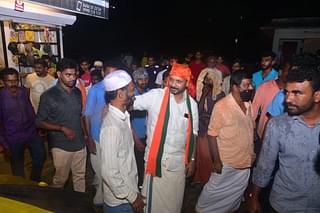 K Surendran on the campaign trail.
Local UDF volunteers campaigning in the region around the interiors of Manjeshwaram, which has 53 per cent Muslim population, say "insha allah" UDF will win like it has all these years.
"We have won Manjeshwaram four times since 1996 except once in between when the LDF did. And we will win with a margin of 10,000 votes this time," said UDF convener Saifullah during the door-to-door campaign.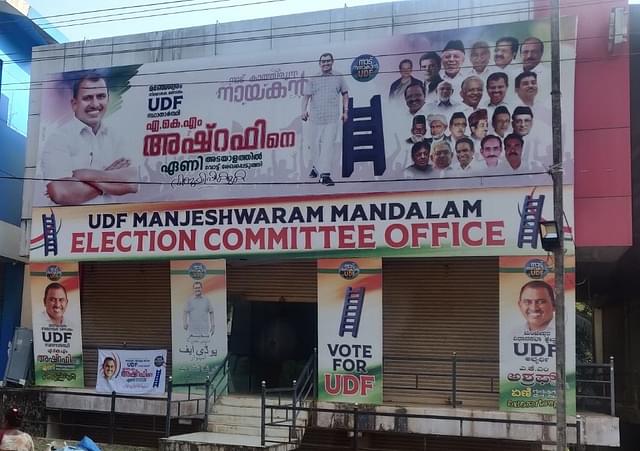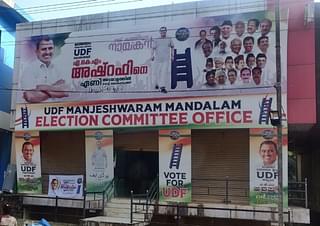 UDF office in Manjeshwaram.
Chatting up a bunch of autodrivers who owe allegiance to the different parties in contention reveals the battle isn't easy. While "the state will still see an LDF government" say those who have benefitted from "the kits that Pinarayi Vijayan gave post the pandemic", visibly BJP backing Hindus say Manjeshwaram is hoping for a change that brings some attention to the forsaken district.
"The internal feud among the communists that led to V V Rameshan getting the ticket in place of Jayanand will also influence the results. We hope they vote for the communists even if not for the BJP," said a local booth incharge, wary of the two forces joining hands to oust the national party.
"For over four decades, we have got nothing. With the candidature of Surendranetta, even the internal disagreement within the party seems to have been settled. As he is an 'ajaatashatru'. Hopefully things change for the good and we get to be part of the development wagon," say many highlighting the plight of the district.
"Keep hoping" retorts another and pointing at the roads of Kerala, given that there is where they spend most of the time.
"Where else will you find such roads?" he asks.
"What's the use of the roads when every five minutes you have an ambulance speeding past trying to take patients to Mangalore to get them even basic treatment. We have had no colleges, no hospitals, no industry for the last four decades, and the pandemic highlighted our fate," explain the others.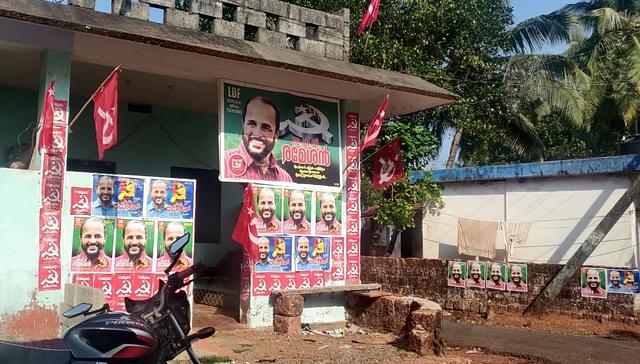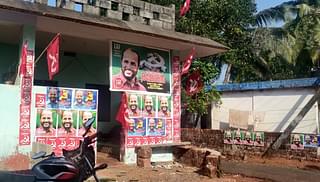 LDF posters in Manjeshwaram.
The battle is a strong one and BJP workers while confident of a victory are apprehensive of expressing it for fear of losing it at the last hour like they did last time. There have been many issues from alleged 'bogus votes' to name-sake candidates that are said to have costed Surendran Manjeshwaram by such a narrow margin.
The name-sake candidate K Sunder who ate into Surendran's votes winning 500 votes last time has been brought into the BJP fold this time around. But another Surendran has filed his nomination as an independent candidate and despite attempts by BJP leaders to withdraw nominations, apparently 'vanished' right in time.
For the BJP, it is surely an important seat to literally make inroads into Kerala and it has all its leaders from neighbouring 'saffron' district campaigning in the region.
MLAs Sunil Kumar Karkala, Vedavyas Kamat, Dr Bharat Shetty, Karnataka BJP president Nalin Kumar Kateel, ministers Kota Srinivasa Poojary, S Angara have all paid Manjeshwaram a visit to win over the 'gadinadu' (border land) Kannadigas.
Bantwal MLA Rajesh Naik who was in the constituency today (April 1) seemed confident of a victory as "even Muslim and Christian households that we visited echoed the sentiment".
Christians in Manjeshwar constitute around 2-3 per cent of the votes. Surendran has been meeting local Christian leaders and was also recently in Mangalore seeking the blessings from bishop Peter Paul Saldanha of Mangalore Diocese.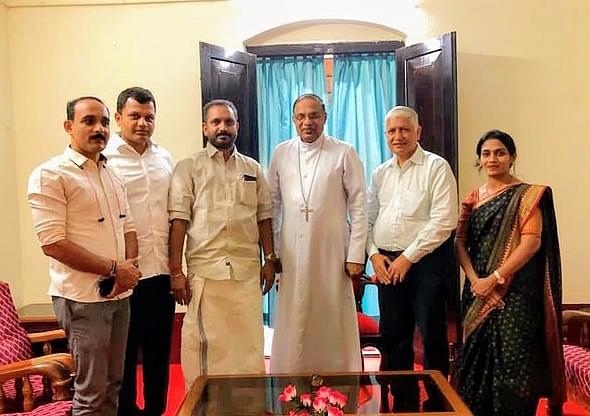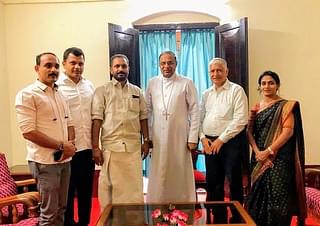 K Surendran With Bishop Rev Fr Peter Paul Saldanha of Mangalore Diocese
"Until now many Hindus refrained from voting for the BJP, as they thought it was in vain given that there was no way we would win. But after the close fight last time, many reluctant voters also have expressed willingness to exercise their franchise this time," said a local volunteer.
Surendran, who has been shuttling between his two chosen constituencies, is hopeful of accomplishing what they missed by a whisker last time, owing to "the adjustment politics and the malpractices like bogus votes".
"We are well prepared to tackle it this time. Development is our only agenda as Manjeshwaram is the most underdeveloped area, lacking everything from schools to roads to drinking water. My aim is to make a self-reliant Manjeshwar," says Surendran.