It's Advantage BJP In A Befuddling Battle In Bengal's Balurghat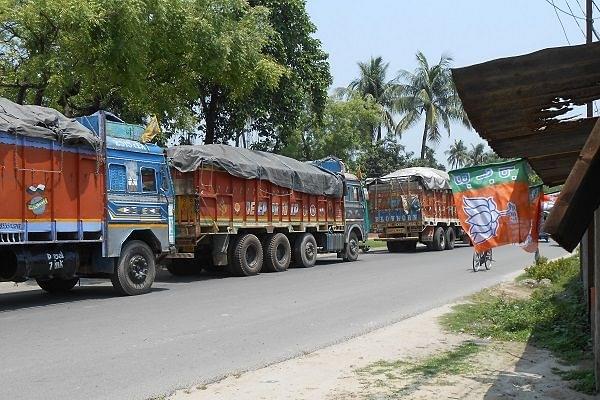 A BJP flag on a highway shop in Balurghat
Snapshot
Balurghat is a village that was initially made a part of East Pakistan due to British 'confusion'.

Today, part of the Indian state, it is fed up of electing MPs who sit in the Opposition, and now wants to be a part of the development story.
On 15 August 1947, when India became independent, darkness descended on Hindu-majority Balurghat as it found itself included in East Pakistan. All thanks to the arbitrary and whimsical line drawn by Cyril Radcliffe to demarcate the boundaries of India and Pakistan.
When citizens of Balurghat rose in revolt and demanded inclusion in India, the departing British corrected the anomaly, attributing it to the "confusion" created by the Radcliffe line. The Tricolour was ultimately hoisted in Balurghat on 18 August, and it became part of India a full three days after Independence.
A full 72 years later, Balurghat is again engulfed in confusion, and this time, it is political in nature. There is no ostensible reason why the Trinamool Congress candidate from this Lok Sabha constituency, theatre personality Arpita Ghosh, should find the going tough. But the prospects of the BJP candidate, Botany professor Sukanta Majumdar, are very bright. And this is the conundrum that the Trinamool is struggling to find answers to here.
Ghosh does not face much of an anti-incumbency and the many welfare schemes and development projects launched by the Mamata Banerjee government have benefited people here. But there is a strong wind of change blowing through Balurghat in Bengal's South Dinajpur district that juts out into Bangladesh and is surrounded by that country to its north, east and south. This wind has gained the momentum of a sudden and inexplicable storm that threatens to sweep Ghosh off her feet.
The Electorate And Past Verdicts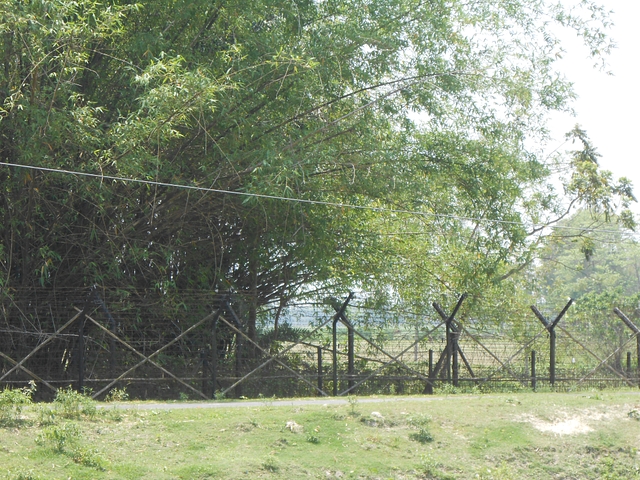 Though it is surrounded by Bangladesh on all three sides (see this map), Balurghat has not experienced a 'demographic invasion' by Muslim migrants from Bangladesh. Unlike other areas of Bengal and Assam that border Bangladesh, Balurghat has, inexplicably, not been overrun by illegal migrants from the neighbouring country. Muslims form 22 per cent of the 14.27-lakh strong electorate here and a few of them are of Bangladeshi origin. As such, the Muslims here are indigenous and liberal.
Of the Hindus, the overwhelming majority are Bengalis and only about 5 per cent are adivasis. Rajbongshis constitute about 3 per cent of the electorate. Balurghat, thus, does not have any religious or ethnic issues or problems. It has never witnessed communal tension or strife and is a relatively peaceful pocket of Bengal. The only conflicts here are political in nature.
After Balurghat Lok Sabha constituency was created in 1962, it was won by the Communist Party of India (CPI) for the first five years. For a decade between 1967 and 1977, it was held by the Congress and since then, for the next 10 terms spanning 37 years, it has been held by the Revolutionary Socialist Party (RSP), a junior partner of the Left Front that ruled Bengal for 34 years from 1977.
Arpita Ghosh wrested the seat from the RSP in 1977 by a convincing margin of nearly 1.07 lakh votes. She defeated the RSP's Bimalendu Sarkar, who polled 302,677 votes while the BJP's Bishwapriya Roychowdhury came third by polling 2.23 lakh votes.
In the 2009 Lok Sabha elections, the RSP scored a narrow victory with its candidate (Prasant Kumar Majumdar) polling just 5,105 votes more than the Trinamool's Biplab Mitra. While the RSP's vote share was 44.38 per cent, the Trinamool's vote share was 43.79 per cent.
In contrast, the BJP's Subhash Chandra Barman polled just 59,471 votes and his vote share was a measly 6.82 per cent. However, in 2014, though Aripta Ghosh won by a good margin, her vote share was 38.53 per cent, a decline of 5.26 per cent over the 2009 vote share of the party. The RSP's vote share reduced dramatically by 15.91 per cent from 44.38 per cent in 2009 to 28.47 per cent in 2014. And in contrast, the BJP's vote share increased appreciably from 6.82 per cent in 2009 to 20.98 per cent in 2014.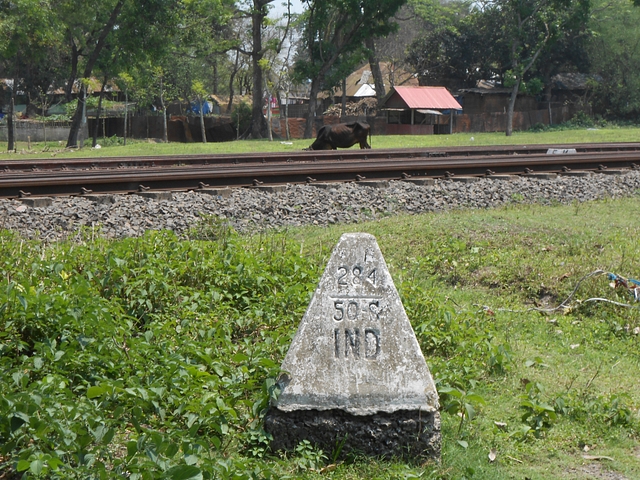 BJP's Growth
Since 2014, the BJP has strengthened itself organisationally. It has enrolled thousands of new members and many from the RSP and the Trinamool have joined the saffron party in the past few years.
The BJP's growth has been silent but steady. "It was necessary to operate below the Trinamool's radar, or we would have exposed ourselves to the Trinamool's hooliganism. We were not very strong and were thus vulnerable even till a year ago. Now, we are strong enough to resist attacks by the Trinamool," said a BJP leader of Balurghat.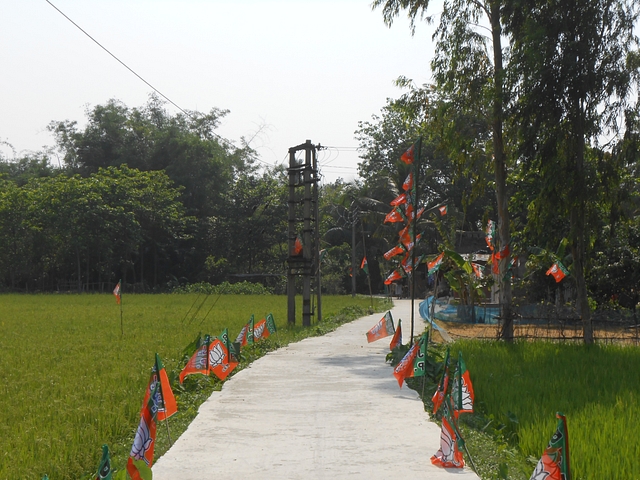 The RSS, too, has increased its footprint in South as well as North Dinajpur. "We run schools and carry out many social and cultural activities. We have been quite successful in our endeavour to make people here more religious and spiritual and take pride in their sanatani heritage. Our work among the adivasis has been very encouraging. We have also got a very good response from the majority Bengali Hindu community in these parts," said an RSS karyakarta.
The fallout of the increasing footprint of the Sangh Parivar in Balurghat is apparent. Over the past couple of years, Ram Navami, Hanuman Jayanti and Ganesh Chaturthi are being celebrated with increasing fervour and by a greater number of people. Even the interior villages of Balurghat were awash with saffron Ram Navami flags a couple of weeks ago.
Ram Navami processions in Balurghat and small towns attracted hundreds of participants, and many houses and business establishments here proudly fly the saffron dhwaja - an overt proclamation of Hindu identity.
Advantage BJP
But all this still does not explain the tailwind that is propelling the BJP towards a probable victory. Political analyst Bhupesh Barman explains that a very strange and unique sentiment seems to be working among the electorate of Balurghat.
"People of Balurghat feel that the state government's ability to usher in economic progress of the area is limited and only the BJP can ensure that. They feel that if they send the BJP candidate to the Lok Sabha, a number of their demands for mega projects will be met. They have seen projects like the four-lane highway to Hilli on the Indo-Bangladesh border underway and they want more. They also think that Professor Majumdar (the BJP candidate) stands a good chance of being made a minister in the next government, which they believe will be an NDA one. And their MP, if made a minister, can bring in a lot of development. They feel that if Arpita Ghosh is re-elected, she will once again be sitting in the Opposition benches and that will do no good to Balurghat," said Burman.
People of Balurghat have been disappointed with the dashing of repeated hopes raised by the Mamata Banerjee government of making the Mahinagar airport of Balurghat operational once again for commercial flights. "Commercial flights can be made viable only under the UDAN (Ude Desh Ka Aam Nagrik) scheme launched by the Modi government and for that, the cooperation of the Union government is necessary.
It is much better to have an MP in the treasury benches than in the Opposition benches for this," said Amarendra Majumder, a retired state government employee who is now associated with a social organisation.
A major demand of the people of Balurghat is increasing the frequency of trains to Kolkata and Siliguri. This demand, too, can be met only by the Union government and electing Majumdar thus makes more sense for the people there. The Atreyee river that originates near Siliguri in North Bengal and flows through Bangladesh before re-entering India at Balurghat is a perennial source of woe for the people of Balurghat.
Since Bangladesh siphons off most of the river's waters for irrigation and other purposes, it carries very little water when it enters Balurghat. During the scorching summers, it runs totally dry. "We want the Union government to take up this matter with Bangladesh and our local MP can influence the Union government to do so only if he is part of the government," said Majumder.
The people here also feel that their other demands, like increasing employment opportunities, setting up of agro-based industries, improving agricultural output and improving Balurghat's poor infrastructure can only be met by the Union government.
"The people here have seen what difference it makes to have their local MP as a union minister. Malda's MP A.B.A Ghani Khan Choudhury was the Railway Minister for a few terms and he changed the face of Malda (which is next to Balurghat). Priya Ranjan Dasmunshi, who represented neighbouring Raiganj a few times and was a minister in the Union government, also did a lot for his constituency, Now, the people of Balurghat also want the same and that can explain the sudden support for the BJP," said Nitya Gopal Sarkar, a trader.
State Projects Not Enough
The state government has, admittedly, undertaken a number of projects in Balurghat and the people here have also benefited from a number of state schemes. A new polytechnic institute has come up at Hilli, and a new college has been established at Kumarganj.
Public healthcare facilities have witnessed appreciable progress with two super-speciality hospitals coming up at Balurghat and Gangarampur, and cancer, neonatal, dialysis units and a CCU coming up at Balurghat Civil Hospital.
Kisan mandis have come up in all administrative blocks, many rural roads have been built and the existing ones improved, a textile hub has been established at Gangarampur and state schemes like Swastha Saathi (health insurance for unorganised sector workers), karma tirtha (vocational training centres) and sabuj sathi have benefitted many. At Arpita Ghosh's personal initiative, a new 'Natya Academy' has been established at a cost of Rs 12 crore in Balurghat.
However, for the people of Balurghat, all that is not enough. "We want the mega projects that can only happen with the cooperation of the Union government. Since the NDA is most likely to return to power, the only way to ensure that is to vote for the BJP candidate.
Most people feel that if elected, he will me made a minister since he is educated, erudite and has an extremely clean image. He is an associate professor (of Botany) at the state-run Gour Banga University and is a good person," said Tapan Barman, a young advocate.
People's Voices
That the BJP has made massive inroads into even the rural and remote areas of Balurghat is quite evident from visits to such areas. In Malancha village, for instance, only BJP flags and festoons can be seen.
Montu Mahato, 45, of neighbouring Jangalpur village says, "The lotus will bloom and we will all benefit". Shefali Mahato, 41, says that there is a palpable wind in favour of the BJP. Jatin Ekka, 50, says that electing MPs who sit in the Opposition (referring to the RSP MPs of the past and Aripta Ghosh since 2009) has not done Balurghat any good.
"It is time now to elect an MP of a party that will most likely form the next government at the Centre. That will bring us benefits. There is no point in having an MP who belongs to an Opposition party," he says.
Haripukur is a village that lies next to the Indo-Bangladesh border. Along with its twin village on the Bangladeshi side, it straddles the international border. Haripukur, with a population of about 650 people, is an exclusively Muslim village.
While most of the people here support the Trinamool, the Trinamool workers admit that many of their village folk have veered towards the BJP and may vote for the saffron party. Noor Nabi Mandal, 21, says that people's aspirations are rising and the youth want to see development. That can come about only if their MP belongs to the ruling party in Delhi. Abdul Sheikh, 35, says that many are shedding their antipathy towards the BJP and even joining the saffron party.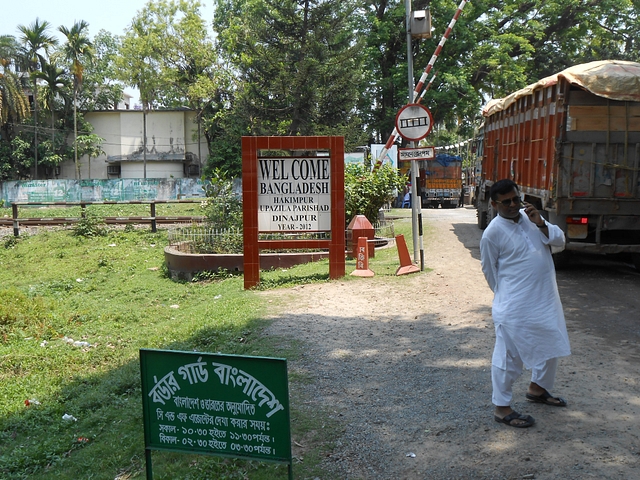 Hilli, the small town on the international border that witnessed a fierce battle (Battle of Hilli) during the 1971 Indo-Pakistan war that led to the creation of Bangladesh, had been a very prosperous one. Most of the residents of this town were engaged in smuggling gold and other items through the border that was highly porous and unfenced.
But the fencing of the border, coupled with increase in vigilance along it, started during the reign of the Vajpayee government. Smuggling activities thus came down drastically. And ever since the Modi-led NDA government came to power in 2014, all smuggling has ground to a halt due to foolproof human and electronic vigilance along the border. As a result, the economic plight of the residents of Hilli has worsened and many have left the town for greener pastures.
"We were very critical of the BJP for affecting the livelihood of many people here who were engaged in smuggling. The money generated from smuggling used to turn the wheels of Hilli's economy. That stopped completely five years ago. But of late, we have realised that whatever has been done is good for the nation. Apart from smuggling gold and other stuff, smuggling of cows has also stopped and that is good," said Ramen Das, a resident of Hilli.
The increased vigilance along the border has also resulted in a halt to entry of criminals from Bangladesh who used to indulge in various crimes on this side of the border. "We are living in peace, free from the fear of Bangladeshi criminals now. So, we are happy with the BJP, which keeps the nation's interest over everything else," says Das.
The Trinamool's internal feuds, its ugly factionalism, and the "culture of extortion", as people call it, perpetrated by the Trinamool, has angered people here. Also, the Trinamool's image has undergone a beating in recent years. Mamata Banerjee's image, too, has been sullied by her numerous antics and many acts of omission and commission.
"She is protecting the corrupt and the criminals. Her minority appeasement policies are harming Bengal. She is not good in governance and comes across as extremely power-hungry. Also, her sole agenda now is to remove Narendra Modi from power and that raises doubts over her intentions in the minds of the people. Does she have a lot to hide and is scared Modi will expose the skeletons in her cupboard? These are some of the many questions we have about her. Her image as a clean person has been tarnished," said Sunita Mondal, a retired government school teacher.
If all these voices are representative of the general sentiment prevailing among Balurghat's electorate, the BJP has a good chance of bagging this seat. Not because Arpita Ghosh (the Trinamool's incumbent MP) has been found wanting, or because the Trinamool government in the state has not done anything here, but because they want their next MP to be part of the ruling dispensation in New Delhi.
It seems the people of Balurghat have seen the writing on the national wall: that the NDA will return to power. And they want to have a direct stake in the next government through their MP. Balurghat has had enough of its successive MPs sitting in the Opposition benches. It is time, say many, to see the local MP sit in the treasury benches, and, perhaps, become a part of the Union cabinet, in order to usher in greater development and progress for the region.
Get Swarajya in your inbox everyday. Subscribe here.
An Appeal...
Dear Reader,
As you are no doubt aware, Swarajya is a media product that is directly dependent on support from its readers in the form of subscriptions. We do not have the muscle and backing of a large media conglomerate nor are we playing for the large advertisement sweep-stake.
Our business model is you and your subscription. And in challenging times like these, we need your support now more than ever.
We deliver over 10 - 15 high quality articles with expert insights and views. From 7AM in the morning to 10PM late night we operate to ensure you, the reader, get to see what is just right.
Becoming a Patron or a subscriber for as little as Rs 1200/year is the best way you can support our efforts.
Become A Patron
Become A Subscriber