Maharashtra: Microcosm Of Anti-Modi Ecosystem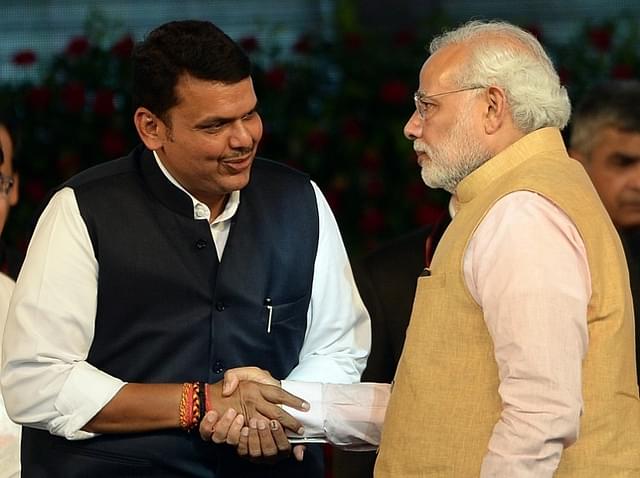 Much of the criticism of Devendra Fadnavis by other parties and media, is similar to much of  the criticism faced by Narendra Modi. Both have to contend with a hostile opposition and a left-liberal intelligentsia which opposes not on the merit of a case but only for the sake of opposing. The recent controversy over Babasaheb Purandare receiving the Maharashtra Bhushan is an example of such an opposition. 
In many ways, Maharashtra is unlike most other Indian states. It boasts of Mumbai which is India's most internationalized city. Nearly 1000 km from Mumbai is Gadchiroli, Maharashtra's tribal, Naxal, and punishing nowhere. In Mumbai itself, world's costliest private residence towers above a sea of shanties. But even those shanties are real estate booty in Mumbai as compared to the unrewarding shacks in Nandurbar 300 km apart from Mumbai. Maharashtra's Chief Minister routinely signs business agreements worth billions of dollars with global companies at the sea-kissing Sahyadri Guest House atop Malabar Hills. In his backyard of dry land Vidarbha, farmers routinely kill themselves for not being able to repay debt worth a few thousands. Maharashtra is many countries, many peoples.
Maharashtra's mosaic is not only made up of contrasts but is also crisscrossed by the conflicts these contrasts cause. The land has always been fertile with fault-lines. It is a progressive state but it has caste prejudices and clashes. Its urban visage hides its rural underbelly and tribal tendencies. Caste and communal battles here are not only between the upper castes and the lower castes; between Hindus and Muslims; between the rich and the poor. They are also within. While this may not be exclusive to Maharashtra, the intensity of its caste and communal conflicts, their interplay, and their impact on Maharashtra's political economy rarely gets discussed in the same manner the caste equations in Hindi heartland states are. This is because Maharashtra is generally considered a state which has crossed the caste Rubicon.
To an outsider, the political and ideological fights in Maharashtra, even if they have stemmed from a caste or communal context, do not look like the pathological hate wars as in Uttar Pradesh. Historically, Maharashtra's rival political schools have done business with each other. To an outsider, the Maharashtra political landscape looks sober, milder, and business as usual.
The caste of the chief minister in a 'progressive' Maharashtra  
But this is only the clichéd façade that hides the fissures. The most eloquent example of this conflict between the fact and fiction of Maharashtra is Chief Minister Devendra Fadnavis. In some obvious ways, Devendra Fadnavis is in an enviable position. He is only 44–as old as Rahul Gandhi–and yet he is already the Chief Minister of India's leading state. He was handpicked by Prime Minister Narendra Modi for the job from among the bunch of hopefuls much senior to him in the BJP. Fadnavis got the job despite being a Brahman, a politically inconvenient caste in Maharashtra. He is only the second Brahman Chief Minister of Maharashtra after Shiv Sena's Manohar Joshi in 1995. And he is the second youngest Chief Minister of this state after Sharad Pawar who earned the job at 38.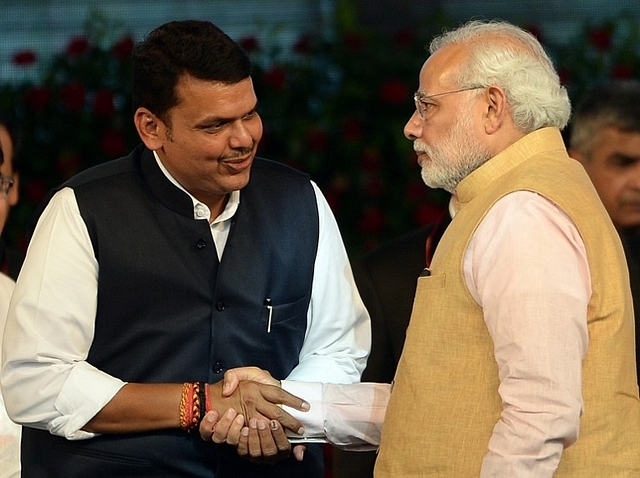 So have these pluses made Fadnavis a privileged Chief Minister? Not quite. Nine months into the job and each of his 'privileges' has become a liability for Fadnavis. His political youth earns him as many taunts as kudos from his rivals, both outside and within the BJP, who twist it as his immaturity despite evidence to the contrary. The designation of being a Modi favourite has its own aura. But it comes with strings attached—you are hated by those who hate Modi and you also have to work hard to live up to the unenviable standards Modi has set.  The last of Fadnavis's privileges, the fact that his being a Brahman did not deter Modi, has become his glorious liability.
That Fadnavis is relatively young to be the Chief Minister is something his rivals crib about but can still live with. That he is Modi's man arms Fadnavis with a protective shield around his position. But the fact that he is a Brahman and yet the Chief Minister of the Maratha-dominated Maharashtra is something many of his rivals cannot live with.
If there is something that has been at the root of most of the controversies in Maharashtra ever since Fadnavis took over, it is his caste. Post-independence, Maharashtra's political air has rarely been conducive to the Brahman community despite stellar contributions the community has made towards Maharashtra's intellectual, progressive, reformist, and cultural character.  Fault lines have always existed between the Brahmans and other castes, in particular the Marathas. Mahatma Gandhi's assassination by Godse, a Brahman, deepened these fault lines.
The Marathas have historically dominated the political landscape though there has rarely been a persecution of the Brahmans. But the fault lines have not disappeared. Rather, they have become sharper and shriller. They manifest themselves obscenely whenever there is a sudden fuse, like the fact that there is a Brahman Chief Minister in office.
There were strong reasons why Modi and BJP President Amit Shah threw their serious weight behind Fadnavis despite him being a Brahman, relatively young, and inexperienced. Fadnavis is clean, has the RSS pedigree, and is most qualified by some distance among all the chief ministerial aspirants to represent an urban, industrial, and economic powerhouse like Maharashtra. It was actually an easy choice to make for Modi and Shah.
Today if Modi and Shah were to sit down for Fadnavis's performance appraisal, it is quite likely they would give him 7 or 8 on the scale of 10.  Fadnavis has done a commendable job so far. To list out only few of his achievements: He has intelligently revived the previous Congress-NCP government's neglected scheme of 'Jalyukta Shivar' (a water conservation programme) and made it his own through a very rigorous implementation. As reported here by Aashish Chandorkar, the programme could revolutionise Maharashtra's agronomy and also assure long-term political dividends for the BJP.

Maharashtra has bagged a slew of big-ticket FDI proposals and Fadnavis's pro-active leadership has certainly played a role in getting these MoUs. He has also demonstrated a remarkable steeliness against populist demands such as debt-waiver for farmers and instead invested in long-term solutions.
Maharashtra's multiple mutinies
But his achievements have counted for little since his rivals have picked on his caste, without being vocal about it of course, and have created controversies out of non-issues. Sometimes, the caste dimensions are subtle but significant. Sometimes, they come out quite crassly as in the recent controversy involving Fadnavis government's decision to award Maharashtra Bhushan, the state's top civilian honour, to Babasaheb Purandare.

Purandare, 93, has made a phenomenal contribution towards popularising the exploits of Shivaji Maharaj through his theatrical reproduction 'Jaanata Raja' and Shahiri (a sort of ballad) applauding the great king. Purandare has never called himself a historian but has based his popular exposition of Shivaji Maharaj on the historical records documented by others. His emphasis has always been making Shivaji Maharaj and his folklore part of the public psyche in Maharashtra so that the great icon continues to inspire generations of people.
But the decision to honour Purandare evoked sharp and personalised opposition from some quarters, most notably from the Sambhaji Brigade, which calls itself a social organisation but clearly has political ambitions and anti-Brahman tendencies.  Sambhaji Brigade activists have had the dubious distinction of vandalising the Pune-based Bhandarkar Oriental Research Institute (BORI) in 2004 after the Brigade alleged that BORI had assisted American professor James Laine in writing his book 'Shivaji: Hindu King in Islamic India'. The book, Sambhaji Brigade claimed, insulted Shivaji Maharaj and his illustrious mother Jijau. The then Congress-NCP government in Maharashtra, which clearly had sympathies for the vandal acts of the Brigade, promptly banned the book and it stands banned to date.
Even in 2004, the allegations against Prof. Laine's book had caste overtones. It was not a coincidence that all those people the Brigade and the NCP accused of assisting Prof. Laine were Brahmans. Purandare was one of those people.
The Maharashtra Bhushan honour revived the personal animosity Sambhaji Brigade and the likes harbour against Purandare.  For the record, the Brigade couched its opposition to this honour for Purandare in generic, ideological terms—that Purandare had reduced Shivaji Maharaj to a mere Hindu king. But it was just the veneer. The unstated but real bone of contention was that a Brahman Chief Minister had chosen someone from his caste for the honour.
Fadnavis's performance as the Chief Minister or Purandare's outstanding contribution did not matter.
Sambhaji Brigade was not alone in opposing Purandare. In fact, Purandare became the cause célèbre for a variety of people to come together and oppose the Fadnavis government. Two activists even filed a petition in the Bombay High Court against the decision to honour Purandare. The HC dismissed the petition and also fined the petitioners Rs. 10,000 for wasting the court's time on such a frivolous and publicity-seeking petition. Maharashtra's so-called progressives, rationalists, socialists, communists, and of course the secularists joined ranks with the Brigade. The parallels between the anti-Purandare brigade in Maharashtra and the anti-Modi brigade nationally were far too obvious to ignore. Both make the same noise, both have a demonstrated ability to blow an issue out of proportion, and both hate Modi.
The similarities between those who opposed Purandare and those who have been opposing Modi, and by extension the RSS and BJP for decades, are not surprising. For they are the same people!  Some of them oppose Purandare because he is a Brahman. Some oppose him because he has celebrated the Hindu king Shivaji. Some who joined Sambhaji Brigade in opposing Purandare did that because it gave them an opportunity to attack Fadnavis-Modi.
The cause célèbre and the usual suspects
It was in August 2013 that rationalist thinker and activist Dr Narendra Dadholkar was gunned down in Pune in broad daylight. Dr Dabholkar, a much kinder and wiser man as compared to the shouting brigade of shrill and spurious 'activists' who masquerade as his followers, was severely opposed by the obscurantist Sanatan Sanstha and Hindu Janjagruti Samiti in Maharashtra for his rationalist movement. He was also threatened by these militant outfits. So it was natural that the police were expected to zero in on these organizations as one of the primary suspects for Dr Dabholkar's murder. In fact, then Chief Minister Prithviraj Chavan had a great flight of intelligence when he declared that Dr Dabholkar was murdered by the same people who had murdered Mahatma Gandhi!

So in a way the police had an open and shut case. The home ministry in Maharashtra was headed by NCP which had no reasons to go soft on the Sanatan Sanstha and Hindu Janjagruti Samiti. Yet, from August 2013 till September 2014, the Congress-NCP government had not achieved a single breakthrough in the Dabholkar murder case. The case is now being probed by the CBI but it has not achieved much either.
Two years later, there is nothing on record that even suggests that these Hindu organizations had a role in Dr Dabholkar's murder. Yet, the Hindu organizations, and by inference the RSS-BJP-Modi, routinely get blamed in mainstream media discussion, social media, and panel discussions on TV.
The investigating agencies are still clueless about who killed Dr Dabholkar and the murder mystery has gotten more mysterious. But Dr Dabholkar's self-proclaimed rationalist followers, who had no shame in associating themselves with obscurantist elements just because it offers them an opportunity to take potshots at RSS-BJP-Modi, are convinced that Dr Dabholkar was killed by some Hindu fanatics and they say as much in their pontificating appearance on television shows.
So what if there is no evidence? So what if a friendly political dispensation in Maharashtra and at the Centre did not have supportive evidence even to implicate the Hindu organizations? So what if their continuous rant against Hindu organizations has actually misled the probe into Dabholkar murder?
It would not be incorrect to say that the design to jump to conclusions, pre-identify the culprits, and to run media trials, has completely thrown the probe off track. This design forced the investigators to follow only one lead and one set of suspects. It has not yielded any results but in the process other crucial leads and suspects may have escaped beyond reach now. Those who have persistently been holding the Hindu organizations guilty without an iota have not even acknowledged other theories or motives for Dr Dabholkar's murder. Because if they do, they lose the opportunity to gang up against RSS-BJP-Modi!
In February this year, senior CPI leader and rationalist Govind Pansare and his wife were shot at in Kolhapur in a much similar fashion by unidentified assailants. Pansare died later but his wife, who spent a long time in the hospital, is not able to recall much about the attack. There has not been a breakthrough in this murder also. But that has not stopped Pansare's followers from pre-identifying the culprits. The discourse on Pansare's murder has followed the same political slant—innuendoes and hints at the involvement of Hindu organizations are routinely made by the same people who opposed Purandare and who see a Modi design in everything negative that happens in India!  
A connect has also been made between the Fadnavis government's decision to honour Purandare and its failure to crack the Pansare murder case. Pansare had authored a much popular book 'Who was Shivaji?' that offered an alternative interpretation of Shivaji Maharaj as a secular ruler of people of all classes and castes. Pansare claimed that Shivaji was not a Hindu king. His followers, which include Hamid Dabholkar and Mukta Dabholkar, the son and daughter of Dr Dabholkar, have said that Pansare's interpretation of Shivaji is against the Rightist narrative that projected Shivaji as the Hindu king. This could be the reason why Pansare was killed by Hindu organizations, some of his followers have alleged.
Any evidence to back this claim? Nothing so far!
But all other possible theories and motives for killing Pansare, who was also leading a powerful anti-road toll agitation in Kolhapur, get ruled out automatically and the police are forced to follow only one theory. It is anybody's guess as to how thorough and inconclusive such a probe could be. But the so-called progressive, rationalist followers of Dr Dabholkar and Pansare do not seem interested in really knowing who killed them. They already know the culprits.  And there is a friendly media to run the trials!  Maharashtra's multiple mutinies continue to wage the larger battle against RSS-BJP-Modi and to look for newer causes or create causes when there are none.
Get Swarajya in your inbox everyday. Subscribe here.
An Appeal...
Dear Reader,
As you are no doubt aware, Swarajya is a media product that is directly dependent on support from its readers in the form of subscriptions. We do not have the muscle and backing of a large media conglomerate nor are we playing for the large advertisement sweep-stake.
Our business model is you and your subscription. And in challenging times like these, we need your support now more than ever.
We deliver over 10 - 15 high quality articles with expert insights and views. From 7AM in the morning to 10PM late night we operate to ensure you, the reader, get to see what is just right.
Becoming a Patron or a subscriber for as little as Rs 1200/year is the best way you can support our efforts.
Become A Patron
Become A Subscriber