Tricolour On Capitol Hill: The Case Of Tharoor-Loving Malayali Christian Trumpian And Pavlovian Hinduphobia Of Left-Liberal Jamaat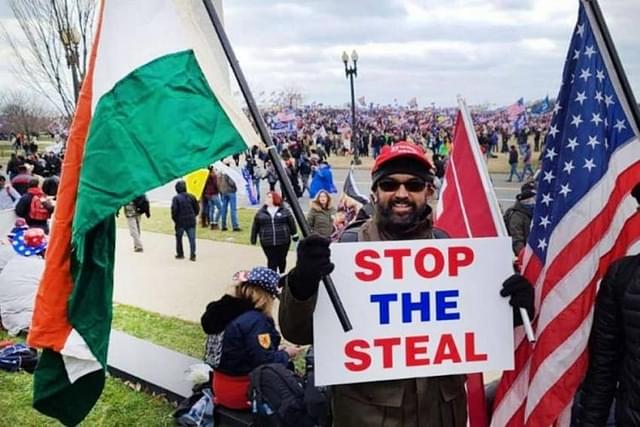 Twitter
Snapshot
The appearance of an Indian flag in Washington, DC at a pro-Trump rally, and the risibly Pavlovian manner in which the left-liberal jamaat jumped so spontaneously to puerile conclusions over it, offer instructive insights.
The American parliamentary confirmation of Democrat Joe Biden's election as their next president was held at Capitol Hill in Washington, DC on 6 January.
The formality was marred by large-scale protests outside the building, by crowds waving banners and flags. They, like millions of Republicans, believed that Biden had won by a combination of vote-bank politics and electoral irregularities and were intent on volubly showing their disfavour towards the verdict.
Meanwhile, a small group of protesters entered the Capitol building and went on a rampage. The police had to resort to firing and a few of the protesters were killed. The confirmation process was, nevertheless, concluded as per law and Biden will be sworn in on 20 January.
However, the strangest oddity was the appearance of an Indian tricolour on Capitol Hill. It caught everyone's eye and a few people's goat.
Revealingly, our left-liberal jamaat promptly presumed that the individual carrying the tricolour was a 'Sanghi bhakt'. All their angst, which had been suppressed since the popular October 2019 'Howdy Modi' event with Donald Trump in Houston, Texas, came pouring out. Hindu supremacists alongside White supremacists, they cried, was the fearsome inevitability they had stridently warned against for long.
Leading the valiant charge was our favourite ultracrepidarian, Dr Shashi Tharoor. To him, an Indian flag on Capitol Hill was a dire warning, a Kurtzian horror of apocalyptic proportions, right out of a black heart of ideological darkness.
Ironically, though, it soon came to light that the man holding the tricolour was not an evil Hindu; rather, he was a 54-year-old card-carrying Republican and a pukka Malayali Christian émigré from Kochi, Kerala, named Vincent Xavier Palathingal.
The internet went quiet in an instant, as our righteous doomsayers scurried for cover. You couldn't tell which was worse – the egg on their faces, or their shock, at the revelation that a dark-skinned Christian had traitorously voted Republican instead of Democrat.
Nonetheless, this appearance of an Indian flag in Washington, DC at a pro-Trump rally, and the risibly Pavlovian manner in which Tharoor & party jumped so spontaneously to puerile conclusions over it, offer instructive insights on various aspects.
One, this reflexive left-liberal tendency to instantly assume that anyone holding an Indian flag has to be a Hindu perfectly encapsulates both the madness that is identity politics and the perils of such vacuousness in deepening social divides.
Two, the belief that the waving of the tricolour is somehow a malevolent act (evidenced by the anguish of such social media commentary) demonstrates just how distanced a certain section of our society has become from their own, traditional identities.
Three, by corollary, it underscores the actual, complex, intricately-hued, non-binary, non-exclusionary nature of human identity – especially in a land of immigrants like America. There is an ethnic identity, a religious identity, and a national identity, all of which rest comfortably together in a decent life.
Four, the episode reveals a deep, existential fear: if ethnic minorities start voting for conservative parties, then liberal parties won't have a leg to stand on.
As the recently concluded American presidential elections showed, the only reason Biden and the Democrats won is because they were able to mobilise the black vote in swing states in unheard-of numbers to pip Trump by a whisker.
But for those select, record turnouts in half a dozen black-dominated counties, it would have been a veritable Republican sweep again.
The desolate echoes in India of that close-run affair is the shattering electoral impact our secular parties would suffer if ever Muslims junked identity politics and gravitated even slightly towards the Bharatiya Janata Party (BJP).
Fifth, Palathingal is emblematic of a deeper truth, which might be unpalatable to those who freaked at the sight of him carrying an Indian flag – that Trump, in spite of a hostile press, and his tendency for boorishness, managed to rise above stereotypes of being a Bible-belt candidate (of and for Whites) to get through to voters of other ethnicities as well, on the basis of his policies and his performance.
Even Trump's worst detractors will have to grudgingly admit that the American economy did quite well during his term. That appears to have struck a chord. So too the way he went after the bias and censorship openly exhibited by social media giants (colloquially called 'Big Tech') and how tough he was on China.
People like Palathingal also represent a certain type – successful, confident, self-made, self-assured, and commanding enough self-respect to absorb the disparate strands of their peripatetic pasts into a wholesome unity; to wit, those who don't need to hide behind the mediocrity-protecting shields of manufactured identities, since they are able to perceive phenomena like Trump for what these actually represent rather than the ominous doom and gloom they purportedly augur.
Now, anecdotally, this may represent only a tiny portion of the Malayali Christian diaspora in North America, with the balance bulk still voting overwhelmingly in favour of the Democrats, but the winds of change are there for those who see.
Therefore, the concluding point is that one may be a Malayali, a Christian, an Indian, a Republican, and a proud American without any moral conflict. That is how ordinary people live out their lives. They are not cis-phobic or trans-phobic or multi-gendered. They don't froth at the mouth over pronouns. They are not nihilists. They see no point in constantly raging against the machine. They have no crisis of identity. They understand that white people aren't racist by birth.
They also understand that white people, who don't bend over backwards to indulge in minority appeasement, aren't racist either. They respect fairness and they particularly don't like being guilt-tripped about who they are, or aren't, by militant, post-modernist atheists. They actually detest identity politics because it saddles them with needless social stigma and leaves them at the receiving end of racial divides, when all they want is to work hard and earn an honest living.
But these aspects don't seem to have crossed the sights of our vaunted intellectuals, even peripherally. Instead, they recklessly jump to a foolish, binary-ridden conclusion: anyone waving an Indian flag has to be a Hindu supremacist bigot.
The permutation that an immigrant of Indian origin could love India, support Trump, and not necessarily be a Hindu never occurred to them. That tells you a lot about the mentality at work.
It also tells you that the problem doesn't lie with the man who carried our flag, but in the eye of the beholder.
Get Swarajya in your inbox everyday. Subscribe here.
An Appeal...
Dear Reader,
As you are no doubt aware, Swarajya is a media product that is directly dependent on support from its readers in the form of subscriptions. We do not have the muscle and backing of a large media conglomerate nor are we playing for the large advertisement sweep-stake.
Our business model is you and your subscription. And in challenging times like these, we need your support now more than ever.
We deliver over 10 - 15 high quality articles with expert insights and views. From 7AM in the morning to 10PM late night we operate to ensure you, the reader, get to see what is just right.
Becoming a Patron or a subscriber for as little as Rs 1200/year is the best way you can support our efforts.
Become A Patron
Become A Subscriber