The clamour for lifting the national lockdown on 14 April is growing especially among the economy watchers and analysts. They are rightly worried about mounting unemployment numbers which probably run into crores. In the United States, over 1.6 crore people have filed for unemployment benefits. In India, the figure could be many times more.
Some have started to wonder if the cure (lockdown) is worse than the disease (Covid-19). But just like Trump, who also wondered the same, found out soon, the choice is not simply between economic loss and loss of lives.
If the economy is opened and the virus is allowed to run through the population, not only lakhs of lives will be lost but establishment after establishment will also have to shutter down if even a single case is found on the premises. This will be a double whammy.
The only way out of this pandemic is to crush the curve of daily new cases (bring it down to zero), then open the country gradually. But even then we can't allow international flights (unless we can test all incoming travellers) to resume operations lest we risk a second wave of infections which will again involve shutting down the country.
So, is India crushing the curve? No. It's not even flattening it. Far from it.
Below graph represents number of daily new cases since 22 March when national lockdown effectively started with Prime Minister Narendra Modi's call of Janata Curfew.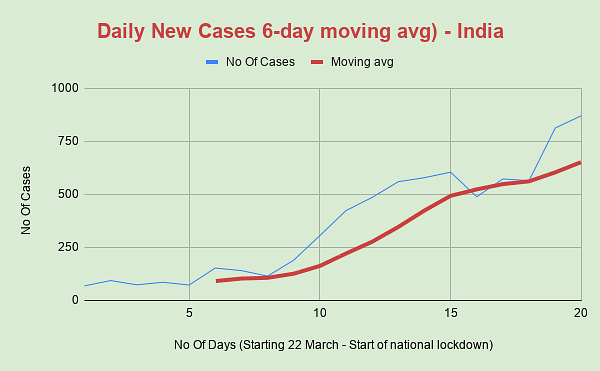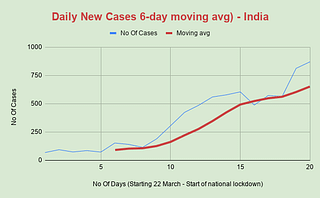 Ideally, the figure of daily new cases should've peaked around 14 days after national lockdown was put in place. In Wuhan, the epicentre of Covid-19, the gap between peak official cases and the day lockdown was announced was 12 days. The cases started plummeting after that.
In India, this is not happening. Yesterday, which was 19th day of the nationwide lockdown, we reported highest daily numbers to date. This is very disheartening.
But maybe we are looking at it the wrong way. First, we shouldn't be looking at national chart to see if it's flattening or not, as management and administrative efficiency could be different in different states and some bad apples could be skewing the national figures.
Second, in our analysis we must also account for "the known unknown" super-spreader Tablighi Jamaat whose members are deliberately hiding themselves and reporting late (or probably not reporting at all). These are chiefly responsible for delayed spikes in numbers we are witnessing the country.
Unless, every one of these infected members who were at Nizamuddin Markaz (or anyone they have infected in their hometowns) are not traced, it will delay our winning the war against Covid-19.
In any case, we should look at the state level data to see who is flattening the curve and who is not.
Let's start with Kerala which is also unique in the sense that it's one of few states which is least impacted by the Tablighi Jamaat "super spreaders".
Kerala, which was on the top a few days back in number of cases, seems well on the way to crush the curve of fresh daily cases. It's daily new case figure peaked on 27 March after which the number of daily reported cases are on continuous decline.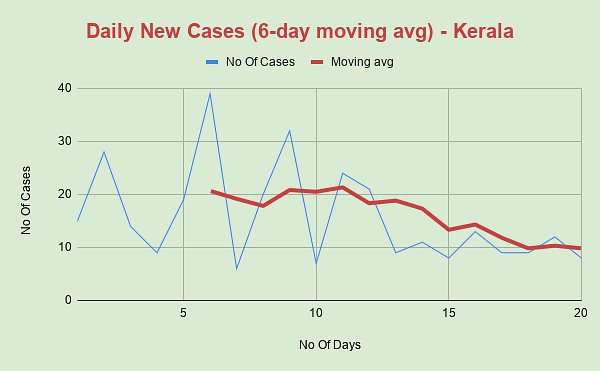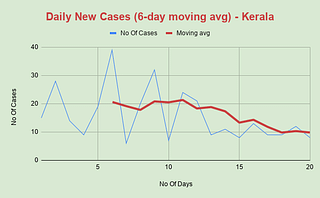 Next four states which show promise of crushing the curve are Telangana, Andhra Pradesh, Tamil Nadu and Uttar Pradesh.
Their daily cases figure peaked on 3 April, 1 April, 1 April and 4 April respectively. These states are highly impacted by Tablighi Jamaat cluster but were able to track down most of their members before they could infect more people in their communities. If there are no surprises in coming days, these states will be well on their way to crush the curve.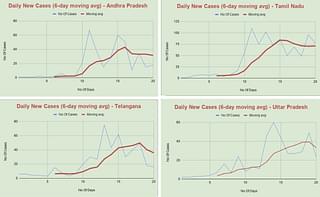 Any large surprises can mess up the trajectory of the curve. One hopes that the above four states don't witness that.
New Delhi proved to be unfortunate in this regard, It was well on its way to flatten the curve. It's figure of daily cases had peaked on 2 April but yesterday, 183 new cases were reported spoiling hopes for lifting the lockdown in the national capital anytime soon.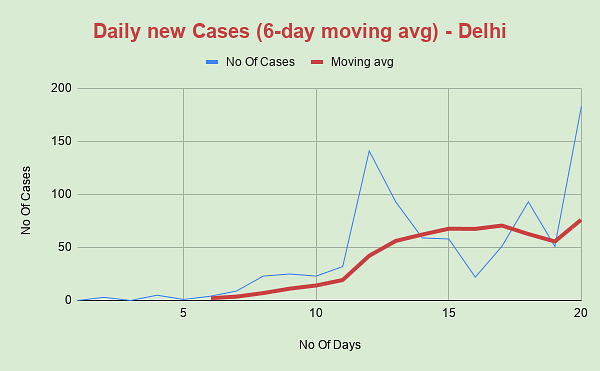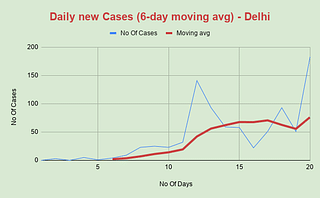 Until yesterday, 10 states (including Delhi) across the country reported more than 250 cases. Out of these, four — Kerala, Tamil Nadu, Andhra Pradesh, and Uttar Pradesh seem to be on their way to crush the curve unless there are any Tablighi Jamaat kind of surprises ahead.
Delhi will now take a longer time and one has to see if the spike yesterday is a one off event. The rest four states — Maharashtra, Gujarat, Rajasthan and Madhya Pradesh are the real worries now. Muslim localities in these states are the chief hotspots and their non-cooperation, delayed reporting, hiding of cases could cause major problems.
These states are not showing any encouraging signs and the lockdown there will have to be extended at least for a month.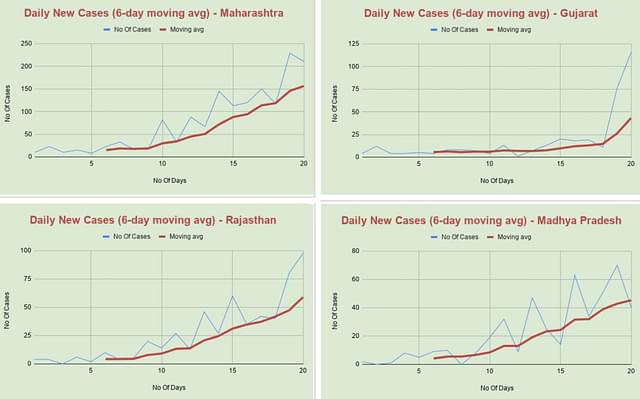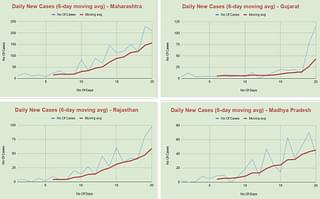 All this shows is that we cannot afford to lift the 'national' lockdown on 14 April.
By national, one means that domestic flights, trains, inter-state or intra-state buses cannot resume operation at least till the end of this month. All potentially 'super spreader' places — like schools and colleges cannot open and sports events, rallies, congregations involving people in double digits cannot be allowed.
Those who are in a hurry to open the economy should understand that it's not the government or you who can set the deadline. As US President Donald Trump's Covid-19 advisor Dr Anthony Fauci said, "You don't make the timeline. The virus does."
But this doesn't mean that we can't be smart about opening the country. We don't have to keep all 1.3 billion people locked up inside homes. 'Decentralisation of lockdowns' is the way forward.
Here's what we should do:
First, there are around 400 districts which have not reported a single case so far. If they haven't done so so far, it is highly unlikely these will do so now. So, these can be allowed to return to normalcy and all restrictions can be lifted. This means that at least more than half the country can heave a sigh of relief.
If any of these districts report any fresh cases, they can go back into lockdown. The Centre should decentralise this decision to states.
This will normalise things not only in states which are less affected but also in those which are not showing any signs of flattening the curve.
Take Maharashtra, for instance. There are 11 districts which have not reported a single case. There is no reason for people in these areas to stay inside their homes.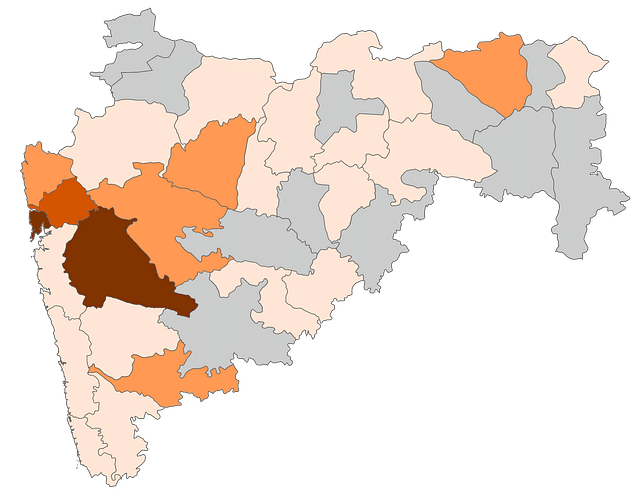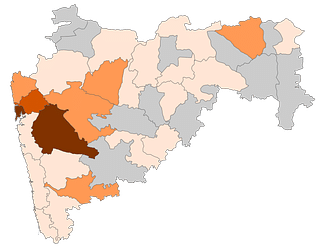 Second, the states should prepare a list (or curve) of each district and track the progression of Covid-19. There are many districts which have reported cases in single digits and it's been days since they last reported a fresh case.
Any district which doesn't report a single case for 15 days should be taken out of lockdown.
Third, similarly states which have not reported a single case or haven't reported a fresh case in the last 15 days should automatically open up themselves. Then, all operations can start there including public transport. The virus-free states can resume inter-state public transport and domestic flight operations.
International flights will be the last to restart.
Meanwhile, the governments must work overtime to prepare for future:
1. Face masks should be mandatory (even if it's made at home) for everyone who steps out of the house, like helmets are for two-wheeler riders. Some states have already started implementing this.
2. The governments should continue ramping up healthcare capacity — isolation beds, ventilators, PPE, N-95 masks, etc. The lockdown time is not just important to 'crush the curve' by social distancing but also a crucial time that we have bought for ourselves at great cost that should go in enhancing our healthcare capacity to treat more sick people. If we don't do the latter, and the country witnesses a second wave of infections, then we are just sitting ducks.
3. Testing capacity has to be increased greatly. When the country was locked down on 22 March, India had a testing capacity of 10,000 samples a day. It's increased to 20,000 a day now. This is not helpful at all. Daily testing capacity should be in lakhs for a country of our size. If the lockdown is extended, this is one area where the governments need to invest in heavily. Rather than "test, test, test", we need a "buy, buy, buy more tests" strategy.
I had pointed out the need for doing the above three things in my piece on 26 March and had written that the chief purpose of implementing strict lockdowns is to buy time and boost healthcare capacity in the short term. If we don't do that, we will be forced to remain in the lockdown phase for longer periods of time than is warranted.
Indeed, the cure cannot be worse than the disease. But opening the country in haste will be devastating. We can't afford to life the 'national' lockdown on 14 April. Patience and preparation are the key to winning the fight against Covid-19.