You Know Tabrez Ansari. Do You Know Bharat Yadav?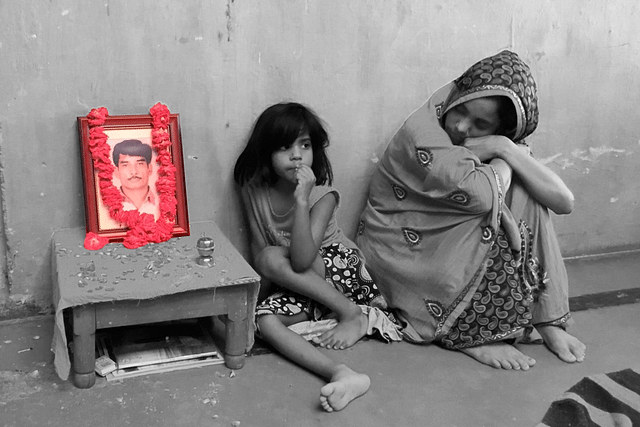 Bharat Yadav's wife and minor daughter.
Snapshot
A month before Tabrez Ansari, Bharat Yadav was lynched by a mob who repeatedly called him 'kaafir'. Like Ansari, Yadav too died days after the thrashing.

As of now, accused in both cases are charged with culpable homicide. Why are the media and the government pushing for murder charges only in Ansari's case?
In Google Search's 'News' section, when you type 'Tabrez Ansari' and hit enter, the engine fetches you report after report about the man — from mainstream media to online portals to regional language papers — running into 17 pages throwing up a total of 160-plus results.
You can also read this in Hindi- आप तबरेज़ अंसारी को जानते हैं। क्या भरत यादव के विषय में कुछ पता है?
These include statements by political leaders on breakdown of law and order and shortcomings of our justice system, links to heated television debates, angry editorials terming India a 'land of blood and shame', photographs of street protests which turned violent in many parts of the country and so on.

At least three pages are dedicated only to Jharkhand police dropping charges of murder against the accused.
Now, google 'Bharat Yadav' under the same news section. The first (as well as last) relevant entry one finds related to the man is on page five. He is referred to as a "lassi seller" and "a shopkeeper".
So, it is quite possible that most of you have read or heard about Ansari but not about Yadav.
Ansari, 24, was caught by residents of a Jharkhand village where he allegedly tried to break into a house in the wee hours. The house members and the neighbours, who had gathered on hearing the commotion, tied him to a cement pole and thrashed him before handing him over to the police that arrived around 7 am on 18 June — five hours after the call was made.
Later, a video surfaced in which the angry crowd is enquiring the suspected thief about his name. On learning that it is Tabrez Ansari — that he is a Muslim — the villagers tell him to shout Jai Shri Ram and Jai Hanuman.
Ansari died four days later in judicial custody.
Bharat Yadav, 25, was the owner of a popular lassi shop in Uttar Pradesh's Mathura, close to the Krishna janmabhoomi temple. On 18 May, a group of customers had a petty spat with him and his younger brother Pankaj.
The brothers said they had served nine glasses of lassi but the group insisted they had only five. The brothers asked the group to leave the shop without any payment. The group took it as an insult and left but not before threatening the brothers.
"They repeatedly called us kaafir. They said we kaafirs are talking too much now," Bharat's younger brother Pankaj later told Swarajya.
In a short while around 8.30 pm, the group returned with a mob of 15-20 men, armed with sticks and rods. They dragged the brothers out on the street and thrashed them.
Bharat Yadav died after five days.
In Ansari's case, the Jharkhand police initially booked 11 people and charged them for murder (IPC section 302).
Recently, the final autopsy report came out which cited the reason for death as "cardiac arrest induced by a combination of skull fracture, pale organs and filling up of blood in his heart chambers".
The police subsequently dropped the murder charge and instead booked the accused under Section 304 (culpable homicide not amounting to murder).
Under IPC Section 302, accused is punishable with death or life imprisonment while under Section 304, accused gets life imprisonment or 10 years in jail.
In Yadav's case, the police initially booked two identified and 15-20 unidentified men — only for dacoity. The victim brother had told the police that after beating them black and blue, the mob fled with Rs 15,000-20,000 kept with the cashier.
The police should've added charges of rioting and attempt to murder as well. But it didn't. Later that week, Yadav complained of severe headache and passed away in a hospital.
The autopsy cited "head injuries" as reason for death. Doctors told the family that nerves in Yadav's brain had been damaged. The UP Police subsequently booked the accused under Section 304 (culpable homicide not amounting to murder) — same charges that the Jharkhand police has slapped on the accused in Ansari's case.
No murder charges were ever added in the Mathura incident.
These cases may appear the same yet there is an important distinction which needs to be made. Unlike Ansari who was 6 km away from his house in dead of the night on a stealing spree, Yadav was lynched at his own shop.

Ansari could have avoided his fate by not trespassing into his assaulters' property, but there was absolutely nothing that Yadav could have done to avoid his.
Still, why is Ansari a bigger victim than Yadav for the establishment media?
Why did it cover these two cases so differently — rather, covered Ansari's lynching with great alarm but ignored Yadav's like the plague?
Why, in its eyes, it was a 'Muslim' who died in Jharkhand's Saraikela but in Mathura, it was a "lassi seller"?
Check the headlines used in both the cases.
For Ansari's Case:
For Yadav's Case:
That's not all.
Why are there more than a dozen follow-ups in the former but not a single in the latter? "Ansari's wife says she will commit suicide if murder charges are not added," we are told. She is angry and rightly so. Her grief is understandable. But why not did a single scribe (other than Swarajya) asked Yadav's family how they are coping with theirs?
Why did those tracking and scrutinising every development in Ansari's case for months forget about Yadav within days?

Why did those asking all Indians to hang their heads in shame over Ansari's lynching turned a blind eye to Yadav's?

Why did those who are relentlessly demanding Ansari's attackers to be tried for murder never once asked the same in Yadav's case?
These are not mere rhetorical questions but rather such of great importance which threaten to tear apart the social fabric of the nation.

Observing these unjustifiably unequal sympathies leads us to the following takeaways.
First, when the establishment media plays down cases where Hindus are victims (either by ignoring them or by hiding the bigotry of their perpetrators) but whips up sentiments when Muslims are at the receiving end, it creates a distorted image of the nation totally out of touch with reality.

It gives birth to crooked 'hate trackers' which show the national majority as always the perpetrator and the nation's biggest minority — the Muslims — as always the victim.
But once that alternative narrative, contrary to ground reality, is injected in popular discourse, every new incident adds fuel to the fire. The minority gets worked up and feels compelled to respond as it is made to feel that it is under siege.
The majority, whose victims are not only acknowledged but one that has also been demonised incessantly, feels doubly slighted. It is anyone's guess what it would lead to in a country which only seven decades ago saw unprecedented bloodshed over manufactured fears of minority.
Look what happened in the aftermath of Ansari's death. Incensed with the lynching, over 20 people, allegedly affiliated to Assaduddin Owaisi's political party, the All India Majlis-e-Ittehadul Muslimeen, entered the Dhatkidih village (Jharkhand) and threatened Hindu women with rape as 'revenge'. They also removed religious flags from a temple.
A Muslim mob, protesting the death of Ansari, attempted to set on fire a bus full of engineering students in Jharkhand's capital, Ranchi. The protesters reportedly attempted to segregate Muslims from Hindus in the bus before someone sensible in the crowd knocked some sense into them.
Another set of protesters in Jharkhand stabbed a Hindu man named Vivek Srivastava. Vivek's brother told the media that the brothers were passing by a mosque on a Friday evening when a crowd agitating over Ansari's incident first asked their names and then thrashed them before stabbing Vivek with a sharp object.
A mob protesting Ansari's death in Uttar Pradesh's Agra district made shops by Hindu owners their target. The mob vandalised them and pelted stones at the owners. Similar violence was witnessed in the Meerut district of the state.
A Muslim mob in New Delhi's Lal Kuan vandalised a century old Durga temple in the dead of the night, shouted communally charged expletives at handful of Hindu families living in the area and threatened them. For what?

They were misled that an Ansari-type lynching had happened in their area. The incident brought the national capital on the brink of a riot.
Civilisation has been aptly called a thin veneer. The leftists controlling the media are constantly trying to tear it up.
Second, in such communally sensitive cases, the leftists and their ideological travellers in media, rather than erring on the side of caution, err on the side of hysteria.
How many media outlets or outrage fueling activists told you that Ansari was a thief? That he was attempting his fourth burglary that night in Dhatkidih village of Jharkhand's Seraikela-Kharsawan district?
As per the colony residents — most of whom belong to backward castes — they were angered by repeated thefts in the area. The bike on which Ansari was travelling and the wallet in his pocket were found to have been stolen.
That, of course, doesn't justify his thrashing. But before giving this incident a communal colour, did anyone check that Hindu thieves have also received a similar treatment in the same state?
A week before Ansari's lynching, a Hindu man named Jitendra Saav was thrashed by villagers in another district of Jharkhand. Saav later passed away in police custody. A week post Ansari incident, the police booked over 100 villagers in another district of Jharkhand after they thrashed two thieves — Vijay Panjiara and Rajesh Mandal — on suspicion of theft. In July, a mentally challenged man who revealed his name as Raju Yadav was thrashed by villagers on suspicion of being a thief.
Third, when the pressure for justice is created through such selective reporting, when nationwide protests by the whole community are launched because it perceives itself as the national victim, then the Indian state would of course respond.
It only understands the language of violence potential. Only those groups or communities which have the wherewithal to extract justice by showing their street power are listened to. The system learns to respond to outrages. Judiciary gets compelled to toe the line taken in media trials. The prime minister is forced to speak on only certain incidents.
Look at how the central government is responding to the replacing of charges in Ansari's case. The Minister of State for Home Affairs G Kishan Reddy said last week that his department would speak to the Jharkhand government about it. He termed dropping of murder charges "unfortunate".
One wonders if he would also talk to the UP Police for adding of the charges of murder in the Mathura case. Because if he does not, the promise of 'sabka saath' goes for a toss.
But above all that, one wonders if he even knows who Yadav is. And therein lies the failure of, as well as the challenge, for those who are complaining about the status quo. in Jharkhand.
Get Swarajya in your inbox everyday. Subscribe here.
An Appeal...
Dear Reader,
As you are no doubt aware, Swarajya is a media product that is directly dependent on support from its readers in the form of subscriptions. We do not have the muscle and backing of a large media conglomerate nor are we playing for the large advertisement sweep-stake.
Our business model is you and your subscription. And in challenging times like these, we need your support now more than ever.
We deliver over 10 - 15 high quality articles with expert insights and views. From 7AM in the morning to 10PM late night we operate to ensure you, the reader, get to see what is just right.
Becoming a Patron or a subscriber for as little as Rs 1200/year is the best way you can support our efforts.
Become A Patron
Become A Subscriber