At 32, SG Suryah is one of the Tamil Nadu BJP's best known young faces, seen regularly on TV debates and YouTube channels.
He is one of the state secretaries of the Tamil Nadu unit of the party and is also the incharge for the party's Chennai East District, which contains the Alandur, Velachery and Sholinganallur Assembly segments.
A member of the Rashtriya Swayamsevak Sangh (RSS) from his younger days, he was associated with the Jan Kalyan Samiti (a part of the Sangh Parivar) which works to help Hindu children in northeastern states from economically weaker backgrounds by getting them educated in other parts of India and ensure that they do not become targets of conversion.
The day I spent with Suryah, happened to be 17 September, which is the birthday of Prime Minister Narendra Modi and is celebrated by Bharatiya Janata Party (BJP) members as a 'Day of Seva.'
We started off in two cars around 6.30 am from Suryah's office cum home in Thiruvanmiyur. Suryah, myself, Vignesh Kumar (a friend of Suryah and also a BJP member) and Mani (another assistant of Suryah) were in one car. The other had two of Suryah's associates ( Suryah refers to them as 'brothers') and a professional camera crew hired for the day.
Two others, Jeeva and Deena, followed in a scooty.
Over the course of the day, we were supposed to attend around 15 programmes. While most of them belonged to the party, some of them were of NaMo Foundation, which is run by Suryah and his associates.
After looking at the packed schedule, I understood that most of the talking would have to happen in the car.
While enroute to the first programme, we happened to talk about the South Chennai constituency. Vignesh, who was busy with his laptop preparing for social media posts and coordinating with the booth and mandal level functionaries regarding the programmes Suryah was to attend, also chipped in.
"South Chennai is a very cosmopolitan place," said Suryah, and then quickly proceeded to give me an overview of the electoral math, even as I was still looking for my notebook. While Vignesh had previously told me that Suryah was quick with facts and figures, I didn't expect him to cut to the chase right away.
"Also important to note is that there are about 3 lakh people, who reside in resettlement colonies built by the state government.
"Resettlement from where," I ask as I had not heard about such colonies in Chennai.
Answering my question, he said, "A lot of these people used to live in areas near rivers and the government rehabilitated them here after eviction drives."
Continuing with his explanation of the numbers, he said, "There is a large migrant population here. So while the total adult population is around 35 lakh, the number of voters in the constituency is around 22 lakh. I think this constituency probably has the highest number of voters in the state.
"It is a mix of urban and rural, unlike what it might appear from the outside. Apart from 55 wards which come under the Corporation, seven panchayats also fall under this constituency.
"Beyond the glitz of the Old Mahabalipuram Road (OMR) and East Coast Road (ECR), which you know for the IT industry and scenic beauty respectively, there is poverty. There are close to 350 slums in South Chennai."
We made a quick stop for breakfast in Nanganallur. Suryah had a simple breakfast of Idli and Pongal.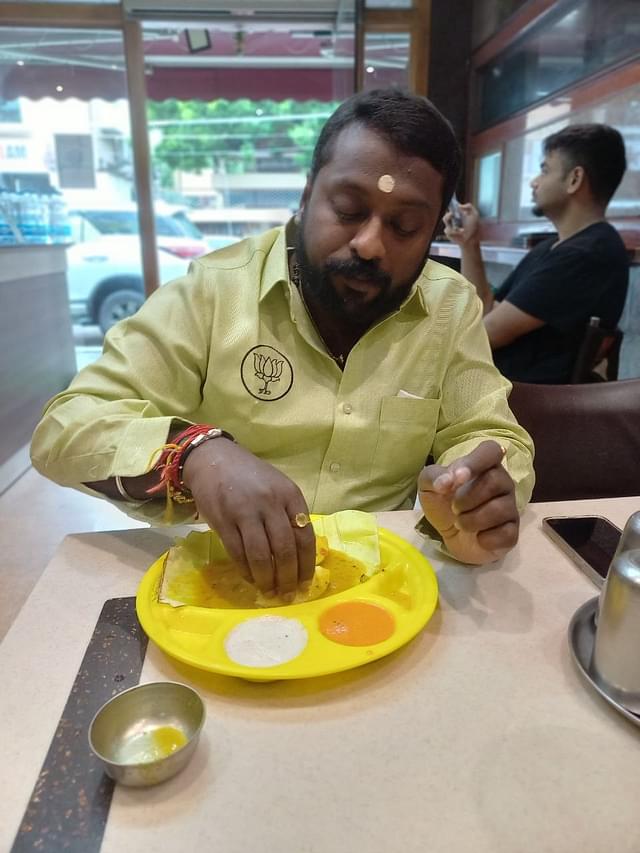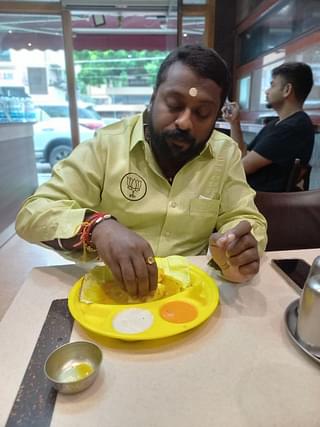 We then reached the Draupadi Amman temple at Ullagaram, where a pooja was to be held on the occasion of PM Modi's birthday. This was the first of many such poojas.
Booth members and office-bearers welcomed Suryah as he got down from the car.
After the pooja, all of them gathered and chanted slogans in Tamil, which translated to 'Long Live Modiji.'
By this time, I had also noticed that male party members were referring to each other as 'Ji', as in Hindi. It surprised me.
It was followed by hoisting of the party flag at Puzhutivakkam.
Asked about the significance of hoisting party flags, Vignesh said that it was important as it marked the presence of the party in a particular booth. Suryah later told me that while the party is now concentrating on having at least one flag in every booth, it would ideally like to have 10 flags in a booth.
How is it like at a BJP flag hoisting?
A party flag hoisting, as I was to see over the course of the day, followed a typical pattern. Party members from the area and office-bearers like the Mandal Thalaivar (head of around 60 booths) come together and the flag is hoisted amidst chants of 'Bharat Mata Ki Jai', 'Vande Mataram', 'Bharata Annayin Pugal Onguga' (a close Tamil equivalent of Bharat Mata Ki Jai).
As it was the birthday of PM Modi, they also said, "Narendra Modiyin Pugal Onguga." (Let Narendra Modi's fame grow).
After the flag hoisting, Suryah would address the gathering and motivate them to win the booth for the BJP.
In some places, crackers were burst to celebrate the occasion.
While some flagposts were 60 feet high, the others were of normal height.
When asked about the reason, he said that the choice depends on the location and permission from the police.
In keeping with the spirit of Seva, Annadanam was arranged in some of the locations.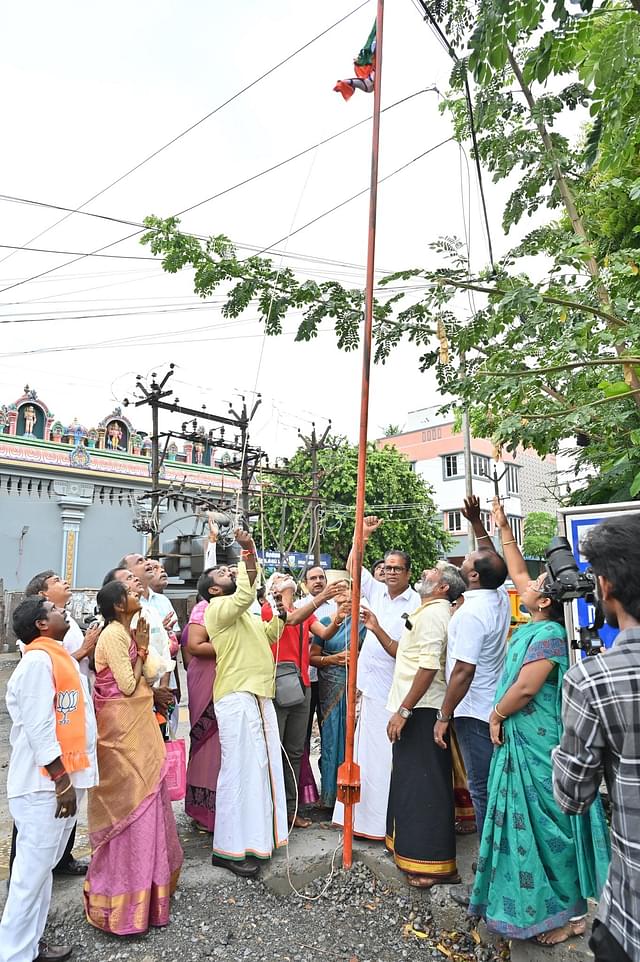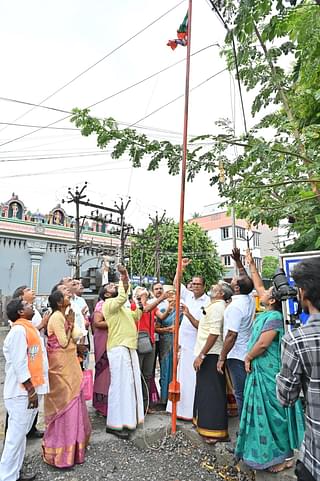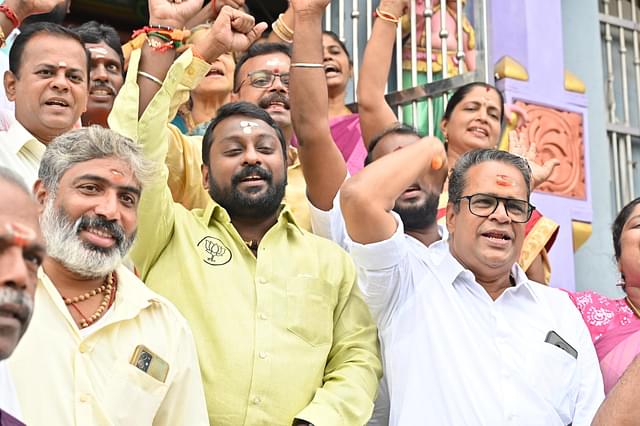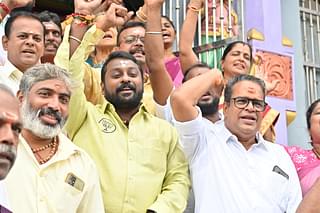 BJP members saying Long Live Modiji.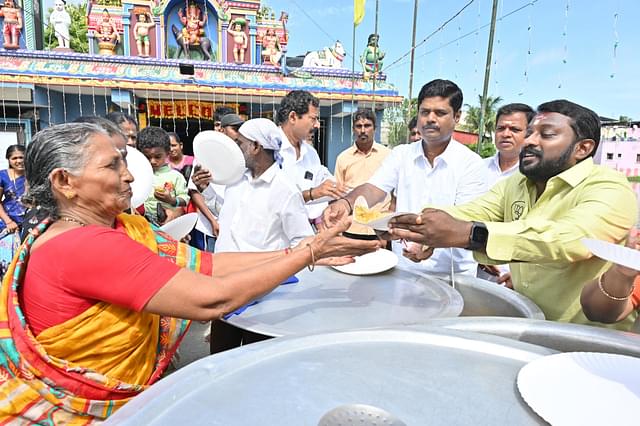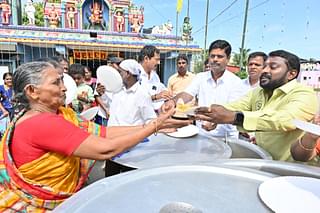 Back in the car, it was now time for me to probe Suryah further.
Hailing from Coimbatore but working in Chennai?
"I shifted to Chennai along with my family almost eight years back for professional as well as political reasons.
"I am a practicing company secretary, running a very successful corporate consultancy business here over the years. I have made Chennai my home now. In-fact, if you look closely, most of the population in Chennai migrated here at some point of time.
"Even the current MP, T Sumathy, also known as Thamizhachi Thangapandian, is from Virudhunagar."
"With regards to South Chennai, this is where I live. My family is here and I have been incharge of the area as the party incharge for BJP Chennai East District. So the area is known to me, the party functionaries at grass-roots level are known to me. I groomed and am grooming many second or third line leaders here for the last eight years. When you choose a constituency, your affinity for it deepens."
How strong is your candidature for 2024?
"For any seat there are a number of ticket aspirants. Yes, there are other aspirants from within the BJP also. The AIADMK is also keen on contesting. I believe that the work I have done for the party and the work I plan to do in the run up to the polls, will make the party choose me."
What if you don't get the ticket?
"I am here for the long run. The main goal is strengthening the BJP in Tamil Nadu. If I don't get the ticket this time around, I'll wait for the Assembly elections in 2026. If I don't get the ticket even then, I'll try again during the Lok Sabha elections in 2029."
Who is the aspirant from the AIADMK?
"Jayavardhan, the son of AIADMK Organising Secretary, D Jayakumar. He served as MP here from 2014 to 2019 and ran unsuccessfully in the 2019 Lok Sabha Elections."
Does caste matter in South Chennai?
"I would say South Chennai is one of the few constituencies in the state where caste does not play a major role due to its cosmopolitan nature.
"However, if you look at the caste composition, it has a sizeable population of people belonging to upper castes. Brahmins form about 10 to 12 percent."
Are Brahmins with the BJP?
"The Brahmin vote is split among different parties. During former chief minister Jayalalithaa's time, a lot of them were AIADMK supporters. A good number of them still support AIADMK but BJP too is gaining traction among the community.
"I'll tell you something interesting. In Nanganallur, an area that has a high Brahmin population, a sizeable number voted for Makkal Needhi Maiam (MNM) of Kamal Haasan. Earlier, it was part of South Chennai but now it is part of the Sriperumbudur constituency." (TR Baalu, the MP from Sriperumbudur, is a senior leader of the DMK).
In the meantime, we stop at other places for more party flag hoistings and annadanams. Some of them were unscheduled stops as party karyakartas would request Suryah to squeeze in an event or two.
During the halts I also noticed that the camera crew would give a memory card to Vignesh with the latest photos and videos so that he could select the best and send them to Suryah, who would then upload them while we travelled to the next destination.
Both of them were extremely attentive to detail and noted down the exact booth number, ward number and name of the locality after every event.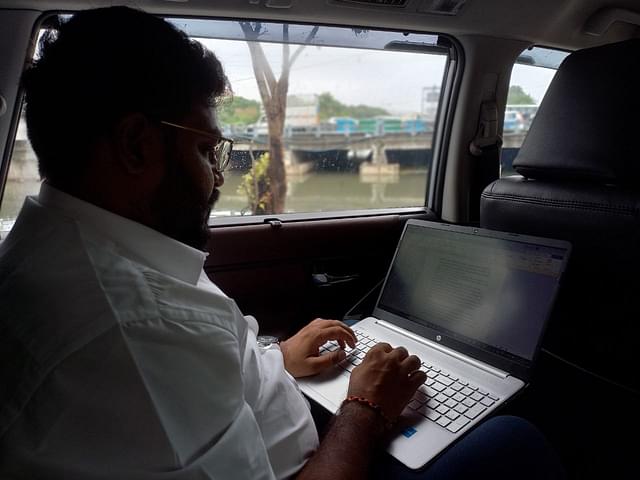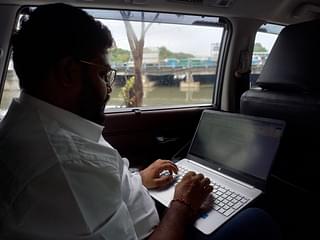 Vignesh Kumar preparing a social media post.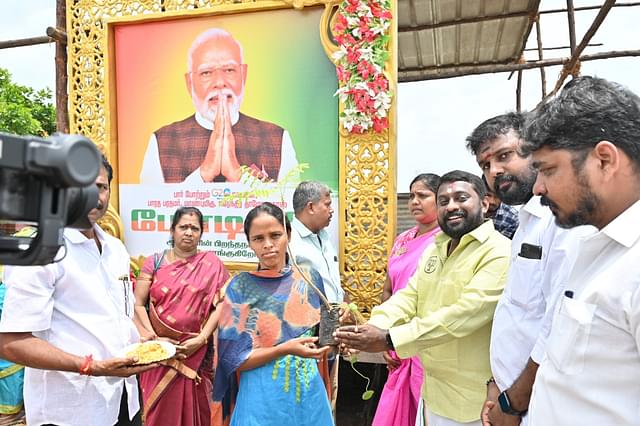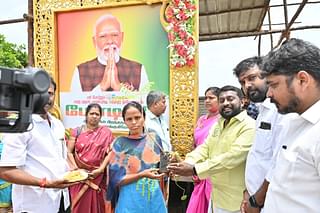 Saplings being handed over by Suryah at Kovilambakkam
Please tell me about delimitation and whether it affected South Chennai.
"Yes. During Karunanidhi's tenure, after delimitation, areas like Triplicane, Alandur, Tambaram (again with significant Brahmin and upper middle, rich class population) were changed to Chennai Central and Sriperumbudur.
"South Chennai was considered an AIADMK stronghold those days and it was alleged that the DMK resorted to gerrymandering in order to make a breakthrough.
"If not for the boundary changes, Brahmin population would be upto 20 per cent."
Your take on the current state of affairs in South Chennai?
"Its a "quadruple engine sarkar" here, with DMK MP, DMK MLAs, DMK Mayor and DMK councillors but we still have a lot of problems with basic amenities like water, good roads, drainage, waterlogging etc.
"Sometimes it feels like they don't want to do the work so that they can make a promise once again during the next elections."
How do you manage social media? Do you have a team?
"With social media, the idea is to post tweets and pictures as soon as possible, like say within 1 hour of an event. My friends help me out currently. Some designers also work with me. But after getting the content and the pictures, I usually review and post them myself. However, it does occupy a lot of my time and I think I should start delegating it."
Please tell me about your educational background and career.
"After my graduation from PSG in Coimbatore, I did Law from ILS Pune. I worked in Delhi for a year as a consultant with the Shipping ministry and as an assistant to the Additional Solicitor General in Chennai. During my days in Pune, I worked with Jan Kalyan Samiti.
"Because of my experience working and travelling in so many places, I can speak Hindi, Telugu, Marathi and Malayalam apart from Tamil and English."
Have you worked for the party outside Tamil Nadu?
"Yeah. A number of times. I have worked for the party outside the state, like in Gujarat in 2012. I am happy that I could play at least a very small part in Modiji's victory. That was a tough time as Keshubhai Patel, a very senior leader and former chief minister, had left the BJP to form his own party.
"I also worked in various other state elections like Maharashtra 2014, Bihar 2015, Karnataka 2018 and also 2 Lok Sabha Elections in 2014 and 2019 in different roles.
"I have learnt a lot from these experiences and it has helped me develop a rapport with party leaders from different states."
By then we had entered Thoraipakkam, a part of Sholinganallur constituency, which was added to South Chennai after delimitation and today has a substantial part of the city's IT industry. Remembering Suryah's earlier remarks stating that there is poverty beyond the glitz of OMR and ECR, I ask him about the problems of the area.
"There are a lot of issues here. The first is the increase in usage of drugs amongst youngsters. Then there is the issue of unemployment.
"There are a lot of slums and a number of people, who were evicted from river floodplains in other parts of Chennai, have been resettled here in small flats without much care being taken for the loss of their livelihood.
"Kannagi Nagar, Ezhil Nagar, Semmancherry and Perumbakkam have some of these resettlement colonies. There are huge multi-storeyed housing units, with 1,000s of families in small flats. These are commonly called Housing Board flats or TNHB flats."
How would you solve these issues?
"I would like to focus on skill training for these people. Many of these youngsters are unemployed and have fallen into the drug culture.
"Not wanting to stigmatise but when you call for an AC serviceman, I always get people from northern India. There is a huge demand for such servicemen, as Chennai has a huge number of ACs. These people if given the right training, will definitely become employable.
"Some of these areas are low lying, near to lakes and prone to flooding, so we have to work on that too."
While we we were still talking, we reached the location where school students were holding a rally against drugs in partnership with NaMo foundation.
Suryah participated in the rally, interacted with the students and gave a short message.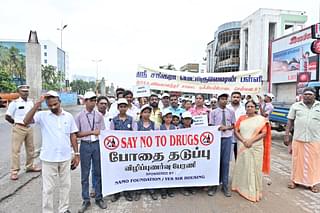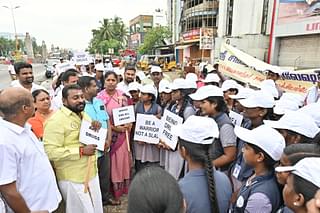 Suryah interacting with students.
Back in the car, I asked him the reason for selecting the particular school.
"It is because it is in a locality where this problem is high. These children's parents, relatives or neighbours are either affected by drugs or TASMAC."
After this we reached Ward number 200 in Semmancherry, which according to Suryah, is one of the most backward areas of the constituency.
NaMo Foundation had built toilets for seven families in the area and Suryah was to inaugurate them.
"Why does NaMo Foundation have to build toilets when the central government had already launched the Swachh Bharat scheme for providing assistance to build toilets", I asked.
Suryah's reply to my question made me realise something that I had not thought of earlier.
"As I told you earlier, this is one of the most backward wards. Many houses do not have toilets. And at the same time, many families do not have land documents and are at a threat of being evicted. However, these families have lived here for a long period of time.
"Because they do not have the patta (land ownership documents), they are also not eligible to get assistance from the government under the Swacch Bharat programme.
"This is where we have stepped in. We do a complete job, i.e., brick walls, flooring, roofing and connection to drainage."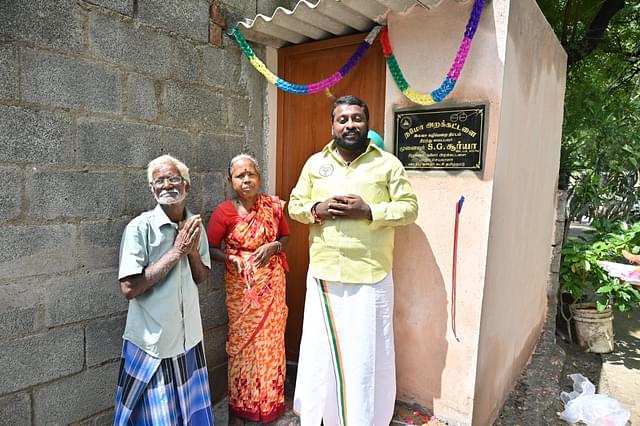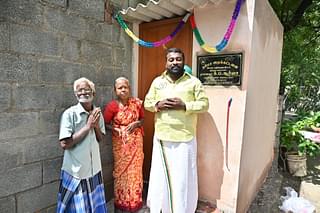 SG Suryah with one of the beneficiaries
We then reached our next destination. This was one of those muti-storeyed resettlement colonies in Semmancherry, which Suryah had referred to. A party flag hoisting and annadanam was scheduled here.
"In the next local body polls, I want the party to win most of the councillor seats from the South Chennai region," he said, after we got back into the car.
"We are planning on a specific vision for the people of this area. The vision would focus on infrastructure, skill development and welfare."
Asked about his vision for the constituency, he said that it is a work in progress and was being prepared along with the help of party members after speaking with the electorate.
"I haven't engaged a political consultancy yet, but might do so in the future," he added.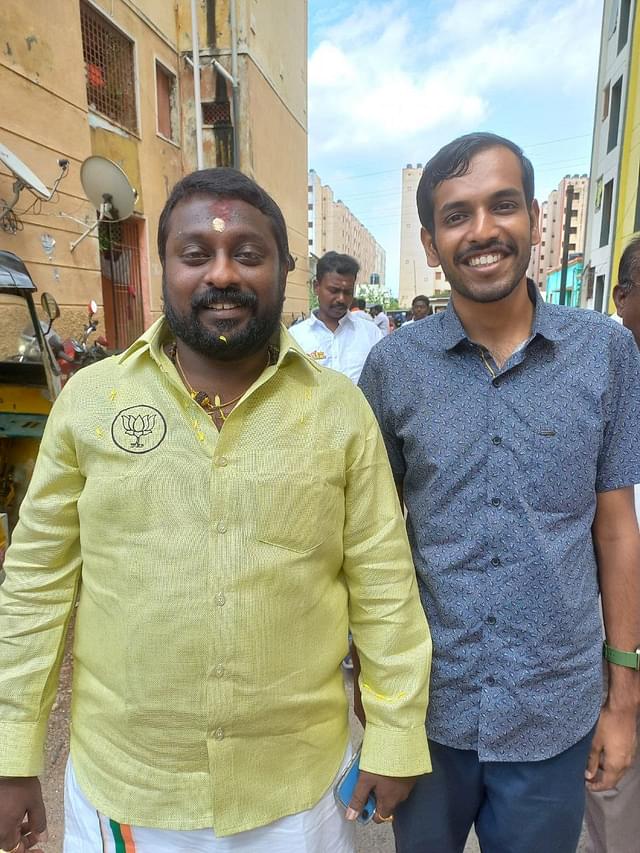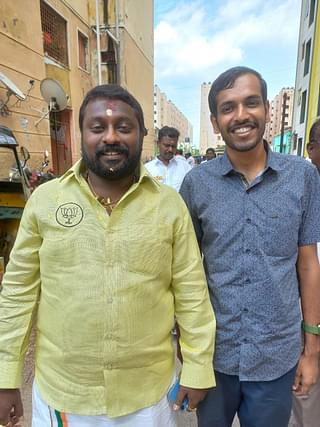 Rajesh with SG Suryah at Semmancherry
It was past 2 pm by then and so we decided to stop for lunch. This was near Medavakkam. After a sumptuous meal, we headed to our next destination, where the party had organised a felicitation for sanitation workers.
Suryah and other party members did paada pooja, and gifted them sarees. Food was also distributed.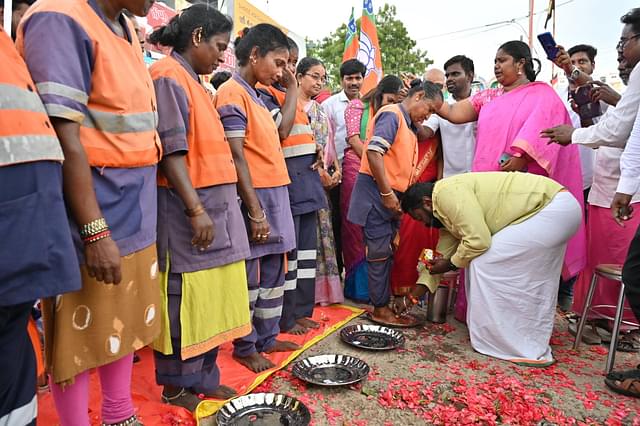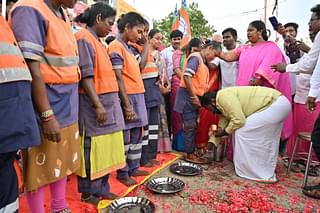 Suryah doing paada pooja of sanitation workers
We then headed to the last couple of programmes of the day, which were a party flag hoisting at Kannagi Nagar and a small art and cultural programme.
It was then that I recalled seeing a post by Suryah regarding 'Namma Then Chennai' (Then is the Tamil word for 'South'), an initiative by NaMo Foundation, under which college students who would pitch the best ideas for solving problems in the constituency would be supported and rewarded.
I decided that it was time to ask him about it in order to learn more about the programme and what inspired him to launch it.
'Namma Coimbatore' Is The Inspiration Behind 'Namma Then Chennai'
"The idea for 'Namma Then Chennai' was born from my earlier initiative of 'Namma Coimbatore' in which we asked social work students to identify problems and propose solutions. The best projects would receive support for three years. For example, it could be issues like increasing the literacy rate in a particular colony.
"I want to replicate the same thing in Chennai."
"We will select five finalists. The winner will get a cash prize of Rs 3 lakh. Consolation prizes of Rs 25,000 will be given to the others. We also plan to bring the CSR wings of both public and private companies who would like to partner and support these projects along with us."
Asked about the response to the idea, Vignesh, who has been visiting colleges to invite them to participate, said that it has been positive to the extent that professors have asked if they could team up with students.
Startup South Chennai
"On similar lines, we want to organise 'Startup South Chennai.' The contestants can be from anywhere but they must address problems in South Chennai.
"We would like to bring a Union minister to judge the event."
"As we are talking tech, I would also like to mention that I would make an effort to bring semiconductor and deep-tech related investments to the constituency," added Suryah.
We then reach Kannagi Nagar. It is one of the resettlement colonies and falls under the BJP's Thoraipakkam mandal. Unlike the previous resettlement colony I saw in Semmancherry, this was quite different as houses were a maximum of three-storeys.
While Suryah visited the home of a party worker, I decided to use the time to speak to the BJP's second and third rung leaders to know about the problems of the area and their view on the prospects of the Tamil Nadu BJP.
The very first issue that one of them told me was the issue of drug addiction. Nodding his head in agreement, another party functionary, added that the people of Kannagi Nagar wanted a playground and a library to keep their children on the right track.
Asked about the BJP's position in the state today, a senior party functionary from an area close to Kannagi Nagar said that under the leadership of state president K Annamalai, there is new energy in the party.
Asked what he liked about Annamalai, he said it was 'boldness.'
Our brief conversation came to an end as the Mandal president announced the hoisting of the party flag. Chants of Bharat Mata Ki Jai and Vande Mataram were heard with the same energy as in the morning.
After pooja at the Kannagi Nagar Shivan Temple, we then proceeded to the art and culture programme, in which children performed Bharatanatyam and Silambam (a form of martial arts popular in Tamil Nadu).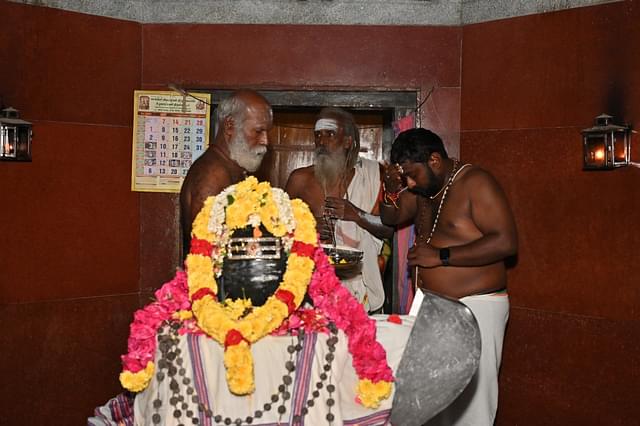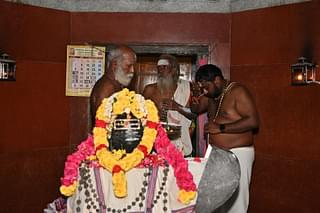 Suryah at the Kannagi Nagar Shivan Temple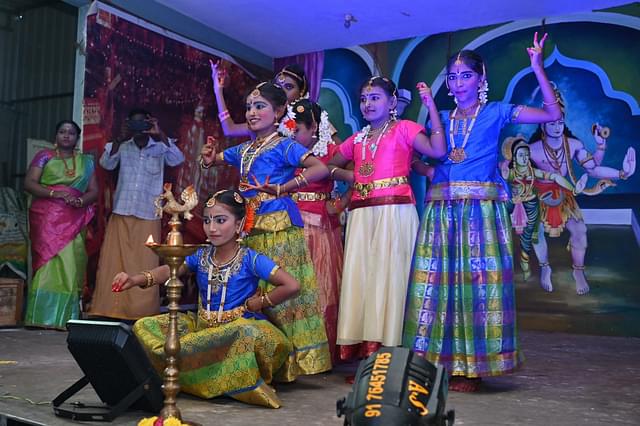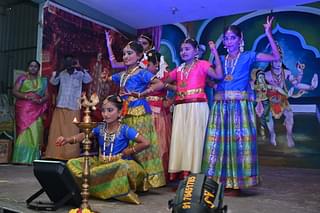 Children performing Bharatanatyam at Kannagi Nagar
The programme concluded with the felicitation ceremony and we made our way back to Suryah's home in Thiruvanmiyur after a long day.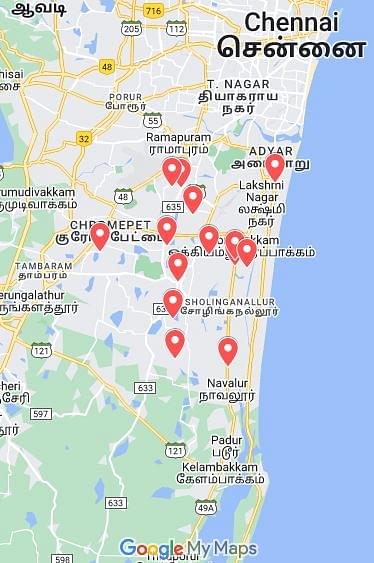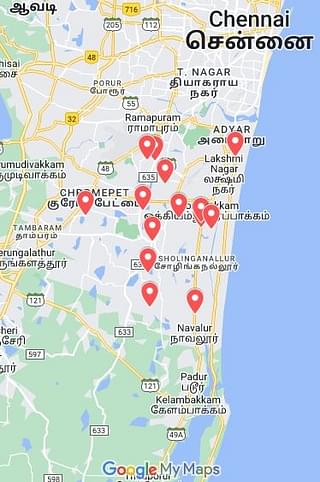 Approximate locations of places covered by Suryah
Even as my journey with Suryah and his team came to an end, they began planning for the next day, which was to be another busy day, as it was Ganesh Chaturthi.