In March 2022, a shocking incident from the Jabalpur district of Madhya Pradesh came to light where a six-year-old Hindu boy was allegedly circumcised by a Muslim neighbour. The incident was reported in the local media.
I managed to get in touch with the boy's family over the phone and told him that I would visit him on my next trip to Jabalpur.
The visit happened in June.
Here is ground report of the case:
On 23 June, I reached Jabalpur and called up the boy's father, Paapun Bain. He said he was not at home, was out of town, but his wife was.
I took an auto-rickshaw from the Jabalpur railway station to reach Ranjhi Bada patthar area. It took almost an hour. After locating a school named Mother Teresa English medium school, I asked for the house of Paapun Bain.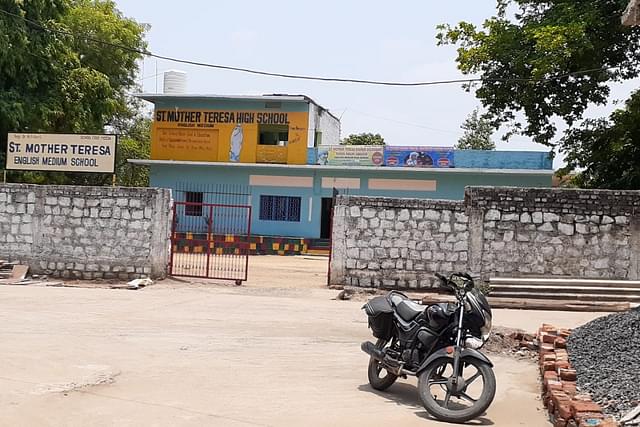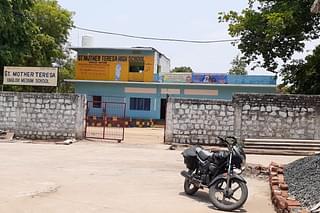 Local shopkeepers did not know. Two women, who were standing in front of a house next to a shop, asked me who I was looking for. They pointed me to the house when mentioned that a child was forcibly circumcised a few months ago.
A large iron gate led me to a narrow passage, to finally read Paapun's house with help of directions by residents.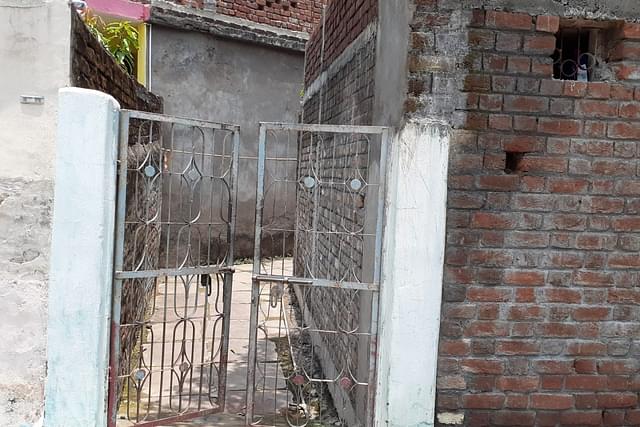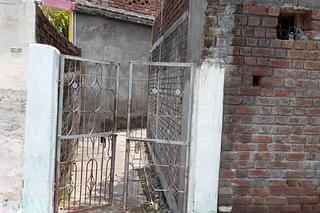 The entrance to colony where family lives
A woman was washing utensils; I again asked if she knew Paras or Paapun.
She said she was Paras's mother Deepa.
I called up Paapun to inform him that I had located his house and handed over my phone to Deepa for confirmation.
She offered me a chair to sit in and brought a glass of water. It was a 10 × 10 feet room.
A bed with a rugged sheet was placed on top of four bricks. An old-style television was placed over a wooden table in the corner. An old sari had been re-used into a curtain. A dog was roaming in the house.
It was a kuccha house; the roof was made of mud tiles. There was a soft aroma of coal and mud.
Deepa agreed to talk.
Before I narrate Deepa's version, here is what the written statements by the family to the police say:
The first information report (number 136/2022) in the case was filed at the Khamariya police station of Jabalpur district in Madhya Pradesh on 22 March, the day of the incident.
The statement recorded in the FIR by complainant Paapun Bain says,
Paapun and his family live in quarter number 16 of the west land bungalow servant quarters inside the Khamariya Ordnance factory estate. He is a labourer.
On 22 March around 10am, he left for work near his house while his son, Paras, was still sleeping. His wife was getting ready to leave for work at the bungalow.
When he came home, he found Paras was not there. He began searching for him. He found the child hiding behind the house. The child looked terrified. Despite repeatedly asking, he did not reveal anything. He then asked his father if he could go to the toilet. There, he showed Paapun his private part, which had cuts and was bleeding.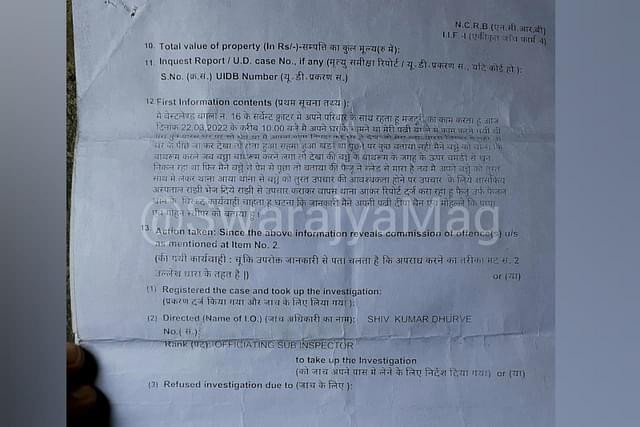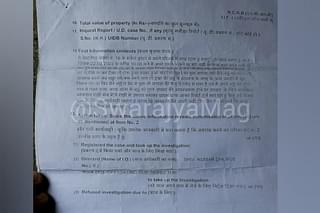 This time when he asked Paras to tell him the truth, the child said that Faizu had made the cuts with a blade.
Paapun immediately took him to the police station where they were asked to go to the government hospital. He went to the hospital for treatment and, on his return, a case was filed against Faizu alias Faizal Khan.
In the FIR, Faizu is mentioned as the accused and has been booked under IPC section 324 (voluntarily causing hurt).
Faizu, as this correspondent learnt later, is only eight years old.
Father's letter to senior police officer
Through an activist, Paapun gave a letter to the Superintendent of Police of Jabalpur on 30 March, complaining of inaction and hiding facts of the case.
Here is what the letter, accessed by Swarajya, says:
The family of one Mansoor Khan lives in Paapun's neighbourhood. On 22 March when he was working near his house, his wife came rushing to him saying their son Paras had gone missing. On looking out, they found him behind the house.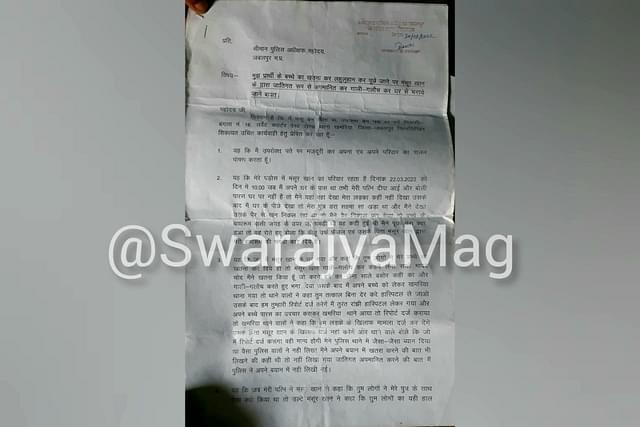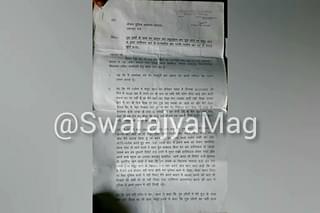 Letter to the SP by Paapun, as shared with this correspondent
The boy was standing petrified and there was blood dripping from his pants. On removing the pants, they found that the blood was coming not from the legs but from his underwear. Paapun saw that an upper layer of Paras's penis had been removed and there were cut marks around it.
When asked, Paras said that Faizu and his father Mansoor Khan had done that to him in the bathroom.
Paapun confronted Mansoor and accused him of getting his son circumcised. Mansoor started abusing him and used casteist slurs. He threatened Paapun saying that he had done the 'khatna' (circumcision) and Paapun could do whatever he wanted.
Paapun rushed to the police station where policemen asked him to go to the hospital first. On his return, the policemen there registered a case, but named only Faizu. Despite Paapun's pleas, they did not name Faizu's father Mansoor. The statement in the FIR does not match the complaint narrated by Paapun and has been manipulated.
Paapun repeatedly told the police that Mansoor and his son had tried to do 'khatna' of his child but the police ignored it.
Mansoor threatened Paapun saying he must take back his complaint or he would be driven out of Khamariya.
The parent's ordeal as told to this correspondent
Deepa said he and her husband lived at the factory quarters where she worked for the family of the second-most senior manager of the company as a house help.
Initially, she was hired as a cook but as soon as her caste was revealed, she was shifted to cleaning.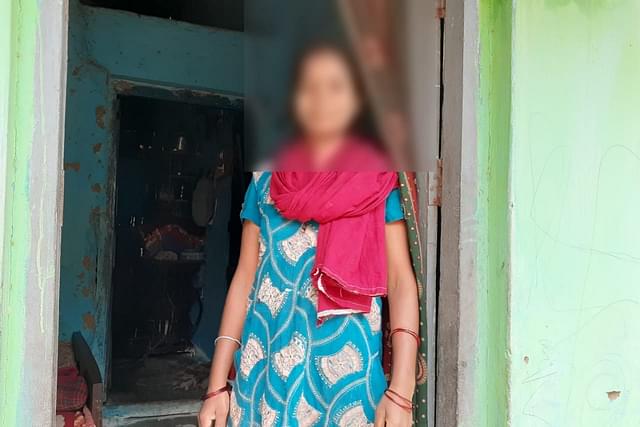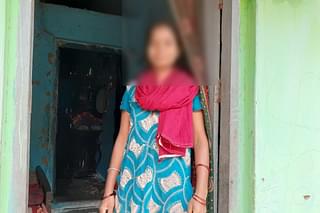 She says they belong to the Basor caste, which is a scheduled caste.
Recalling the incident, she said that it happened around Holi. Paras was sleeping while she was getting ready for work. The neighbouring boy, Faizu, came home and said he wanted to play with Paras.
Deepa says Faizu is eight years old and is the only child of Mansoor who lived adjacent to their house. Mansoor's wife worked at the bungalow along with Deepa.
She says that as per Paras, Faizu took him to his house. There, he took him inside a room and locked it. Mansoor was present in the room.
"Faizu held him while Mansoor made the cut. That's what Paras told us," says Deepa.
When asked, the child repeated the statement to me. Watch the child's statement here.
Deepa says the cut is circular at the tip of the private part. She says the "circumcision" was Mansoor's idea and execution, but the police are protecting him.
"How can an eight-year-old do khatna by himself? It was Mansoor who did it," she says.
Deepa says the family has fallen on hard times since the incident.
"After my husband gave a complaint against Mansoor at the police station, the company fired us from work and asked us to vacate the servant quarters," she says.
Wife of the manager told her she did not want the police to come to her house, says Deepa. They were given a notice to vacate the servant quarters.
Deepa shows me the notice. She cannot read it.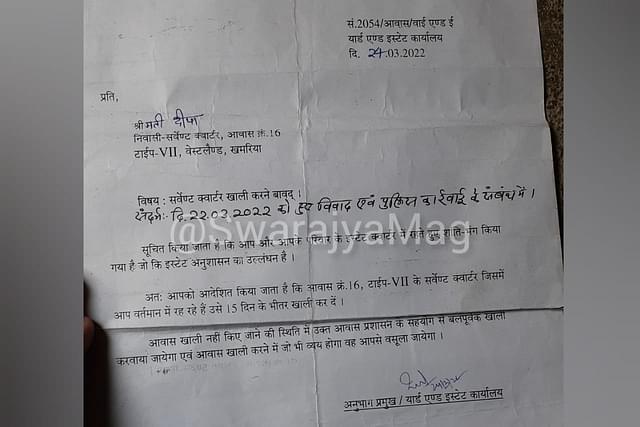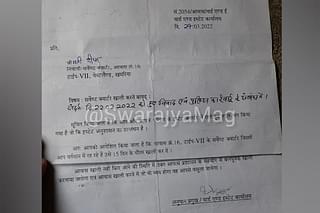 The notice to vacate the house
The notice, number 2054 and dated 24 March, from the head of Yard and Estate Office, says Deepa and her family breached peace at the premises and hence were suggested to leave the quarters within a stipulated period of 15 days or else they would be forcefully removed.
Five days after the notice, the family shifted to a rented place in Bada Patthar area.
The house I was sitting in was that rented place.
It has two rooms. The other room has a slab to work as a kitchen and there is a washing area in a corner. The rent of this house is Rs 2000 a month.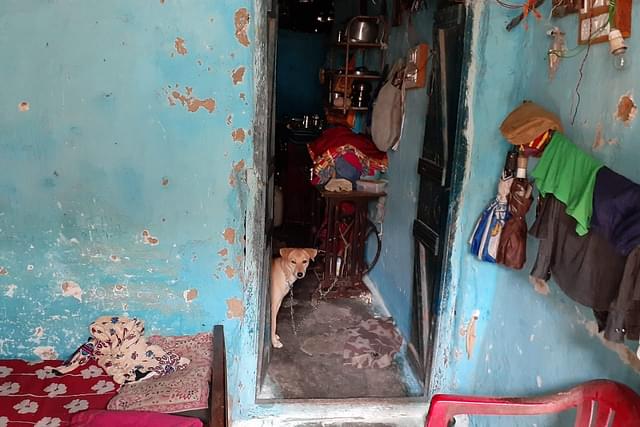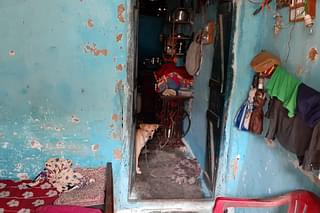 Entrance to the second room
Paapun is a labourer who takes up jobs as per need; sometimes he works as a painter, at other times a construction labourer. At times, he works as a house help too.
Paapun is currently jobless, says Deepa. Paras has changed his school. He now goes to the Mother Teresa school where I alighted from the autorickshaw.
Deepa says they are poor but would not silently bear the insult and injustice to their child.
She says, "We did not know anything about 'Hindu-Muslim'. We never treated them differently. I considered Faizu as my own child. But look what they have done to our son."
She adds, "We are Hindus and will remain so till our death. No one has the right to force their religion upon us."
Asked if Mansoor or his family ever tried forcing her to accept Islam or told them about Islam before this incident, she said, "If he had tried doing so, why would we continue to live there?"
Deepa says Mansoor Khan's wife told her that she was also Hindu before marriage and was converted to Islam after she married him.
"Mansoor is a very religious person and never allowed his wife to follow her old religion. His wife told me that once, her mother gave her some pictures of Hindu deities but Mansoor threw them outside the house."
Deepa says Mansoor's wife told her that the couple was on the verge of separating from each other.
Watch her statement here.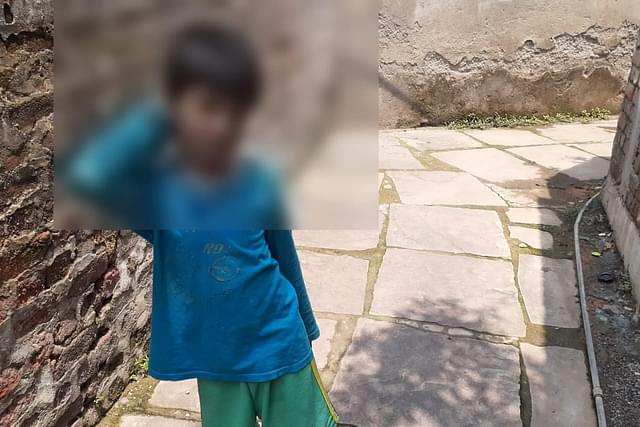 Paras came to see off this correspondent, he was shy of being clicked. But followed as the correspondent promised a chocolate at the end of the talk.
About the police behaviour
Talking about the police behaviour in the case, Deepa says that things have gone from bad to worse for them.
"When the policemen at the Khamariya police station manipulated our complaint, we reached the SP office. After that, the behaviour of the [Town Inspector] has changed towards us," she says. "He scolded my husband for going to the SP."
The SP, as per Deepa, told her, "Kya hum bacche ko fansi laga de? [should we hang the child?]".
The SP was referring to Faizu and dismissed her case, she says.
She says no police officer is considering the role of Mansoor Khan, despite the child's repeated testimony. She says that when they found no help, they called up the CM's helpline.
After making the call, the Town Inspector called them to the police station and said, "Now that you have tried reaching the CM, get justice from there only," says Deepa.
Watch her statement here.
What next
Deepa pleaded to me for help. She said, "Please take our case to higher authorities."
She says the family is not at all satisfied with the Khamariya police. The issue was highlighted locally after a few volunteers from the Hindu Jagran Manch including one Yogesh Aggarwal supported them.
This correspondent made several calls to the Khamariya police station from 25 June to 3 July but they went unanswered. The contact details of the Investigating Officer of the case, Shiv Kumar Dhurve, is not available in the FIR.
The other number that this correspondent found from the control room, received the call once and then stopped receiving it after learning that I was a reporter.
Also Read: Minor Orphan Boy Illegally Adopted, Circumcised For Religious Conversion; Five Booked In Ghaziabad