Ground Report: In Delhi Colony Where Minor Girl Was Stabbed To Death — Love Jihad, Shraddha Murder And The Kerala Story On Everyone's Lips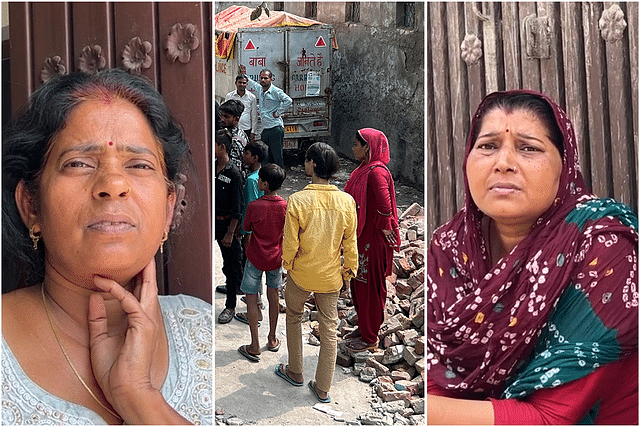 Pictures of residents of Shahbad Dairy area and nearby colonies
Snapshot
As per police, the murder was not a "crime of passion" but a premeditated one with several days of planning. However, the police are yet to find out when and why Saahil purchased the knife from Haridwar.
New Delhi, 30 May: After a 16-year-old girl from New Delhi's Rohini area was stabbed to death by a local man, the ghastly video of which was captured on camera and circulated widely on social media, the topics of 'love jihad', the Shraddha Walker murder case and The Kerala Story film have become talk of the town.
When Swarajya visited the spot two days after the grisly murder — where accused Mohammed Saahil Sarfaraz Khan stabbed the girl more than 15 times and battered her skull with a concrete slab in full public view — residents could be seen engaged in discussions around these topics at almost every nook and corner.
The murder took place on Sunday (28 May 2023) around 9pm near a market in Shahbad Dairy area, a large part of which is an urban slum cluster.
It's about six kilometre from Samaypur Badli metro station, where the yellow line of the Delhi metro terminates. The area is generally called 'outer Delhi'.
The police have said that preliminary investigations point to a relationship between the two turning sour as the trigger.
The girl, who belonged to the Hindu community, allegedly wanted to end her relationship with the man, who is Muslim.
The accused is reportedly 20 years of age. He was arrested on Monday (29 May) morning from Bulandshahr district of western Uttar Pradesh, where the family has roots and an extended family.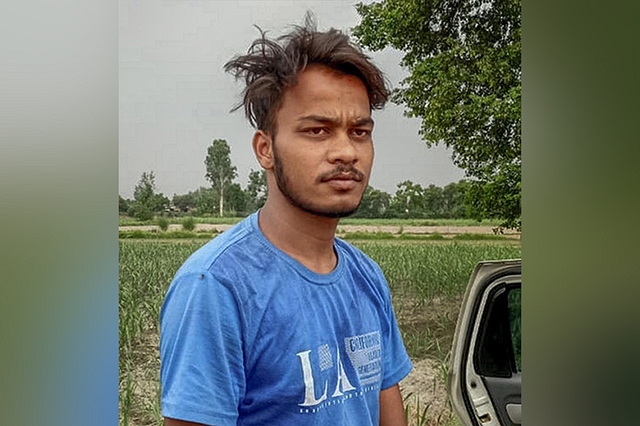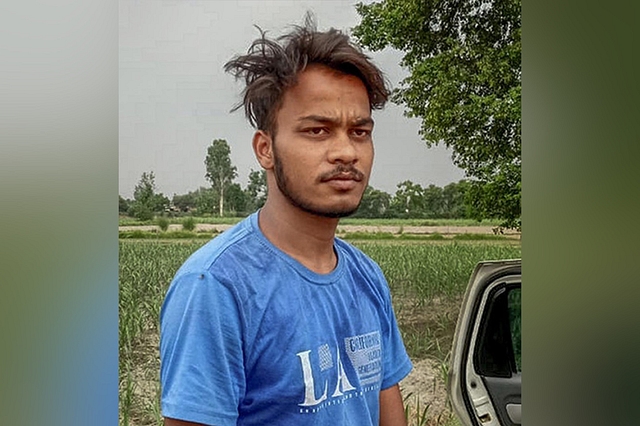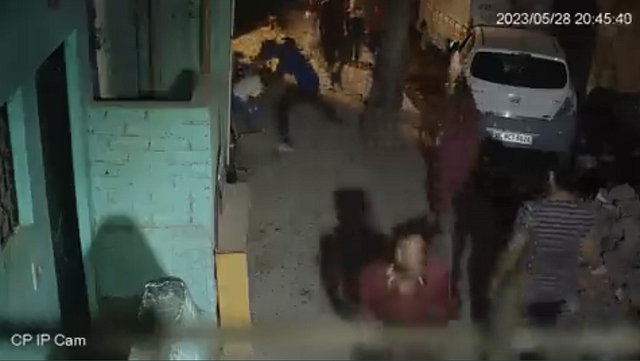 In the colony where the killer lived
Saahil's family lives in a rented two-room accommodation in Jain Colony of Prahaladpur village that falls under Sector 35 of Rohini area. The colony is about three kilometre from the girl's house in Block E of a slum cluster in Shahbad Dairy locality.
His family occupies the ground floor of a three-storey house, and pays a paltry Rs 2,500 as rent.
A lock was hanging on the door on Tuesday (30 May) when this correspondent visited. Paramilitary personnel guarded the lane on either side.
Saahil's next-door neighbour Kamlesh, who does not use a surname, told Swarajya that Saahil's parents and three sisters locked the house on Monday, and have gone to their relatives in Bulandshahr.
"Police came around 1 pm [on Monday] and started questioning the family. Until then, we did not know anything about the murder. When the police left, I asked Shehnaz [Saahil's mother] what the matter was. She hurriedly said there had been some issue and someone had named Saahil."
Kamlesh says she could sense something was terribly wrong as Shehnaz's face had turned white. Minutes later, the family was out of the house with two bags of luggage.
Saahil's father Sarfaraz was not home at that time, but his three sisters, aged 25, 18 and 16 respectively, were.
In this colony, all families are Hindus, though not Jains, barring two. The house right opposite to Saahil's also belongs to a Muslim family. Kamlesh says that unlike Saahil's, the other family owns the house they live in. "We never had any issue with either of the families," she says.
In the same breath, she mentions 'love jihad' and the Shraddha Walkar murder case, and says that "only Hindu girls are being killed".
Readers may remember that in November 2022, Delhi police solved a heinous murder case where a 26-year-old woman from Mumbai was strangled to death in Delhi's Mehrauli area, after which her body was chopped into more than 35 pieces and stored in a large refrigerator before being strewn into the jungle.
The accused, Shraddha's boyfriend and live-in partner named Aaftab Ameen Poonawalla, is undergoing trial for the murder. While Shraddha belonged to the Hindu community, Aaftab is from the Muslim community.
Kamlesh said that although she was on good terms with Shehnaz, she saw the murder by her son as being similar to Shraddha's.
"Two girls have been slaughtered; both were Hindus. Mohammedan girls are not slaughtered like this by Hindu men, are they?" she said (watch her video statement recorded by Swarajya here).
Asked if Saahil showed any signs of religious fanaticism, Kamlesh said she never exchanged a word with him. She said that about a month ago, Saahil visited Haridwar and Vaishno Devi with two of his Hindu friends from the locality.
"I remember Shehnaz and I were chatting when she mentioned the visit. When I pointed out that it's not a custom among Mohammedans to visit Hindu temples, Shehnaz replied that she believed all Gods are one and equal. That is all I remember," she said. "I can't say his mother is a fanatic, but maybe he wanted to mislead the girl. Who knows?" Kamlesh said.
She said she never talked to Saahil as he would leave the house early morning around nine and return late at night. He worked as a mechanic fixing air conditioners and refrigerators.
Kamlesh's school-going son showed this correspondent pictures of Saahil wearing kalawa and a faux Rudraksha mala circulating on social media. "These are most likely from his Haridwar and Vaishno Devi trip," he said.
Readers may note that the Delhi police investigating the murder case have said that the knife used for killing the girl had been purchased by Saahil from Haridwar.
As per police, the murder was not a "crime of passion" but a premeditated one with several days of planning. However, the police are yet to find out when and why Saahil purchased the knife from Haridwar.
Kamlesh's son says that Sarfaraz was "a bit fanatic". "He was mostly alright, but he was an alcoholic. When under the influence of alcohol, he would scream and hurl abuses," the boy said, recalling an incident where he was scrolling down his Instagram account and a video popped up of some saffron-clad men raising slogans that they would take back not only Kashmir but also Lahore.
"Uncle [Sarfaraz] began shouting — 'how will you take Lahore? Is Lahore a toy for you to go and pick up?' I was scared and I went inside".
Saahil's rented house is owned by Ramphool, who lives in a room on the top floor.
A middle-aged man of few possessions and an 18-year-old mentally challenged son, Ramphool folded his hands when he saw me, pleading innocence.
"I built this house with great difficulty. I lived all alone in Delhi and toiled all day to save up while my wife and other son lived in the village [in UP]. I rented the ground floor to Sarfaraz. Yes, I gave it to a Muslim family, but they seemed nice," said Ramphool, before I even asked my first question.
Ramphool said that since Monday evening, he had been saying the same thing to scores of journalists. "I want that he should be hanged," he said.
While there were no media-persons in the colony at the time this correspondent visited, women in groups engaged in discussions about the case could be seen all around. Manju Yadav, who lives four-five houses away, said she saw the murder as a case of 'love jihad'.
When asked what she understood by the term, Manju said, "When Muslim boys introduce themselves with Hindu names to our girls, but shoot them dead when they don't convert to their religion and marry them, it's called love jihad."
When argued that Hindu girls are killed by Hindu stalkers too, Manju said, "But Hindu men don't do it to Mohammedan girls. Why is it that only Muslim boys are killing Hindu girls?" (Watch the video statement of Manju recorded by the correspondent here).
She added, "The girl from Mehrauli, whose body was chopped in 35 pieces, was killed for the same reason. The Kerala Story film has showed the same things. Every second day, you hear of some such case on the television."
A 21-year-old college student, Karuna, however, said she heard the term for the first time when reading about the case in her area. "I don't consume news at all," she said.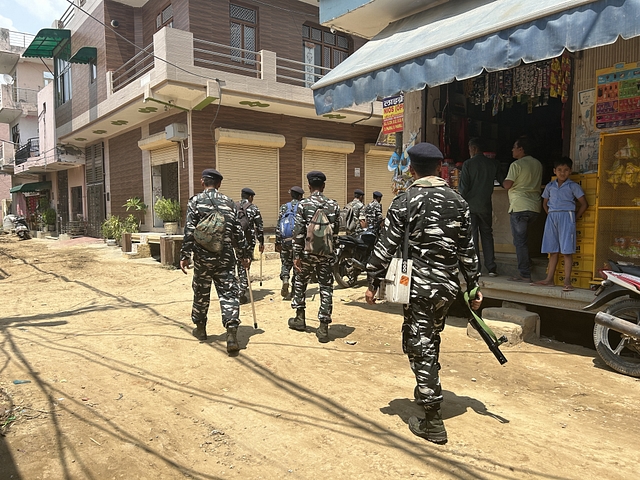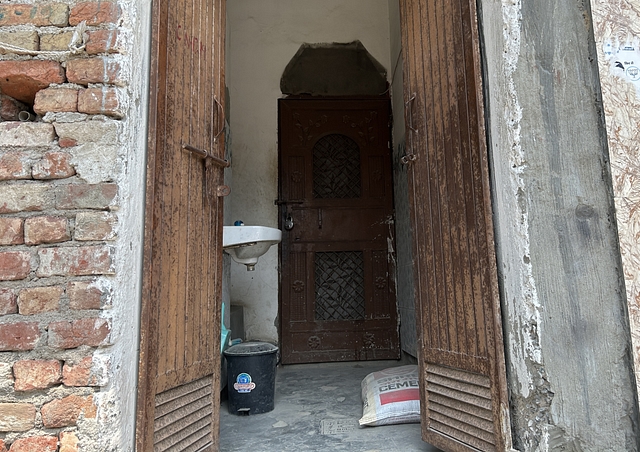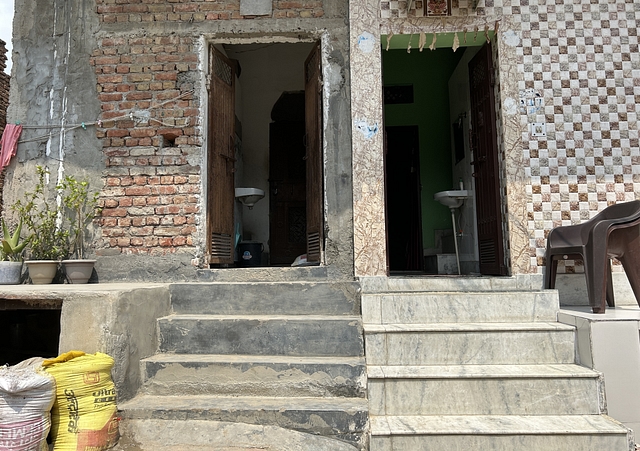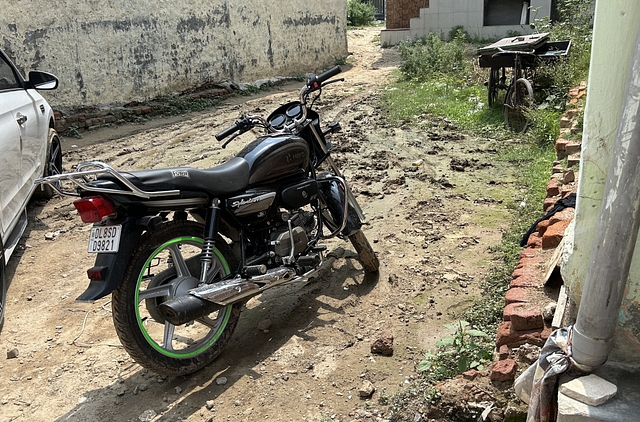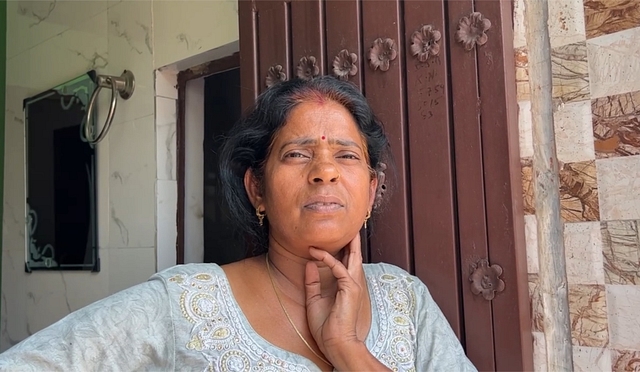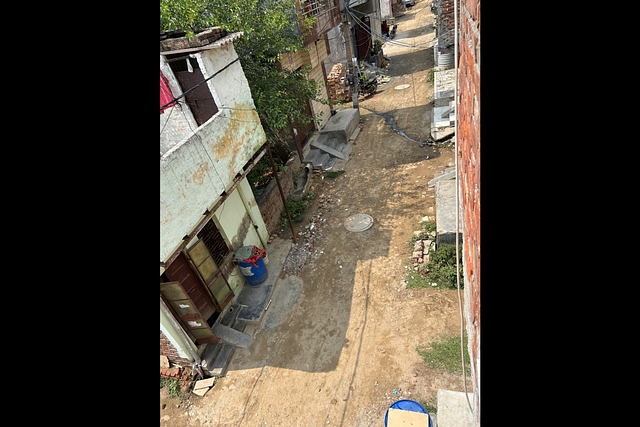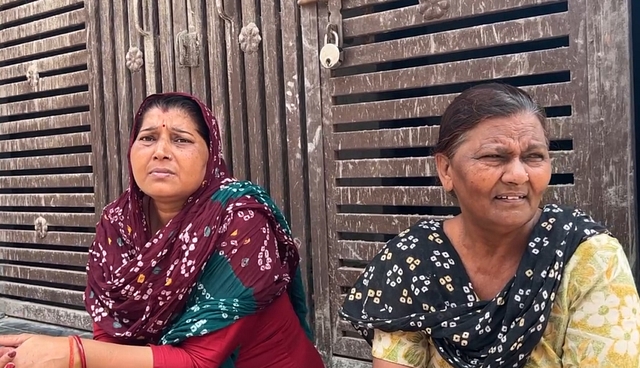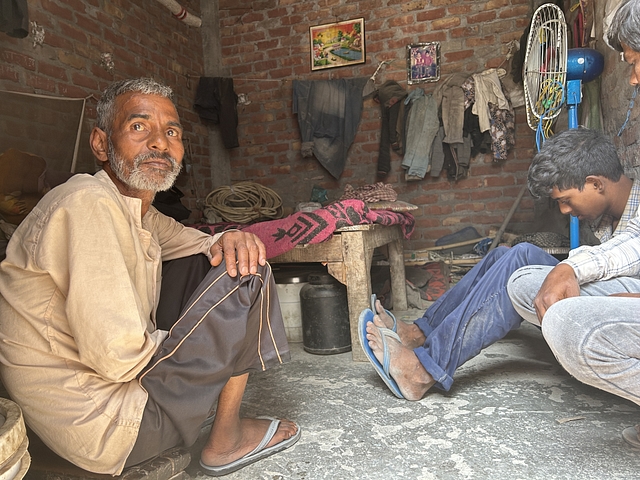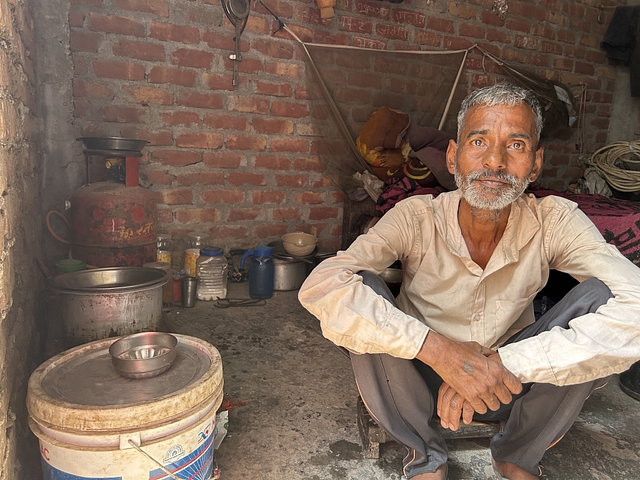 In the area where the victim lived
The murder took place less than 100 metre away from the office of Jai Bhagwan, Member of Legislative Assembly (MLA) of Bawana Assembly constituency, who is associated with the Aam Aadmi Party (AAP).
No shop owner or resident was willing to speak about the murder, so much so that a television reporter made this unwillingness the main point of his Piece to Camera (PTC), calling it "cowardice". No resident objected to this labelling either.
A CCTV is installed at the spot, and captured the killing. The video shows Saahil repeatedly stabbing the girl like a maniac.
At one point, the knife got stuck inside her body and Saahil struggled to take it out, but resumed stabbing her again. After she fell unconscious, he picked up a concrete slab and smashed her head with it.
When police arrived at the spot half-an-hour later, the girl was dead, half of her body lying in the drain.
As per police, she was on her way to some place that evening when she stopped at the common toilet to change. After she got out, Saahil appeared and began stabbing her.
From the murder spot, the girl's house can be accessed only by foot, and forces one to negotiate a maze of cramped, narrow lanes choked with garbage, debris, and sewer waste.
More than 100 media-persons were in the slum cluster, talking to neighbours and cops, or taking pictures at different spots.
Outside the girl's house, policemen in uniform and casual dress stood guard, stopping all mediapersons from entering. A television reporter was giving a PTC at the entrance of the house, and there was a queue of other news channels.
Unlike the Hindu colony where Saahil's family lives, this slum cluster houses a mixed population of Hindus and Muslims who live next to each other. Neighbours were too engrossed in watching news channels do their work than speak to individual reporters.
Those who spoke, bluntly said, "What else do you expect from this area?"
A woman who gave her name as Nisha said, "This is a hellhole of dirt and drugs. Every single youth you see here uses injections [for drugs]. Many are found lying in the drains before their family members pick them up and take them home. Murders, rapes and thefts are an everyday occurrence here".
Most residents in this slum cluster are migrants from east Uttar Pradesh and Bihar, and are employed in factories manufacturing copper and brass ingots. As per the last census, more than 34 percent population of the Dairy area belongs to scheduled castes.
The victim, too, belonged to a scheduled caste.
Residents say Saahil was under the influence of drugs. "Can a sober man execute such a horrifying murder?" a man who introduced himself as Jaanu said.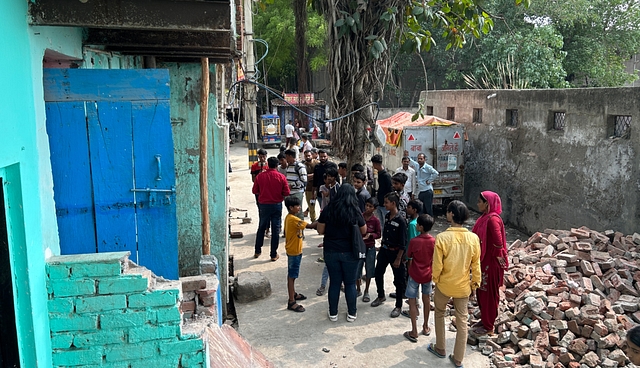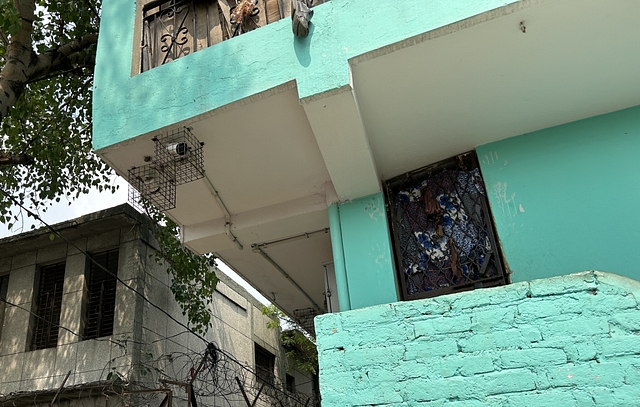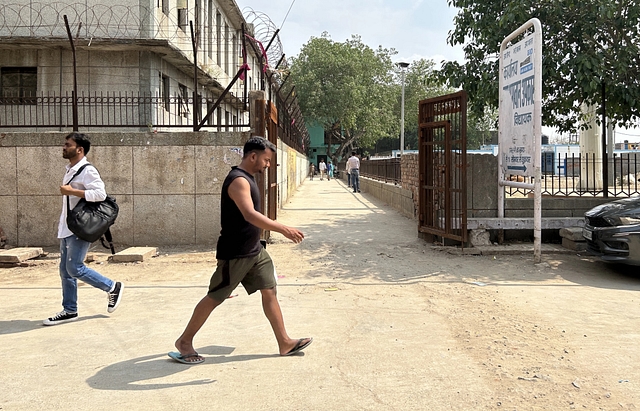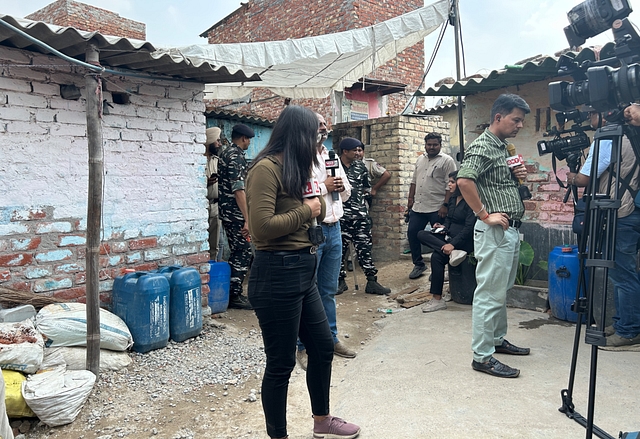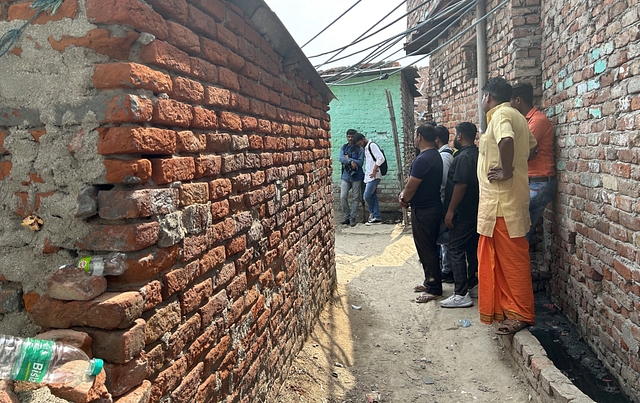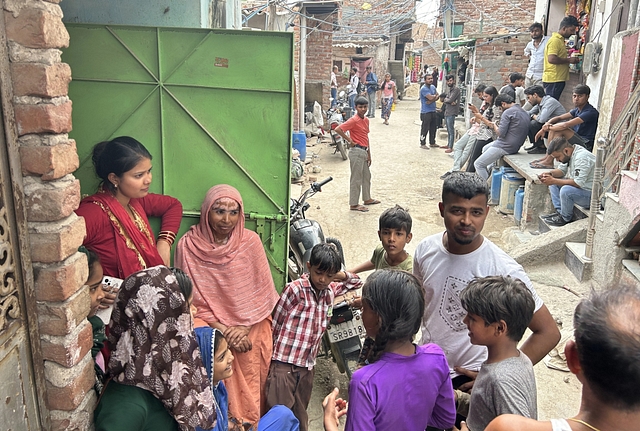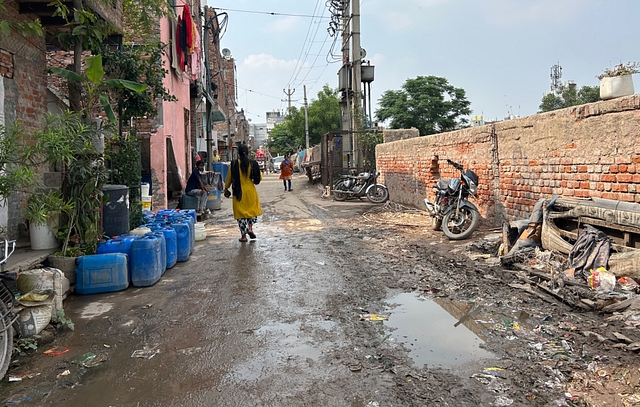 Among those who visited this spot after the murder include Hans Raj Hans, Member of Parliament (MP) from the North West Delhi Lok Sabha seat and a member of the Bharatiya Janata Party; and Atishi Marlena, Delhi education minister who belongs to AAP.
As per reports, Hans Raj Hans gave a cheque of Rs 1 lakh to the girl's family while minister Atishi announced a compensation of Rs 10 lakh.
Get Swarajya in your inbox everyday. Subscribe here.
An Appeal...
Dear Reader,
As you are no doubt aware, Swarajya is a media product that is directly dependent on support from its readers in the form of subscriptions. We do not have the muscle and backing of a large media conglomerate nor are we playing for the large advertisement sweep-stake.
Our business model is you and your subscription. And in challenging times like these, we need your support now more than ever.
We deliver over 10 - 15 high quality articles with expert insights and views. From 7AM in the morning to 10PM late night we operate to ensure you, the reader, get to see what is just right.
Becoming a Patron or a subscriber for as little as Rs 1200/year is the best way you can support our efforts.
Become A Patron
Become A Subscriber