Catching Cancer Early: How An Indian Startup Pulled Off Remarkable Breakthrough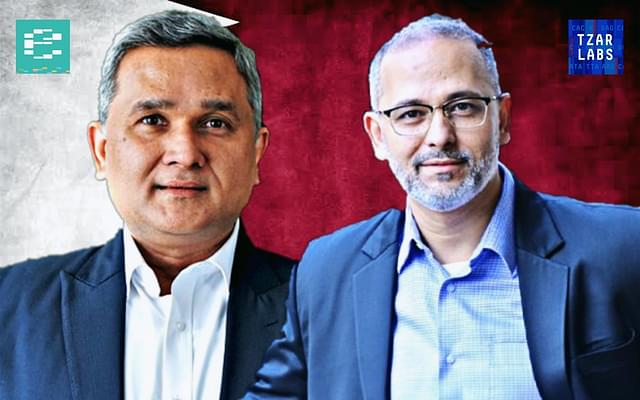 Ashish Tripathi and Anish Tripathi (file photo)
Snapshot
In a remarkable achievement, an Indian startup has been able to achieve both early detection of cancer as well as an indication of imminent cancer before the formation of a tumour. And all they need is a blood test.

Here's how they did it.
Fear and pain associated with the disease have dominated the human psyche over the last year and a half.
The level of human suffering caused by the coronavirus-induced Covid-19 has been immense. It has forced us, as a collective, to look right in the face of our mortality – something human beings have never liked doing.
But even as Covid-19 slowly eases its grip over the world, other leading diseases still remain – just as they were before and during the pandemic, operating quietly in the background.
Among the leading causes of death these past few years, such as cardiovascular and respiratory diseases and conditions like dementia, is cancer.
In the year 2020 – at the height of the pandemic – cancer accounted for nearly 10 million deaths globally. Thirty years ago, the figure was a much humbler, 5.7 million. On the back of rising world population and continually improving public health, which is reducing deaths at early ages, cancer deaths have risen significantly.
Cancer especially impacts the elderly. This is because the quiet, uncontrolled proliferation of abnormal cells – which characterises cancer – occurs over a lifetime without many indications, till one day the cells spread to various parts of the body, leading to the inevitable diagnosis.
Given enough time, the damage due to these multiplying abnormal cells reaches an irreversible stage.
Most cancer cases are sadly detected in stages two and three. In cases where cancer is detected even later, the average life expectancy for the individual hovers around just six months.
But what if cancer is detected early?
Better still, what if it is detected so early that a sufficiently accurate prediction can be made about imminent cancer?
The benefit of that may be self-evident, but to state the essential – both the probability of recovery and average life expectancy would go up compared to the conventional scenario where the disease is routinely caught late.
Remarkably, an Indian startup has been able to achieve both early detection of cancer as well as an indication of imminent cancer before the formation of a tumour. And all they need is a blood test.
The people at the heart of this breakthrough are the Tripathi family, led by scientist Dr Vinay Kumar Tripathi and his sons Ashish Tripathi and Anish Tripathi.
Senior Tripathi is the chief scientific officer of Epigeneres Biotech Private Limited, the Mumbai-based company that has developed the cancer screening test jointly with Singapore-based Tzar Labs. He leads a team of scientists who work in molecular sciences.
Junior Tripathis, Ashish and Anish, lead Tzar and Epigeneres respectively. While Ashish is the founder and chief executive officer of Tzar Labs and director of Epigeneres Biotech, Anish is a senior adviser and the India Head of Tzar Labs and the chief operating officer of Epigeneres Biotech.
For anyone quick to predict connections, Indian author Amish Tripathi, who has written the Shiva Trilogy of books, among others, does belong to this illustrious Tripathi family. He is the brother of Ashish and Anish.
In terms of its early cancer detection solution, what the Tripathi family business has achieved is incredible. From just a blood test, they can not only tell if someone has cancer but also provide an indication of the risk of cancer in the next one year.
It comes down to what is called "HrC values".
Ashish Tripathi says he envisions a world where people take this HrC blood test once a year, resulting in cancer detection at stage one or earlier – "when it is infinitely more curable".
The breakthrough technology was developed by 80-year-old Dr V K Tripathi and his team of scientists concerned with molecular medicine.
According to Dr Tripathi, "If you can crack the molecular science, the earliest detection of disease lies within its reach and molecular medicines that can address mutations herein can perhaps cure disease at the seed stage".
The push for this vital work came from seeing a family member battling cancer. This was Indian Police Officer Himanshu Roy, who served as the Additional Director General of Police for Maharashtra and Joint Commissioner of Police in Mumbai, and who tragically died by suicide in 2018.
"Because of that, we were exploring all the ways in which we could look at a cure in his case," Ashish tells Swarajya.
The name of the test, "HrC", is short for Himanshu Roy Cancer Test.
Ashish joined the scientific work because he was an investment banker and had raised capital for his father, Dr Tripathi. He was encouraged by the company's investors to come on board to ensure continuity of the enterprise, considering the advanced age of Dr Tripathi.
"Coming from an investment banking background, I could understand what the investors were concerned about. So that is how I joined," he says.
Similarly, Anish too joined the setup because of his rich experience in marketing, strategy, and supply chain management, among other things. He had been a top professional all his life, working previously in senior roles as director and chief knowledge officer at KPMG and as a partner for markets and strategic services at Grant Thornton.
He was the right man for the job as Tzar Labs was growing, and someone needed to spearhead the India operations. And that is how Anish "dada", as Ashish affectionately refers to him, came to lead the Indian business.
"I look after Epigeneres, which is the entity which will be rolling out the technology. It's the exclusive licensee of the Singapore company (Tzar labs) in India. We are now in the process of setting up our lab and we will then be rolling out this technology, hopefully in the next three to six months," Anish tells Swarajya.
The Tripathis' breakthrough technology is built on a simple yet big idea. They understood that a particular class of cells, discovered by the scientist Mariusz Z Ratajczak in the United States (US) in 2006 and which has been the subject of research ever since was also found in peripheral blood. Perhaps more important, they recognised the diagnostic application of this idea.
Before Tzar, some other researchers achieved success by providing a cancer reading based on a blood test, called a liquid biopsy.
For example, the CancerSeek technology developed by Johns Hopkins Kimmel Cancer Center researchers. The test was licensed to US-based company Thrive Earlier Detect, whose vision, much like Tzar Labs, is to catch cancer early with the help of an annual blood test. In 2018, this technology had shown 70 per cent success in cancer detection during trials.
Similarly, in 2020, researchers from the US and United Kingdom (UK) showed that they could detect 50 different types of cancer, in some cases even before symptoms show, and just from a blood test. The test was reportedly accurate in 93 per cent of the samples. (Study published here.)
Chinese researchers too developed a blood test called "PanSeer" to detect cancer early. The Guardian reported that the test "flagged cancer in 88 per cent of participants who had already been diagnosed and in 95 per cent of participants who were not diagnosed with cancer but later went on to develop the disease".
But despite the similarities in goals, a major difference in approach sets Tzar Labs apart in early cancer detection. While a lot of liquid biopsy tests rely on circulating DNA from tumour cells as gene mutation markers for cancer, the Tripathis' approach was to look for what are called "very small embryonic-like stem cells" (VSELs) in peripheral blood.
"They (other companies) are looking at a resultant marker, because it is the tumour that will lead to pieces of tumour. What we are looking at is a causative marker," says Ashish.
The Tzar Labs technology looks at certain transcriptomic markers coming from cells in the body, which provide an indication of the underlying genetic mutations if they are happening and which lead to tumour formation.
"The importance of this marker as a screening test for cancer is that it gives you a reading for cancer, it gives you a different reading by different stages of cancer, and what's more is that it gives you a reading for the different stages of non-cancer," says Ashish.
In the conventional approach, the absence of tumour cells is seen as non-cancer. The HrC test instead throws up a score for non-cancer.
Another distinguishing feature is that while other technologies target the detection of a handful of cancer types, Tzar Labs uses a marker that works on all cancers. This is because VSELs have a ubiquitous presence in blood.
"You cannot take a sample of 5 ml of blood and not find RBCs (red blood cells) and WBCs (white blood cells). Similarly, you cannot take a sample of 5 ml and not find the cells that we are looking for," Anish says.
These cells, which indicate the genetic mutation, are uniformly present in the blood, like RBCs. In contrast, the level of tumour pieces depends on the stage of cancer one is in.
This and other features reflect the higher accuracy readings for the HrC test in comparison to others.
There is still debate in scientific research circles about whether VSELs, which are Tzar Labs' marker of choice for early cancer detection, really exist or not. But Anish Tripathi isn't worried about it.
"Certain people say VSELs don't exist, certain people say VSELs exist. For us, it's not a debate because Ashish and I and our scientists have seen it, we have photographed it, so we know VSELs exist," he says.
According to him, the debate on HrC will be settled in the minds of oncologists.
The HrC test was put through a clinical trial involving 1,000 volunteers, split evenly between healthy persons and cancer patients. It detected 25 different types of cancer in the study.
Anish clarifies that although 25 cancer types were detected, the method they use should be able to detect all cancers out there. "There are 180 types of cancer known to man. The number 25 indicates the number of cancers which we encountered during the clinical trial. We know the underlying science behind it (the HrC test), and that we can detect all 180 types of cancer from this test," he says.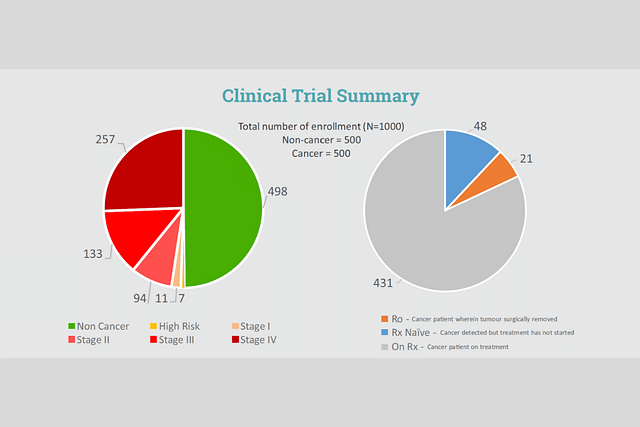 The HrC test is capable of detecting solid tumours, blood cancers, and sarcomas.
The study published in Stem Cell Reviews and Reports definitively says: "(i) HrC scale can detect cancer, predict and monitor treatment outcome (ii) is superior to evaluating circulating tumor cells a nd (iii) can also serve as an early biomarker".
"This HrC technology is going to revolutionise the way that cancer is treated. This marker is detecting all cancers earlier than any technology with high specificity when the tumour has not formed," Dr Deepa Bhartiya, Scientist-G & Head of Stem Cell Biology, ICMR-NIRRH, has said.
"What's more is that they have made this breakthrough using VSELs, where I have done considerable work over the last two decades. There are many more breakthroughs their science will lead to and this I am convinced will benefit humanity at large," she adds.
The next step for Tzar Labs is to prove the test in the Western context. The regulatory authorities in the US and UK would want to see data as well as results of clinical trials conducted there. "It will be a matter of pride for us that a breakthrough that has come from India actually becomes prevalent in the Western world as well," says Ashish.
Dr Ratajczak, who discovered embryonic-like stem cells in adult bone marrow tissue in 2005, urges Tzar Labs to do Western trials "quickly because the implications of this research are not just important but very much needed in translational medicine today".
Patents for this technology have already been filed in the US, Europe, Japan, Korea, Canada, China, Australia, Singapore, and India.
The Tripathi family plans to launch the HrC test first in India – and at an affordable price.
"One of the most poignant things that my brother-in-law had said to us was that this disease is becoming a disease for the rich. What are the poor even supposed to do, because it's just so expensive," Ashish recalls.
Yet, the catch is that cancer, if detected early, doesn't carry the strength and weight it does in the late stages.
"If we catch it early," says Anish, "the time of treatment, cost of treatment, and likelihood of survival change dramatically. So it will be treated faster, more cheaply".
By catching cancer early, Anish believes a paradigm shift can be achieved in turning cancer from a death sentence to a serious disease that needs only to be managed.
It's also a matter of pride that Indian scientists are making this breakthrough possible.
Anish says, "This discovery is a tribute to the pure research capability and talent that we have in India".
"This is an example of Indian scientists and an Indian startup creating a novel breakthrough which will have a lasting impact on cancer treatment," say Dr A D Bhatt and Dr Anantbhushan Ranade, respected oncologists and directors of Avinash Cancer Clinic.
This is certainly something to get behind – for the benefit of all.
Get Swarajya in your inbox everyday. Subscribe here.
Tags: 
Indian science

, 

Cancer Research

, 

indian startup

, 

stem cells

, 

early cancer detection

, 

Anish Tripathi

, 

Ashish Tripathi

, 

Dr V K Tripathi

, 

Tzar Labs

, 

Epigeneres Biotech Private Limited

, 

biotechnology research

, 

cancer detection breakthrough

, 

VSELs

, 

medical diagnostics

, 

blood test for cancer

, 

HrC test

, 

Himanshu Roy

, 

molecular medicine

, 
An Appeal...
Dear Reader,
As you are no doubt aware, Swarajya is a media product that is directly dependent on support from its readers in the form of subscriptions. We do not have the muscle and backing of a large media conglomerate nor are we playing for the large advertisement sweep-stake.
Our business model is you and your subscription. And in challenging times like these, we need your support now more than ever.
We deliver over 10 - 15 high quality articles with expert insights and views. From 7AM in the morning to 10PM late night we operate to ensure you, the reader, get to see what is just right.
Becoming a Patron or a subscriber for as little as Rs 1200/year is the best way you can support our efforts.
Become A Patron
Become A Subscriber