Three days ago, father of a 22-year-old woman from western Uttar Pradesh filed a complaint to the local police that one Intaak posed as 'Aman Sharma' and entered into sexual relations with his daughter on false promises of marriage.
The complaint said that the man also tried to forcibly convert his daughter's religion by taking her to a madrassa.
Based on the complaint, the police at , that falls in Bulandshahr district, booked the man for rape, along with relevant sections of UP's new Anti-Forced Conversion Act and Scheduled Castes Prevention of Atrocity Act. The woman belongs to the Jatav caste of the Dalits.
The FIR (number 404) was filed on 2 July 2021, and names Naresh Kumar as the complainant.
Cases such as this, where women — or their families — accuse men of hiding their real identity and posing as Hindus to trap them in love, with an eventual aim of sexually exploiting them or converting them to start a Muslim lineage, are emerging from across India with an alarming frequency.
A look at news reports suggests that western UP perhaps is a hub for such cases.
Various activist groups have given a name to this pattern, where men specifically stalk and target non-Muslim women. They call it "love jihad".
Curiously, while some proponents of 'love jihad' like to call every case of Muslim man-non-Muslim woman relationship as 'love jihad', the term's detractors insist on labelling all non-Muslim women and their families who make allegations that match the pattern, as liars.
It's impossible to hide one's name and religion for long, they argue. This claim, however, can be easily refuted by a case from western UP last year.
A woman filed a complaint against one Vasim Ahmed for posing as Dinesh Ravat and sexually exploiting her on false promises of marriage. While investigating, the police found the allegations to be prima facie true — the accused had got a fake Aadhaar card made in the name of Dinesh Ravat.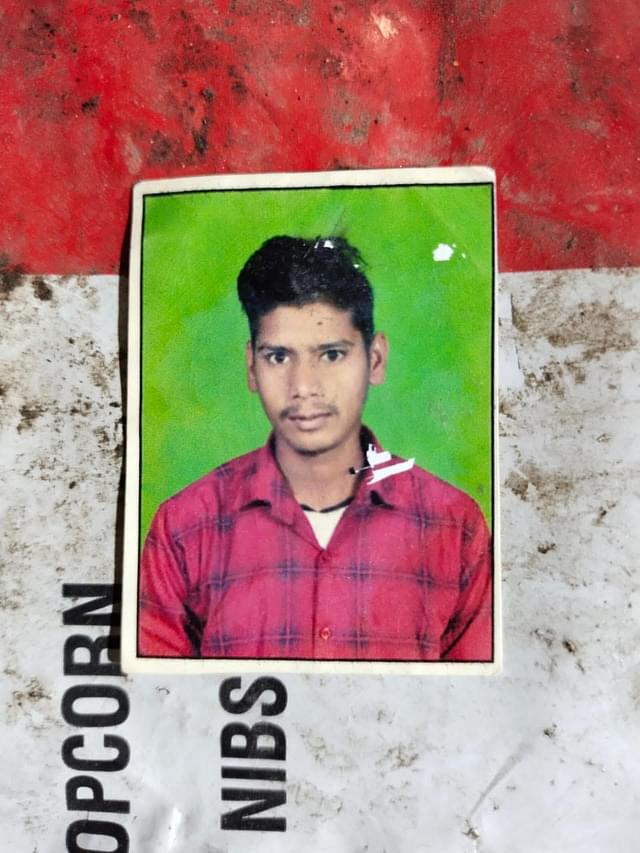 Police found that his other documents such as driving licence showed his name as Vasim Ahmad. The address mentioned on his driving licence was different than that on his 'fake' Aadhaar card. Vasim Ahmad had opened a Facebook account in the name of Dinesh Ravat, which he had used for approaching the woman.
Police also found that he was already married when he entered into a relationship with the woman; his wife's Aadhaar card showed her husband's name as Vasim Ahmad.
Despite documentary evidence, denial of 'love jihad' continues. The opposition to the term and the acknowledgement of it as a pattern is particularly intense from so-called "left-liberals" who actively try to label all other voices as "Islamophobes" and "sanghis".
The debate on 'love jihad' is getting shriller by the day. Unfortunately, most of this shrill discourse excludes the voice of women.
This correspondent has documented several cases where women have revealed ordeals that match the definition of 'love jihad'.
The latest Bulandshahr case falls in the same category. Although the FIR in her case was filed on the complaint of the woman's father, she supported all the allegations made on her behalf when this correspondent spoke to her. She narrated her story willingly.
She says she met the accused about two years ago. He worked at a welding workshop near her house in Gulawathi. He introduced himself as Aman Sharma.
The woman was initially sceptic about getting into a relationship given the difference in their castes, but Aman assured her that it didn't matter to him. In time, he would convince his family as well, he told her.
They began dating. Aman, however, would be away from Gulawathi for weeks at a time. They would meet every one or two months. The venue was almost always the same — a tubewell located around 20 minutes' walk from her house.
They made sexual relations several times — near the tubewell.
Asked how she did not suspect what his real name was, the woman says Aman would wear a kalawa on his wrist.
"The subject of religion never came up during our conversations. He would wear a kalawa on his wrist, so I had no reason to suspect anything amiss," she says, and adds, "but when I learnt the truth about him, I realised I made light of several things when they should have bothered me. For instance, he never picked up any call he received on his mobile phone, and never allowed me to see his mobile screen."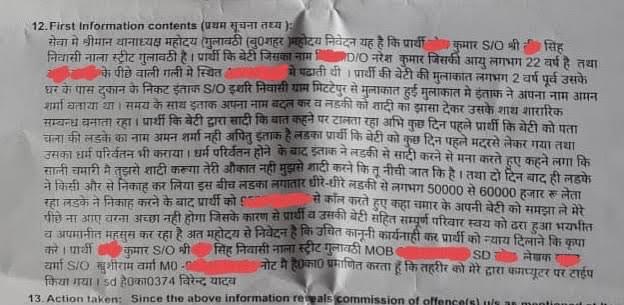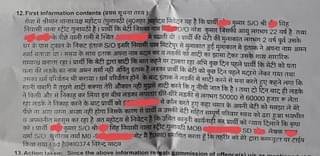 The statement in the FIR.
She says that since the beginning of this year, she had been pressuring Aman to initiate the wedding. He, however, kept delaying it on some excuse or the other. Last month, when he returned to Gulawathi after being away for weeks, he revealed his true name and identity.
The woman says she was left surprised and confused. She knew her family wouldn't agree to the alliance. Intaak told her he would do everything to keep her happy. She decided she would elope with him, if it came to that.
A few days later, Intaak asked her to go to a nearby madrassa with him. "He said it was a matter of five minutes".
At the madrassa, a maulvi made her recite the kalma and sign on a piece of paper. The text was written in Urdu, which she could not read. She was told that she was no more a Hindu and her new name was 'Rehaana'.
The next day, she met Intaak again. He seemed to be a different person now.
He told her he was all set to marry someone else. He also told her that the only way he would marry a "chamaari" like her is to make her his second wife. Intaak is from the Meo Rajput caste.
Devastated, the woman came home and told her father everything. He was furious. She also revealed things she had kept hidden even from her friends: Intaak would often take money from her.
"He would constantly ask me for money. I would steal from home and give it to him," she says. Intaak has taken around Rs 50,000-60,000 from her in this manner, she says.
The father and the daughter went to the police station to lodge a complaint. They told the police that Intaak had made sexual relations with her on the false pretext of marriage, and had taken money from her on several occasions.
Naresh Kumar additionally said that Intaak had forcibly tried to convert her in the madrassa.
Asked why she had agreed to the charge of forcible conversion when she went with Intaak willingly, the woman says he had not told her about the process of conversion before taking her to the madrassa. It was a surprise to her, she says.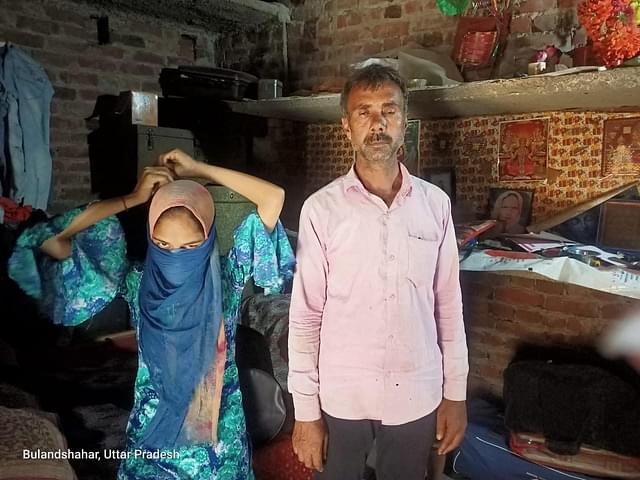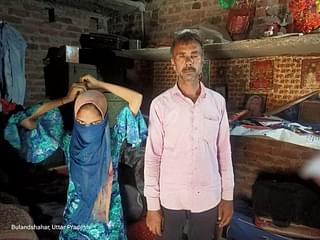 The woman with her father, Naresh.
The woman says she wants "justice". The police arrested Intaak after the FIR was filed. The woman's statement before the magistrate (under Section 164 of the CrPC) was recorded on 6 July. It had been scheduled in the district court on 5 July, but by the time her turn came, it was too late and the court wrapped up for the day. She went again the next morning.
Intaak had married a few days before his arrest. Asked if she was simply taking revenge from him for turning her down, the woman says Intaak exploited her all along.
She says that had he approached her with his real identity, she would not have entered into a relationship with him in the first place. She says Intaak must face consequences for "ruining her life".
She is now ready to move on in life. With help of a social organisation, she has enrolled in a vocational course so she can be self-reliant. Ashamed of fleecing her own father, who is a poor daily wager, she now wants to help him.