Manufacturing Matters: What India Can Learn From The American Mistake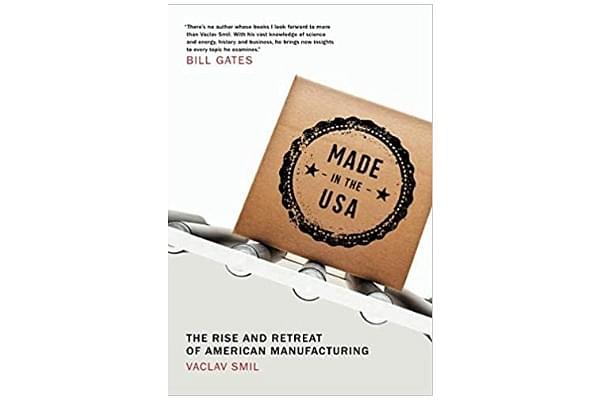 The cover of the book, Made in the USA: The Rise and Retreat of American Manufacturing.
Snapshot
It would be a fatal mistake for India to completely bypass the manufacturing revolution, and the US story holds valuable lessons for India in this area.

Vaclav Smil's Made in the USA is a hard-hitting book that warns of an era of high joblessness in the US which will leave an indelible imprint among young Americans.
In my previous article, I had elaborated upon Professor Vaclav Smil's views on fossil fuels and energy. Smil is an interdisciplinary thinker whose gamut of work ranges from energy, environment, food and population to economic, historical and public policy studies. His books are thoroughly researched, soundly reasoned and uniformly excellent.
One of Smil's books is Made in the USA: The Rise and Retreat of American Manufacturing (2013). (It must be noted here that Smil is a Czech-Canadian scientist who can be expected to be neutral and unbiased in his analysis.)
It is well known that manufacturing is on the decline in the US and is being displaced by the service sector. There are economists and thinkers who have hailed this trend as a natural evolution. They have assured that all those who lost jobs in manufacturing would be absorbed in the endlessly assimilative service sector.
It is also known that the US is mired in deep economic problems. The US is the greatest debtor nation in history. It got deeply affected by the 2008 economic downturn — so much that there was no net job creation in the first decade of the twenty-first century even though the country's population increased by almost 10 per cent.
Smil states: "I wrote this book because I wanted to narrate the great, and a truly nation-building, story of US manufacturing — and because I believe that without the preservation and reinvigoration of manufacturing, the United States has little chance to extricate itself from its current economic problems, meet the challenges posed by other large and globally more competitive nations, and remain a dynamic and innovative society for generations to come."
Manufacturing, according to Smil, is the hinge on which the other non-industrial sectors like services and agriculture revolve. As he puts it, "Global agriculture could not feed seven billion people without the Haber-Bosch synthesis of ammonia, without inputs of pesticides and herbicides, and without field machinery, including irrigation pumps. Intercontinental travel time could not shrink without gas turbines powering jetliners, and the global shipping of bulk materials and countless manufactured goods would be much less affordable without the diesel engines that propel massive tankers, cargo carriers, and container ships. Communication could not be instantaneous and global, and no modern service sector based on data storage and processing (banking, finance, retail, hotel and travel reservations) could exist in today's convenient form, without microprocessors, whose manufacturing had to be preceded by the invention of integrated circuits a decade earlier, which in turn was preceded by the commercialization of silicon-based transistors."
Smil meticulously details the rise of American manufacturing from 1865 (after the Civil War) to 1940. This was the glorious period of American inventiveness: the first prime movers like IC engines and electric motors, the production of steel, the use of crude oil, the expansion of electrification, the invention of flight, the assembly line technique and mass production, and others. Even during the Great Depression, American manufacturing remained innovative with new materials like plastics and the Houdry catalytic cracking technique to synthesise high-octane gasoline.
But it was the period 1941-1973 that saw the dominance of American manufacturing. Manufacturing for war inspired the public with a common goal and many new innovations in defence and military took place (including the atomic bomb). This was also the era when the computer, the IC chip and the microprocessor were invented. TVs, room ACs, coffeemakers, hot plates, irons, radios, toasters and vacuum cleaners diffused though American households.
In 1948 nearly half of American families did not own a car. This changed in the 25 years from 1948 when the national ownership rate doubled to a saturation level of 2.1 people per vehicle by 1973.
Smil traces the onset of the retreat of manufacturing in the US to the year 1974. In 1973, the OPEC crisis occurred which raised crude oil prices to about $10 a barrel. In 1971-73, US President Richard Nixon closed the gold window ending the convertibility of dollars to gold, thus abandoning the Bretton Woods regime set in place in 1944.
Smil says, "[America's] uninterrupted spell of trade surpluses, which began in 1895, ended in 1971; the balance turned positive again in 1973 and 1975, but it has stayed negative ever since."
The Organization of the Petroleum Exporting Countries crisis resulted in increasingly expensive energy supply which resulted in substantial losses in the iron and steel industry and the once mighty auto industry. The fall of the Iranian monarchy in 1979-81 tripled crude oil prices and this led to demand for smaller, more efficient vehicles, the category neglected for decades by American car companies. Between 1979 and 1981, sales of US-made cars declined by 25 per cent, while by June 1980 imports accounted for nearly 30 per cent of all sales.
The semiconductor, electronics and computer industries were still going strong in the US but were gradually superseded by Japan and East Asia's e-triumphs. But it was not Japan that became America's ultimate challenger. After the 1985 Plaza Accord, Japanese onslaught mellowed but the age of Chinese dominance began.
What followed after this, in the 1990s, "amounted to nothing less than outright capitulations as closures of US plants and the offshoring of domestic capacities resulted in a nearly complete loss of industries which had dominated the lives of many cities and regions for generations and now appear to be irretrievably lost. The losses range from TVs...to cutlery: the last maker of stainless steel flatware, Sherrill Manufacturing in New York, closed in 2010…And yet these losses have been seen by many economists as both inevitable, part of a continuing shift to an ever-widening array of services, and beneficial, because American consumers pay lower prices for clothes, electronics, furniture, and a myriad of other goods now made abroad, particularly in China."
Smil goes even further: "In large categories of goods, it is now either exceedingly difficult or simply impossible to find a single US-based manufacturer. As a result, no other powerful country in history has been as dependent on chronic deficit-inducing imports of basic manufactured products as the United States is today."
While some free market economists argued that maximisation of profits is the sole justification of any business, American companies went out of their way to kowtow to China in order to maximise their profits. Consider Apple's iPhone. It cost Foxconn, a Taiwanese company, only $6.50 of the total cost of $178.96 to assemble phones in China. The rest of the shipping cost was accounted for by components (memory, display module, baseband, camera etc.). However, with a retail price of $500, Apple's profit margin in 2009 was 64 per cent. Smil points out that "assembling the iPhone in the United States would still have left a 50% profit margin for Apple - and, of course, it would have created a large number of American jobs." Clearly this short-sighted consideration of profit maximisation rather than national interests was, in hindsight, akin to throwing the baby out with the bathwater.
Some experts argue that even though the manufacturing has been outsourced to Asia, the intellectual property and basic designs are still in the hands of Americans. Smil bluntly states, "This is also a suitable place to repeat that Chinese companies have been unsurpassed masters of the theft of intellectual property and the allied art of knocking off counterfeit products. In 2005, American businesses lost $2.6 billion owing to China's copyright piracy, and counterfeits now make up 15%-20% of everything made in China (adding up to 8% of GDP). The country accounted for 79% of pirated goods seized by US agents in 2009...."
Smil argues that world renowned experts like the late Peter Drucker, Michael Porter and Jagdish Bhagwati are mistaken in their supposition that this is all business as usual.
Smil counters Bhagwati as follows: "...Bhagwati...questions the fact that manufacturing is more innovative than the service sector by citing FedEx, faxes, mobile phones, and the Internet as great innovations in communication. This is a monumental categorical error that ignores first causes and consequences: all of these innovations in communication — next-day package deliveries, the instant transmission of printed matter, and rapid access to information — had to be preceded by fundamental innovations in manufacturing, the construction of jetliners and gas turbines, the development of xerography, and the design and mass production of ever more powerful microprocessors and higher-resolution screens."
Vaclav Smil's Made in the USA is a hard-hitting book that concludes that the US faces an era of high joblessness which will leave an indelible imprint among young Americans. The joblessness will only be accentuated by the growing automation and robotisation.
He quotes and expresses complete agreement with Andy Grove (former CEO of Intel) who said: "You could say, as many do, that shipping jobs overseas is no big deal because the high-value work — and much of the profits — remain in the US. But what kind of a society are we going to have if it consists of highly paid people doing high-value-added work — and masses of unemployed?" It is an understatement that there is growing inequality in the US.
Smil does not wish to forecast into the future, but present day (2019) events have not been encouraging. Protectionism under President Trump has been growing and there is a brief revival in manufacturing. How long will that last? I share Smil's pessimism when he says, "Hard to see anything promising in these developments..."
The US story holds a lesson for manufacturing in India. Some experts hold that India can leapfrog directly from the agricultural age to the information/services age completely bypassing the manufacturing revolution. This would be a fatal mistake. The bottomline is: manufacturing matters. India's "soft power" such as Indian culture, Indian food and Indian music will not make us leaders on the world's stage. Nothing cuts it as leadership in manufacturing. That is why I feel the Indian government's "Make In India" push is a step in the right direction.
Get Swarajya in your inbox everyday. Subscribe here.
An Appeal...
Dear Reader,
As you are no doubt aware, Swarajya is a media product that is directly dependent on support from its readers in the form of subscriptions. We do not have the muscle and backing of a large media conglomerate nor are we playing for the large advertisement sweep-stake.
Our business model is you and your subscription. And in challenging times like these, we need your support now more than ever.
We deliver over 10 - 15 high quality articles with expert insights and views. From 7AM in the morning to 10PM late night we operate to ensure you, the reader, get to see what is just right.
Becoming a Patron or a subscriber for as little as Rs 1200/year is the best way you can support our efforts.
Become A Patron
Become A Subscriber