Spare: Ramblings Of A Disgruntled Prince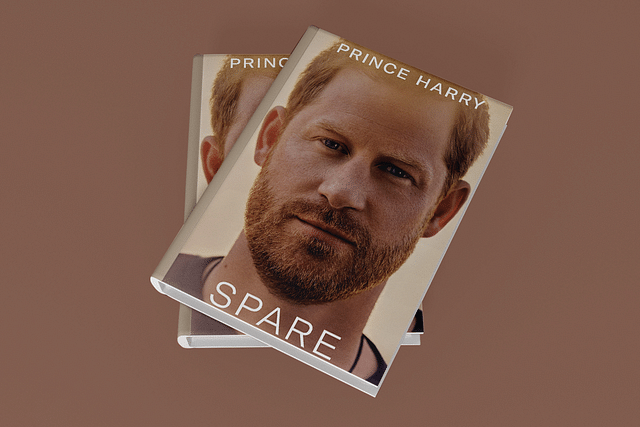 The cover of Prince Harry's book, 'Spare'.
Snapshot
Prince Harry makes everyone else's misfortunes into his own — not in a good way. He is blind to his privileges.
Spare. Prince Harry. Bantam Books. 2023. Pages 416. Rs 1,299.
Thirty years ago, Arundhati Roy and Pradeep Krishen made Electric Moon, a movie about Indian royals in the aftermath of their privy purses being taken away.
They are portrayed as having more money than sense, having more pride than money, and victims of their own creation.
They live off money made from selling the 'British Raj' experience full of stereotypes about India to unwitting Westerners and are portrayed as out of touch with the 'New India'.
I vividly remember a scene where a princeling runs on the roof of his palace, threatening to use his gun on himself or others.
In Spare, Harry is that princeling.
Seventy-five years after the empire, in our Amrit Mahotsav, that's where (two of) the British royals are.
Complaining about their old rambling palace homes "falling apart", that renovations are too expensive, and selling dirty family linen to afford their 9-bed 16-bath mansion. And, victims of their own making.
It is hard to feel sympathy for Harry when you read Spare.
Right in the first chapter, he talks about Balmoral castle, the acres of land they own around it, servants, footmen, giant portraits of Queen Victoria, and 50 bedrooms — before complaining about his 'half' of the room being 'far smaller' (a mathematical impossibility) and 'less luxurious'.
Because he's the Spare. Because he was only third in line to the throne at age 12, not second, like his brother, who he calls 'Willy'.
He suggests he was birthed just so he could provide a spare kidney or blood transfusion for Willy, and then proceeds to make sure that can never happen by indulging in an inordinate amount of substance abuse.
He talks about doing lines of cocaine but not liking it, smoking large bags of marijuana in one night, and being drunk enough to brawl in pubs regularly and even fight his own bodyguard. And then he gets inordinately angry that the 'press' portrays him as an addict and a violent drunk.
Oh, the press. They are everywhere. Snapping pictures of him leaving pubs. Somehow sneaking up on him when he's wearing a Nazi uniform. And reporting on a viral video he himself sent out, where he is calling a fellow soldier a 'Paki'.
They even trip him up into admitting that he saw killing people in Afghanistan akin to a videogame.
The main villain in Harry's life is the 'press'. They shot his mother and are out to frame him as a dimwit. And in this, they are helped by Camilla, his evil stepmother, who cannot stomach his rising popularity.
Not once is there any talk of his aunts and several cousins who somehow have made their peace with press coverage.
His poor father, though, helplessly stands on by, not reading the tabloids, and telling him to do the same. Willy is unkind and unsympathetic, a cold, distant older brother who we never see in a positive light in all 416 pages of the book.
But wait, he doesn't think his mother is dead. He keeps talking about her "disappearance" well into his 20s.
And then he, with his bodyguard, intimidates a cabbie in Paris to drive him through the tunnel at the same speed his mother was driving when she died. Twice.
His best friend from boarding school dies in a car accident not far from home. He wasn't wearing his seatbelt.
Somehow, this doesn't drive home to him that his mother's death was that simple. Instead, we get more pages of how cruel life is to him.
He somehow makes everyone else's misfortunes into his own. And not in a good way. He is blind to his privileges.
He attributes every good thing in his life to his own efforts, while all the bad is someone else's fault, be it his family or the media, or even uppity palace workers.
If he is to be believed, Camilla is Cruella De Vil and wants to wear a cloak made of his skin, all the royal residences are in shambles, the media is always stalking everyone vaguely connected to the royals, no one hugs each other in the royal family, ladies-in-waiting and equerries can talk back to a Prince with no consequences, and the Queen is controlled by a dark shadowy cabal that prevents her from meeting her favourite grandson.
Oh, also in this world, the Xbox is available in 1999, seals sing to Meghan, the hospital lets you go home barely an hour after giving birth with an epidural, lets you take human remains home, banyan trees grow in California, and Diana is going to show up anytime now, either in person or as a ghost.
But that is for a different time.
Taking a step back, it speaks to the breakdown of the British royal family as an institution, if they can't raise a Prince with good values, beliefs, and faith in their system.
This is despite access to the best teachers, the best healthcare, and centuries of history.
What's the point of hiring the best nannies for your princes if you fire them once the children get attached to them?
How do hours and hours of specialised tutoring and bribing teachers to pass your prince help if you don't try to get to the root of why he can't focus?
How do you dedicate your life to duty if you can't teach your grandson some gratitude?
The 2000s might have been a 'different time', but having access to cutting-edge science, how did you not get the best psychological help for your child who is full of anger?
Prince Harry and this outburst of his is the product of many, many missteps from the British royal family, stemming from their adherence to misguided notions of nobility and toughness.
They are now being hoisted by their own petard. Runaway inflation and a shrinking economy have them now worrying about their image and their relationship with the people they represent, and their wayward son's moves don't help.
Meanwhile, Indian royals and their heritage hotels are doing quite well for themselves, and a buoyant economy and renewed sense of pride in our heritage over the past 30 years means our tourism doesn't need to cater to 'white sahibs' or their stereotypical ideas of India.
One of the most well-known industrialists of 'New India' proudly falls at the feet of the Queen Mother of the erstwhile Mysore royal family.
Several of our erstwhile royals proudly engage in the festival of democracy, standing for elections and representing their people for several consecutive terms, and happily embrace both traditional and social media to reach people far beyond their realms.
Early on in Spare, Prince Harry refers to an Indian prince, a 'bloke who just walked out of the palace and sat under a lovely Banyan tree'. I suppose he was referring to the Buddha and the Bodhi tree.
Maybe that's the example Harry should have taken. Giving up everything he owns to pursue enlightenment, and help others do the same.
But lacking that, he ought to have taken to heart at least this quote commonly attributed to the Buddha — Speak only when your words are better than your silence.
Get Swarajya in your inbox everyday. Subscribe here.
An Appeal...
Dear Reader,
As you are no doubt aware, Swarajya is a media product that is directly dependent on support from its readers in the form of subscriptions. We do not have the muscle and backing of a large media conglomerate nor are we playing for the large advertisement sweep-stake.
Our business model is you and your subscription. And in challenging times like these, we need your support now more than ever.
We deliver over 10 - 15 high quality articles with expert insights and views. From 7AM in the morning to 10PM late night we operate to ensure you, the reader, get to see what is just right.
Becoming a Patron or a subscriber for as little as Rs 1200/year is the best way you can support our efforts.
Become A Patron
Become A Subscriber