Bangladesh has begun field trials for two varieties of Bt (Bacillus thuringiensis) cotton with the country's Cotton Development Board (CDB) getting the genetic material from India's JK Agri Genetics, which is based in Hyderabad.
The development comes even as India has been dragging its feet in permitting newer varieties of genetically-modified crop, especially cotton, since 2006.
The CDB had obtained CryIAc Bt gene, the same that went into Bollgard Bt cotton in India in early 2000s, from the Hyderabad-based firm under the material transfer agreement.
According to the US Department of Agriculture, CDB began trial on 7 August 2018 with two varieties JKCH 1947 Bt and JKCH 1950 Bt, which resist bollworm and armyworm in the crop.
A greenhouse trial was completed successfully and on 4 March last year, the cotton board got the permission of Bangladesh's National Committee on Biosafety clearance to start confined field trials for the current crop year ( August 2020-July 2021).
Objective Behind The Trials
Bangladesh's objective behind these trials is to develop efficient genetically-modified cotton as part of its efforts to increase cotton production to nearly 250 lakh bales (170 kg each) by 2040.
Currently, it produces 190 lakh bales with nearly 45,000 hectares under cultivation. Production has more than doubled since 2010-11 when it produced 85.5 lakh bales with the area under cultivation rising 10,000 hectares.
Bangladesh's move on Bt cotton comes after it has tasted success with Bt brinjal, whose cultivation in India has been banned. The crop could be up for commercial cultivation as early as next season starting August this year.
A move to allow its Bt brinjal commercial cultivation in India led to a hue and cry being raised, resulting in the Supreme Court imposing a 10-year moratorium in 2009.
Since then, research and development activities on GM have almost come to a standstill.
Lessons For India
For India, there are concerns as well as lessons to be learnt, say experts in the field.
"Bangladesh has been importing cotton from India which is Bt. It is a good policy decision on its part," said C D Mayee, South Asia Biotechnology Centre president and renowned cotton scientist.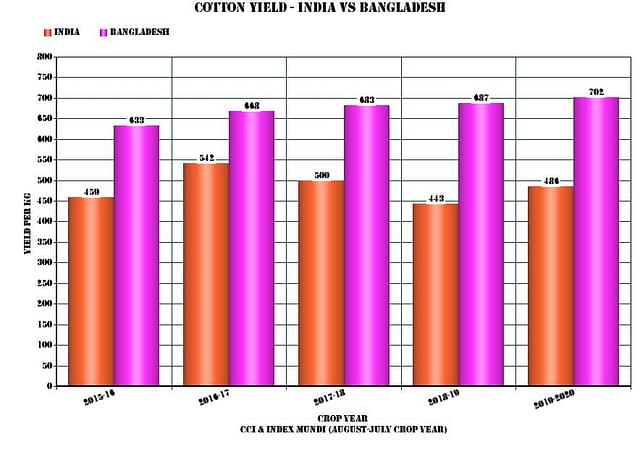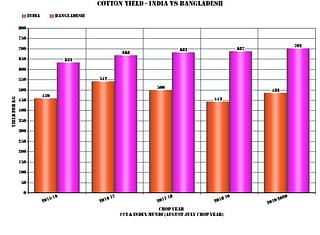 "Bangladesh's decision to go for Bt cotton shows its progressive thinking. It is trusting science and is the right thing to do," said Ram Kaundinya, Federation of Seed Industry of India (FSII) director-general.
Mayee said that even Kenya had begun growing Bt cotton and it was progressing "very well".
"It is quite good on Bangladesh's part to cultivate Bt cotton. We need that in India, too," he said.
Kaundinya said the Indian government was unfortunately vacillating on allowing cultivation of GM crops and seemed to lack trust in its regulator.
"We have to let our farmers grow Bt cotton free. Freedom of market means freedom of technology. Let our farmers too have such a freedom," said Mayee.
HTBT Cotton Controversy
His comments come on the heels of cotton farmers in Maharashtra, Andhra Pradesh, Telangana and Gujarat demanding from the Union government that they be allowed to grow the latest Bt cotton variety, the herbicide tolerant or HTBT.
HTBT cotton is not allowed to be cultivated in India since the government has not approved its commercial release. However, it has been cultivated in 90 per cent of the area under cotton in Maharashtra this season (July 2020-June 2021).
"Our farmers should be able to grow all types of GM crops. It will help them to gain a lot. It will also reduce the cultivation costs," said Seema Narode, West Maharashtra president of Shetkhari Sanghatana, a farmer organisation that supports latest technology in farming.
"This is where agricultural reforms will come into play and benefit farmers immensely. This will help private players come in with market linkages," said P Chengal Reddy, Consortium of Indian Farmers' Association chief adviser.
"In the long term, farmers will be able to get modern technology from the companies. Likewise, marketmen, retailers and exporters will urge the farmer to go for better quality and latest technology," he said.
Indian government and farmers should take note of the advancement in Bangladesh in adopting latest technology to become globally competitive. "Why are we not looking at these aspects?" wonders Reddy.
Bangladesh, which imports 23 per cent of its raw cotton requirements from India, is one of the top apparel exporting nations leaving even New Delhi lagging behind. Its status as least developing country is aiding its efforts, though.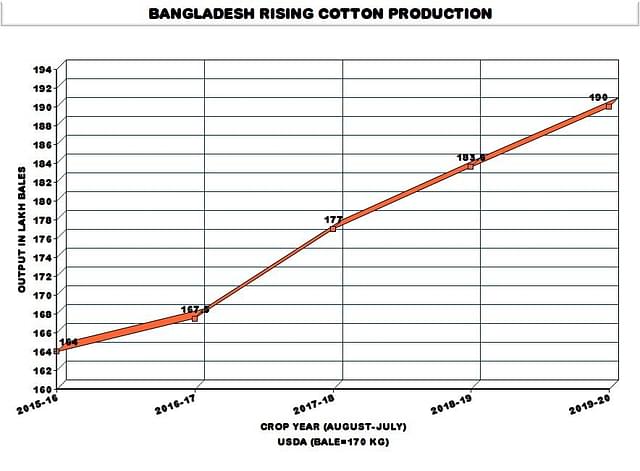 During the first 10 months of 2020, Bangladesh exported $22.4 billion worth of apparels. In comparison, India apparel exports in 2019 were a little over $16 billion.
Concerns For India
The concern for India comes from the fact that this could result in Bt cotton seeds being smuggled across its porous borders with Bangladesh and thus put farmers at risk.
"If Bangladesh begins commercial cultivation of Bt cotton, its seeds can find their way into India. But farmers are at huge risk since they could go for it and without any legal backing or guarantee, they could be at the receiving end if the crop fails. Also, if the seeds turn out to be fake who will they question?" wondered Shetkhari Sanghatana's Narode.
Narode's fears are not unfounded since Bt brinjal, which is being cultivated in Bangladesh over the last few years, have found their way into a few states such as Gujarat, Haryana and Telangana.
There is some forward movement with regard to Bt brinjal in India, which can help farmers from various pest attacks that the traditional brinjal crop faces, especially in saving pesticide and insecticide costs.
The Union government has now allowed biosafety field trials of two new indigenous Bt brinjal varieties in eight states.
According to Union Minister of Agriculture Narendra Singh Tomar, trials in Bt Brinjal have been allowed between 2020 and 2023 if the states concerned issue no objection certificates (NOC).
However, seed firms which are into production of genetically-modified crops feel permission from the states will not be forthcoming easily if any of them is scheduled to go to the polls during the period.
The companies themselves would be reluctant since any change of government would leave them at the risk of the NOC they get being cancelled and losing the investments they make in the trials and research.
Incidentally, Bangladesh's Bt brinjal was developed with Indian company Mahyco's technology.
Bt brinjal has proved to be a hit in Bangladesh and experts have no doubt that Bt cotton could also become popular given the gains that Indian farmers have got from it.
In fact, cotton has been India's only Bt crop so far and it has helped cotton production to rise to record levels of 398 lakh bales in 2013-14 after it was stagnating below 150 lakh bales until 2000-2001.
Over the last few years, cotton productivity has taken a hit as no new variety, especially Bt, has been approved.
Cotton per hectare yield currently is 486 kg against 566 kg during 2013-14. In contrast, Bangladesh's per hectare yield is over 700 kg.
Experts say that this is one reason why India urgently needs to introduce newer varieties. "Yield in new varieties is high," said Mayee.