How often do families go out to witness art exhibitions, especially in non-metropolitan cities? Not many and not much, right?
The Public Art Festivals, curated by Sumi Gupta and supported by the Yuj Arts Foundation, are bridging this gap and connecting communities through art. You ask, how?
Well, in today's time, when the weekends or the evenings are spent going to a mall with family or friends for shopping, eating, playing games, watching movies, etc, this festival is reaching people where they are — at shopping centres.
The festival is organised at VR community centres across India through partnerships with leading institutions and notable individuals from the city's artistic community for its people to celebrate city's art and culture.
The Public Art Festivals have been a huge success in the past, with footfalls in millions in cities like Surat, Chandigarh, Amritsar, Bengaluru and Chennai.
And Now, It's Time For Nagpur
The city of Nagpur will witness its first ever public art festival aimed at showcasing the delicate relationship of human beings with their environment, with a special focus on climate change and sustainability, from 4 February to 5 March.
The one month long public art festival witnessed a large number of visitors on the inaugural day (4 February) itself. The event was inaugurated by Union Minister for Road Transport and Highways and Lok Sabha MP for Nagpur, Nitin Gadkari, by unveiling the electric car "Kala Car" which depicts "A Fine Balance" between human beings and their surroundings.
Nagpur Kala Sangh Festival has over 250 art installations, sculptures, paintings, and photographs, but it is not just limited to that. It has some fun activities that visitors enjoy doing; it's interactive and not just for display.
The "Wearable Art" fashion showcase on the theme "A Fine Balance" by students of JD Institute of Fashion Technology showcasing distinctive sustainable fashion trends grabbed everyone's eyeballs on the inaugural day.
The people working in the stores, too, came out to witness the event. Two saleswomen said, "We usually witness such a huge crowd only during festival seasons, on Sundays too, the place is not as crowded as it is today."
Another one said, "The event has made the space vibrant, fun, and lively."
Surprisingly, on interaction with the individuals and families, at least four of them told the author that they came to know about VR Nagpur through this event and had come to witness the art installations and fashion show.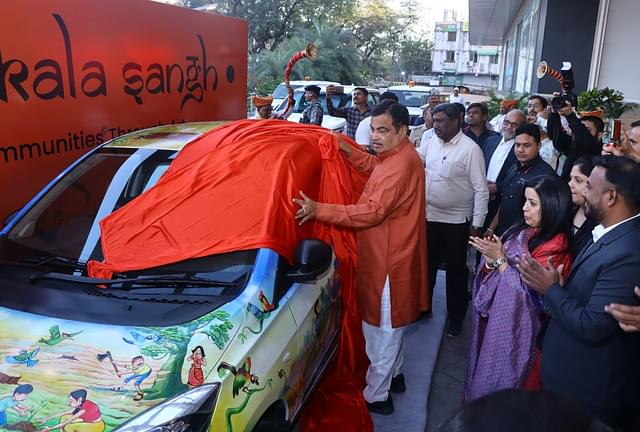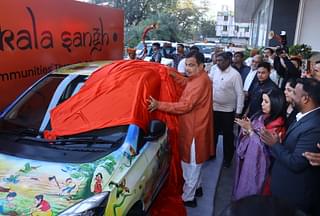 Inauguration of Nagpur Kala Sangh 2023 festival by Union Minister Nitin Gadkari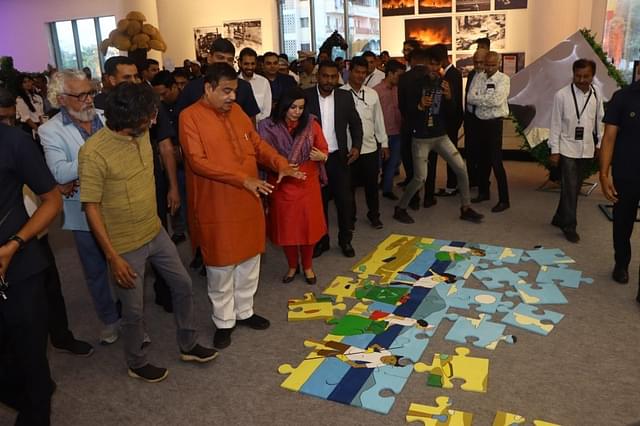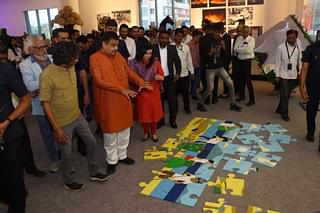 Prakash Bal Joshi (behind left), Lalit Vikamshi (front left), Union Minister Nitin Gadkari (centre), Sumi Gupta (right)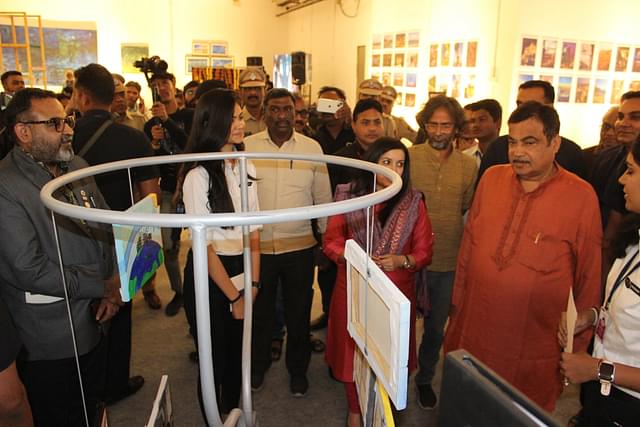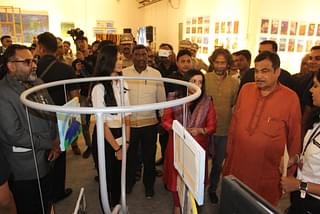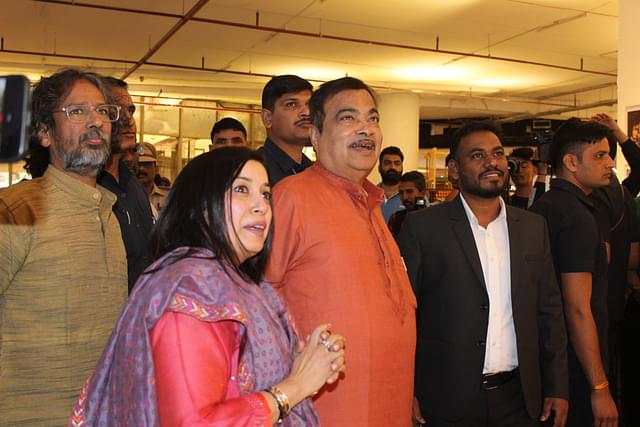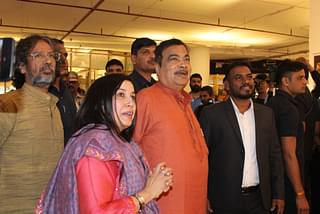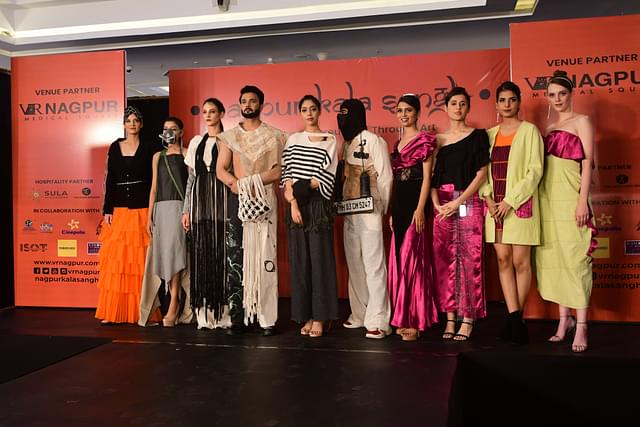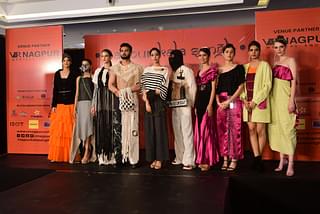 The "Wearable Art" fashion showcase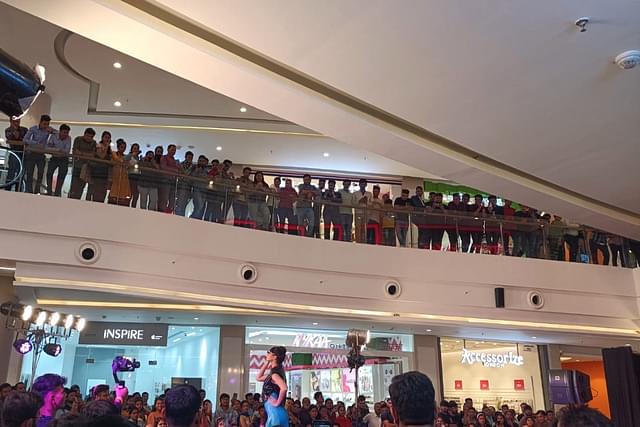 Art For The Masses
Established in 2013, the Public Art Festivals are inclusive and bring together a community of connoisseurs, art students, patrons as well as the people of the city in a celebration of city's art and culture, says Sumi Gupta, curator of Nagpur Kala Sangh 2023.
The festivals also give an opportunity and exposure to young artists to display their art along with the work of some notable artists in the field to the masses in a public space where lakhs of people visit, and not be confined to school or college campuses or exhibitions that usually is exclusive and for a limited crowd, she adds.
The one-month festival takes six months of preparation and hard work, which features not only large-scale installations and photographs but also a variety of literary and artistic workshops, enjoyable learning experiences, young artist programmes, and more.
Gupta says we reach out to the people through art, for art, and with a message about the environment, making the festival inclusive, interactive, and participatory.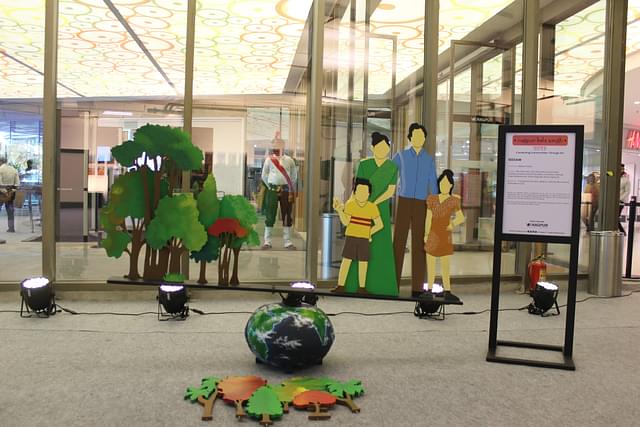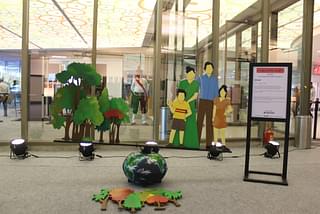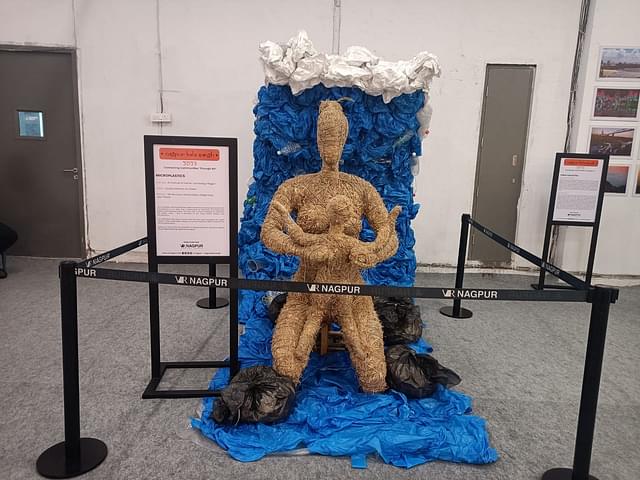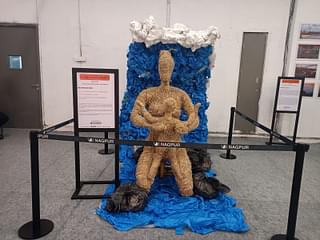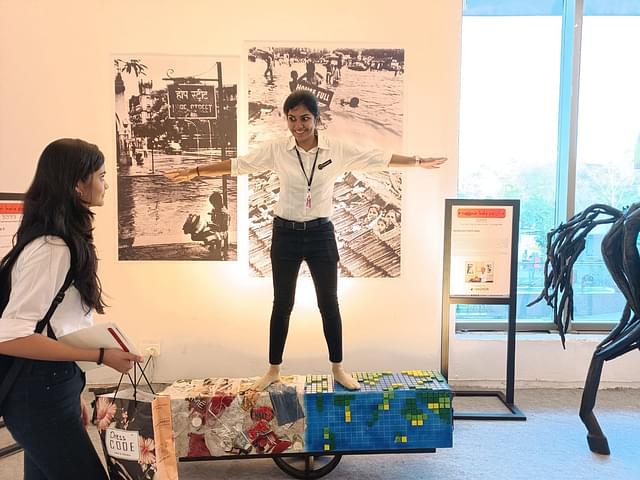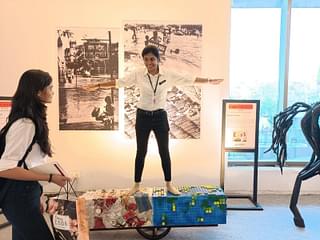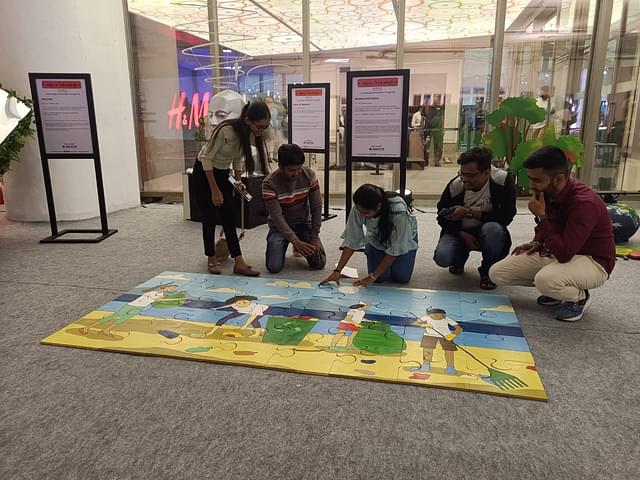 Public Art Festival And Its Impact
One, unlike other exhibitions, festivals and programmes where only a limited crowd visits, shopping malls have become the go to place for families and friends.
The author visited VR Nagpur on 5 February (Sunday) as well and witnessed that most of the people in the Nagpur Kala Sangh Fine Art Room were parents with their school-going children and college students in groups of three to four going around experiencing the art.
Parents were reading the descriptions and explaining to their children about the art and what it depicts; students in groups were also exploring the space with their friends.
Many were clicking pictures of the installations. Some were writing their answers on the hanging notes, trying the balancing act on the seesaw, solving the jigsaw puzzle, and listening to the speaking tree.
Jyoti visited the festival with her husband and two children. She told the author that the art installation has a message to convey, which is very nice, and is great for children as it is fun as well as a learning experience for them.
"This will also help my children in their studies and projects when they reach a higher grade," she adds.
Maya, who works in the Prison Department in the city, was exploring the art installations with her teenage daughter Gargi, and when asked if such activities should happen in the shopping centres, she said: "It's great if places like these, where people come to just eat pizza and enjoy themselves, can also communicate the message of individual responsibility one has towards our environment through such an artistic experience."
"I work in the Prison Department and we often make art with a social message and display it at the entrance of the office, but in a shopping centre we can experience this with our family," she adds.
Two, it's breaking the elitist idea of art in the eyes of the public. Art has always been inclusive and for the people.
But still, for the people who have not studied the subject or do not have the skill in it usually feel unwelcomed when they enter spaces such as art exhibitions even if they have the curiosity to explore.
On talking with notable artist Prakash Bal Joshi, whose art works have received appreciation and a good response in India as well as in several countries like the US, Turkey, Bhutan, South Korea, Italy, and other European countries, he tells about his art work "mind space" displayed at the festival.
"Art has always been for the masses and open to viewers' interpretation and criticism, as both add value to our art work, and this initiative to display it in a community centre, where the masses are, provides great exposure for artists," Joshi says.
"It's the commercial aspect of the art that has made artists insecure and elitist in their approach, which has created the barrier between the art and the general public," he explains.
Lalit Vikamshi of Makers Adda, which provides an environment to explore artistic endeavours in Nagpur city, along with his team of students, have displayed various art works in the festival, including the tiger eyes made using over 2,000 diyas. He also mentored and helped in the making and installation of all the art works at the festival.
"This is the first time something like this is happening in a city like Nagpur inside a shopping centre, where a lot of people come in throughout the day. It's great that so many people will witness all the art work in this month-long festival," says Vikamshi.
"I was excited when I came to know about this festival happening inside VR Nagpur because now, for this generation, a shopping centre is more relatable; it is where the young generation likes to go. I felt this was a wonderful idea and a great exposure for the young generation visiting the shopping centre," says Asad Firdozy, director of Cinderbay School of Design.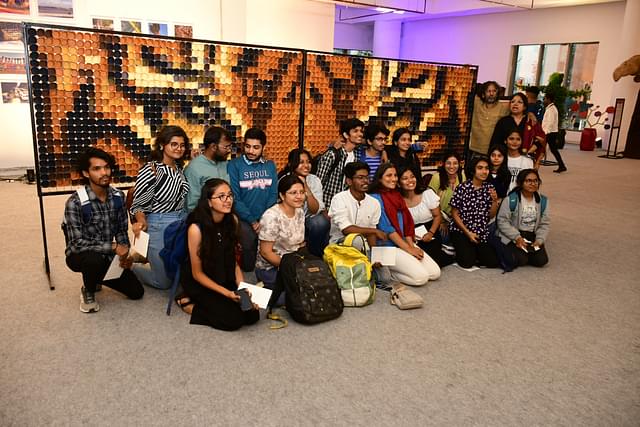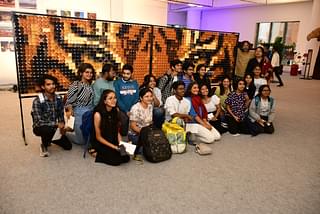 Lalit Vikamshi of Makers Adda along with his team of students.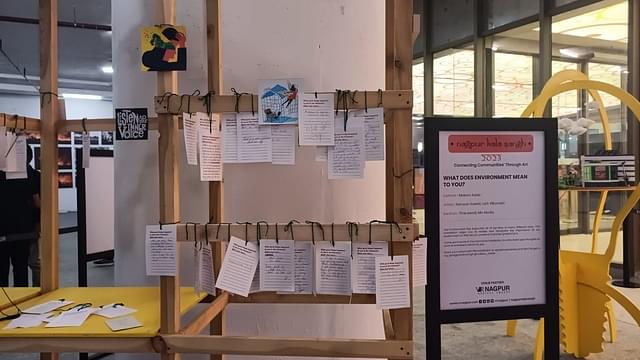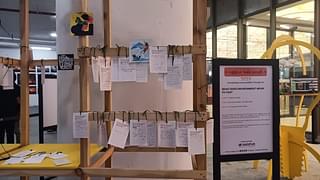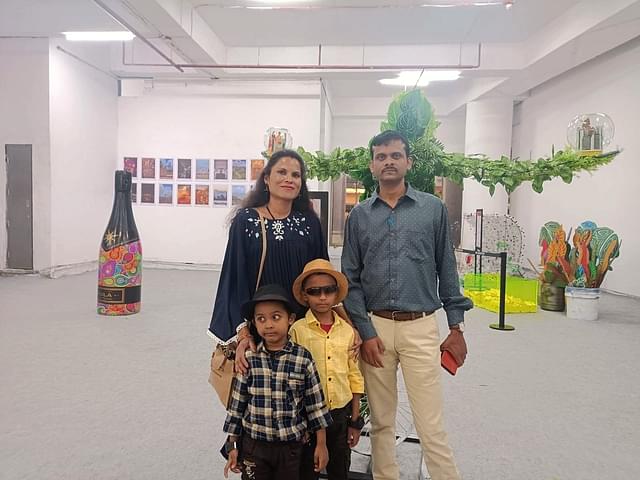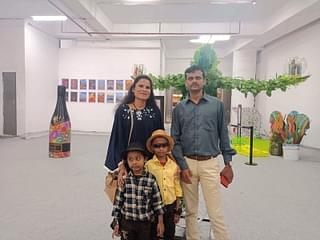 Jyoti with her family at Nagpur Kala Sangh 2023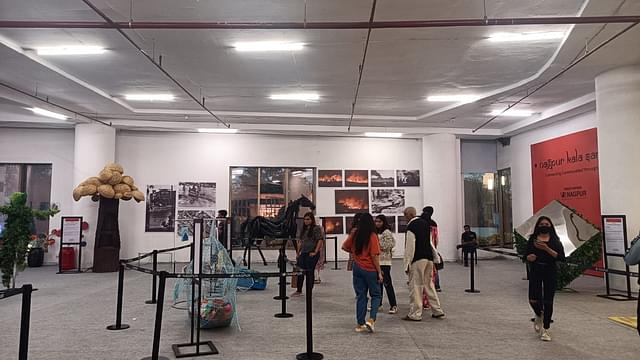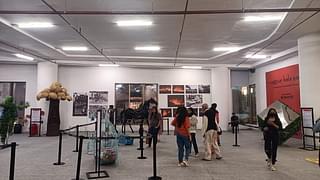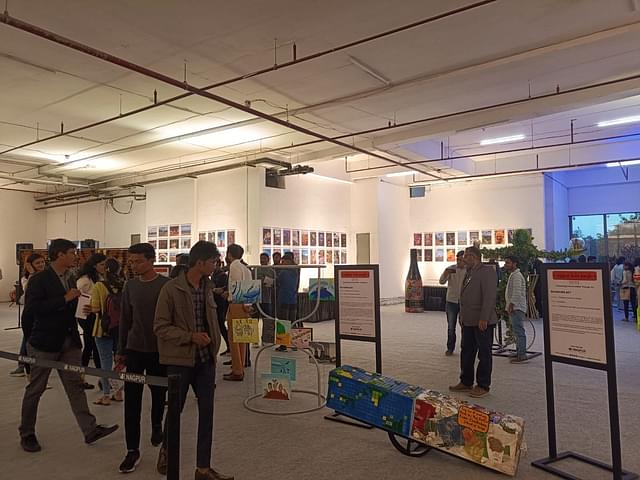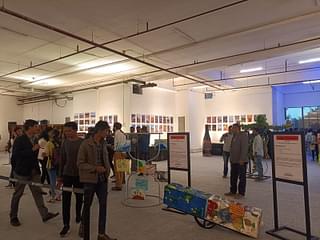 Three, the festival provides a great exposure to the school and college going students. Students pursuing their degrees in fine arts and designs get to display their art work to a large number of people who are visiting the shopping centre.
In an elaborate chat with Bhrigu Sharma, an art practitioner, Principal at Karnataka Chitrakala Parishad, Bengaluru School of Visual Arts, and alumni of the Faculty of Fine Arts, MSU Baroda, he says that this initiative is unique and important as it provides a platform and exposure for the students of the field and boosts their confidence when they see their art along with their names displayed in a public space where so many people are coming and looking at their work.
The people also get to learn about the educational institutions from where the young artists are learning and pursuing their degrees in this field in the city.
When asked about how artificial intelligence and virtual reality are going to impact the artistic community and the art experience for people, especially with the advent of platforms such as DALL-E that can generate digital images from natural language descriptions, Sharma says:
"Some brands have started experimenting with AI for designs and digital art, but when it comes to sculptures, massive art installations, and interactive art, these are things for which one needs to be physically present in that space to really experience it in its true form."
The young students looked happy standing beside their artwork and explaining it to the visitors.
Sushmita and Raashi, who have displayed an hourglass representing a fine balance between human beings and the environment at the festival, say that they enjoyed the whole process of making it together and are overjoyed to see so many visitors of all ages spending some time looking, reading, and even asking them to explain about their art.
Nagpur Kala Sangh 2023 — a public art festival — is a win-win for everyone.
There are some people who discover the venue for the first time through this festival, the collaborators (renowned artists, educational institutions) get to display their large-scale art installations for a large audience, and the visitors get to experience the art in a place they like visiting with their loved ones.