PS2: Does It Match The Hype?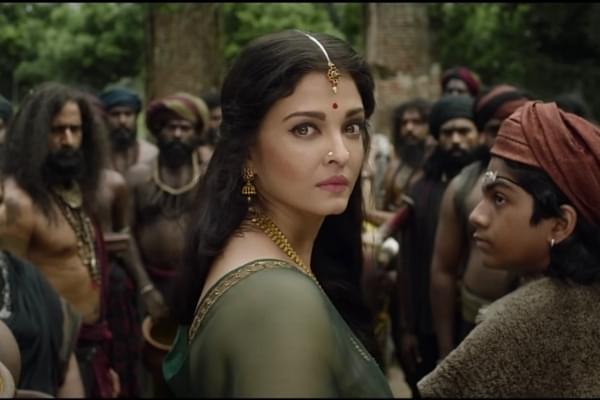 A scene from 'Ponniyin Selvan 2'
Snapshot
'Ponniyin Selvan 2', in this writer's view, comes off as emotionally more satisfying than the first part.

Mani Ratnam shows age has not withered his art and craft.
Listen to this . No, actually, closely follow the visuals.
Of course, this is from the 1983 Kannada film Pallavi Anu Pallavi --- Mani Ratnam's first outing as a director. See Anil Kapoor and Kiran Vairale, as young lovers, gallivant around a fetching 80s Bangalore with nary a care in the world. But the song as it has been picturised, even if it has the sensibility of Mani, carries the style and substance of Balu Mahendra who was the cameraman for that Kannada movie.
The young duo not lip-syncing to the song but merely going around as any two lovers would do, while the song is shot over them, is straight out of Balu Mahendra school of filmmaking.
Cut to Ponniyin Selvan 2, Mani Ratnam's retelling of Kalki Krishnamoorthy's historical fiction --- his latest in the 40-year long career --- and you again get to see that the actors don't really mouth the songs, set to tune by AR Rahman. But here, sensibilities, style and substance are all decidedly Mani's.
By the way, ARR's songs, the way they are structured, make it impossible to be picturised in a conventional way. As they are, his songs these days willy-nilly hover merely as an aural background to a set of visuals.
To be sure, ARR's numbers have broken the accepted film grammar. As standalone tunes too, they seem to work fine. But alas, his songs no longer seem to be in service of the cinema that they are part of. But this is a debate and discussion for another time.
For, the man of the moment has to be Mani. His Ponniyin Selvan, rendered in two parts on celluloid, now seems a commercial biggie. If anything, the second part looks to break the record set by its predecessor. But what is really fascinating is how Mani has reimagined Kalki's classic, which is arguably the biggest selling Tamil fiction book ever, in his own cinematic way.
Ponniyin Selvan 2, in this writer's view, comes off as emotionally more satisfying than the first part. Of course, since the knots of the first part are unraveled in the second, it may seem more wholesome and agreeable in the way the screenplay unfolds. Also, the first part had to spend time on establishing the myriad characters. Here, the director has the luxury of hitting the ground running.
Still, this film has all those sui generis Mani Ratnam flourishes that many of us film-watchers, especially in Tamil Nadu, have grown up with. (Spoilers ahead) Take that small scene between Vandaiyathevan (Karthi) and Kundavai (Trisha) in the small patch of grassland floating on what is supposed to be river Cauvery.
It is a beautiful stretch culled straight out of Mani's Book of Love Chat, as it were. And as the romance clicks between the two, as if on a shot and sharp cue, the Aga Naga song kicks in with rapturous beauty.
This one scene is symptomatic of how Mani has approached this film. The story may be about long lost kingdoms and kings, but the treatment and discernment is modern and accessible. And that is what may be helping it work with the young set.
There are criticisms that Mani's films are fluff and frippery and lacks heft. The debate whether it is true or not will not take us anywhere, but as a filmmaker he is full of heart and more importantly, he does not take the easy way out.
At around 66-years, and 26 films under his belt (before the two PS parts), he could have afforded the luxury of resting on his laurels. Instead he set out on the most arduous of films of his career. Ponniyin Selvan, as everyone knows, was attempted to be translated on celluloid by the likes of MGR and Kamal Haasan --- you don't get bigger names than them in Tamil cinema. But what they couldn't pull off --- albeit not for possessing cinematic creativity --- Mani has managed because at core was his conviction.
To be sure, he was fortunate to get a producer who was ready to bankroll a risky project. Everything aside that has worked for Ponniyin Selvan movies can be put down to Mani's vision, and the diligence and determination to see that vision come alive.
More importantly, Mani has the rare ability to not get caught in any hype, including those around himself. The one thing that helped him make Ponniyin Selvan was that he did not trap himself in the cul de sac of whether to cater to those who have read the book or satisfy those who know nothing about the story.
He understood quite early that it would be an impossible chimera to chase. In almost all those pointless promotional interviews, Mani laboured the point that this was going to be his 'interpretation' of Kalki's novel. And, more importantly, he stuck to his words.
Many of those who have read the novel are cribbing in social media that the filmmaker has shortchanged them. You can dislike the two films on many grounds, but not sticking to the original book version cannot be a valid one, especially when Mani himself has made it clear that it was never his intention or purpose. It is like complaining that your washing machine doesn't do the dishes.
The other comment that there are too many characters and the plot is too convoluted, doesn't even deserve much attention, as historicals by their very nature are bound to be like that.
Ponniyin Selvan also does not fall for the temptation of playing to the gallery of extravaganza. It is a historical, despite being filled with all the visual resplendence that comes with a story of kings and beautiful women, that tries to keep it real and reachable.
Shorn off the regal vestiges of the characters, this is a story of complex relationship of every-day humans. And Mani has successfully tapped that out. Once Mani managed to crack this Gordian knot, getting right the rest of the film was a cinch.
Interestingly, Mani, as a filmmaker, has copped criticism from both the left and right wings.
The latter thinks that his films come with a wokeist, liberal mindset. A film like Ravan, which reimagines the eponymous evil villain, as the protagonist of sorts, did not go down well with the right wing.
On the other hand, films like Roja, the left sections believe, are pro-establishment and pro-majoritarian. In a way, this redounds to Mani's credit as he makes films with his own ideas and ideals. We may agree with them or not, but that is besides the point.
This ability to keep himself relevant and make movies with his own sensibilities is perhaps what has helped Ponniyin Selvan(s) to strike a chord with the majority of mainstream viewers. That it did not bother with the hype surrounding it may have helped it to better it.
Get Swarajya in your inbox everyday. Subscribe here.
An Appeal...
Dear Reader,
As you are no doubt aware, Swarajya is a media product that is directly dependent on support from its readers in the form of subscriptions. We do not have the muscle and backing of a large media conglomerate nor are we playing for the large advertisement sweep-stake.
Our business model is you and your subscription. And in challenging times like these, we need your support now more than ever.
We deliver over 10 - 15 high quality articles with expert insights and views. From 7AM in the morning to 10PM late night we operate to ensure you, the reader, get to see what is just right.
Becoming a Patron or a subscriber for as little as Rs 1200/year is the best way you can support our efforts.
Become A Patron
Become A Subscriber