Remembering Assam's Legendary War Hero, Ahom Commander Lachit Borphukan, Ahead Of His 400th Birth Anniversary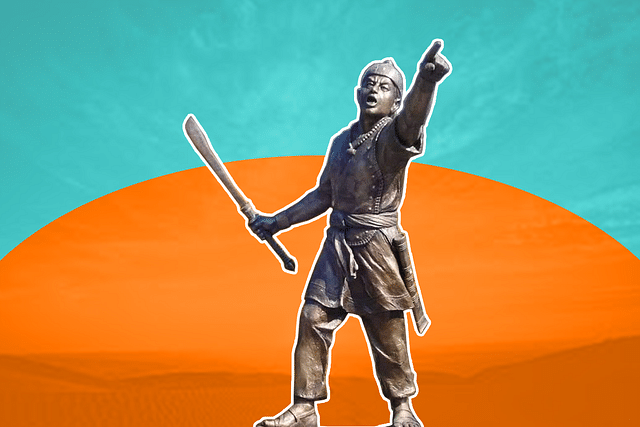 Ahom Army Commander Lachit Borphukan
Snapshot
General Lachit Borphukan, who changed the course of history with his tactical acumen and personal bravery, is one of the greatest heroes of India.
The Mughal war machinery never stopped. Over the centuries, their expansion plans continued to absorb more and more territory, and turned it into a vast empire.
However, they did come across some very defiant and brilliant kings and generals, who not only stopped the Mughal juggernaut in its tracks but are responsible for shaping the country and region, as we know it today.
Among those heroes, one of the brightest stars is General Lachit Borphukan of Ahom dynasty of Assam.
Born on 24 November 1622, Lachit rose to become the Commander in Chief of Ahom Army and was awarded the position of Borphukan by Raja Chakradhwaj Singha of Ahom dynasty.
His father was Momai Tamuli Borbarua, a bonded labour for a debt of four rupees, but later rose to become one of the most prominent ministers of Raja Prataap Singh's court and made massive and progressive changes in administrative system of Ahom rule.
It was he who was crucial in creating the appointment of Borphukan (one of the five councilors of King) under Raja Prataap Singh, giving the appointment both executive and judicial powers.
How could he have guessed that one day his youngest son would be the Borphukan of Ahom Kingdom and shape the borders, culture and history of Assam?
The Mughal-Ahom wars had been going on since 1615-16, with first Mughal attack on Assam with a view to capture the region.
Since the first attack on Ahoms ended in a humiliating defeat for Abu Bakr and Raja Satrajit of Bhusna, the leaders of Mughal forces, the Mughals decided to take more calculated approach towards capturing Assam.
Till 1639, many battles would be fought between the two and territories exchanged hands. Tired of war, both sides agreed to sign a treaty after Mughals had advanced into Assam and captured Kamrup.
Hence, in February 1639, Treaty of Asurar Ali was signed declaring western Assam commencing from Guwahati passed into the hands of the Mughals. The Ahoms finally acknowledged the Mughal control of Kamrup, and the Mughals acknowledged the rule of the Ahoms.
From 1639 to 1648: this was a tumultuous period in the region as clashes and skirmishes kept happening, and finally in 1648, Ahom king Jayadhwaj Singha, realising the confusion in Mughal dynasty because of the brewing wars of succession, drove the Mughals out.
This did not go unnoticed by Aurangzeb and when he took the throne, he immediately ordered Mir Jumla to annex Assam again.
Mir Jumla marched on Assam in early 1662, and on 17 March 1662, entered the city of Gargaon, the capital of Ahom empire. Raja Jayadhwaj had to flee and take shelter in hills.
However, when monsoons came, Mughal troops could not cope with the fury of floods and rains and started to lose morale. Health related issues arose, and Mir Jumla too fell ill in December 1662.
The Ahom King was keen for peace and gaining control of his kingdom, and the Mughal troops were unwilling to continue there. This led to a treaty in January 1663, in which the control of western Assam was given to Mughals and a war indemnity of three lakh rupees and ninety elephants was promised.
If this was not enough, the King was made to give up his only child and daughter, Ramani Gabharau, and his niece for the emperor's harem. His daughter was converted and named Rahmat Banu Begum and sent to Mughal harem.
In 1663, Raja Chakradhwaja Singha took over the empire and he had not forgotten the humiliation. He decided to stop paying the fine and swore to drive the invaders out of Assam.
In August 1667, Ahom Army started its decisive march and within a short span of two months, not only drove out the Mughals and captured the new faujdar of Guwahati, Syed Firoz Khan, but also claimed their lost glory and prestige.
Aurangzeb received this news and decided to send a large army under Raja Ram Singh of Amber, son of Raja Jai Singh, accompanied by Rashid Khan, ex faujdar of Guwahati.
The Mughal forces were nearly 4,000 troopers of Ram Singh, 21 Rajput chiefs along with their contingents, 1,500 imperial Ahadis (emperor's recruits), 500 artillery, 30,000 infantry, 18,000 Turkish cavalry, 2,000 horsemen supplied by the Bengal viceroy, 15,000 Koch archers, 40 war vessels manned by Europeans and additional troops from Koch Bihar (vassals of Mughals).
The Ahom was was significantly much lesser in number and did not have equipment and firepower to match the Mughals. But they had Lachit Barphukan as their leader.
The Mughals asked for the payments of three lakh rupees and reinstatement of borders as per treaty of 1639. Number of battles were fought from 1669 to 1671, in which both sides got some wins and some losses.
The culmination of this campaign for Mughals would happen at the famous battle of Saraighat, where Lachit proved his mettle beyond any doubt. The Ahoms wanted to throw the invaders out.
Lachit understood that in a head-on confrontation, his armies stand no chance against the Mughals. So, he first started to buy time to prepare his defences. To gather more time, he started negotiations with Raja Ram Singh, using his prisoner Syed Firoz Khan as the messenger.
He was impressed that the Mughal forces were very keen to negotiate. But having gained some time to build his embankments and fortifications, he suddenly changed his stance to – not even an inch of our motherland will be given!
It is said that during the time of building these embankments on Brahmaputra, he found the work at a site unsatisfactory.
To show how serious he was about these defences, he killed his own uncle as a punishment for slack in work, and famously said, "My uncle is not more important than my country." Needless to say, within days, his defences were ready.
Brahmaputra was narrowest at Saraighat, making it an ideal Naval blockade location for Ahoms. This smart use of terrain for limiting enemy's movement via land and making him fight at place of your choosing would prove to be one of the best decisions Lachit took.
He commanded the troops on Southern bank of the river. By this time Naval and land troops had also reached as reinforcements for Mughals. When the day came for the final battle, Lachit fell seriously ill and was bed ridden.
Finally in March 1671, Raja Ram Sing started his march to Guwahati. The Mughals gained an advantage by breaking the Naval blockade and moving up north of Saraighat. The Ahom Land forces, fearing encirclement, started to retreat.
Lachit was watching all this from his sick bay of his fort at Itakhuli. It is at this point, he ordered six boat flotilla for himself and charged them directly into Mughal war ships.
Grievously ill, he led the charge and his entry into the battlefield turned Ahom soldiers into fighting machines. Soon his six boats turned into a small flotilla and Ahoms were everywhere attacking and killing Mughals.
The Admiral of Mughal Naval forces, Munnawar Khan was killed while smoking a hukkah and that was the last straw for Mughal forces. Lachit chased them till Ahom's western boundaries and then stopped his troops and ordered them not to chase and kill fleeing enemies.
Guwahati was once again captured by treachery in 1679 by Mughals and held its control till 1682, when it was retaken by Gadhadhar Singha for Ahoms. Never again did Mughals ever ventured into Assam again.
Lachit Barphukan died of illness one year after Saraighat. His defiant stand and masterful defence of Assam, against the full might of Mughal empire is what saved Ahom dynasty and Assam.
It is believed by many old and contemporary historians that if it was not for Lachit, expansion of Mughal empire into entire North East India and even further into South East Asia was a sure possibility.
One General, who changed the course of history with his tactical acumen and personal bravery, is one of the greatest heroes of India. It is time that we reclaim our real heroes, introduce them in a more detailed manner in our academic curriculums and celebrate them across the nation.
On his 400th birthday, the country extends its gratitude to this brave son of Assam. Lachit Borphukan will always be the beacon that will continue to motivate generations of Indians to come.
Also Read: Had It Not Been For Legendary Assamese General Lachit Borphukan, Northeast Would Not Have Been Part Of India
Get Swarajya in your inbox everyday. Subscribe here.
An Appeal...
Dear Reader,
As you are no doubt aware, Swarajya is a media product that is directly dependent on support from its readers in the form of subscriptions. We do not have the muscle and backing of a large media conglomerate nor are we playing for the large advertisement sweep-stake.
Our business model is you and your subscription. And in challenging times like these, we need your support now more than ever.
We deliver over 10 - 15 high quality articles with expert insights and views. From 7AM in the morning to 10PM late night we operate to ensure you, the reader, get to see what is just right.
Becoming a Patron or a subscriber for as little as Rs 1200/year is the best way you can support our efforts.
Become A Patron
Become A Subscriber