The Folly Of 'Civilising Missions' And How India Dealt With Tribal Populations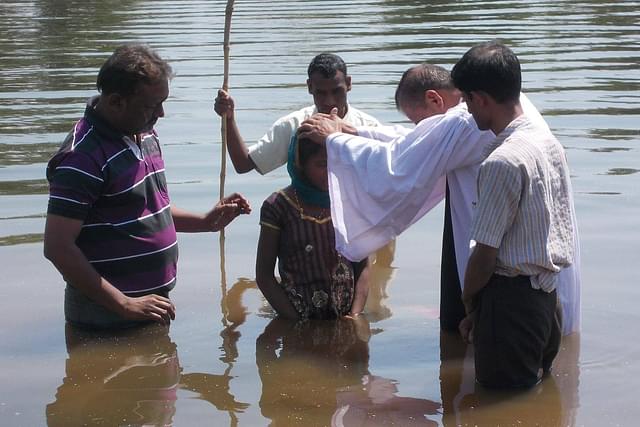 A religious conversion in progress (picture via Facebook)
Snapshot
The tragedy of the indigenous children's graves in Canada raises a deeply disturbing civilisational question — how to take modern education and development to tribals, aborigines and others outside the mainstream spectrum?

Perhaps, Hindus have an answer.
The discovery of mass graves of the Canadian native indigenous children who were forcefully separated from their parents and put in residential schools run by Catholic clergy raises a very important question.
How should modern education and development be taken to communities that are distinct from the mainstream community in a society which enjoys the fruits of education and development?
So far, the models available have been that of the religious missionaries or the religious ones replaced by secular missionaries of the State. The alternative has been to keep the interaction between such 'peripheral' communities and the mainstream community to the minimal.
But is there a better way — a way that does not destroy the local traditions but bring to them the fruits of education of the mainstream? How about the mainstream also learning from those outside dominant society?
For this to happen, we need to accept the essential unity of all humanity which shines through infinite diversity. We need to accept that no civilisation, no religion has a monopoly of truth and universal spiritual values.
That value is, perhaps, codified in that beautiful statement of Rabbi Hillel — that do not do unto others what you do not want others to do unto you — that is the whole Torah.
It is found in all communities and all spiritual traditions, tribal or non-tribal. This is the essence. Everything else is commentary. What poisons a religion or civilisation and makes it a destructive force against the natural and spontaneous human diversity, is the claim that it alone possesses this truth.
Fortunately, Hindu culture and spirituality inherently recognises both the spontaneous diversity of humanity and its essential unity through the Golden Rule.
Isopanishad makes empathy through the expansion of non-dual consciousness the basis of love and non-hatred towards all. This makes religion as a set of doctrines, beliefs and rituals secondary to empathy and love.
But differences do exist. Humans do tend to be prejudiced and ascribe to themselves superiority and the 'other', inferiority — racial, cultural or religious.
When an interaction emerges from this paradigm of 'discovering the uncivilised and civilising' with definite economic and political profits, then there is destruction — inhuman and justified destruction.
Nevertheless, if the interaction stems from the recognition of mutual respect and innate belief in human oneness — spiritual and biological — then there can be benefits to both the sides.
Nothing illustrates this better than the episode of Kannappa Nayanar, a Shaivite saint widely known in South India. In Kannappar's legend, two mode of worships are shown — one that of the tribal youth prince Thinnappan. He brings to the Lord cooked wild boar meat and carries the water for the Lord's ritual bath/abhisheka in his mouth.
The Brahmin priest, who later sees the leftovers of this puja of Kannappa feels disgusted. But Siva appears in the dream of the priest and shows the incomparable love the tribal prince has for Siva.
The Brahmin, at the end of the day, is not civilising Kannapa, a tribal person; rather the non-Tribal elite are shown to be learning from the tribals.
Secondly, in the Hindu fold, the distinction between tribal and non-tribal elements is not emphasised much to such an extent that a cultural barrier comes up between the two.
The communities which choose to keep themselves away from the mainstream society — called Girijan and Vanvasi (literally people of the mountain and forest dwellers) — were mostly considered as a distinct form of civilisation rather than be thought of as "uncivilised".
Even further, Hindu thought has in fact worked against the tendency of civilised city-states and its exploitative tendencies.
The uniqueness of Hindu Dharma is that it has spoken in a sustained manner against the tendency of centralised city-states which evolved during the course of human civilisation to exploit or harass these communities.
So, we have Arjuna going to get the knowledge of superior divine weapons and ultimately receives it from Siva, who comes to him in the form of a tribal chieftain.
We have Gunadhya, the great Sanskrit scholar in the court of Shalivahana who went to the forest and learnt Paichasa language and enriched Hindu literary landscape with Brihatkatha.
You may call them mythologies, Puranas, traditions and not history. But they are more alive and part of the national being of a Hindu than history told by the establishment.
And they impart values. What values? That you of city-states and villages, have a lot to learn sitting at the feet of the tribal and hill people.
They may seem vulnerable, but they form a repository of knowledge. A Hindu naturally learns this from her traditional environment.
So, a Hindu does not have a 'civilizing mission' because he knows his own civilisation is as tribal as it is non-tribal.
Here are more examples.
As late as the 16th century, a royal poet could narrate a story about a tribal chieftain proudly denying a 'city king's request for the chieftain's daughter's hand in marriage. The story even goes into humiliating detail about similar 'mainstream' kings failing miserably in their attempts to make tribal princesses their wives (Refer to Thiruvaranga Kalambakam by Pillai Perumal Iyengar, composed during the time of Thirumalai Nayakkar, the Telugu Nayaka who reigned over much of south Tamil Nadu).
Even more telling is the tradition of the origin of Puri Jagannath.
The legend speaks of Indradyumna of ancient Odisha who searches for the mysterious deity of Nilachala. He gains knowledge of the Lord being kept secret by chief Vishyavasu and his the tribal community.
And so, Indradyumna makes a forceful attempt to retrieve the deity only for the deity to outright disappear!
Indradyumna then imprisons the tribal chieftan but the story ends only when Indrayumna begs the chieftan's forgiveness. The king is then told by Vishnu, the deity he was looking for, that to worship him, he'd need a little more humility and with the friendship of the tribals, Indradyumna could worship his deity only when he went along with the tribal chieftan Vishyavasu.
You see, unlike a missionary taking "the truth" to tribals and aborigines, we find here that the lord himself has enshrined his form with the very tribals the mainstream thinks of as 'uncivilised'.
It is only through friendly relations of both the city-state kingdom and forest-dwellers' leadership that Puri Jagannatha, one of India's most widely worshipped deities, became manifest.
The West obviously chose to believe a fake myth about human sacrifice before the Rath of Puri instead of learning about plurality of faith — and that is a story for another day.
But all these legends are 'myths'. What do they have to do with reality? Isn't there an attempt to Hinduise the tribals today? Aren't we seeing Sangh Parivar organisations working to 'convert' tribals?
May be not.
I quite distinctly remember a calendar published 15 years ago by Vivekananda Kendra — a 'Sangh' organisation that works in Arunachal Pradesh. It had pictures of all tribal deities and distinct cultural practices.
The organisation's schools teach Hindi, and English along with the local languages. The students do sing Vande Mataram and say 'Bharat Mata ki Jai'.
Where a Christian mission will kill the tribal culture and fully replace their gods with Abrahamic ones, the Sangh or Hindutva groups might do the opposite.
They actually take the tribals gods and cultures to the mainstream. Cultural and religious diversity is enhanced — not destroyed.
So, this calendar that Vivekananda Kendra created and took all over India has the deities as well as their central spiritual motifs — of the different tribal communities in Arunachal Pradesh.
Note this aspect — the deities of Arunachal have been taken to the houses of non-Arunachal Hindus. So, if taking a non-Arunachal Hindu deity to Arunachal Pradesh is 'Hinduising' then, is taking Arunachal divine traditions to non-Arunachal Hindus 'tribalising' Hindus?
In reality, what we see is the deep Hindu national-life process happening through mutually respectful interaction between two varied traditions, one considered mainstream and another not-so.
But a Hindu must instinctively realise that what is her 'mainstream' civilisation is a tapestry woven by various strands of many tribal traditions. In fact, it takes quite a lot of Nehruvian conditioning to make a Hindu think and perceive otherwise.
Naturally, the Nehruvian State, which in itself is a colonial-socialist hybrid, creates scenarios of alienation, which in turn, is exploited by vested interests like Stan Swamy.
The blame is put again at the doorsteps of Hindu Dharma.
To return to where we began, the stories of countless indigenous Canadian children forcefully taken from their parents, forbidden to pray to their gods, forbidden to speak their native languages, forbidden to carry any of their cultural inheritances — all this is incredibly painful to read.
And yet, we must read through all this. These stories and reports about the abuse of indigenous children by religious bigots are a tragic warning to us. It falls to us to leave behind a country where predatory religious proselytisation is banned and looked down upon.
The bigotry of exclusive access to truth must be confronted with all the moral force we can muster — it is the lesson we learn from both our own history and that of the hapless children of Canada.
Get Swarajya in your inbox everyday. Subscribe here.
An Appeal...
Dear Reader,
As you are no doubt aware, Swarajya is a media product that is directly dependent on support from its readers in the form of subscriptions. We do not have the muscle and backing of a large media conglomerate nor are we playing for the large advertisement sweep-stake.
Our business model is you and your subscription. And in challenging times like these, we need your support now more than ever.
We deliver over 10 - 15 high quality articles with expert insights and views. From 7AM in the morning to 10PM late night we operate to ensure you, the reader, get to see what is just right.
Becoming a Patron or a subscriber for as little as Rs 1200/year is the best way you can support our efforts.
Become A Patron
Become A Subscriber